INTRODUCTION:
My Manfrotto tripod is approaching 25 years old. It's nothing special; ART 190 professional model that I bought second-hand. It came with a 169 ball head - quite an old fashioned affair with two locking clamp mechanisms, one for pan and the other for ball. Whilst servicable I've noticed of late I cannot get the clamp to grip the ball tightly enough, resulting in 'sag' especially if I'm using long telephoto's. This is entirely down to the arthritis that pervades my hands and wrists making 'power' movements such as tightening, very difficult. I tried a 'platform' type solution with a 115 3D Super Junior Head but whilst better, I find it almost as difficult to use and there's no quick release plate. So I ask myself is it time for a new outfit?
My tripod is still perfectly usable and my only gripe is the leg splay mechanisms often give the skin on my hands a nip if I'm in too much of a hurry. The company has addressed this with a better release arrangement on subsequent later models. After the usual research on the Internet and sending for a Manfrotto brochure I spotted the 'joystick' type grips Manfrotto offer and in particular the 322RC2 took my fancy. I particularly like the adjustable tensioning device and think it will suit my hand strength and I must bear in mind that my missus will also be using this. The beauty with Manfrotto stuff is its interchangability. Even with an old tripod new heads will fit as will 95% of the other accessories.
After gulping at the price I eventually swallowed hard and ordered it from WareHouseExpress late Thursday morning. At 10.30 on Friday it arrived - that's good service indeed. It was well packed and all told it cost £83.99 icluding VAT & postage.
IN DETAIL:
Made from cast magnesium the grip weighs in at 0.5 kilo and is substantially built. Comprising a ball head, a spring grip, a quick release platform with bubble and the ubiquitous Manfrotto mount it is a very well thought out piece of design. It is finished in semi matt black crackle and is approx. 9.5" x 3" at the shrouded ball. It looks and feels like a highly professional piece of equipment.


DESCRIPTION/CONFIGURATION:
The 322RC out of the box is in the 'horizontal' format (as shown above) with the quick release platform on the camera plate that sits astride the base of the grip above the ball. In the packaging is a small gauge allen key which is used to remove the camera plate with its quick release platform and relocate it to suit your needs. It can be fitted in 3 different positions in the horizontal manner both for left and right handed use and the platform can be fitted to the end of the grip handle (either way round) transforming it into a vertical grip. This is especially useful for macro and/or low level work with the tripod stem reversed as the grip protrudes some 9" from the stem allowing you to position the camera out between the tripod legs and still maintain high stability. In all there are 12 configurations; changing the configuration needs only the allen key and takes no more than a few minutes.
FITTING:
Fitting the head to the tripod is very simple. Manfrotto use a connecting system that consists of a receiving plate immediately on top of the tripod stem piece which has a threaded upstand. All accessories have a threaded indent which screws onto this upstand. Once the new top piece is screwed on there are also three set screws tapped into the receiving plate that are tightened to lock the accessory plate and stop it from unscrewing. It takes a couple of minutes.
IN USE:
My missus was first to use the new head; she had some costume jewellery to photograph in macro. After a bit of messing about it was soon obvious that the inverted stem with the grip in the vertical mode was the best option. She had no difficulty operating the grip although I did slightly loosen the tension. Her camera is the lightweight Olympus C70 so it was no challenge for the new head. It was great to use the menu buttons on the back of the camera whilst in situ without worrying about head 'sag'. With lightweight compacts or small SLR/DSLR it is easy to use the grip single handed - which is one of its design goals. This makes tripod work in restricted or difficult areas a joy rather than a chore.
I wanted to see how the grip head would deal with something a little more meaty so I fitted the ZD50-200 to my E-1 to try out. All I had to do was increase the tension to give me a solid grip in any position with no movement at all. Fantastic. OK; now for a real challenge. I mount the E-1 on the back of my Tamron SP 300mm giving a combined weight of around half a stone. The 322RC2 handled this combination without flinching. It's the heaviest combination I have or am likely to have; I'm very impressed indeed. I tried this combo in both the horizontal and vertical formats for the grip. It handled both very well but for better/safer handling I would recommend the horizontal format when using heavy and/or long lenses. Manfrotto recommends this head for 35mm, DSLR and medium format cameras with medium telephoto lenses. Its weight carrying capability is 5 kilos or 11 lbs. I doubt it would be capable of handling an OM body equipped with an OM Zuiko 'Great White' but as I don't have such a beast this (for me anyway) is academic.
ILLUSTRATIONS:
I've been asked to include a few photo's of the joystick in action. So: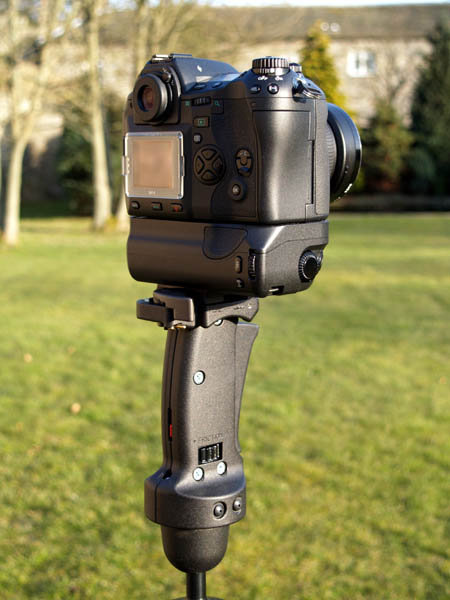 Above: shows the joystick configured for use in the vertical position supporting E-1, SHLD 2 and ZD 11-22mm. In the vertical position it makes for very quick adjustment providing the camera etc is not too heavy.
It is fine for use with normal and mid telephoto lenses even though the camera is well above the ball.
Useful left in this configuration if you wish to do any macro work (see last photo below).


---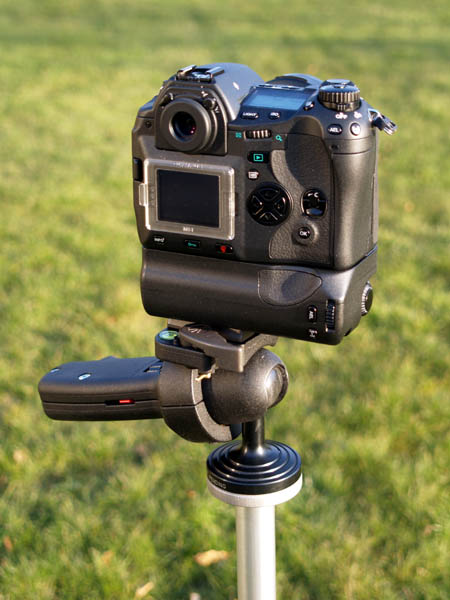 Above: photo shows the grip fitted for use in the horizontal position and configured for left-handed use.
I'd recommend the horizontal configuration for use with long or heavy lenses and/or lenses with a collar.
The camera/lens weight is very near the centre of gravity of the ball/head.

---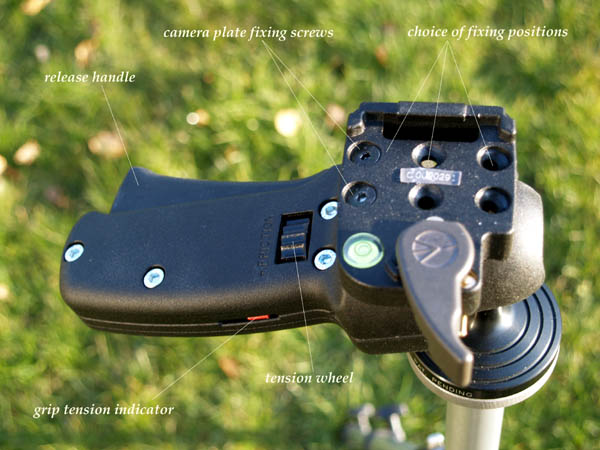 Above: shows the countersunk fixing variations available - 3 positions for each configuration.
Changing configuration is easily done taking at most two minutes.

---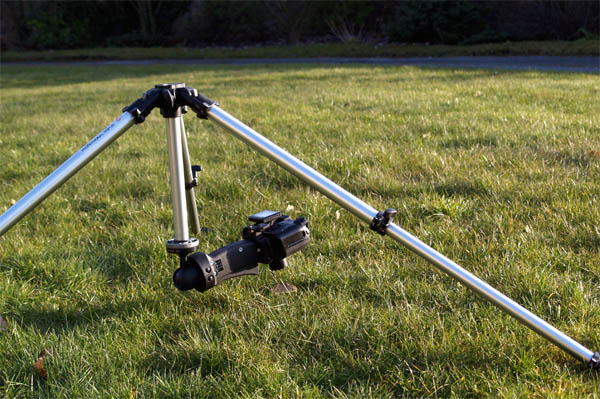 Above: shows the joystick head fitted in the vertical position placing the camera near the ground/subject.
The column is simply inverted in its central mount and the grip adjusted to suit.
In vertical mode the ball acts as an articulating elbow giving a 9" 90º x 360º extension arc.
Very useful for indoor table/work top macro work as the camera protrudes beyond the tripod legs.
---
OBSERVATIONS:
The 322RC is far superior to the simple ball/pan head I previously had and because it has an integrated quick release plate it is simple, safe and effective to use. I note too that Manfrotto now further protects the camera with a small security lever which when deployed means the quick release plate (and hence the camera) is mechanically locked onto the head and cannot come off accidentally. As I sometimes carry the mounted camera on the tripod (on my shoulder) this is added peace of mind for me. In a final touch there is an internal adjuster to tighten the grip spring mechanism if its initial grip deteriorates over time. No maintenance is required though I note the ball head is either made from or coated with some ultra-strong plastic material and this shows evidence of a fine film of grease.
An added bonus for me is the inclusion of a bubble level on the grip. Those accessory bubble levels that slide into your camera shoe are fine if (i) your camera has a shoe, (ii) you are not using the shoe for a flash or (iii) the tripod is at such a height you can actually read the bubbles on the highest point of your setup.
COMMENTS:
I was concerned that the joystick grip head might be a little too much for my arthritis ridden hands. Not so - not yet anyway. With the in-built tension adjuster it offers a flexible way of balancing out head grip with hand strength. There was no way I could achieve this with the old style ball head. Tight grip on the ball depended entirely on pressure exerted on the short clamping lever. The 322RC2 device is a different animal altogether and for anyone who suffers with grip problems this offers a thoughtfully engineered solution. At £80 + delivery you could criticise it for being expensive. But in my case it makes the difference between being able to properly use a tripod and not and therefore to me is worth every penny. I also note it is also widely used and/or endorsed by many Pro's.
RECOMMENDATION:
Anyone who has an interest in photography should own a good tripod. The slightest amount of camera shake can completely ruin a photograph and a tripod is the single most effective way to avoid shake. The old adage of 'the tripod should always weigh more than the camera and lens it is expected to support' has been a good yardstick. However my 'new' combination weighs in at around 5lbs but is quite capable of supporting about twice this weight without movement. New materials have perhaps diluted the old advice but it remains basically sound and should be borne in mind when shopping for a tripod as there are some ultra light-weight tripods out there that are not very good at all. Stick with the known popular brands and you won't go wrong. If you think you might need future flexibility invest in Manfrotto as the company offers a comprehensive selection of accessories and some of their basic kit style offerings are very affordable.
I've had the 322RC Joystick Grip for a couple of weeks now and already I've used it extensively. It is one of the best accessories (necessaries in my case) I own and I highly recommend it to anyone who already has a Manfrotto. It offers a great combination of simple one-handed operation with strength and security - whether or not you have hand problems.
Update November 2009: I have had this head for more than three years now and it still impresses me with its ease of use. There has been no loss of mechanical grip and no adjustment has been necessary. I use it regularly and estimate 90% of its use is in the vertical configuration. I am contemplating buying another for my second tripod.
If you want further information please contact me here.