INTRODUCTION:
I was somewhat reluctant to purchase this lens for several reasons. My E-1 has an inherent AE problem and its standard 14~54mm zoom is, to my eyes, soft and flat (both going back for re-calibration). This has cast a shadow of doubt in my mind and IF I am going to stick with the E system I might do better to buy the expensive 50~200 ZD. So have I done the right thing?
The announcement of the second Four Thirds digital SLR camera from Olympus, the E-300, was accompanied by the availability of two new 'budget' lenses for the E-system, the 14-45mm bundled E-300 'standard' lens, and the 40-150mm compact telephoto. Many onlookers saw this as a positive move from Olympus which in the past has been criticised for producing high quality but high cost lenses. These 'budget' offerings make the E-system more affordable and attractive to the amateur market, imperative if Olympus is to be competitive.
Of the lenses in the E-system prior to this announcement the least expensive is the ZD 50mm Macro at £369.00; fast telephoto primes require a second mortgage and the acclaimed ZD 50-200 zoom is £739. While the strategy of offering an inexpensive zoom lens is welcome, can Olympus actually deliver?
With these thoughts in mind I purchased the new ZD 40-150mm 3.5~4.5 lens for my E-1. (Also see introduction above). The purchase was tinged with some apprehension as I have designs on the faster, heavier and more expensive ZD 50-200 zoom. I rationalise my decision - if the ZD 40-150 doesn't deliver I'll ask for a credit towards the ZD 50-200.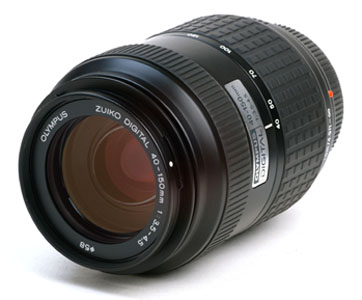 ~~~~~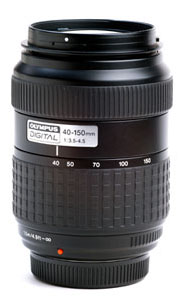 Above is the ZD 40-150mm budget zoom. Notice the absence a distance window/scale.


---
BOX CONTENTS:
Lens, large hood, front and back caps, two sets of instructions one for the lens, one on how to attach the hood - Please! The standard (UK) two year warranty card. There's no lens pouch, I suppose this reflects the 'budget' status, which to me is a great pity. The ZD's I've subsequently purchased come with a rather cheap pouch of artificial leather and suede. I'm not enthusiastic about them but they are better than nothing.
(Note: Olympus Corporation is now Olympus Imaging - it says so on the box and all paperwork). Another Corporate identity cricis?


---
SPECIFICATION:
* Focal Distance: 40 – 150mm (1.6 – 5.9 inches) 35mm equiv 80-300mm or 3.75 x zoom.
* Max. Aperture: f3.5 – 4.5
* Image angle: 30 – 80 degrees
* Lens configuration: 13 elements in 10 groups – Multilayer film coating (partially single layered) i.e. mixture of Multi & Single coated elements.
* Iris spread: f3.5 – f22, number of blades = 7
* Shooting range: 1.5m (4.9 ft) – infinity
* Focus adjustment: AF/MF switching
* Weight: 425 g (15 oz) excluding hood and caps
* Dimensions: L = 107mm x Diameter = 77mm
* Hood Mount: Bayonet
* Filter Mount: Thread, 58mm
* Compatibility: EC-14 teleconverter (MF) & EX-25 extension tube
* Dust/Drip-proof: No (by omission and assumed)


---
FIRST IMPRESSION:
Lightweight and compact, slightly lighter than the ZD 14-54mm 'standard' zoom of the E-1; perhaps a little too light for good handling? Finish is excellent though not the same as its more expensive siblings. Cost cutting is evidenced by no dust/drip proofing and no focus distance ring or read-out window. A further and major cost cut is an internal design that precludes a stationary end tube as on more expensive ZD's. This means that when focusing (AF or MF) the end tube turns, making the use of circular polarisers very difficult. I did not realise the full implications of this until about 6 weeks after purchase - when I wanted to use a CP! Some users may not be bothered but I find it a nuisance. I suppose it is one of the prices paid for a budget offering.
Other points such as no raised grip sections on the mounting grip ring and non-embossed nomenclature badges are purely aesthetic. The 40-150mm is 'Made in Japan', a pleasant surprise; I was convinced this lens would be outsourced. This is a nicely made and well specified general purpose lens with a very usable spread that's not at all shabby in the brightness stakes. I admit to being very pleasantly surprised. And no, I wouldn't describe it as 'budget'.


---
OM ZUIKO COMPARISON:
No OMZ zoom offered the same spread as this ZD lens. It beautifully covers the medium telephoto lengths of 85, 100, 135, 200 and 300mm. It might be 2 stops slower than the OMZ 85mm x 2.0 at the short end but at the long end its equivalent 300mm x 4.5 matches the OMZ 300mm x 4.5 prime. And bear in mind the OMZ 300mm was priced at £900 in 1996. Against that back drop this lens is a steal – providing it can deliver.


---
IN USE:
On a typically changeable UK day I set off to test it out. My concerns about weight soon disappear. On the E-1 it feels fine; on the E-300 it must feel better, the E-300 being lighter by design. The zoom mechanism is silky smooth.
AF: normal use - good, but not super fast; tends towards a more exaggerated (than the 14-54) two step AF routine when switching from close focus to infinity at any focal length if target is not crisp. Like other ZD the AF hunts if subject is not well defined and it seems slow on a moving target.
MF: well integrated if you wish to use it; enjoys the 'accelerated' focus by wire feature of other ZD's.


---
IMAGE 1: OLD GANG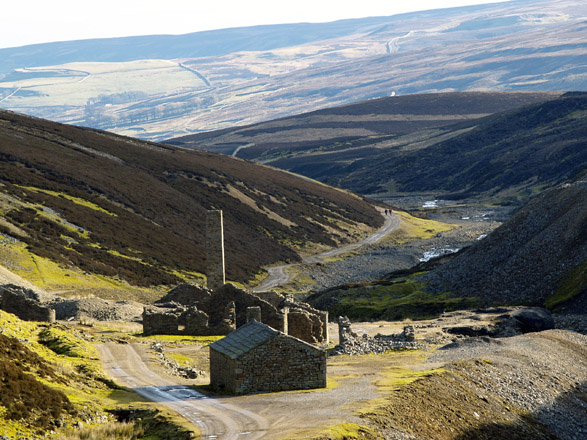 Old Gang Lead mine, Nr Surrender Bridge, Swaledale. ISO 400, 1/280th f=6.8, FL = 90mm.


---
IMAGE 2: OLD MACHINE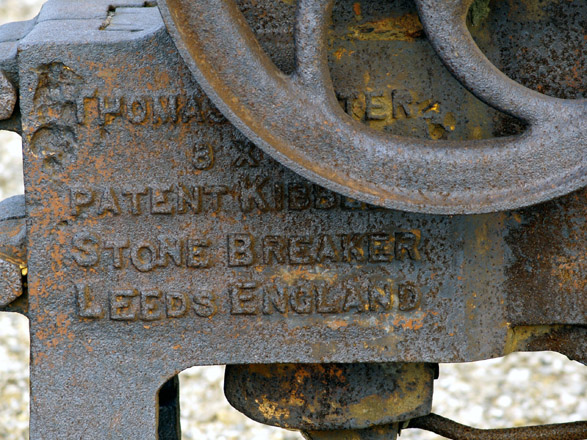 Stone Crusher, Lead mines, Swaledale. ISO 400, 1/250th f=5.0, FL = 150mm.


---
IMAGE 3: WIDE ANGLE END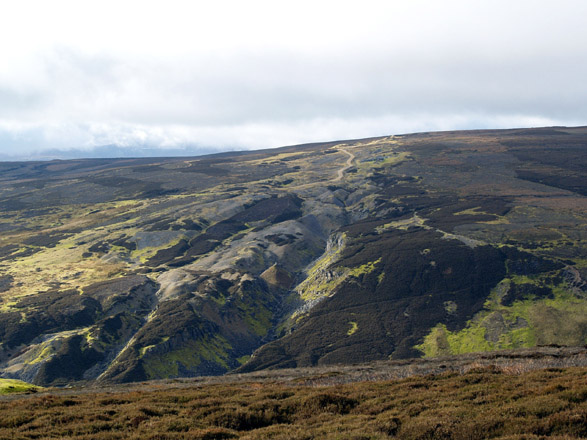 Leadmine workings, above Gunnerside, Swaledale. ISO 400, 1/400th f=7.1, FL = 40mm.


---
IMAGE 4: MID TELE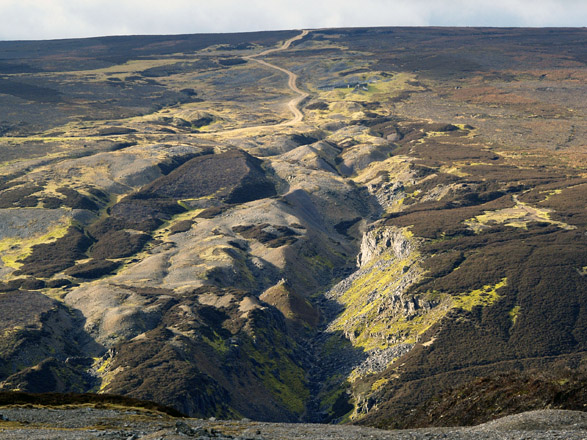 Leadmine workings, above Gunnerside, Swaledale. ISO 400, 1/500th f=6.3, FL = 88mm.


---
IMAGE 5: FULL TELE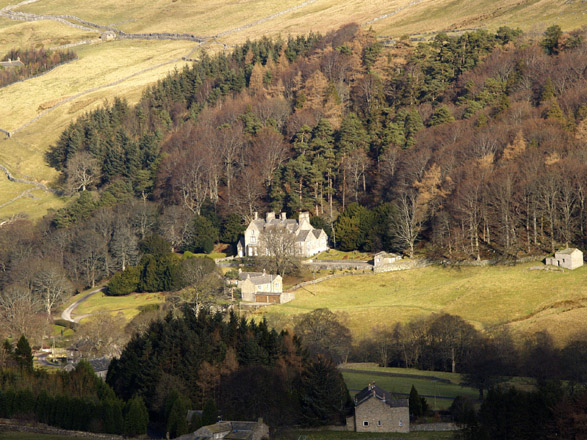 Scar House, Arkengarthdale. ISO 400, 1/640h f=9 FL = 150mm.


---
IMAGE 6: BOKEH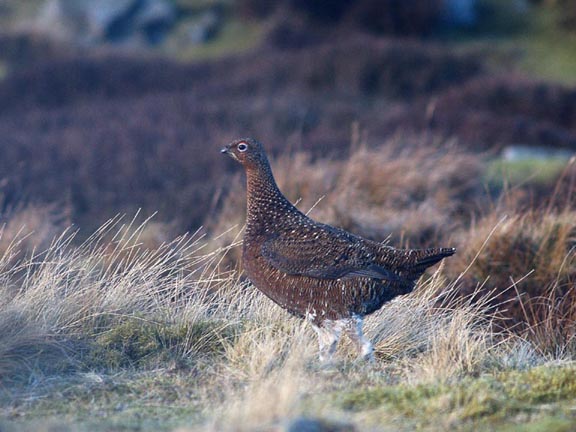 The shy moorland grouse. ISO 400, 1/125h f=4.5 FL = 150mm. Bokeh is reasonable.


---
OPINION:
These results are excellent. The slight yellow cast is a quality of the light at this time of year here and not a problem with the lens. Sharpness is very acceptable, colour rendition is true and contrast is typical of Olympus, being slightly increased. Bokeh could be better but this is a f=4.5 lens at the tele end and this is reflected in its background blurring property. I do not need to see lens resolving charts to see this lens delivers. A solid performer.


---
CONCLUSION:
The 40~150mm produces sharp and well defined images and delivers across the full zoom range. Impressive! I recommend it for the right reasons, NOT just the price.


---
GRIPES:
Revolving end tube during focus makes use of CPol's difficult. No dust/drip proofing. No lens pouch. NOTE: At time of writing (February 2005) there is a minor firmware upgrade available from the main Olympus on-line sites.


---
OTHER SITE ARTICLES:
I tested the three mid-range telephoto's; ZD 50-200mm, Sigma 55-200mm and ZD 40-150mm. The ZD 40-150 struggled a little against the competition. Please read this report here .