BRIEF NOTE: Before you settle down to read this review, some regular site visitors have commented that my lens tests do not include critique of barrel and pincushion effects. True. The reason is straightforward; I do not have a handy simple target I can use in any weather conditions; I'm thinking of a largish area of good brickwork (all properties here are stone built) that I can mark, use and compare. I'm working on this and when resolved I shall post the images and amend my reviews to accord. For now please forgive this omission.
BRIEF SPECIFICATION:
* Zuiko Digital 17.5-45mm zoom (35-90mm equiv) 1:3.5-5.6
* Angle of view = 63 to 27 degrees
* Aperture spread 3.5-22
* Diaphragm blades = 7
* Optical construction = 7 element in 7 groups with 2 aspherical elements
* Filter size = 52mm
* Weight = 210gm.


---
INTRODUCTION:
This is the latest addition to the bottom end of the Zuiko Digital range of lenses and was announced alongside the E-500 in September 2005. In December 2005 I unsucessfully searched the web for any published reviews on it. I did pick up on some negative opinion but was unable to find its definitive source. This rather made me smile for it seems Olympus cannot win. Their super high grade and high grade lenses are constantly criticised for being too expensive. Yet when the company issue a budget 'standard' zoom lenses (this is their second) to address this criticism the old "mock and scoff" brigade duly arrive. If by offering this lens in a kit the company can sell more 4/3rds cameras I see this as a good thing. All manufacturers do this, it's the way of marketing. Just because a lens is budget doesn't make it 'BAD'. There have always been budget Zuiko's and some have proved to be mediocre; but I've never come across a truly bad budget Zuiko.
I wanted an E-500 body only for my missus as she finds the E-1 much too heavy. UK prices for an E-500 body are ridiculously expensive. I ended up with a 'packaged' E-500 SE kit that has the ZD17.5-45mm zoom lens included. In all the packge deal was far less money than a body only and the SE kit came with an Olympus PS-100 dye sublimation printer as a bonus! And what a bonus - I've reviewed this absolute gem of a printer here. As I have a resonable selection of ZD's it didn't really bother me what lens came with the camera. I've read some bad stuff about the ZD14-45mm kit lens too so whatever kit lens was included there was always going to be a risk of disappointment. As it's turned out, I'm a happy chappy. Olympus make it clear the ZD17.5-45 zoom is not available as a separate purchase so it follows there is no price bracket into which we can place it to make comparisons. In this sense therefore (to me) the ZD17.5-45mm was free gratis. The other standard kit lens, the ZD14-45mm zoom retails at about £150 in UK. The newer and tiny sibling is less well specified in its zoom range being marginally less wide (35mm rather than 28mm - equivs), but it shares the same aperture spread. For the sake of this article let's say it is only 50% of the value of the ZD14-45mm zoom - that's around £75.00. So, yes, obviously it is a 'cheap' lens with probably just enough optical performance to do a basic job. As a long term spectator of Olympus marketing over many years I've seen this 'offer' happen before; and sometimes the long term hindsight opinion of such lenses is surprising. Back to the review.


FIRST IMPRESSIONS:
Tiny. Physically this lens is the smallest zoom from the stable. Lightweight - yes, very. The first cost cut I observe is the lack of a stainless steel mounting ring; the 17.5-45mm has a black plastic composite instead. The lens is so light it can happily sacrifice a metal mount, it is no big deal. Many other makers DSLR lenses have composite mounts, and not just confined to their cheaper offerings. For some strange reason Olympus has decorated this lens with a totally superfluous 'chrome' ring on the barrel in front of the MF ring. In my eyes it looks cheap and I see no reason for its existence, but others will like it, no doubt. The zoom ring is finished in the same embossed rubber material as its production siblings, albeit a tad thinner, but the manual focus ring is made from hard plastic rather than having a rubberised cover. It looks the same, works the same, but feels less tactile. Lens nomenclature is pretty standard and though there's no little inset plaque as with the ZD 14-45mm. Instead the designation is simply printed around the body either side of the reference point. Generally the construction is the same level as other ZD 'budget' offerings; yes you can tell it's budget but it's not especially cheap and nasty. The rear cap is standard E-system, but front cap is a departure, being of a totally different design and operation (latest Tamron lens style). I rather like it. Everything is 'Made in China.'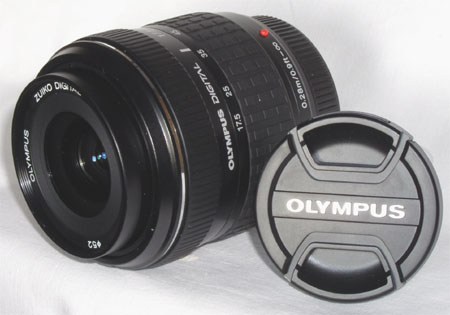 Small, light, neat and tidy. To me the chrome ring spoils it.

.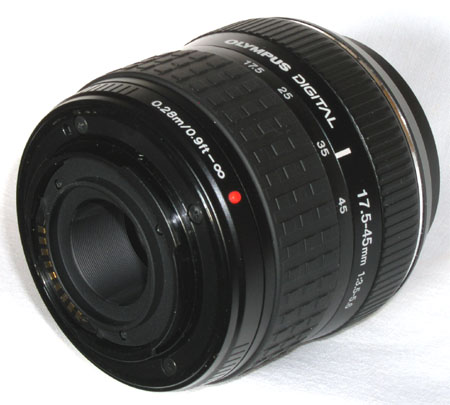 Note the black composite plastic mount ring.


The central lens tube is significantly less in diameter than the enclosing barrel and the designers have tried to disgiuse this by adding a tapered section about 13mm deep at the front end to give the impression the tube is wider than it actually is. The overall result is a rather strange mismatch with the lens tube looking like a cone has been stuck on the end (see illustrations below). I've seen similarly designed lenses but I cannot remember from which maker. The optical coating is different to other ZD's reflecting mainly blue with a touch of plum rather than predominantly green. This might indicate only single coating. No hood is provided though the end piece of the lens tube is threaded for 52mm diameter accessories. I am surprised it has no hood or carry pouch.
ERGONOMICS:
At 71mm wide x 70mm deep and weighing only 210gm it looks and feels tiny. Stand it next to the familiar ZD14-54mm and it is not that much smaller; only about half an inch less high. (In truth it is 1.5mm less in width and 13.5mm less tall). Once mounted to the camera (E-500 for this review) it feels fine and sits nicely. Its lightweight means you can happily put it on an E-1 fitted with a power grip and when you set the whole thing down it doesn't fall forwards! The lens is short and stubby; even the 'sticky out bit' - the coned end of the lens tube - can almost be forgiven. The zoom ring moves only 37mm to complete the zoom 'throw' and is nicely achieved in one motion. Manual focus 'fly by wire' works as well as other ZD's. At 17.5mm on the zoom ring the optic tube is at its furthest frontal reach with maximum distance between front and rear elements. As the zoom ring is rotated the optic tube retreats into the barrel and the element carrier moves in sequence, i.e. backwards. The point of 'rest' - that is no tube movement - comes between focal lengths of 32mm and 35mm where all movement is internal only with the element carrier moving forwards. At 36mm the lens tube and element carrier move forwards differentially to achieve the last 9mm of zoom; the tube reaching only 4mm beyond its 'rest' point.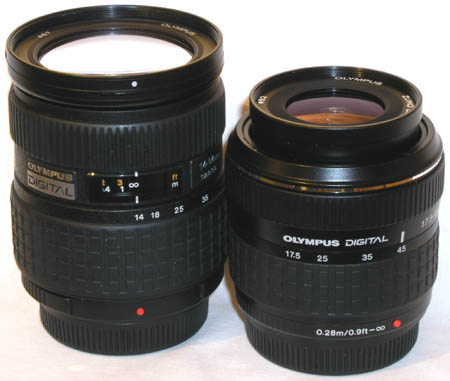 The cheap against the expensive

.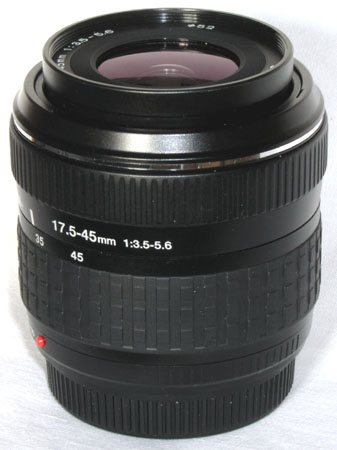 Pictured here at 'rest' - about 32mm

.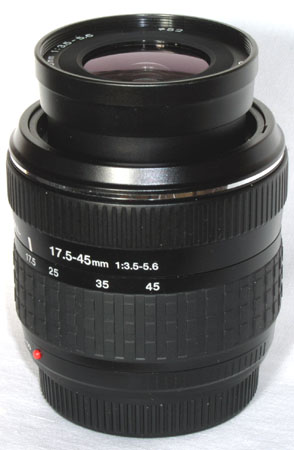 At its widest - 17.5mm mm


To sum up; Small, ultra lightweight (210gm), 2.5 times zoom (35 - 90mm), close-focus = 0.28m (11") throughout the zoom range. Now, let's see how it performs.
TARGET:
Today it's mid winter; January, about 2.30pm, cold but not crisp, overcast but not dull and it's not raining. I decide to use the beckoning cat on the pondside bench. To make the results more meaningful I'll also take similar shots with the ZD 14-54mm High Grade 'standard' lens and provide a comparison.
IMPORTANT: While the reduced versions shown in this article serve for illustration, I have had the benefit of examining the full versions in great detail. Be assured that any significant differences between comparable images will be pointed out whether or not such differences are visually voided in the reduction process.
After a couple of tests I decide to control the aperture thereby giving the same (or comparable) depth of field; I set mode to A and set the lens at f=5.6.
The E-500 basic settings are: SHQ, Picture mode = Normal with 3 variables at 0, Gradation = Normal, NR = Off, ISO = 100.
I take 4 shots with the ZD 17.5-45mm at 17, 25, 35, and 45mm (as you will see the lens markings/reference points do not accurately reproduce the achieved focal lengths.
These focal lengths are repeated with the ZD 14-54 (Remember to double these to 'convert' into 35mm equivalent thinking).
OK, let's take a look at the results;


RESULTS: Group 1 - around 17mm
No 1: ZD 17.5-45mm at 17mm @ f=5.6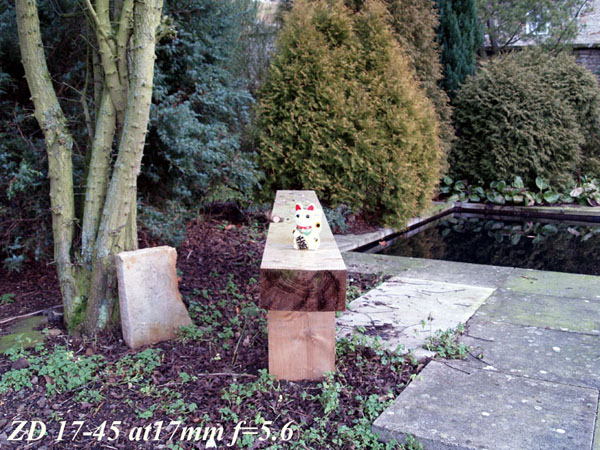 Colours are reasonable though the 'brash' under the bench is brown, not purple. Sharpness seems OK.
---
No 2: ZD 14-54mm at 19mm @ f=5.6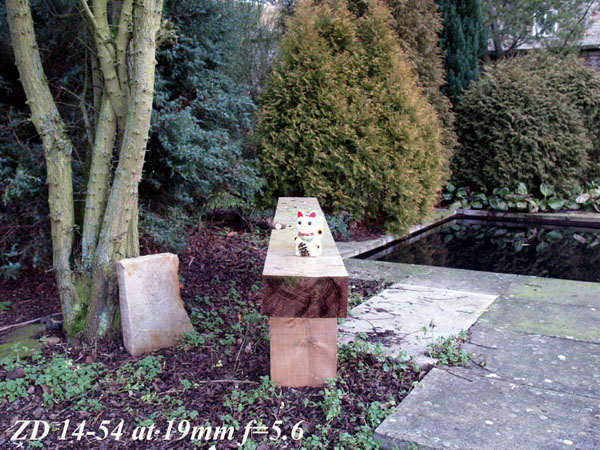 Remarkably similar, including the colour rendition. At this resolution there's no practical difference.
---
Seems like we need a couple of crops to examine the differences in more detail. After a bit of studying I decide to crop out the top left corner.

CROPS: Group 1 - around 17mm
FROM ZD 17.5-45mm at 17mm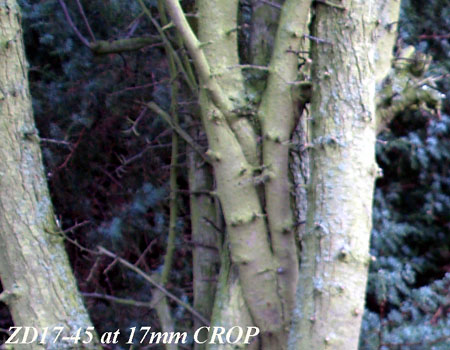 This is 1:1 crop from ZD 17.5-45mm at 17mm.
It's not bad at all (I've seen worse) but it's softer than the 14-54.
---
FROM ZD 14-54mm at 19mm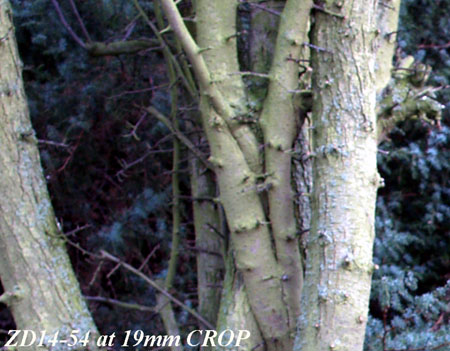 This is 1:1 crop from ZD 14-54mm at 19mm.
Yes this is better, but not much; and this is at 19mm - that does make a difference.
---
RESULTS: Group 2 - around 25mm
No 3: ZD 17.5-45mm at 24mm @ f=5.6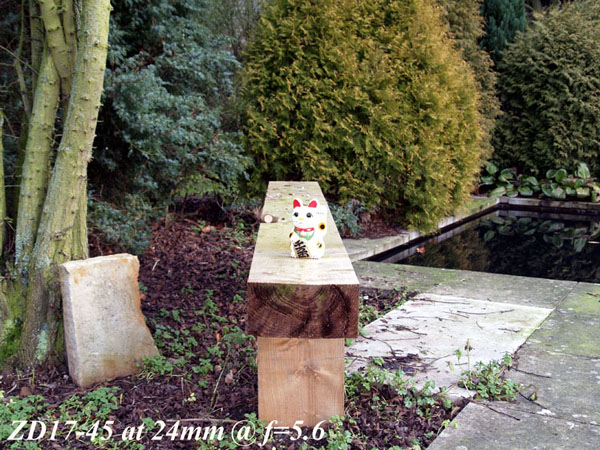 Colours are almost true; the 'brash' is becoming brown. Sharpness seems OK.
---
No 4: ZD 14-54mm at 25mm @ f=5.6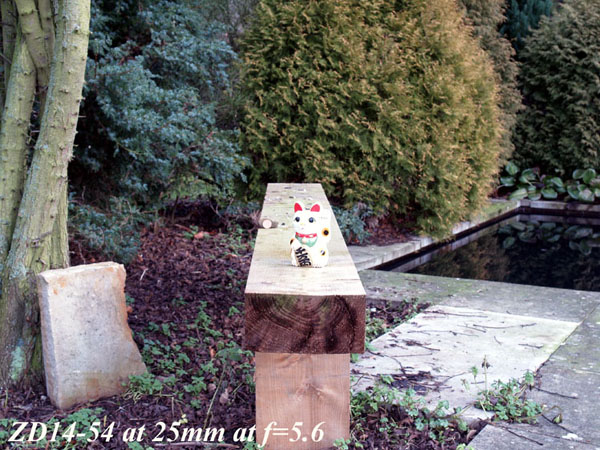 Once again almost identical. Apart from a slight cast there's no discernable difference.
---
Here are the crops: I chose the left hand edge centre portion.
CROPS: Group 2 - around 25mm
FROM ZD 17.5-45mm at 24mm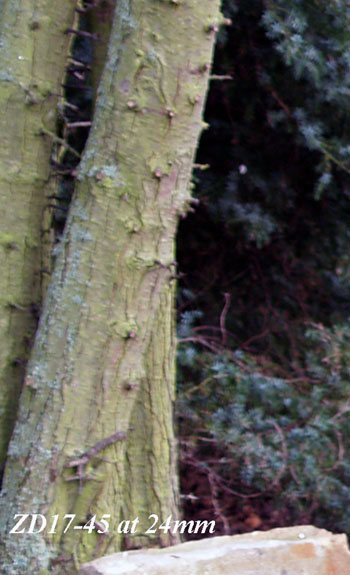 This is 1:1 crop from ZD 17.5-45mm at 24mm.
A tad soft but colour and contrast good.
---
FROM ZD 14-54mm at 25mm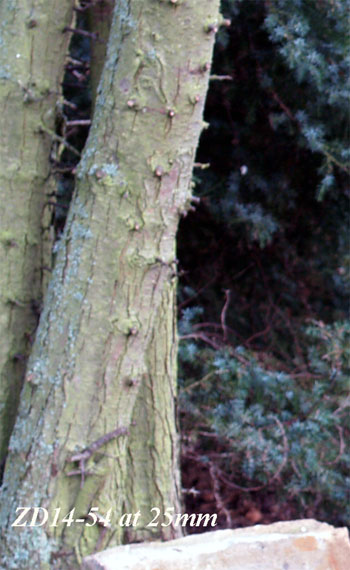 This is 1:1 crop from ZD 14-54mm at 25mm.
Slightly sharper but inaccurate colour - a little insipid.
---
RESULTS: Group 3 - around 35mm
No 5: ZD 17.5-45mm at 36mm @ f=5.6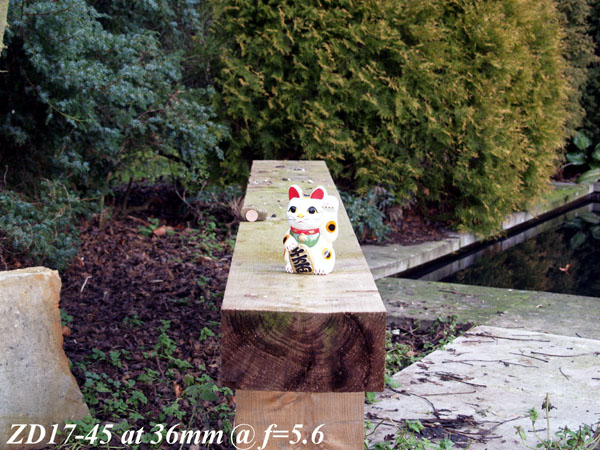 Excellent colour and contrast; sharpness appears OK.
---
No 6: ZD 14-54mm at 35mm @ f=5.6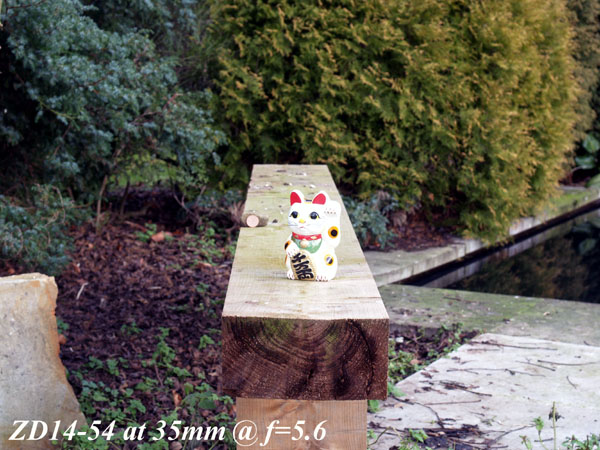 Identical colour/contrast. A little sharper, better bokeh.
---
Here's the crops: I've used the central portion here.
CROPS: Group 3 - around 35mm
FROM ZD 17.5-45mm at 36mm
This is 1:1 crop from ZD 17.5-45mm at 36mm.
Well, this is fine. There is marginally better D of F.
---
FROM ZD 14-54mm at 35mm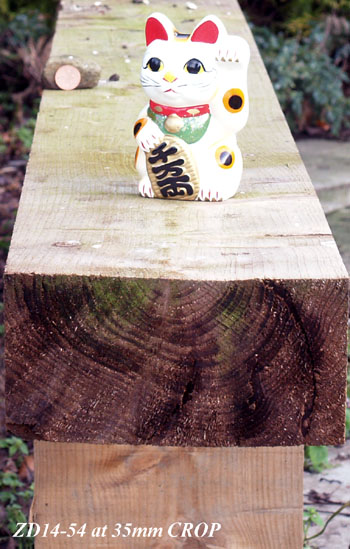 This is 1:1 crop from ZD 14-54mm at 19mm.
No huge difference - marginally sharper on end grain.
---
RESULTS: Group 4 - around 45mm
No 7: ZD 17.5-45mm at 45mm @ f=5.6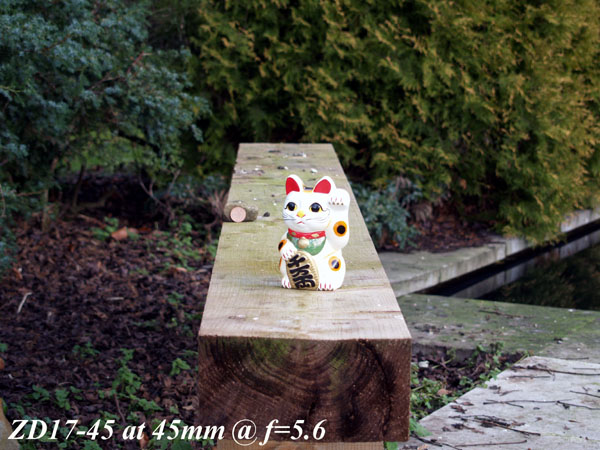 No comment - looks fine.
---
No 8: ZD 14-54mm at 44mm @ f=5.6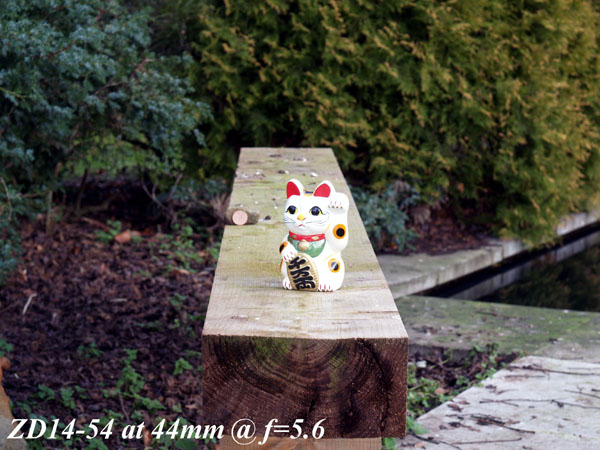 No comment - looks fine.
---
Here's the crops; as above I've used the central portion.
CROPS: Group 4 - around 45mm
FROM ZD 17.5-45mm at 45mm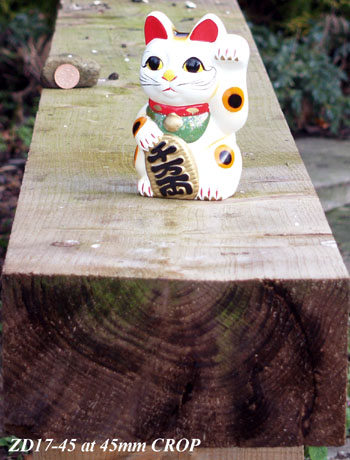 This is 1:1 crop from ZD 17.5-45mm at 45mm.
Looks fine to me, slightly better D of F.
---
FROM ZD 14-54mm at 44mm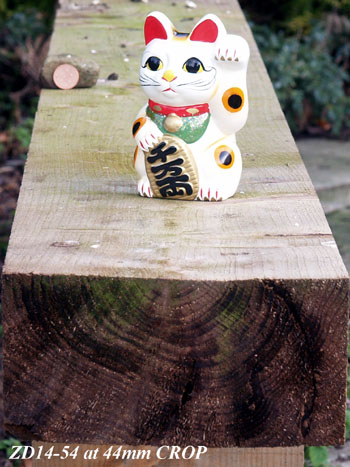 This is 1:1 crop from ZD 14-54mm at 44mm.
Better sharpness on end grain (not dramatic).

---
OBSERVATIONS:
These field tests above were close quarter stuff; the weather simply did not permit any longer range tests - I'll try to add some later. NOTE: As of 9th Februaray I've added these 'standard' test images.


RESULTS: Group 6: Long Distance at 45mm
No 1: ZD 17.5-45mm at 45mm 1/25th @ f=5.6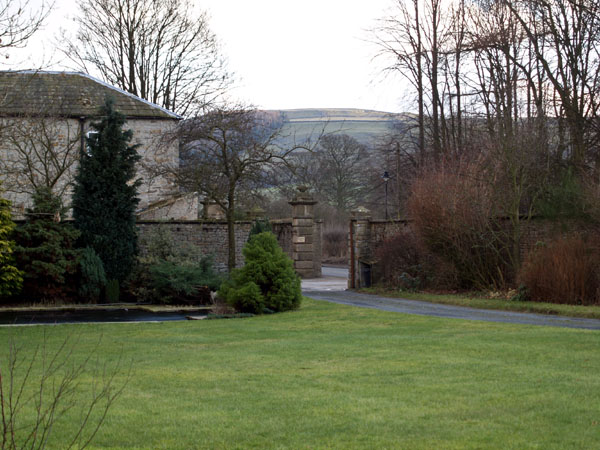 This is a standard result for me. Colours are very good and overall sharpness appears acceptable.
---
No 2: ZD 14-54mm at 45mm 1/25th @ f=5.6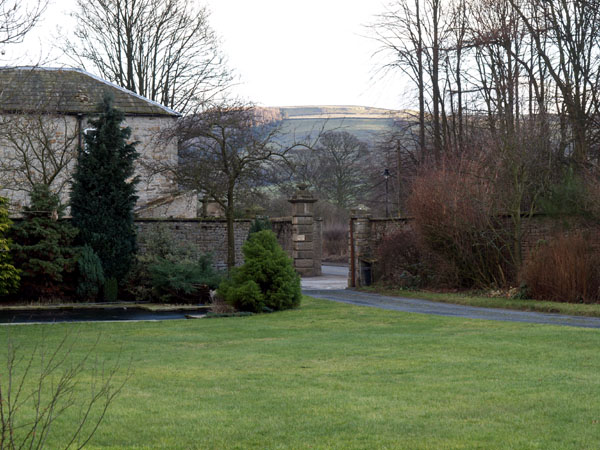 A slight change in sunlight - see distant horizon. Very similar to above but a tad less vibrant.
---
Seems like we need some crops to examine the differences in more detail. I use the 'Draycott Hall' sign. These are 1:1 crops. The distance from camera to the sign is around 230 feet and the sign is the point of focus for the E-500.

CROPS: Group 6 - Long Distance at 45mm
FROM ZD 17.5-45mm at 45mm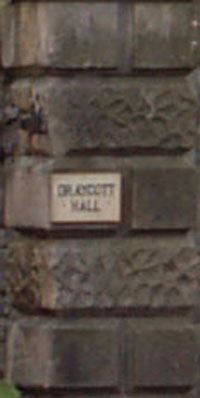 This is 1:1 crop from ZD 17.5-45mm at 45mm.
It's easy to read the sign - something I can't do from this distance with unassisted eyes. Sharpness is pretty good though it's beginning to break up. Note the slightest suggestion of a yellow cast.
---
FROM ZD 14-54mm at 45mm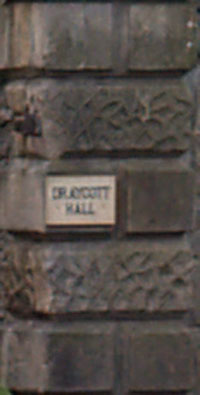 This is 1:1 crop from ZD 14-54mm at 45mm.
This is better than the 17-45mm. It's sharper and a little more crisp. Note absence of cast but like the crops above the colours are a tad less vivid.


---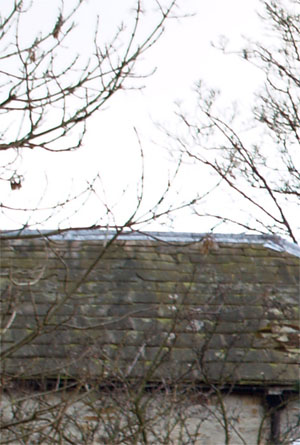 This is a corner 1:1 crop from ZD 17.5-45mm at 45mm.
It's in the corners you should be able to see the differences between the lenses. This is OK but it's tending to soften quite a bit.
---
FROM ZD 14-54mm at 45mm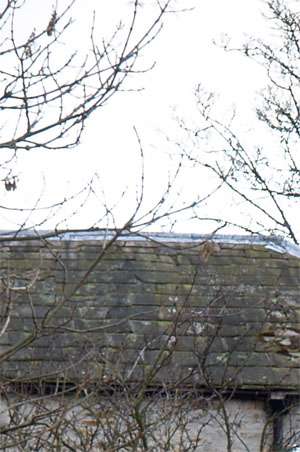 This is a corner 1:1 crop from ZD 14-54mm at 45mm.
This is much sharper than the 17-45mm. It's easy to see the edge definition of the stone slates. Note however there is quite a bit more purple fringing with the more expensive lens. These crops show the 17-45mm is reasonably sharp dead centre - not quite as good as the 14-54mm but not terribly bad at all. It is not so good in the corners where its poorer construction shows with quite a bit of softness.
---
TECHNICAL ISSUES NOTED:
* Auto foucus speed is equal to other ZD AF lens.
* MF is equal to other ZD's
* This lens works with the EC14. (Contrary to the lens chart).
CRITIQUE:

From these results it looks like the budget ZD is a capable little workhorse and although I suspected it might not perform quite as well resolving over longer distances, you can judge for yourself - this is pretty good to better than average. It is marginally less sharp than its high grade brother and it does sharpen up slightly over middle to long distance shots - but not dramatically. (Its slower aperture sharpens it up a little). Based on these test shots it's just not quite as good as the ZD14-54mm in close-quarter work where the above crops show it a tad softer. At longer distances it competes well, resolving the centre detail almost as sharp, but across the frame it tends to soften as the edges approach. While this reflects its budget construction it has nothing to be ashamed about. If you recall my ZD14-54mm has been back to Olympus as I was dissatisfied with its performance; I'm slightly disappointed the high grade lens didn't really outshine its cheap sibling, but not suprised. Bearing in mind the price differential the ZD17.5-45mm is not '5 times' worse than the £400 ZD14-54mm - far from it. Of course there are differences, but they're only marginal in this test. Nothing screams to me of poor performance within its optical restrictions. And to be fair it's hardly an equitable test.
It's no good bemoaning the fact that it's not as fast and not as wide and/or long as the other zooms - standard and high grade offerings; if it were it wouldn't be currently 'given away' with the E-500 outfit - this is a kit lens after all. Yes, it's obviously made down to a price, but it certainly does not disappoint. It works very well within its design limitations. This is a basic standard zoom that delivers a better than average result. Any first time DSLR buyer will be well served by this little lens. I'm very surprised to see a small rash of these lenses appearing on ebay since the SE kit has been available in UK, with folks accepting next to nothing for a perfectly good little lens. It doesn't make any sense and I certainly won't be joining them. (I well remember the OM 'S' Zuiko 35-70mm 3.5~4.5 being almost ridiculed when it was introduced; it is now highly prized by both collectors and users).
CONCLUSION:
Though I harboured some doubts, now I've used this little lens I'm perfectly happy. I have no nasty afterthought that I've been robbed by the kit offering in any way. This lens is a useful addition to my E-system armoury. It has the advantage of being light and compact - something the E-system is not renowned for! Yes it's a cheap lens; so what? Being cheap does not infer poor performance, being 'budget' does not automatically mean it is crap. I consider it did very well against a High Grade lens costing over 5 times an assumed value of around £75.00. And, to be fair my expensive ZD14-54mm before recalibration was really not a great deal better than this lens. (NOTE: The assumed 'valuation' just cited seems to be about right as these lenses are selling on eBay for around £60.00).
The lens suits the E-500 well. The E-500 concept is Consumer DSLR. (Personally I think it's better than that). I know my missus appreciates the lightweight kit and I'm sure she's not alone. There will be many first time DSLR users who will be well served by this combo.
Kudos Olympus - look after the folks at the bottom of the ladder as well - they can only go up!