5th MARCH 2008:
Just when you thought it was safe to put your wallet back in your pocket, Olympus announce a new DSLR body and more excitingly, a new lens. Today the E-420 has been launched. Broadly speaking it's the next generation E-410 with enhanced sensor, fps, larger monitor, shadow adjustment technology and face recognition. It also boasts AF contrast detection (on the monitor) with certain lenses only. The grip has been reworked, but those strap lugs reamin the same.
But the most exciting announcement is that of the new Zuiko Digital 25mm x 2.8 pancake lens. Ultra slim (reminds me so much of the Pen F pancake) and combined with any of the three tiny bodies, E-400, E-410 and E-420 here's a DSLR that's virtually pocketable.


Official data page(s) from Olympus
Olympus have published a semi-brochure/data sheet about the new E-420 and the new Zuiko Digital 25mm x 2.8 Pancake. These pdf's give you the full specifications for each and are available on this site:
The E-420 DSLR body data sheet is here.
The ZD 25mm pancake lens data sheet is here.


Here's the official announcement:
The latest addition to the Olympus E-System, the E-420, represents a winning formula for both seasoned photographers and beginners to the D-SLR domain alike. Users can benefit from the remarkable quality that only D-SLR photography can deliver, yet also enjoy the ease of use usually only associated with a compact camera. This includes Live View on the LCD, which can significantly simplify image composition. In addition, as one of the world's smallest and lightest D-SLRs, the E-420 will fit just about anywhere – from a backpack to a handbag. This makes it a perfect companion for journalists, travellers or other adventurers who appreciate the one-of-a-kind portability, performance and value for money it delivers. The easy-to-use 10.0 Megapixel E-420 features 28 shooting modes to suit a multitude of photographic situations and is ready to use straight out of the box. It will be available in stores from late April 2008 at a recommended retail price of £379.99 for the standard lens kit.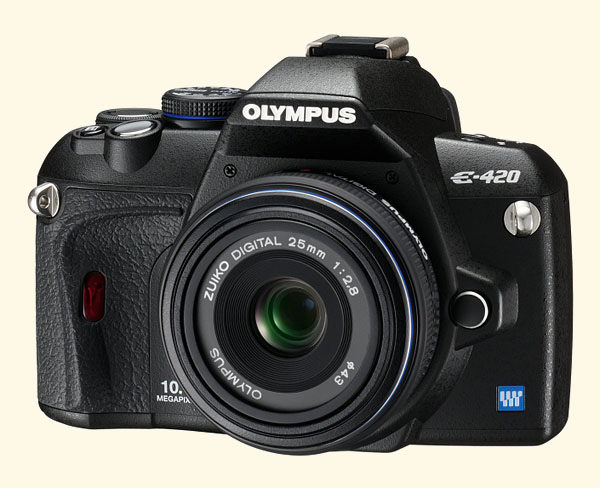 New E-420 with what promises to be a popualr lens - the new 25mm pancake.
More performance, more ease of use With the E-420, Olympus proves that high performance D-SLR photography can be enjoyed by everyone. Despite packing even more potential than its predecessor, this new E-System model boasts extreme user-friendliness in an amazingly light and compact take-anywhere form. Whatever the photographer's level of experience, high-quality images are achievable by anyone. 28 shooting modes, including automatic, semi-automatic and manual shooting options, ensure complete versatility – while retaining both ease of use and the distinct D-SLR quality advantages.
A powerful 10.0 Megapixel Live MOS sensor provides plentiful resolution for crisp, detailed shots. This is supported by the incorporation of the TruePic III image processor which enables the implementation of Shadow Adjustment Technology (SAT). It guarantees exceptionally true-to-life image reproduction while reducing noise and enhancing processing speed. Sequential shooting at up to 3.5fps in full Megapixel mode is also possible with up to eight images in RAW buffer.
For state-of-the-art protection against the threat of dust, Olympus' own Supersonic Wave Filter is the E-System's native dust reduction system – and has positioned itself as the world's leading solution against dust on the image sensor.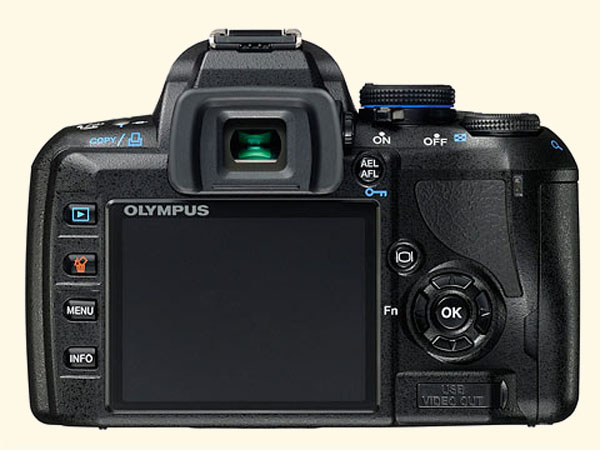 New E-420 rear view showing increased size monitor.
Purely intuitive:
The E-420 brings even the most advanced features into a natural framework that enables virtually anyone to achieve high-level photography. With continuous Live View, users can frame compositions on the camera's generous 2.7"/6.9cm HyperCrystal II LCD, which provides 100% coverage of scenes with the on-screen contrast, brightness and colour of depictions all being easily adjustable. Thanks to Perfect Shot Preview, the effects of exposure compensation and white balance can also be monitored in real-time directly on the LCD. Furthermore, professional depth of field previewing is possible and users can see the effects of Face Detection and Shadow Adjustment Technology directly on the LCD using Live View. In addition, the LCD enables the magnification of subjects by a factor of 7 or 10 while framing. This makes manual focusing during macro shooting, for example, considerably easier and more accurate.
Autofocus performance has also been enhanced to boost user friendliness. On top of the phase detection AF system, the E-420 now also features a contrast AF system*. It allows subjects to be focused upon more conveniently as the mirror does not need to move to the down position for measurements to be taken. And as a major additional benefit for photographers, implementation of the contrast AF system lets the effect of autofocus be seen on the Live View LCD immediately.
A built-in flash adds to this model's flexibility. More shooting versatility is also provided due to the option of having wireless flash control in up to three groups. Using the Olympus FL-36R and FL-50R flash units, multiple flash set-ups which can be controlled remotely – significantly extend lighting options. And thanks to the availability of sensitivities ranging from ISO 100 to 1600, the E-420 remains a versatile companion, even in less-than-perfect lighting conditions and in situations when a flash is not desired.
With 38 languages available, the E-420 enables ease-of-use no matter the user's native tongue. A USB 2.0 (Hi-Speed) interface guarantees fast data transfer, and with its long-life rechargeable battery, shooting sessions can easily go into overtime.
Part of the E-System family:
The E-420 is compatible with virtually all Olympus E-System accessories. Adhering to the Four Thirds Standard, these various accessories open the door to an amazing range of photographic options – without compromising quality. All Four Thirds lenses, for example, feature near-telecentric construction ensuring edge-to-edge sharpness. Furthermore, the Four Thirds System enables the design of smaller camera bodies and lenses to allow for much more compact photographic set-ups. This advantage is perfectly embodied in the go-anywhere E-420, one of the world's smallest and lightest D-SLRs. And to accentuate this fact further, a super compact lens is also being introduced. Featuring an extremely short-barrelled, lightweight design, the ZUIKO DIGITAL 25mm 1:2.8 (equivalent to 50mm on a 35mm camera) represents the perfect accompaniment for the E-420. With its overall compactness, the set-up is reminiscent of the legendary improvement to mobility that the famous Olympus OM series provided.
Adding to this model's cool elegance, an attractive, retro-styled camera case that attaches to the base of the camera is also being introduced. Made entirely of leather, it will be available in a choice of white, brown or black.
The newest addition to the E-System family, the E-420 will hit stores from late April 2008.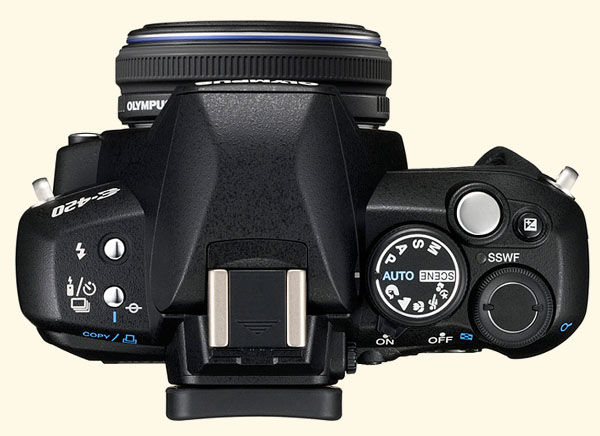 New E-420 top plate view.
The Olympus E-420 digital SLR – main features:
* Extremely easy operation – use it straight out of the box
* One of the world's smallest and lightest D-SLRs providing the ultimate in portability
* 10 Megapixel Live MOS sensor
* Live View for easier compositions
* Perfect Shot Preview for improved depiction of camera adjustments directly on the Live View LCD
* Improved Live View with contrast AF, Face Detection, Shadow Adjustment Technology & phase detection AF system*
* Improved AF system with both contrast and phase detection-type AF systems*
* TruePic III image processor
* High-contrast 2.7"/6.9cm HyperCrystal II LCD
with 176° viewing angles
* The original Supersonic Wave Filter for dust protection
* 28 automatic, semi-automatic and manual shooting options (including 5 exposure, 5 creative & 18 scene select modes)
* Built-in pop-up flash (GN 10)
* Wireless flash control in up to 3 groups
* 3.5fps with up to eight images in RAW buffer
* One-touch white balance
* AE/AF-lock functionality
* ISO 100 to 1600
* Depth of field preview function
* 49-segment digital ESP
* Bracketing function (Exposure, White Balance, Focus)
* Beginner and Advanced information screens
* Detailed info screen with histogram
* Based on Four Thirds System
* Dual memory card slots (for xD-Picture Card and CompactFlash) The Olympus E-420 is available in the following kits:
* Olympus E-420 body only - £339.99
* Olympus E-420 Lens Kit - £379.99 (E-420 body with ZUIKO DIGITAL ED 14-42mm 1:3.5-5.6 lens)
* Olympus E-420 Double Zoom Kit - £479.99 (E-420 body with ZUIKO DIGITAL ED 14-42mm 1:3.5-5.6 and ZUIKO DIGITAL ED 40-150mm 1:4.0-5.6 lenses)
* Olympus E-420 25mm Lens Kit - £449.99 (E-420 body with ZUIKO DIGITAL 25mm 1:2.8 lens)
* Full contrast AF performance is available with new Olympus lenses including the ZUIKO DIGITAL 14-42mm 1:3.5-5.6, ZUIKO DIGITAL 40-150mm 1:4.0-5.6 and the new ZUIKO DIGITAL 25mm 1:2.8 "pancake" lens. A free firmware update can be downloaded from the Olympus homepage to enable this feature for lenses that were purchased previously. For all other lenses contrast AF is used in combination with the phase detection AF.
ZUIKO DIGITAL 25mm x f=2.8:
At only 23.5mm long and weighing 95g, the remarkably thin and lightweight ZUIKO DIGITAL 25mm 1:2.8 lens from Olympus is ideal for the mobile D-SLR photographer. When mounted to the Olympus E-410 or newly-announced E-420, the total length of camera body and lens is a meagre 76.5mm – making it both exceptionally portable and easy to store.
Double-sided aspherical lens elements provide optimal aberration correction and return images with exceptional edge-to-edge sharpness and clarity. Furthermore, to optimise shooting against light, this single-focus lens incorporates a specially-formulated coating that minimises ghosting and flaring. With its bright 1:2.8 circular diaphragm aperture, photographers can create striking soft-focus images and also take advantage of natural defocusing effects.
Boasting a focal length equivalent to 50mm on a 35mm camera, this lens provides a near natural visual field as it closely resembles the human eye's natural field of vision. And at just 20cm, the minimum focusing distance lets photographers get extremely close to their subjects, to further add to this astoundingly compact lens' versatility.
To set off its extremely sleek and streamlined appearance, ZUIKO DIGITAL 25mm 1:2.8 lens also features a screw-on aluminium lens cap. This ultra-thin and ultra-light model will become available in April 2008 for £189.99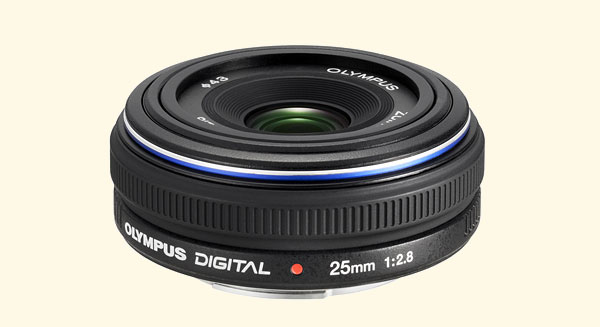 New Zuiko Digital Pancake lens.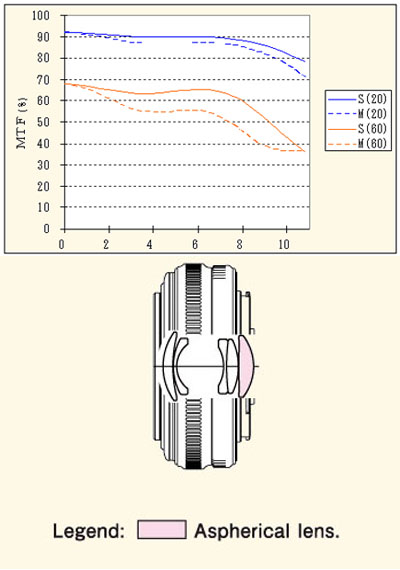 Lens MTF and architecture.
ZUIKO DIGITAL 25mm 1:2.8 lens – main features:
* · Ultra-compact lens
* · Fixed focal length of 25mm (equivalent to 50mm on a 35mm camera)
* · Bright 1:2.8 aperture
* · Merely 23.5mm thin and 95g light
* · Minimum focusing distance of only 20cm
* · Comes with screw-on aluminium lens cap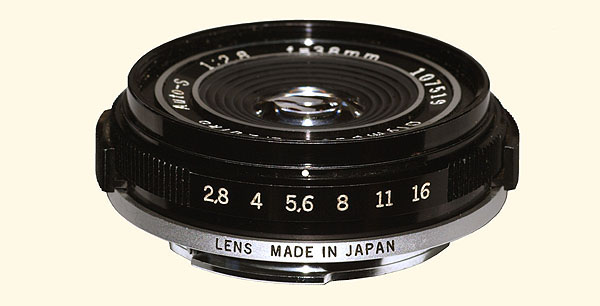 1966 Pen FT 38mm x f=2.8 Pancake lens.
Some observations:
Whether we wanted another new body seems driven more by marketing than requirements. In some ways the inclusion of a lot of E-3 technology into the new entry level machine does dilute the appeal and exclusivety of the top level offering. However, entry level consumer is where the money is without doubt, so we can hardly blame Olympus for exploiting this sector.
But I'm delighted to see an affordable prime lens from Olympus. And at the old 'standard' length of 50mm (equivalent). There has been much mutterings on the various forums for primes and I'd like to think this is the first of a series of affordable fixed focal length lenses from the maker. I think we may have to wait a long time for some of the more exotic requests for sub-f2 lenses as I believe the 4/3rds sensor is probably at its best with lenses providing a f2 aperture. In any case the DofF is so thin with f1.2's they are not the easiest of lenses to use.
The similarities between the new ZD pancake and the old Pen FT 38mm x 2.8 (55mm in full-frame equivalent) pancake are striking and not just because they both happen to be pancakes. When Mr Maitani designed the Pen FT pancake it was in his mind to make the FT when fitted with this lens a truly pocketable camera; it would be great to think the inspiration of Yoshihisa Maitani lives on with this latest addition.
My pesonal guess is the little pancake will sell extremely well even though it does seem a tad expensive at £190.00. For comparison, the Pen FT pancake, in 1969 was priced at $50.00 (about £40.00).
And finally just for those who can remember, here's a composite image showing the new against the old. My, that Pen FT Black with a pancake is a fine looking camera!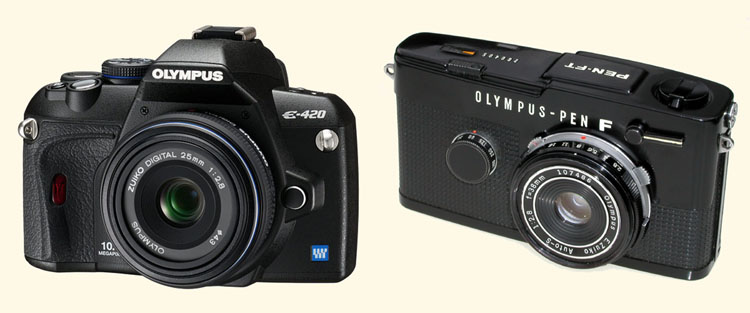 E-420 with pancake and 1966 Pen FT with 38mm x f=2.8 Pancake lens.