---
OFFICIAL ANNOUNCEMENT
September 2006: at the same time as PhotoKina and all the buzz about the E-3, in came the quite unexpected E-400!

Press Release:
The 10.0 million pixel Olympus E-400:
The world's smallest digital SLR
Minimum dimensions – maximum performance
London, 14 September 2006 – Olympus presents the latest addition to the E-System, the world's smallest and lightest D-SLR* camera – the E-400. The compact size and low weight of this latest Four Thirds Standard camera, allows photographers to take it virtually anywhere, while not having to do without the considerable benefits of SLR photography. This model features a new CCD with 10.0 million pixels and a state-of-the-art amplifier circuit for incredible imaging performance at super fast speed. As the design of the E-400 is based on the Four Thirds Standard, users have virtually unlimited flexibility. A wide range of high-quality, interchangeable lenses, including the EISA Award winning Olympus ZUIKO DIGITAL Top Pro lenses, plus other accessories are available for all types of needs. These are provided by Olympus and, thanks to cross-manufacturer compatibility of the standard, from other manufacturers as well. As with all E-System cameras, the E-400 features the Supersonic Wave Filter – ensuring dust-free photography, even after changing lenses under challenging conditions.
The E-400 is expected to arrive in the UK in November, for stockist information call 0800 0720070 or visit www.olympus.co.uk.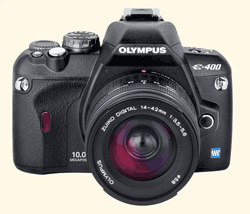 Here it is - the E-400. A new 10MP tiny DSLR from Olympus - who else?
Digital OM1 anyone? This is exactly what many have been waiting for.
Compact size with innovative D-SLR technology
As it is the world's smallest and lightest D-SLR*, the E-400 is sure to never become a burden. It is the perfect travel companion, compact enough to take along on holidays or for use as a high quality back-up camera when out on the road.
Within its extraordinarily tiny frame is a treasure-trove of innovative technology. To begin with, a 10.0 million pixel CCD provides plenty of imaging power so that even the finest of details do not go to waste. This highly energy-efficient CCD features a state-of-the-art amplifier circuit that all but eradicates noise and is incredibly fast. It enables sequential shooting at up to 3fps with a five image RAW buffer in burst mode.
Like every Olympus E-System camera, the E-400 is armed with a Supersonic Wave Filter. This patented technology allows lenses to be changing – even in challenging environments – without the fear of dust contamination, giving users the brilliance of dust-free pictures every time. Developed by Olympus, the Supersonic Wave Filter generates ultra-high-speed vibrations that literally shake off dust and other particles from the CCD. These are then captured on a special adhesive membrane to prevent recontamination. For the E-400, the Supersonic Wave Filter has been optimised with smaller dimensions and a higher frequency of vibrations for even more effectiveness.

Pro features and comfortable handling
The Olympus E-400 proves that even a feature-packed D-SLR needn't be difficult to operate. Of course it includes the full range of manual control options for boundless creativity, and complements these with 31 scene modes that cover a wide variety of shooting situations. These include Underwater, Macro, High Key and Low Key. Users also benefit from special colour modes and the possibility to apply various Black&White filters to images.
So that photographers can continue shooting as long as they wish, the E-400 is powered by a new high-power rechargeable battery. The camera also accepts both CompactFlash and xD-Picture Cards, giving a choice of data storage options for even more flexibility. And, to ensure that the versatility and quality of E-System photography is open to as many people as possible, the menus on the E-400, as well as its manuals and software, can be displayed any one of 25 languages, making the camera completely understandable in 39 European countries – something only Olympus currently offers.

Four Thirds compatibility for boundless versatility
As with all E-Series cameras, the E-400 conforms to the Four Thirds Standard. Olympus and various other manufacturers produce high-quality Four Thirds-compliant lenses and accessories that are specifically designed for digital SLR image capture. With only very few exceptions, the E-400 is compatible with virtually the complete range of Olympus E-System accessories. This includes the full line-up of the ZUIKO DIGITAL Top Pro lenses, which recently received an EISA award. Even an Underwater Case (PT-E03) will be available to let adventurous photographers capture the delights of the aquatic world in up to 40m of water.

New E-System lenses
For better results and improved handling, lenses based on the Four Thirds Standard feature near telecentric construction, which takes into account the specific technical characteristics and requirements of digital cameras. Two new Olympus Four Thirds lenses will be introduced with the E-400 at its launch: the EZ-1442 ED 14-42mm 1:3.5-5.6 (equiv. to 28-84mm on a 35mm camera), which is perfect for standard applications, and, for more magnification power there is the EZ-4015-2 ED 40-150mm 1:4.0-5.6 (equiv. to 80-300mm on a 35mm camera). Both lenses are exceptionally compact, for greater mobility and speedy use. They also offer maximum image quality at an excellent price and feature a stylish design with a blue ring in the middle – the new insignia for the Olympus E-System lens line-up.
The E-400 achieves a remarkable balancing act between being the world's smallest and lightest D-SLR* and relinquishing nothing in terms of image quality and professional performance. It combines the size usually attributed to compact cameras with the stunningly crisp picture quality and versatility expected from an SLR. The E-400 will be available from November 2006.

As at June 2006: The Olympus E-400 digital SLR – main features
* World's smallest and lightest D-SLR*
* 10 million pixels
* 6.4cm/2.5" LCD
* Supersonic Wave Filter for dust protection
* Dual memory card slots (for xD-Picture Card and CompactFlash)
* 31 shooting modes (incl. 5 exposure, 7 creative & 19 scene modes)
* Built-in pop-up flash (GN 10)
* 3 fps with up to five images in RAW buffer
* One touch white balance
* TruePic TURBO image processor
* AF-lock functionality
* Depth of field preview function
* Improved 49 segment digital ESP and spot metering
* Exposure Bracketing function
* Large beginners and advanced info screen
* Detailed playback info screen with histogram
* Exceptional ease of use with intuitive GUI and buttons that provide immediate access to frequently used features
* JPEG & RAW recording
* Based on Four Thirds Standard
* Underwater Case available (PT-E03) waterproof to 40m


An OM size DSLR. I suspect the E-400 might win a big following from the OM faithful.
Slightly less wide than an OM2/3/4 but a tad taller - but this includes an on-board flash.
Two specaily designed "blue-band" light and bright compact zooms cover 28mm~300mm.
FIRST REVIEWS HERE:
The following sites have had pre-production cameras to review and their opinions are complimentary.
LET'S GO DIGITAL has a very comprehensive review and is here: www.letsgodigital.org
The DPNOW site has a large selection of photo's and is here: www.dpnow.com
The Scandanavian site DIGIT offers a more verbous offering and is here: www.digit.no



A STRAIGHT COMPARISON WITH E-500
My friend Andrzej Wrotniak has looked at the press release and the above reviews and put together some wise comments for those thinking of upgrading their E-500. Well worth a read even if you are just thinking about purchasing your first DSLR camera.
Andrzej's remarks can be found here: www.wrotniak.com

A NEW GENERATION OF E-SYSTEM CAMERAS?
I've examined the E-400 from the company's strategic point of view. My opinion, for what it's worth is here.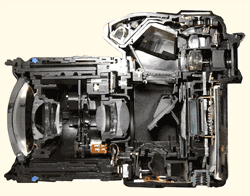 Cut way of the E-400 with ZD14-42mm fitted.
---
---
| | |
| --- | --- |
| Posted July 2005 | Copyright © 2004/5 John Foster |