---
ACCESSIBLE D-SLR QUALITY WITH ADDED CREATIVITY: OLYMPUS E-450
31 March 2009: Building on the success of the popular E-420, the new E-450 is packed with features that encourage new comers to DSLR to have fun and explore their creative potential. Three in-camera Art Filters apply stylish effects to any image at the touch of a button. Image composition is simplified via Live View on the bright LCD. Packed with features yet easy to use straight out of the box, this latest addition to the Olympus E-System range is not only one of the smallest and lightest models on the market*, it also boasts all the benefits of the Four Thirds Standard at an affordable price. The E-450 has a full range of Olympus' innovative E-System technology on board and will be available in stores from May 2009 at a recommended retail price of around £450 for the standard lens kit. The Olympus E-450 digital SLR's main features:
Usability
Extremely easy operation; use it straight out of the box
Functionality
* Three Art Filters
* Improved Live View with contrast AF, Face Detection, Shadow Adjustment Technology & phase difference detection AF system
* Perfect Shot Preview to enable comparison of the results of various settings adjustments before actual shooting
* TruePic III+ image processor
Portability
One of the world's smallest and lightest D-SLRs providing the ultimate in portability
The E-450 is expected to arrive in the UK in May/June 2009. I missed reviewing the E-420 so I'll definitely be asking for a review sample.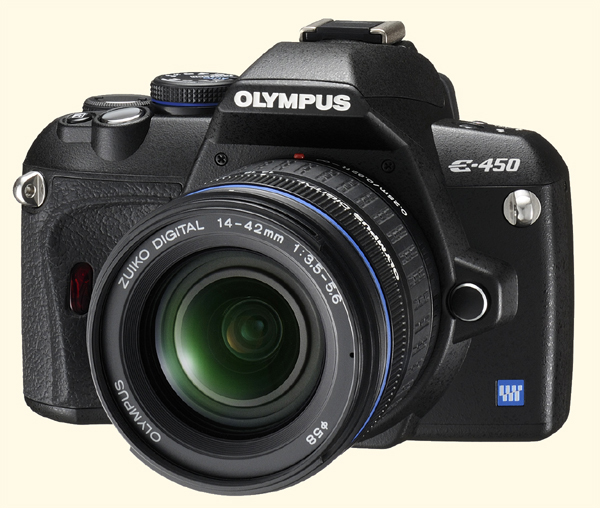 The E-450 will (apparently) sit between the E-420 and the E-520; all three will coexist. This will provide consumers with the widest choice of E-System DSLRs yet seen; one for every pocket and one for every need.
SPECIFICATIONS:
E-450 Key features:
* 10 Megapixel Live MOS sensor
* High-contrast 6.9cm/2.7? HyperCrystal II LCD with 176° viewing angle
* The original Supersonic Wave Filter for dust protection
* 28 shooting modes (5 Exposure Modes, 5 Creative Modes, 18 Scene Select Modes)
* Built-in flash (GN12, ISO 100) with commander function for wireless off-camera flash synchronisation
* Wireless flash control of up to 3 groups of FL(R) designated falshguns
* 3.5fps with up to eight images in RAW buffer
* One-touch white balance
* AE/AF-lock functionality
* ISO 100 to 1600 for wide-ranging sensitivity
* Depth of field preview function
* 49-segment digital ESP
* Bracketing function (Exposure)
* Detailed info screen with histogram
* Based on Four Thirds Standard
* Dual memory slot for CompactFlash and xD-Picture Card


The Olympus E-450 is available in the following configurations:
Olympus E-450 body only
Olympus E-450 Lens Kit (body with ZUIKO DIGITAL ED 14-42mm 1:3.5-5.6 lens)
Olympus E-450 Double Zoom Kit (body with ZUIKO DIGITAL ED 14-42mm 1:3.5-5.6 & ZUIKO DIGITAL ED 40-150mm 1:4.0-5.6 lenses)


GENERAL:
A creative powerhouse
Developed with amateurs in mind, the easy-to-use Olympus E-450 brings a high performance D-SLR to users with unbridled imaginations. A range of Art Filters allows photographers to stretch the limits of their creativity, without complicated software or a computer. Introduced with the E-30, this function gives pictures a make-over by selecting from one of three Art Filters. Inspired by the kaleidoscopic colours of the pop art movement, the Pop Art effect, for example, infuses photographs with rich shades to give pictures a livelier, dynamic feel. Soft Focus, on the other hand, makes pictures seem ethereal and otherworldly, while Pin Hole gives images an air of secrecy. Framing shots perfectly is also a breeze with the generous 6.9cm/2.7" HyperCrystal II LCD with 176° viewing angle, which allows you to shoot from virtually any perspective and is even brighter than the E-420's. The Live View functionality with the camera's contrast AF** capabilities, on the other hand, allows you to comfortably judge exactly what results to expect, even before images are shot. This way, what you see is what you get, no matter what the perspective! Further guaranteeing pictures are optimally exposed, Face Detection Technology automatically detects and focuses on faces while Shadow Adjustment Technology balances out shadowy areas. 28 shooting modes, including automatic, semi-automatic and manual shooting options, ensure complete versatility. Nice pictures at the touch of a button? What more could you ask for?
Trusted and true Olympus has packed the E-450 with everything an entry-level photographer needs to take high-quality pictures. It is equipped with Olympus? proprietary dust reduction system, the Supersonic Wave Filter, which protects from the threat of dust - and has become the world's leading solution against dust on the image sensor. Additionally, a powerful 10 Megapixel Live MOS sensor provides incredible resolution for crisp, detailed shots. This is supported by the incorporation of the TruePic III+ image processor: it guarantees exceptionally true-to-life image reproduction while reducing noise and enhancing processing speed. It is possible to shoot at up to 3.5fps in full Megapixel mode with up to eight images in RAW buffer. Compact and light, the E-450 boasts all the advantages of Four Thirds and Olympus state-of-the-art technology in a handy format everyone can appreciate.
Full range of accessories
The Olympus E-450 is compatible with nearly all E-System accessories, such as 19 lenses with a focal range of 7-300mm (equivalent to 14-600mm on a 35mm camera) and various flash systems. A perfect companion for this compact model, for example, is the short-barreled and lightweight ZUIKO DIGITAL 25mm 1:2.8 (equivalent to 50mm on a 35mm camera) Pancake lens. The E-System D-SLR newcomer also ensures perfect light no matter what with up to three Wireless Flash groups familiar from the professional E-3. Available are the FL-50R and FL-36R wireless flashes. And in any situation where a flash is needed, new robust Olympus Flash Brackets, such as the FL-BK04, guarantee good light and maximum flexibility. Two flashes can also be mounted on the practical FL-BKM03 Twin Flash Bracket.
Rookie creative types will find everything they want from a digital SLR in the E-450. One easy-to-use package unites Olympus technology and incredible E-System features such as the Supersonic Wave Filter and Live View with artistic options like Art Filters. Look for the new E-450 in stores as of the end of May 2009.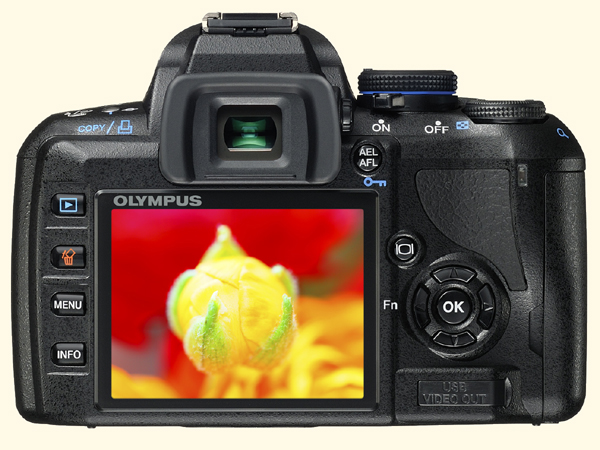 New E-450 rear view - exactly same as E-420.
DETAIL:
Art Filters Enables special artistic effects to be created directly in the camera. The following Art Filters are available in the Olympus E-450
Pop Art: Enhances colours, making them stronger and more vivid to create high-impact pictures that express the happy, light-hearted feeling of the pop art style.
Soft Focus: Creates a soft tone which gives pictures an ethereal, otherworldly atmosphere. It renders pictures as though they were veiled in heavenly light, without obscuring details such as the hair or flower petals.
Pin Hole: Reduces the peripheral brightness like an image seen through a pinhole. Added to this is a unique colour tone that results in a style that has an air of secrecy or portrays the feeling of being lost in another dimension or space.
Face Detection Technology A technology that searches for faces in a composition and recognises them as the main subject. It then automatically puts them in focus and optimally adjusts exposure to create an image that's sharp in the right places and ideally exposed.
HyperCrystal A high-grade, semi-transmissive technology used in LCDs, which employs an additional layer at the bottom of the LCD to reflect light from external light sources. This enhances the brightness of the LCD, so even in direct sunlight images are displayed sharply and with improved contrast compared to that of conventional displays. Also, it provides for particularly wide viewing angles without glare or shadow, so images can be framed from a variety of angles and viewed by several people at once.
Live View Provides an alternative to framing shots through the viewfinder on a digital SLR camera. The image sent through the lens to the image sensor is displayed directly on the camera's LCD. Whereas most compact digital cameras have been equipped with Live View functionality for many years, this feature has only recently become available on D-SLRs. The world's first D-SLR to feature continuous Live View capabilities was the Olympus E-330.
RC Wireless Flash Control The user can control wireless flash units remotely - eliminating the need for extra cables - by using the built-in flash as the system's master unit. Control options include the ability to independently regulate flash mode and compensation settings for up to three groups of flashes, four channel settings to avoid interference as well as a wide range of brightness levels.
Shadow Adjustment Technology A technology designed to improve exposure for pictures with dark areas. Using a sensor that works much like the human eye, dark parts of a composition (e.g. a shadow under a tree) are identified and the camera then adjusts the exposure settings accordingly for those areas. The result is a more realistic and detailed picture.
Supersonic Wave Filter Dust entering digital SLRs, for example during lens changes, can cause damage to photos - unless it is removed. With the Supersonic Wave Filter, the potential for dust to ruin photos is eliminated. A transparent filter is located between the camera's shutter and sensor. It makes sure no dust is able to land on the sensor. Instead, the particles settle on the filter and are then shaken off by a series of ultrasonic vibrations generated by the filter when activated. Olympus was the first manufacturer to incorporate dust protection in D-SLRs.
TruePic III+ image processor Olympus' latest-generation image processing engine. It automatically enhances important aspects of image quality including: colour reproduction (colour range, saturation and brightness), picture sharpness (reduced image noise, improved edge reproduction), as well as providing faster processing speeds. Furthermore, it supports Art Filters to enable unprecedented creative expression.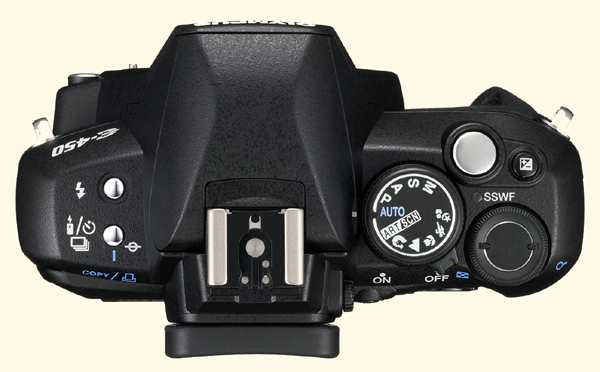 New E-450 top view - unlike the E-420 that normally shows this view with the ZD25mm Pancake lens. Perhaps Olympus are going to market this slightly differently? Not as the world's smallest DSLR and lens combination?