---
HERE IT IS - THE LONG AWAITED FLAGSHIP E-5
14th September 2010 Announcement: Dustproof and splashproof - new D-SLR designed for extreme photography. Olympus' new flagship is tough as they come: The ultimate E-System DSLR: E-5.
The new Olympus D-SLR powerhouse designed for imaging on the edge: the next generation E-5. The direct successor to the award-winning E-3, the E-5's all-terrain lightweight rigid magnesium alloy body is dustproof, splashproof, incredibly robust. The new flagship combines Four Thirds lens compatibility and a more powerful image processor to deliver photographs of the very highest calibre. In tandem with the remarkable ZUIKO DIGITAL lens system, the new 12.3 Megapixel High Speed Live MOS sensor and TruePic V+ engine with Fine-Detail Processing technology capture more detailed and sharper images than comparable resolution D-SLRs with larger sensors.
The E-5 sets new standards in reliability, speed and creativity. In addition to Olympus' unique Supersonic Wave Filter dust reduction system, it features a 3 inch VGA Swivel LCD, a 1/8000th sec. high-speed shutter with 5fps sequential shooting, IS0 6400, HD Movie, wireless flash and ten Art Filters. With the E-5, professionals can stay creative in virtually any conditions. If they can hack it, so can their camera. The Olympus E-5 will be available for £1500 from late October 2010.


MORE MANUFACTURERS WORDS
World-class image quality
The E-5 harnesses Olympus imaging innovations to give professional photographers a tool with truly breathtaking performance. Compared to equivalent rival D-SLRs, images appear more detailed and sharper ? thanks to a unique combination of features. The TruePic V+ image engine with new Fine-Detail Processing technology uses sophisticated algorithms to give an impression of greater resolution than shots taken on other cameras with the same number of pixels, while reducing the pseudo colours and moiré that affect lesser systems. The new technology brings out the full potential of the 12.3 Megapixel High Speed Live MOS sensor as well as the ZUIKO DIGITAL lens system that is so admired among photographers and press. Together, these components generate exceptional photographs with the highest picture quality ever achieved by an Olympus SLR camera. Irrespective of the choice of lens, image quality is further enhanced by sensitivity that extends to ISO 6400. Wireless flash, multi exposure mode and ten Art Filters give creative ambitions free rein. The E-5 marks the debut of Olympus? spectacular Dramatic Tone Art Filter that generates a virtual HDR image with just one shot. All the Art Filters can be applied to still shots and the High Definition movies that the E-5 records in the pristine 720p / 30fps format. With a built-in mono microphone, stereo microphone jack and HDMI interface, this D-SLR is fully equipped to record movies fit for full-size High Definition TVs. SD and CompactFlash card slots provide extra storage capacity for the data-rich film files.


World-class speed
For top-level professional photographers, speed is vital and the E-5 does not disappoint. It features Olympus' celebrated Supersonic Wave Drive built-in image stabilisation system and a super-quick 11-point full twin cross auto-focus system to cleanly capture even the fastest-moving subjects. Horizontal and vertical sensor lines mean this system effectively draws on 44 different points to calculate the focus. Shutter speed of 1/8000th second and 5fps burst shooting perfectly complement another Olympus highlight: the versatile 3 inch VGA swivel LCD with 921,000 dots resolution. The big display and superb response time make light of action photography, even from difficult angles.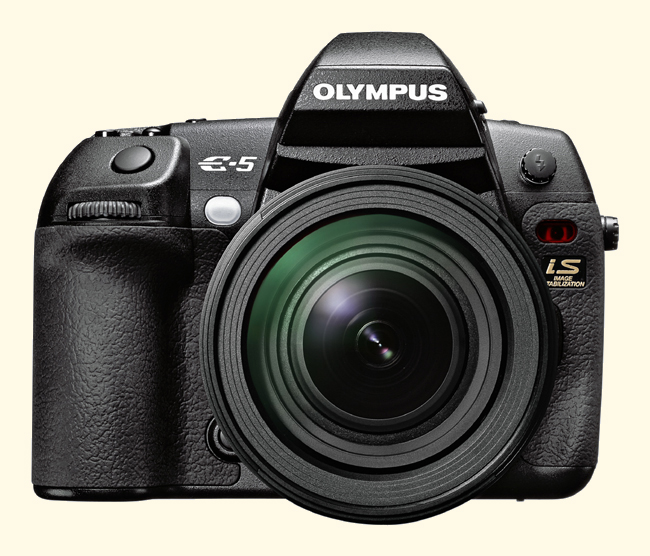 Full frontal E-5 with ZD 12-60mm zoom. No change from E-3.
E-5 HEADLINE FEATURES
Reliability
* Dustproof, splashproof, lightweight rigid magnesium alloy body
* Supersonic Wave Filter dust protection system
* Large viewfinder with 100% field of view
* Durable high-speed shutter tested to 150,000 releases


Image Quality
* Ultra-effective, Supersonic Wave Drive built-in image stabilisation
* 12.3 effective Megapixel High Speed Live MOS sensor
* New TruePic V+ image processor
* ISO 6400 sensitivity
* Ten Art Filters with astonishing new Dramatic Tone Filter
* Multi exposure mode
* Built-in flash with commander function for wireless flash synchronisation
* Compatible with Four Thirds Standard lenses


Speed
* Live View with high-speed full twin cross 11-point AF system
* 1/8000th second high-speed shutter with 5fps sequential shooting


Other highlights
* 3 inch 921,000 dot Dual Axis Swivel HyperCrystal LCD
* 720p 30fps HD Movie
* Stereo microphone jack
* SD and CompactFlash card slots for additional memory
* 2 frame and 7 frame AE bracketing
* Level Gauge on the viewfinder
* Two easy-to-use dials plus cursor keys for convenient playback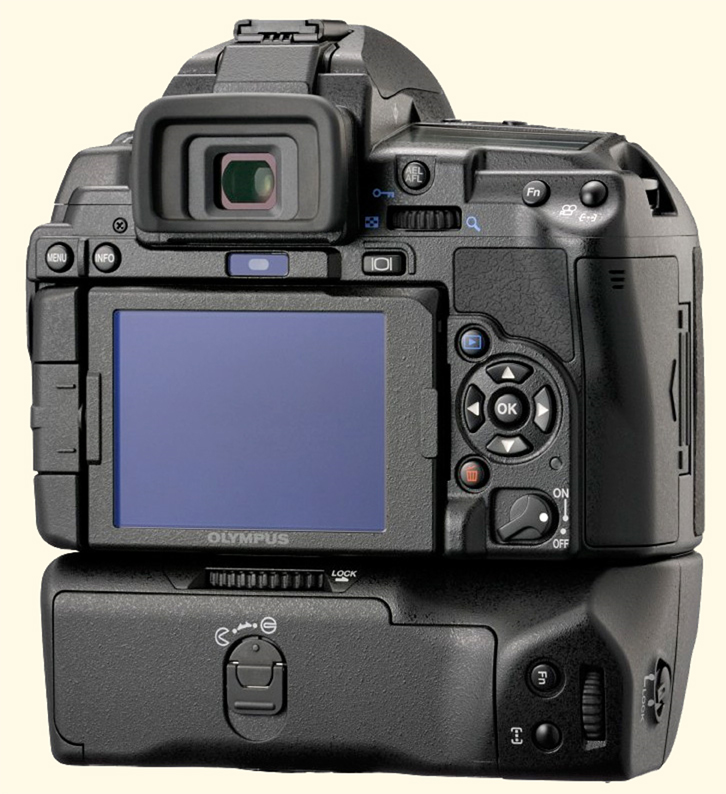 Full rear view with battery grip HLD-4. Notice 3" screen and button changes.
FULL SPECIFICATIONS
Body material: Dust & Splash Proof Magnesium body
Sensor: 4/3 type Hi-Speed Live MOS sensor; 17.3 x 13.0 mm active area; 13.1 million total pixels; 12.3 million effective pixels; RGB (Primary) color filter array; Fixed low pass filter (anti-alias filter)
Dust suppression: Supersonic Wave Filter
Image stabilization: In-body sensor shift; Three modes - Horizontal+Vertical, Vertical only, Horizontal only; Up to 5 EV Compensation (claimed)
Image processor: TruePic V+
Image sizes: 4032 x 3024; 3200 x 2400; 2560 x 1920; 1600 x 1200; 1280 x 960; 1024 x 768; 640 x 480
File formats (Stills): RAW; RAW + JPEG; JPEG
JPEG compression: SuperFine (1/2.7); Fine (1/4); Normal (1/8); Basic (1/12)
Movie: 1280 x 720 @ 30fps; 640 x 480 @ 30fps
File format (Movie): AVI Motion JPEG
Lenses: 4/3 standard lens mount; Range of ZUIKO DIGITAL lenses available; Multiply focal length by 2 for 35 mm equiv. FOV
Auto focus: 11-point TTL Phase Difference Detection; Automatic or manual point selection; EV -2 to 19 (ISO 100) detection range; Contrast detect AF available in live view
Focus area selection: Automatic; Manual
Focus modes: Single shot AF; Single shot AF + MF; Continuous AF (Phase detect only); Continuous AF + MF (Phase detect only); Manual focus
AF assist lamp: Flash strobe
Exposure modes: Auto; Program AE (with shift); Aperture priority AE; Shutter priority AE; Manual
Sensitivity: Auto (ISO 200 - 6400); ISO 100; ISO 125; ISO 160; ISO 200; ISO 250; ISO 320; ISO 400; ISO 500; ISO 640; ISO 800; ISO 1000; ISO 1250; ISO 1600; ISO 2000; ISO 2500; ISO 3200; ISO 6400
Metering system: 49-zone multi-pattern; Range: 1 to 20 EV (50 mm F2, ISO 100)
Metering modes; Digital ESP; Center-Weighted Average; Spot (2%); Highlight based spot; Shadow based spot
AE Lock: AE/AF lock button; With shutter release half-press
AE Bracketing: 2, 3, 5 or 7 frames; 1/3, 1/2, 0.7 or 1.0 EV steps
Exposure steps: 1/3, 1/2 or 1.0 EV
Exposure compensation: -5.0 to +5.0 EV; 1/3, 1/2 or 1.0 EV steps
Shutter speed: 60-1/8000 sec; Bulb (up to 30 mins, default 8 mins)
Aperture values: Depends on lens: 1/3, 1/2 or 1.0 EV steps
Flash X-sync speed 1/60s -1/250s (1/3 EV steps) (Min. speed can be down to 60 sec)
White balance: Auto; Lamp (3000K); Fluorescent (4000K); Daylight (5300K); Flash (5500K); Cloudy (6000K); Shade (7500K); Underwater; 1 custom presets; Kelvin (2000 - 14000 K); Dual sensor WB measurement (external WB sensor and TTL); WB fine tuning - Red/ Blue: +/- 7 steps (2 mired each); Green/Magenta: +/- 7 steps (2 mired each)
WB Bracketing: 3 frames; 2, 4 or 6 mired steps
Color space: sRGB; Adobe RGB
Image Modes: Picture mode; i-ENHANCE, Vivid, Natural, Portrait, Muted, Monotone, Custom (default: Natural), Pop Art, Soft Focus, Pale & Color, Light Tone, Grainy Film, Pin Hole, Diorama, Gentle Sepia, Cross Process, Dramatic Tone, In custom mode, basic 5 modes and adjustment available.); Saturation (5 levels); Sharpness + Contrast (5 levels); Sharpness ((5 levels)); Contrast (5 levels) B&W filter (Yellow, Orange, Red, Green); B&W toning (Sepia, Blue, Purple or Green); Gradation (Auto, High Key, Normal, Low Key)
Art Filters: Pop Art, Soft Focus, Pale & Color, Light Tone, Grainy Film, Pin Hole, Diorama, Gentle Sepia, Cross Process, Dramatic Tone - Can be used in PASM shooting modes
Drive modes: Single; Sequential shooting H; Sequential shooting L; Self-timer; Remote control; Continuous 5.0 fps in Sequential shooting H; 1.0 to 4.0 fps in Sequential shooting L; RAW mode: Max. 16 frames with SanDisk Extreme Pro 16GB; JPEG mode: up to the card capacity with SanDisk Extreme Pro 16GB
Self-timer: 2 sec; 12 sec; Anti Shock: 1/8-30 sec delay
Flash: Built-in pop-up; TTL auto / manual; Guide no. 18; Sync modes: Auto, Red-eye reduction, Slow syncro with red-eye reduction, Slow syncro, 2nd curtain slow syncro, Fill-in, Off, Bracketing; Flash power: Up to +/- 3EV in 1, 1/2, or 1/3 EV steps External flash; Hot shoe; TTL Auto FP / TTL auto for Olympus dedicated flash (FL-50R, FL-36R, FL-50, FL-36, FL-14); Flash power: Up to +/- 2EV in 1, 1/2, or 1/3 EV steps; Wireless flash possible with FL-50R, FL-36R
Viewfinder: Eye-level single-lens view finder; Field of view 100%; Magnification 1.15x with a 50mm lens and -1 dioptre; Eye point 20 mm at -1 dioptre; Depth of field preview; Dioptre adjustment -3 to +1 dioptre; Focusing screen: Interchangeble (by workshop); Mirror: Quick return mirror
Live View: TTL by Image sensor; 100% field of view; Enlargement (5x/7x/10x/14x); Grid pattern, white/black out warning display, Shooting information, Histogram, IS activating mode; AF: Contrast detection + Face detection / Contrast detection / Phase difference detection
Orientation sensor: Yes
LCD monitor: 3.0" transmissive TFT LCD monitor; Swivel LCD; 920,000 pixels; 100% frame coverage
Playback functions: Single-frame; Information Display (Histogram (independent luminance / RGB available), Highlight / Shadow point warning, AF frame, Shooting information); Index Display(4/9/25/100 frames, Calendar); Close-up (2 - 14x); Movie (w/sound, FF/REW/Pause); Slideshow(Still/Movie/Still+Movie, Slide show w/BGM/BGM+Sound/Sound); JPEG Editing; Raw > JPEG conversion
Storage: Compact Flash (Type I and II) , UDMA; SD/SDHC/SDXC
Connectivity; USB 2.0 (Hi Speed); HDMI; Video Out (NTSC / PAL); IR Remote control (optional)
Vertical / portrait grip: YES - HLD-4; Shutter button, 2 dials (main & sub dial), 2 buttons (Fn & AF target button), dust & drip proof
Power: BLM-5 Lithium-Ion rechargeable battery (supplied & charger); Approx. 870 shots (optical viewfinder) - CIPA standard testing
Physical Dimensions: 143 x 117 x 75 mm (5.6 x 4.6 x 2.9 in)
Weight: (inc batt) Body only 813 g; 892g / 31.5oz. (incl. Battery and CF card)
Box contents: E-5 Body, Li-ion battery BLM-5, Li-ion battery charger BCM-5, USB cable, Audio&Video cable, Shoulder strap, OLYMPUS View2 CD-ROM, Instruction manual, Warranty card.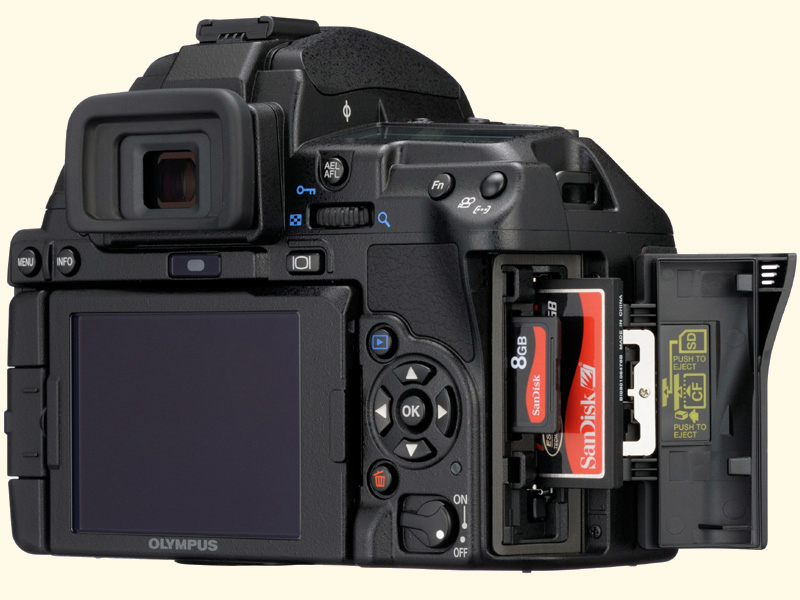 Rear right hand side showing dual card slots; CF and SD. No more xD!
NOW WE'VE ALL READ THE MAKERS BLURB - WHAT DO I REALLY THINK?
No one was more excited and anxious than me when I learned for definite there was going to be a new flagship model released/announced at PhotoKina 2010. Prior to this I had been seriously wondering if 'conventional' 4/3rds was over. Even allowing for the massive R&D swallowed by the development of m4/3rds I was expecting some small token of 4/3rds development in the last two years, be it a new body or a Zuiko Digital lens. Any expectations were met with silence.
I genuinely thought the writing was on the wall for the entry and mid level DSLR's - the E-4XX; E-5XX and even E-6XX as it was obvious all of these would be in direct competition with the new m4/3rds models, Pen's 1 & 2 and the latest E-PL1. There was no room for them all. This and the fact that 4/3rds never gained the popularity it deserved - for whatever the reason, and there are a few. But the E-30 and E-3 - surely there was a future for the vanguard cameras?
And then there was all the kerfuffle about Olympus DSLR's going mirrorless in 2 years. Well, no smoke, as they say.
And then there was the announcement from Olympus Japan that if they couldn't make money from the camera division in 5 years, it was all over.
Add to this the fact that come March 2011, Epson will release their new 2.88 resolution EVF technology and you don't have to be Einstein to work out that some fundamental changes were coming. And all of these changes are aimed squarely at conventional 4/3rds.
So, what has happened? Olympus has excuted a turnabout. They have known for some time that 4/3rds was almost a cul-de-sac. They were hoisted by their own petard of the rigid 4/3rds standard. They could design and produce lenses that would out-resolve the 4/3rds sensor, but could not overcome the physics of sensor noise as photsite density increased towards their own limit of 12MP. Then their partners, Panasonic led the field with the introduction of the G1, the first m4/3rds mirrorless camera. Suddenly Olympus have the chance to share the leading edge of a new wave of technology, the mirrorless interchangeable lens camera. All R&D was diverted from 4/3rds to concentrate resources on their new 'baby' the PEN. Here was their chance to really be innovative and for once in recent history to lead the field rather than play catch-up. It was obvious from the release of the Pen E-P1 in Germany last year it was 'Pen or Bust'.
And Pen it has been. E-P1 and E-P2 and now the E-PL1. Wow, three camera in less than 15 months and more in the pipeline. Poor old 4/3rds, left out in the cold. Well, not quite. Your 4/3rds lenses work on the new Pens, some better than others but they work. As do all your old OM lenses (unlike conventional 4/3rds - remember the early mantra 'No OM on 4/3rds'.) And your E-30, E-620 and E-450 are less than two years old. But in that hiatus of Pen R&D activity and the release of m4/3rds cameras from Panasonic and Olympus, has come creeping a new dawning; a realisation that not having a mirror in a DSLR might just be a new beginning for photography and that these camera can be small - really small - like the unfulfilled promise of 4/3rds - small cameras and small lenses. And that dawning has taken the industry by storm. No need to hump pounds of gear around, just take this little camera and lens and get results as good as your DSLR!
So, for several reasons, 4/3rds has been usurped by its sibling m4/3rds. So where does that leave us - the conventional 4/3rds enthusiasts? Well, we haven't been abandoned. Olympus have made the right noises. It hurts a little that our favourite E-4XX or E-6XX is no longer made, but we have options.
I think you will agree that camera bodies come and go, but lenses last a long time. What's the old expression - buy a body but invest in glass. Right from day one with the E-1, ZD lenses were the jewel of 4/3rds. Bodies always lagged behind the competition but we consoled ourselves knowing that our glass was the finest. And in many ways the glass made up for the shortcomings of the 4/3rds bodies. Whenever a new body was released there was a procession of disbelief - poor viewfinders, terrible AF, Noise, small screens, slow frame rate, Noise, poor ISO range, banding, xD card performance, poor DR, Noise, horrible Live View, Auto Gradation, too big a body and did I mention Noise? And when it came to the image samples there would be excuses - not production firmware, not properly exposed, Gradation left on, poor choice of subject, NR to weak or too strong, AA filter too strong - it was endless. And yet 4/3rds cameras sold and the vast majority of photographers have been happy with the results because that's what actually matters. But, as you've already read, things are set to move on.
For me, and I think I'm pretty representative of many of my readers, I have a smattering of 4/3rds bodies and quite a selection of lenses across the three grades. I've 'invested' quite a lot with Olympus. If Olympus were to go bankrupt tomorrow my cameras and lenses would work for many years. What would I miss? I would miss the anticipation of a new body for sure and a new lens now and then. What would I dread - the time when a body ceases to work, as I can't renew it. I can't keep my system rolling.
But Olympus haven't gone bankrupt. They are merely saying "our future is with m4/3rds BUT we recognise that many have bought heavily into our 4/3rds lenses and so we will provide you with a body on which you can comfortably mount your HG/SHG lenses, be it DSLR or some other form of camera." That camera, for the moment, is the E-5. What it will be in the future no one knows. Here I believe, we have to trust Olympus to keep their word.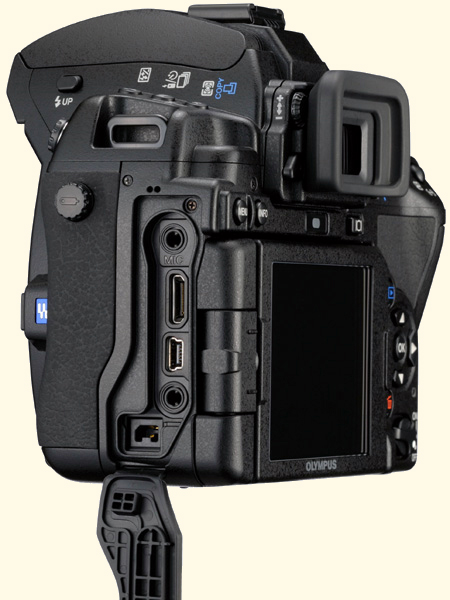 Rear left hand side showing communications ports under weather proof door.
LET'S HAVE A BRIEF LOOK AT THE E-5 ENHANCEMENTS
I haven't seen the E-5 yet. I hope to get a review copy from Olympus in due course but I'm not on their list of pre-release testers. But I have spoken to a couple of folks who have handled the camera so I think I can make some general observations.
At first glance you may well be disappointed that the 'flagship' of Olympus appears to be a mildly warmed-over E-3. My very first thoughts were along those lines so I understand folks for thinking this. It's 'only' 12MP; It's only 5fps; It's an E-3 body; Where's the innovation? Take a breath, look at the specifications, read the previews, wait for the image samples and if you currently use an E-3 ask yourself what you'd like to see improved?
When Olympus 'announced' they were to not compete in the MP war, but concentrate more on image quality, many 4/3rds users breathed a sigh of relief. Providing the IQ is right, 10 or 12MP is more than sufficient for the majority of users. It's not how many but how well they perform that matters. (Large RAW files take up huge amounts of drive space and require lashings of CPU power and not everyone has the latest and greatest PC.) Olympus have taken the sensor from the E-PL1 for the E-5 and added a new TurboPic V+ processor that's been further tuned to provide a new level of fine detail image processing. I can attest to the cracking images from the E-PL1 so the addition of a higher grade processing engine promises even more. Certainly the images from the release documents show fantastic detail compared to those from an 18MP sensor.
A weaker AA filter promises even more detail (a strong criticism of the E-3) and Moire is dealt with in processing rather than in front of the sensor. What's lost to a filter can never be reclaimed.
Increased ISO to 6400 - this will boil down to pretty clean ISO 1600. Having watched how Olympus have slowly increased ISO levels over the years, and seeing the results from the Pens, this is welcome. Given the right circumstances you will probably get quite reasonable results at 3200 too. Good clean high ISO performance is not Olympus' forte. It's a fact of life. Owning an E-1 is testamony. But this is a great improvement.
Sample images so far (I have only seen a few) show no banding (another E-3 criticism).
Increased bracketing function (up to 7EV from 3EV) should lead to improved IQ for us that use bracketing (another E-3/system criticism). Excellent.
Improved CAF (and AF). Nothing spoils a photo more than being slightly out of focus. Olympus tell us of 'significant' improvements in the AF system, especially CAF. This and the fact that the camera has micro-adjustment too makes a great combination. (Lack of micro-adjustment was another E-3 criticism - by me).
Improvements in the Live-View system. Not sure what these are or whether you can dedicate a function button to 'magnify' via the menu. If it replicated the LV of the E-PL1 it will be great.
Digital Level - the E-30 had this function and so should the E-3. It's on the Pens. It's a sound tool especially as you can see it in the viewfinder.
Facility to add .NFO information into the EXIF - superb and about time.
Good bye to xD - about time. That second slot will really come in useful now. Much depends on how this option is configured.
Video - well, not for me but for many a great enhancement.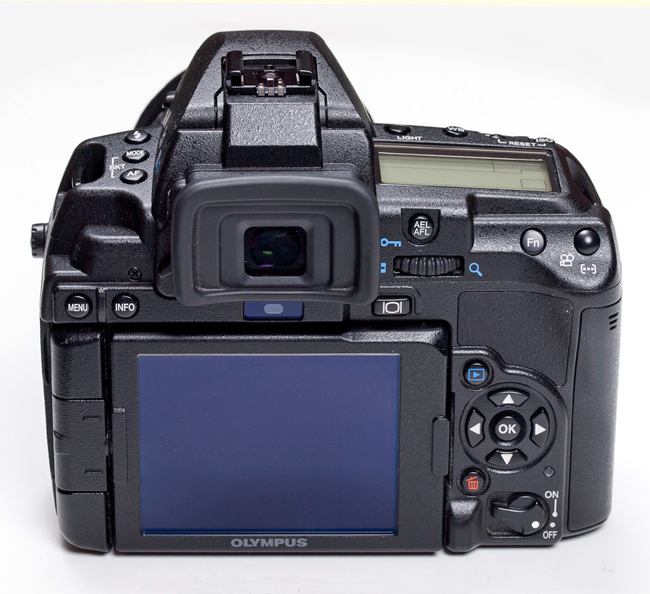 Rear from slightly above showing new button layout.
Thanks to Ian Burley of DPNow and 4/3rds User website.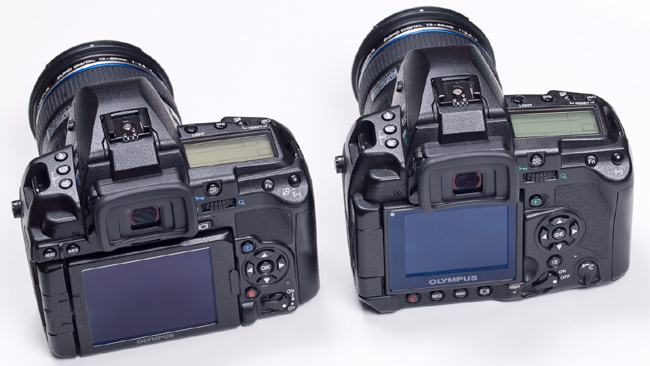 Rear of E-5 on left and E-3 on right for comparison. Note no dedicated IS button on E-5.
Thanks to Ian Burley of DPNow and 4/3rds User website.
FINAL THOUGHTS
I'm looking forward to actually trying the camera for myself. I've come to the conclusion that the E-5 is a very sensible camera from Olympus at this point in time, and represents the very best of 4/3rds to date. It has some usefull features and YES, I agree, it's not bristling with innovation, but it promises top notch IQ and surely this is what matters most? After all 4/3rds is a mature product.
I'll be posting my full review of the E-5 in due course. Will I be rushing out to buy one? Not until I've had my hands on one for a week or two.