---
INTRODUCTION:
Olympus E-System professional users and enthusiasts alike were invited to three launch events in late November, two daytime workshops at The Worx and an evening at The Victoria and Albert Museum, Knightsbridge, London. Here are some of the attendees comments:
---
THE WORX WORKSHOP:
Brian Mosley: In recognition of the efforts to create our unique multi-user field review of the Olympus E-3, all of the members of the original review team were invited to the E-3 Launch Party and training days this week.
Yesterday, I traveled to London with Rich Simpson, Stephen Elliott and Andrew Swan to the Olympus E-3 Workshop at The Worx. After a rather dull powerpoint overview of E-3 features, we were split into small groups and started out with a tripod mounted demo of the E-3 features by Perry Lewis - including an introduction to the remote flash system... Perry did very well, considering that we were already quite familiar with the camera. The 3 flash remote control system is highly configurable via a control panel on the E-3 - we were a little surprised that the system relies on infra-red control - I guess it's cheap and immune to rf interference.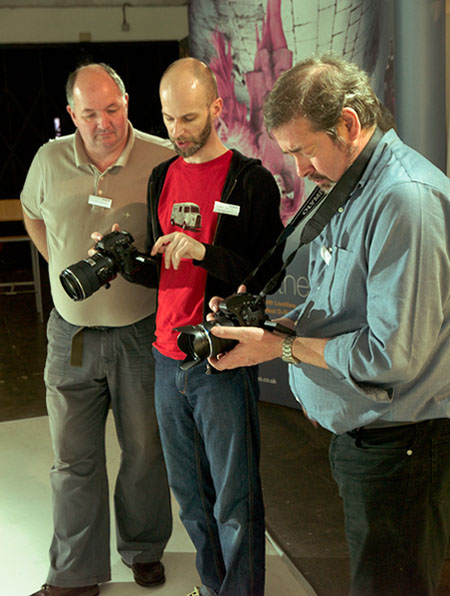 Above: Andrew Swan and Rich Simpson with one of the Olympus technical guys.
Next, we moved on to a model shoot with the E-3 and a wide selection of Olympus 4/3rd lenses - this is where I fell in love with the amazing 150mm f2.0 lens, wow! What an absolutely phenomenal lens; pick this up and you will want to be a portrait photographer! Two beautiful models were on hand, alongside a vintage Aston Martin DB5 with a professional lighting setup - this was a delight to shoot.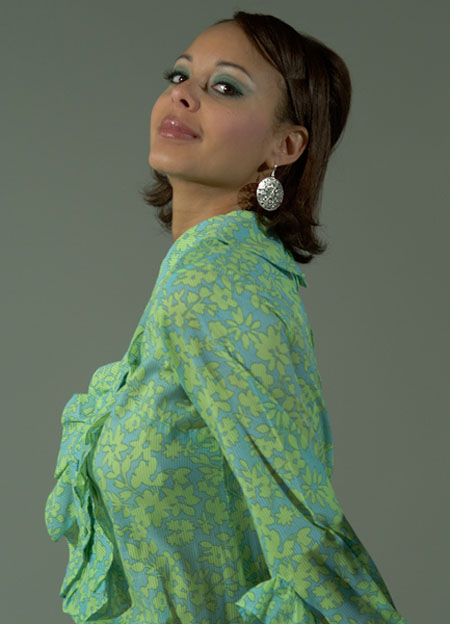 This beautiful model is easily captured with the ZD 150mm/2.0.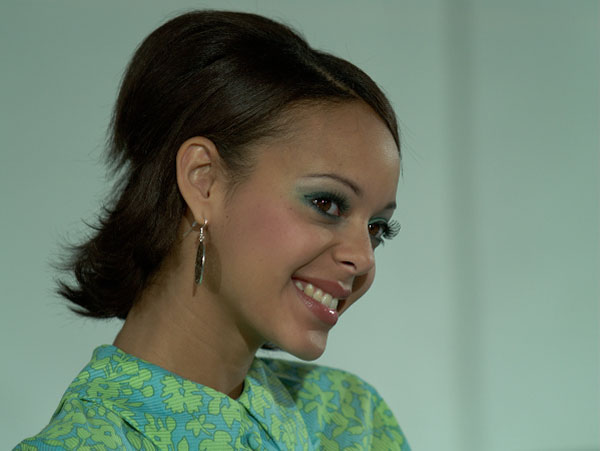 Another example of the lens capability.
Finally, the second photographer gave us a neat demo of the E-3 IS, by selecting 10x live view, and in IS mode 1, pressing and holding the IS button activates IS so that you can see the stabilisation. Very, very impressive; apparently the 5 stops of stabilisation is a conservative estimate!
After a delicious lunch we moved on to a second model shoot, another chance to work with the great remote flash system and to enjoy the fast, responsive E-3 in action.
Finally, we had a macro shoot with the tripod mounted E-3, using the super sharp Olympus 50mm and 35mm macro lenses. Ed Bampfylde gave us expert guidance on the live view capabilities of the E-3, including dof preview and focusing control.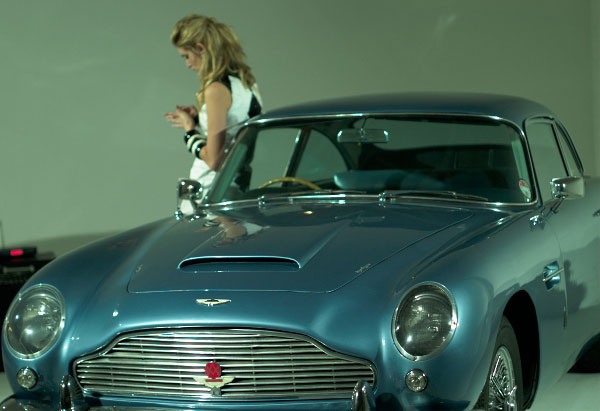 Fantastic Aston Martin DB5 with model!
Altogether, a fabulous day. If you ever get the opportunity to attend one of these workshops, grab it with both hands! A wonderful experience...


---
Andrew Swan: I really enjoyed the trip to The Worx courtesy of Olympus as it gave me three things I had not had previously experienced. 1. Shooting under professional lights. 2. Shooting with top of the range Lenses. 3. Shooting professional models.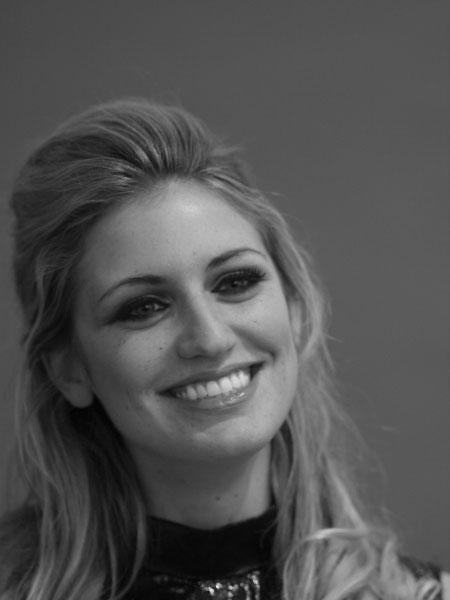 One of the models - I tried monochrome here.
To professionals out there this may not sound like much but to amateurs it make us realise how much work and effort goes in to bring all this together for the shots we all take for granted in papers and magazines. For me to be able to shoot with the F2.0 and F2.8 lenses was a fantastic experience, unfortunately it has made me appreciated how much better these lenses are. I will have to find a way to make my hobby pay well enough to allow me to start accumulating the glass.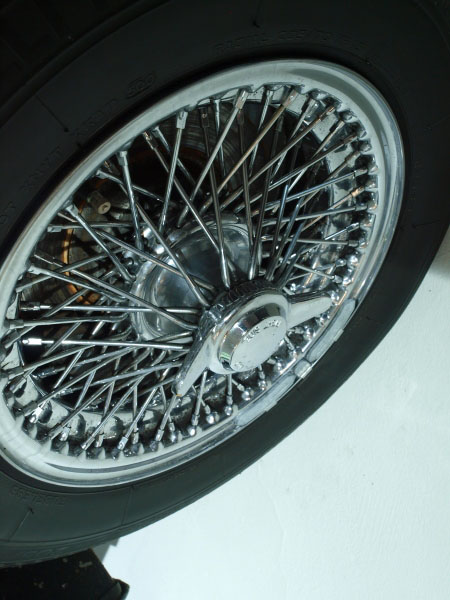 Martin DB5 wire wheel detail.
And on top of the above shooting with the E3 all day, yes I would like one but now I am torn between the camera or the lenses, as my camera (E-500) does not have IS, I think I will go for one of the lesser lenses (within my budget) the new 70-300mm which was also available to try and then the camera body upgrade.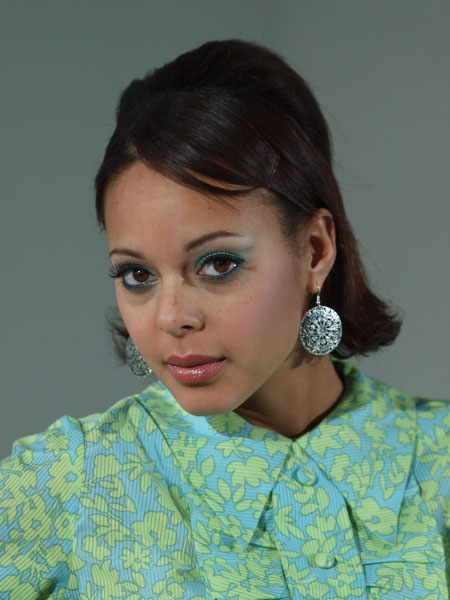 The second beautiful model. They were so patient!
Olympus really pulled out all the stops with the equipment that was available to put the E-3 through all its paces. The only real downside was there was not enough space to really try out the 300mm F2.8 with the new EC20 (this is not made for inside shooting).
All in all a trip well worthwhile.
---
John Begin: I got to use the E3 with a variety of lenses - the first I chose to use was my old reliable 50mm OM Zuiko shooting a nice model at f4 gave a pleasing result, if a little soft. I feel colours were as good as using the 7-14 (not the ideal portrait lens, but good results.) Using AF lenses the E3 is quick! I am still a little disappointed in the E3 implementation of LiveView. There is a timelag - admittedly in most circumstances where LiveView is used that isn't a problem, but for those few occasions where responsiveness is an issue the lag may be just a little too much.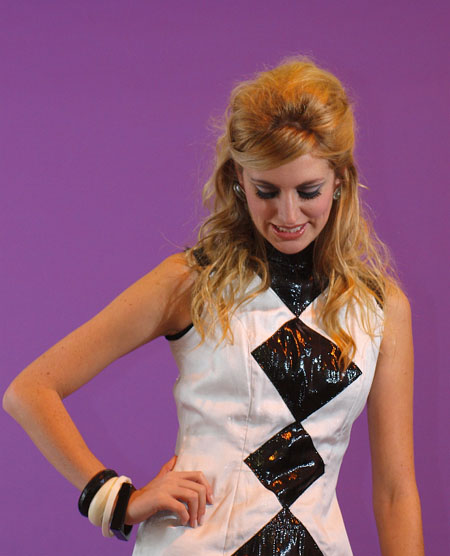 With manual OM 50mm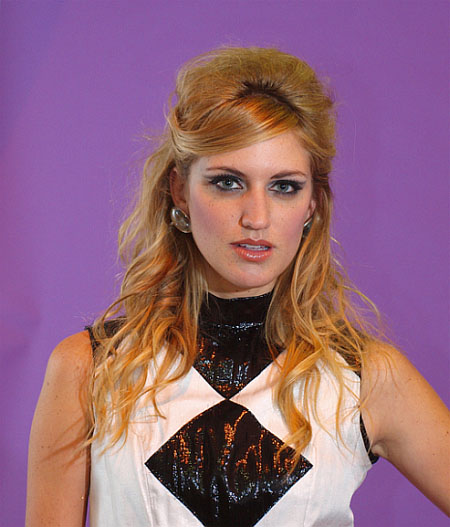 Another with the manual OM 50mm standard lens.
I also got to experiment with the 150 f2, the 35-100 f2 and new 70-300 f4. All very good lenses - the 70-300 is very good news as it is a 'consumer' lens with an affordable price, rather a that top-flight, budget-busting pro lens. It is light-weight, small and focusses very quickly on my E330 (I didn't get around to using it on the E3.) Of course it is only f4, but for 90%+ of shots that probably won't be a problem. However, the two 'top flight' lenses I did play with were excellent. They are both sharp, easy to hand carry (for short periods) and quick focussing (even on the E330.)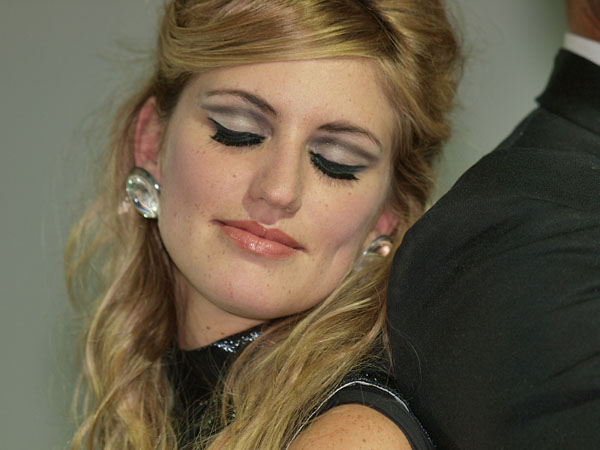 With ZD 35-100/2.0 - a fabulous lens.
I'd like to say a big thank you to Olympus UK for this opportunity.
---
V&A
John Foster: What a fabulous choice of venue by Olympus. The inspiring Victoria and Albert Museum holds so many treasures by the worlds' finest artists one cannot help but be filled with awe. And to experience a small part of those treasures through the viewfinder of the E-3 provided an unforgettable evening.
Though I was naturally interested to handle the new camera my major concern was to see the improvement the new viewfinder offers. I was not disappointed. It is a significant improvement over all previous E-models being larger, brighter and clearer. Though it cannot compete with physical dimensions and 'cinemascope' proportions of any OM viewfinder it is actually easier to use than an OM screen. This reflects high technological progress enabling crystal clarity of vision without the need for a huge screen with associated constant side to side eye scanning. The information read-out is in the correct place running along the bottom of the screen; it is in green and though smaller than say the E-1 (it has to get more in), it is wonderfully clear. Well done Olympus.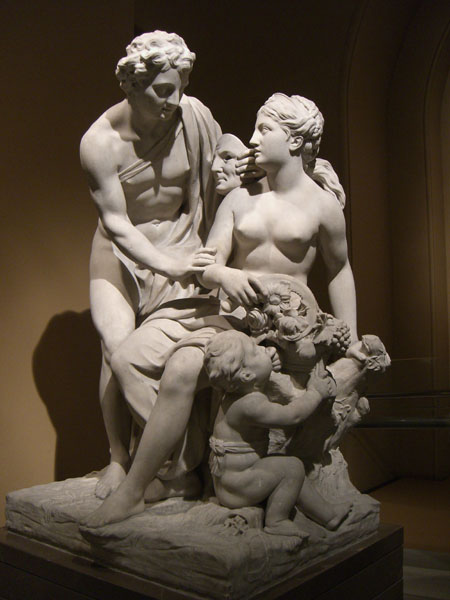 Hand held at 1/15th @ f2.8; ISO 200
To a lesser degree I was interested to see how the new camera and lens 'rises' -- that is how it behaves when the user brings it to the eye. This attribute is a subtle blend of size and weight, grip, balance, placement and ergonomics. The camera needs to assume the right position to allow the user to frame his subject without undue alteration of the viewpoint. Anyone who has shot with a twelve bore will know what I mean; if a gun doesn't 'come up' right you will never hit the target. Again, Olympus seems to have got this right too though I'd like to try it with the power grip mounted.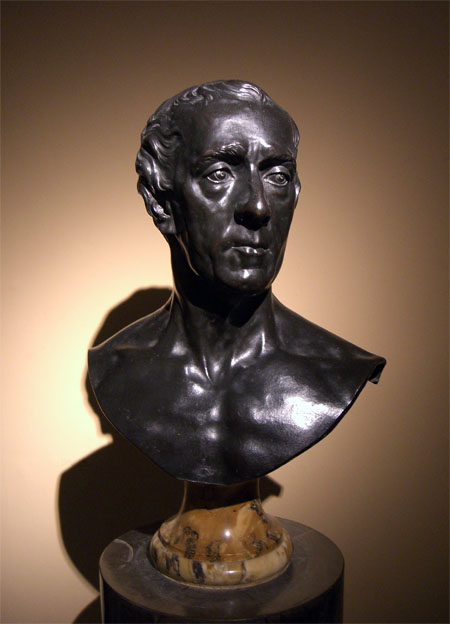 Hand held at 1/15th @ f2.8; ISO 200
I admit to spending more time studying the works of art than the E-3. It was also a pleasure to put faces to names as well as chatting with Olympus personnel and some of the pro photographers present. I missed the tour of the Lee Miller exhibition though my wife thoroughly enjoyed it. The beer, wine and food kept coming!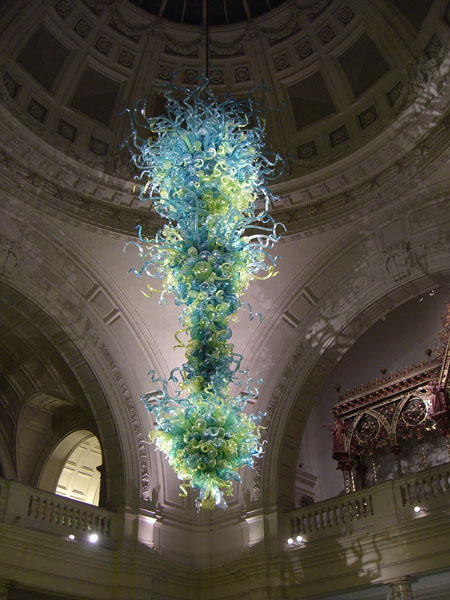 V&A main reception foyer; domed ceiling centrepiece chandelier.
The time passed so quickly it was obvious that I was only able to achieve a 'taster' of the E-3 capabilities. Suffice it to say it whet my appetite. Olympus will be sending me an E-3 kit for review, so please keep looking back.
---
Rich Simpson: In one of the finest settings one can imagine - as a photo group we were privileged to attend the Olympus VIP evening at the V&A on Monday evening. Accompanied by a string quartet, and surrounded by a wonderful collection of classical sculptures, this was a great opportunity to talk to fellow enthusiasts and try out the E3 along with some of the latest Olympus lenses.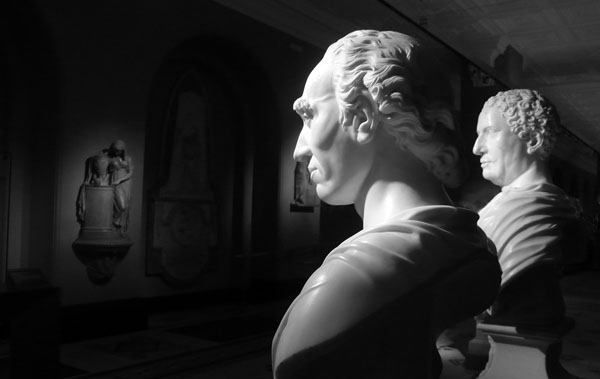 Classical busts from an angled rear viewpoint with front lighting.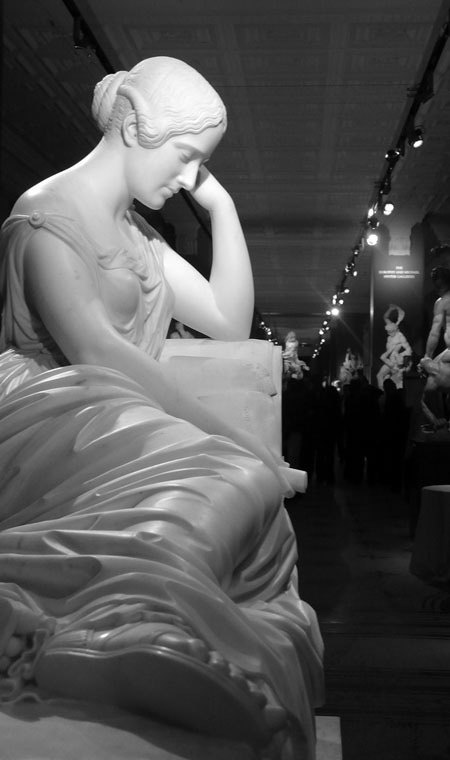 This is the classical sculpture room where the evening was held; stunning surroundings.
A real bonus was the Lee Miller exhibition, a unique collection of her work put together meticulously by Mark Haworth-Booth. Three hours was hardly enough time to mingle, use the equipment, and view the exhibition, but all in all an excellent evening, and thanks to Olympus for putting it all together.
---
Andrew Swan: I think from the start the chance to shoot with the E-3 without supervision shows that Olympus had faith in the camera from the outset and were fairly sure that we would not find anything too significantly wrong with it. Yes, it would have been nice on the first shoot to have had the 12-60 lens, but as it was with enough people there we had a great variety of glass available and the E-3 coped very well with it all. I think some of the group would have liked some way of getting the aperture setting from legacy lenses into the camera, by allowing it to be set using one of the thumb-wheels, so that the IS could be used. Not a problem for me as I have no legacy glass.
Yes there were some niggles but these were few and have been covered in the main article. The main one being Olympus requesting that we did not use any of the images with the beta (rev0.9) version of the firmware. This in effect destroyed what we were trying to do, show the performance of the camera from a real user perspective and not just studio shots of test charts. However this was somewhat mitigated by Olympus providing a production camera with 12-60mm lens attached for the re-shoot, but alas not everyone could make it back. This time the shots are there to see.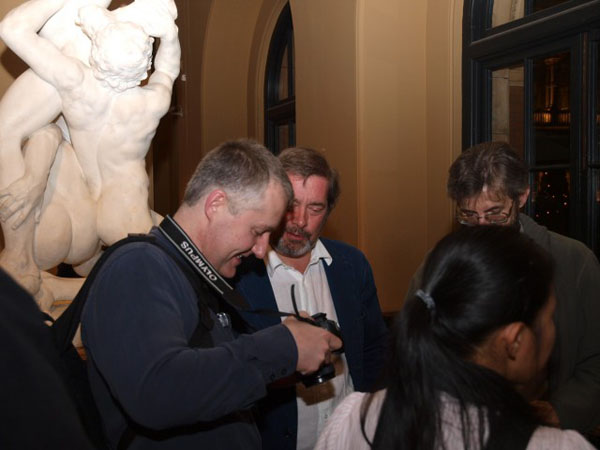 Here part of the original safari group discuss the fabulous surroundings of the V&A.
Next up invitations from Olympus to the launch events. I was in two minds whether to go or not as I am fairly certain that the camera is going to be out of my reach financially for a while. However having used it in the Peak district I did really want to see how it performed under more controlled conditions. This was a mistake as it introduced me to the best of Olympus glass that just goes so well with the E-3. I am now understanding what dSLR hobbyists mean when they say "lens lust". All the fast glass was there and it shot well. The only problem there was not really space to try the long fast lenses properly in the studio (i.e. 90-250 F2.8 and the 300mm F2.8 as well as the EC20), but in the studio my favourite was the 150mm F2.0 a lovely lens but oh so expensive, it makes the body look like a bargain.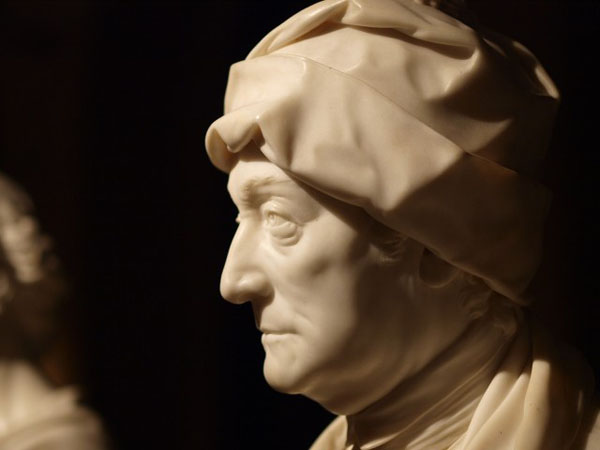 A classical bust.
The evening at the V&A rounded it all up in very pleasant surroundings with live music and models available for trying out the E-3. I believe they had six cameras on hand, some setup in studio areas using the new FL-50R's for lighting; the control of these from the camera is very easy and makes you want 2 or 3 (not just the one) to get the correct lighting. By being patient cameras became available with the lens of your choice allowing you to wander around taking pictures of some of the amazing marble statues. On top of this drinks and canapés, we also had access to a wonderful exhibition of the modeling and pictures of Lee Miller. This was very interesting especially the lighting being used in the photography of the 1930's.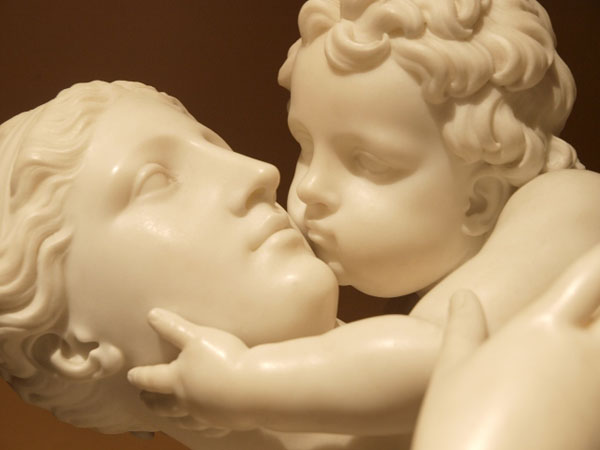 Close up of the heads in the Cupid statue.
My lasting thought, yes I would very much like an E-3 but unfortunately it will not be for a while (unless I get a bargain price on one of their demo models!!). I will use my E-500 and buy one of the lenses we had the chance to try, the new Zuiko Digital70-300mm.
---
Denis Ong: As it was billed as a press event, I was expecting something quite different. So it was to my pleasant surprise that there were no Powerpoint presentations or long speeches. I was glad to see some of the photo safari gang. It's a pity that I missed the workshop earlier in the week, and I'm feeling worse after learning from Brian and John Begin that it was excellent.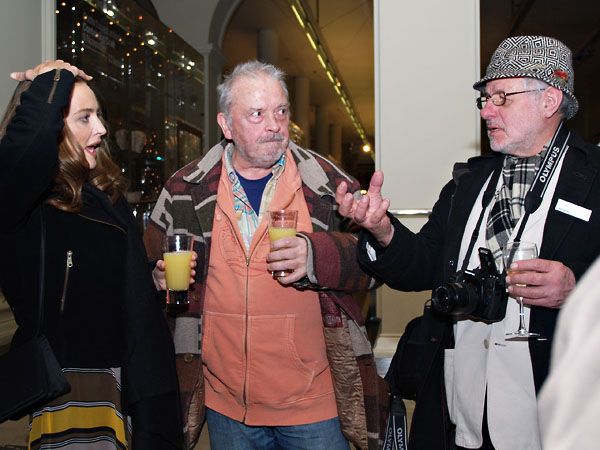 Olympus sponsored pro-photographer, David Bailey (centre).
The V&A event was a session for us to try out the E-3 and some lenses. My E-3 had arrived just prior to the event so I did not bother picking one up, having a go instead at some of the lenses, such as the 35-100/2 and 70-300. Apart from all that I also managed to grab a few snapshots, see the excellent Lee Miller exhibition and position myself so that the canapes had to pass me before they reached anyone else.
All in all a delightful evening.
---
Brian Mosley: Monday evening was a fantastic opportunity to see the E-3 in action in a uniquely special setting, the Victoria & Albert Museum. This was my first visit to the V&A but it certainly won't be the last, I was absolutely stunned by our classical surroundings and the party was very stimulating, with a chance to meet and chat with lots of interesting characters, many of whom were passionate about their Olympus DSLRs and the Art of Photography. The Olympus sponsored Lee Miller exhibition was opened specially for the evening, and was totally absorbing; the quality and range of her work was an inspiration, as were the sublime sculptures surrounding us in the main hall.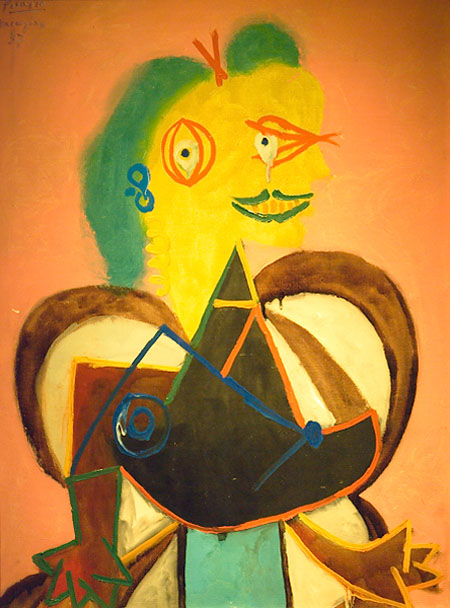 Picasso portrait of Lee Miller
Olympus had set up their innovative remote flash system in two locations, and a beautiful string quartet provided mood music and a perfect opportunity to practice our flash photography, although I enjoyed wandering around the hall, which was expertly lit to display the sculptures to maximum effect.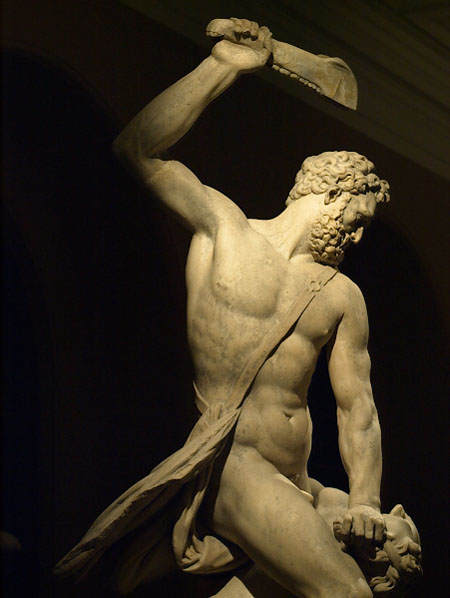 Samson slays the Philistine by Giambologua.
I'm sure there were many photographers who added the E-3 and a favourite lens or two to their 'dream list' during the evening... with Olympus kit, if you're serious about your photography, all you have to do is use it to want it! I really think that Olympus have a world beating system with their DSLR range of bodies, and the exceptional lens system. I'm sure that many Professional photographers currently shooting with conventional DSLRs will be shocked to discover the Olympus advantage; all it takes is an open mind and a thorough test drive!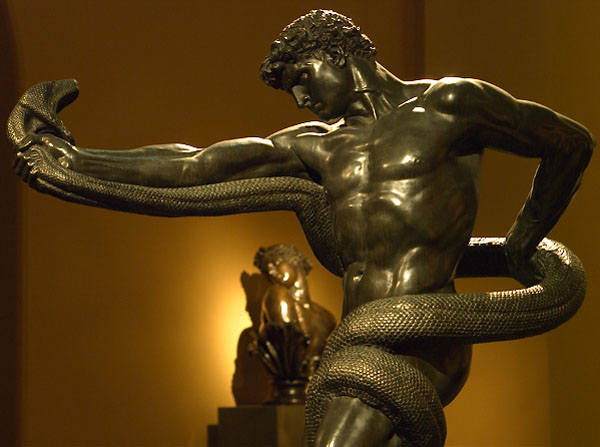 Stunning classical bronze statue.