---
OLYMPUS PROUDLY ANNOUNCE THEIR LATEST MICROFOURTHIRDS CAMERA: OLYMPUS E-P2
5th November 2009: It's fireworks all right!! The new Olympus E-P2 arrives in a lovely new black livery. This is the second incarnation of Olympus' microFourThirds (MFT) cameras - the Pen range. The E-P2 is based on its extremely popular and award winning predecessor, the E-P1. However the E-P2 boasts the inclusion of an new accessory port built into the top plate just beneath the flash shoe. This allows mounting of the brand new Electronic Viewfinder the VF-2, as well as other promised accessories in the future. The VF-2 is a high resolution bright and high contrast Super-Fine EVF with an optical specification of 1440k x 1.15. Olympus declare it to be 2X as bright with 3X higher contrast than that of 'a similar model', (draw your own conclusions).
In addition, Olympus take this opportunity to announce more lenses especially for their MFT Pen range;
* M.ZUIKO DIGITAL ED 9-18mm F4.0-5.6 super wide-angle zoom lens (first half of 2010)
* M.ZUIKO DIGITAL ED 14-150mm F4.0-5.6 high-power telephoto zoom lens (first half of 2010)
The new E-P2 is kitted with the MZ 14-42mm zoom and the VF-2 and will be available in UK from January 2010 priced around £850.


LET'S SEE WHAT ALL THE FUSS IS ABOUT!
Frontal aspect: Based on the the E-P1, the EISA award winning camera of 2009, the E-P2 shares many of the basic chassis components as the E-P1. However, in a 'Back to Black' campaign, Olympus have clothed their new offering in wonderful black giving the camera a sublime look.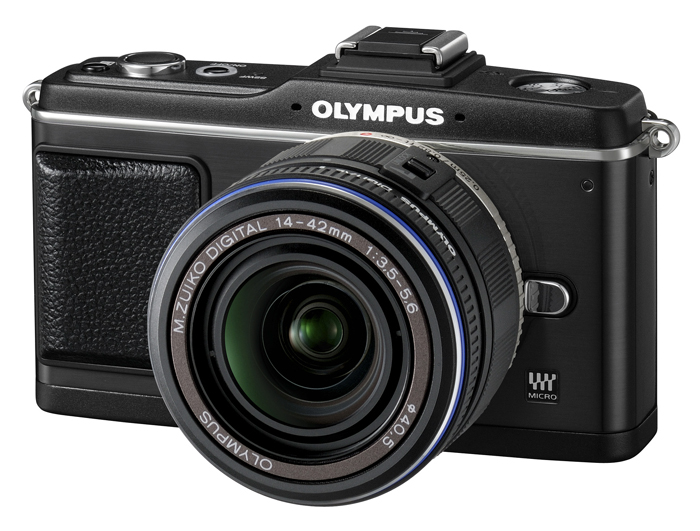 New E-P2 from the front - identical to the E-P1 apart form new black top and bottom plate and body covers. In black its similarity to the 1966 Pen FT Black classic half-frame camera is remarkable.
Rear aspect: From the rear you can appreciate the subtle blend of black with matt and shiny chrome surfaces. Notice the new flash shoe cover has a square extention piece (marked OLYMPUS) that plugs into and protects the new accessory port built into the top plate. What is it about black cameras that make them SO desirable?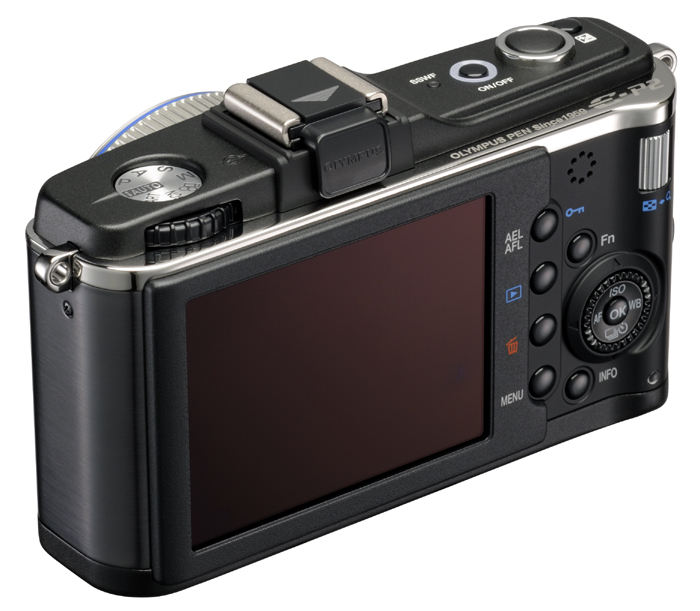 New E-P2 from the rear - enjoying the same controls lay-out as the E-P1.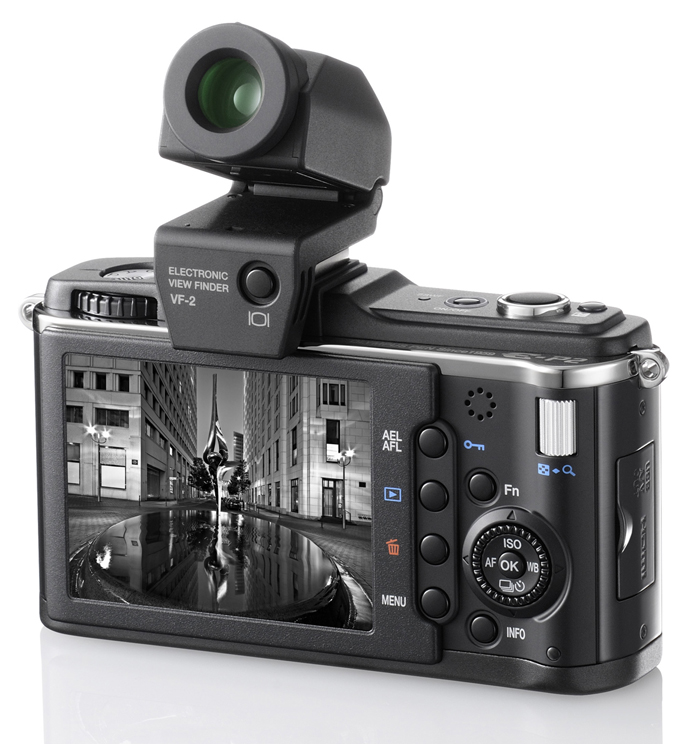 New E-P2 showing the new EVF fitted and tilted to about 20 degrees. Notice the Live View ON/OFF switch.
ELECTRONIC VIEWFINDER - VF-2
Before launching into the E-P2's headline key features, I'm sure you are keen to know more about the VF-2. Many criticised the E-P1 for having no viewfinder and to those used to the optical viewfinders of traditional DSLR machines, this absence presented some difficulties. Olympus have listened to their audience and developed this high resolution solution. EVF's in the past have been pixelated and laggy with poor colour fidelity. The new VF-2 promises a completely different experience. Whether the VF-2 is based on Panasonic's EVF fitted to the G1/GF1 or enjoys some of the new technology recently unveiled by EPSON (apparently true) that prevents the annoying colour bleed when panning, remains to be seen. The VF-2 boasts an optical specification of 1440k resolution with a x 1.15 magnification; with bright and high contrast to more effectively see the view. As said, Olympus declare it to be 2X as bright with 3X higher contrast than another similar model with remarkable and equal definition from centre to edge. I am hoping for a 'hands-on' session with the E-P2 within the next few weeks and will report back on this.
VF-2 FINDER The new EVF is quite a meaty piece of kit (as can be seen in the illustration below fitted to the E-P2). Here are some additional illustrations of the new VF-2: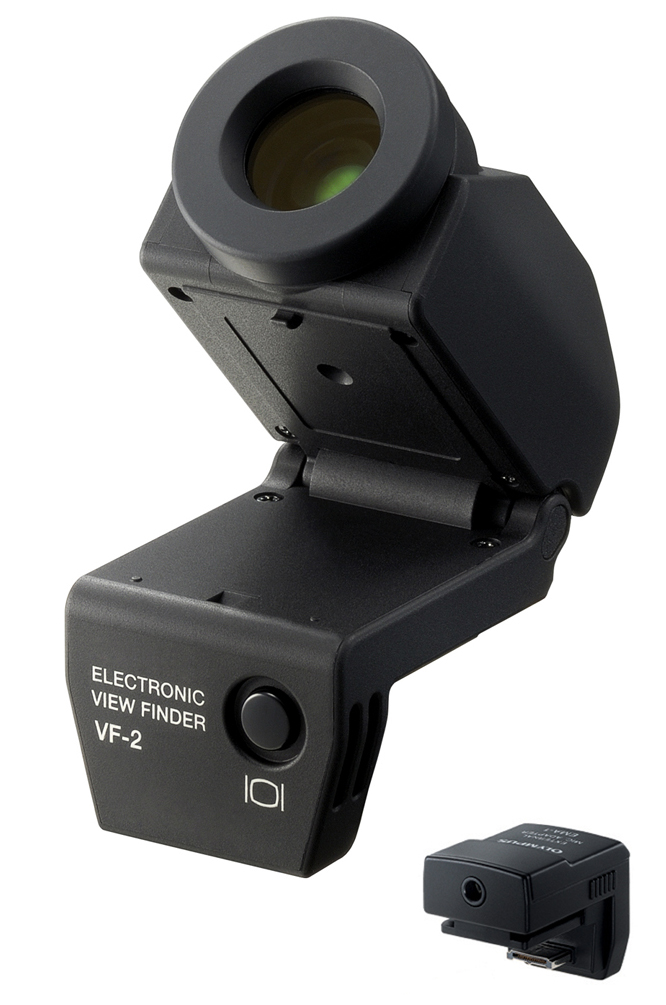 NOTE (i) This is the VF-2. It's quite large and adds substantially to the bulk of the E-P2.
NOTE (ii) The inset shows the EMA-1 that allows you to plug in the stereo microphone (ME5 1SW).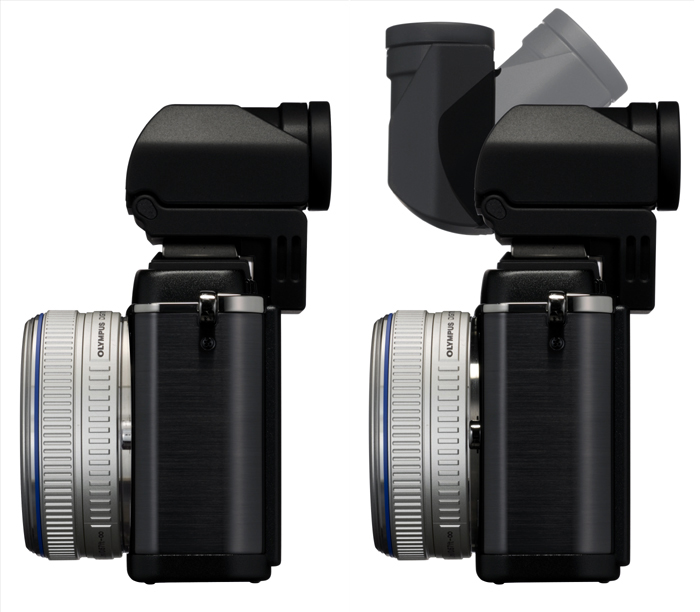 NOTE (i) The above left illustration shows the VF-2 mounted. When compared to the bulk of tube-type viewfinder for the MZ 17mm/2.8 lens (VF-1) it is about the same overall size but offers full integration with the camera for things like AF confirm.
NOTE (ii) The above right illustration shows the VF-2 can be tilted through 45 to 90 degrees giving the user a 'Twin Lens Reflex' type medium format experience.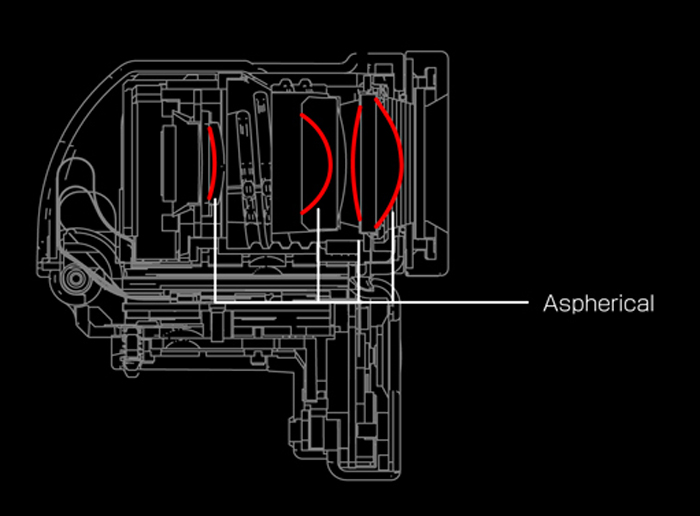 The above is a schematic of the VF-2 showing the optical makeup and hinging mechanism.





Above is the accessory port - the socket into which the VF-2 etc plugs when slid into the flash shoe.




I have little doubt the new EVF will generate debate and polarise opinion. Much depends on the visual experience it delivers and in particular how easy it is to focus manually. There is tremendous interest in using manual legacy lenses from all makers on MFT cameras and many will judge the E-P2's EVF on this factor (rightly or wrongly). Personally, I'm not a great fan of EVF based on cameras like the C8080 but when offered two alternatives to the traditional OVF in one camera (LCD screen or new generation EVF) I don't think I can complain. The older solution of having a dedicated zooming optical viewfinder is not possible with MFT as it is an interchangeable lens camera.


A QUICK LOOK AT THOSE NEW LENSES
To be available in mid-2010 are two new Micro Zuiko Digital (MZD) lenses; a wide-angle zoom 9-18mm/f4~5.6 ED and a superzoom 14-150mm/f4~5.6 ED (an interesting lens for sure). Taking into account the focal length multiplier of 4/3rds these two new lenses will cover 18~300mm (in 35mm terms). These are in addition to the existing standard zoom 14-42/f3.5~5.6 ED and the 17mm/f2.8 Pancake lens.
Here is the proposed complete Olympus MZD lens line up for MFT. Don't forget the Panasonic range of MFT lenses work satisfactorily when mounted on an Olympus MFT body. (Not the other way round).
E-P2 HEADLINE FEATURES
General
* 12.3 Megapixel Live MOS sensor with TruePic V image processor
* In-Body Image Stabilization for Sharp Images with 4 steps EV efficiency
* Accessory port to clip-on electronic viewfinder and microphone adapter
* Live Control GUI for intuitive handling & real-time views of effects
* Automatic recognition of common scenes possible with i-Auto
* i-Enhance function to boost colours
* Clear skin with e-Portrait
* AF Tracking
* Two dials for easy handling
* Face Detection and Shadow Adjustment Technology
* 20 shooting modes (5 exposure, i-Auto, 14 scene modes)
Creativity & HD Movie
* HD Movie with stereo sound featuring depth of field and Art Filters now available in M-mode
* 8 Art Filters, Multi-Aspect ratios
* Multi Exposure function
* Art Filters can be applied to previously taken RAW images in the camera and with Olympus software
* Enhanced creativity with special lenses e.g. fisheye is available via Four Thirds lens adapter
Additional features of the Olympus E-P2
* Based on the Micro Four Thirds Standard
* HDMI interface
* Linear PCM sound recording
* Level gauge
* Hi-Speed USB 2.0 interface
* 3fps with sequential shooting (max. 10 in RAW mode)
* ISO 100-6400
* Bracketing functions for white balance and exposure
* Wide dynamic range in highly lit areas
* SD memory card slot (SDHC compatible)
* High-speed data writing and lossless RAW compression
* 7.6cm/3.0" HyperCrystal LCD
* AE/AF lock functionality
* Auto gradation adjustment to prevent blown highlights and blocked-in shadows


FURTHER DETAILS ON SOME FEATURES
AF Tracking
This system tracks the moving subject automatically and keeps it continually in focus for pictures that are optimally focused and exposed. It also memorises subject data even when the subject goes out of frame and resumes tracking when it reappears.
Art Filters
Enables special artistic effects to be created directly in the camera. The following Art Filters are available in the Olympus E-P2:
* Diorama: Enhances a composition's depth of field to give the image an unreal touch and model-like structure.
* Cross Process: Returns depictions with striking colour and contrast shifts akin to those achieved through the cross processing technique in silver halide film development.
* Pop Art: Enhances colours, making them stronger and more vivid to create high-impact pictures that express the happy, light-hearted feeling of the pop art style.
* Soft Focus: Creates a soft tone which gives pictures an ethereal, otherworldly atmosphere. It renders pictures as though they were veiled in heavenly light, without obscuring details such as the hair or flower petals.
* Pale & Light Colour: The foreground is enclosed in flat, gentle light - similar to a flashback scene in a film - creating a sense of déjà vu.
* Light Tone: Creates a picture with a gentle feel to it, similar to one taken under artificial lighting. Both the shade and highlight areas are rendered very softly to provide a sophisticated atmosphere.
* Grainy Film: This effect recreates the feeling of reality evoked by grainy, high-contrast monochrome pictures. The strong presence and dramatic atmosphere make the subject stand out impressively.
* Pin Hole: Reduces the peripheral brightness like an image seen through a pinhole. Added to this is a unique colour tone that results in a style that has an air of secrecy or portrays the feeling of being lost in another dimension or space.
Built-in image stabilisation
Built directly into the camera, it enables the photo-enhancing effects of image stabilisation to be enjoyed irrespective of the attached lens. A gyro sensor detects the precise direction of the shake. Using the on-board Supersonic Wave Drive (SWD), the image sensor shifts to compensate for movement caused by camera shake.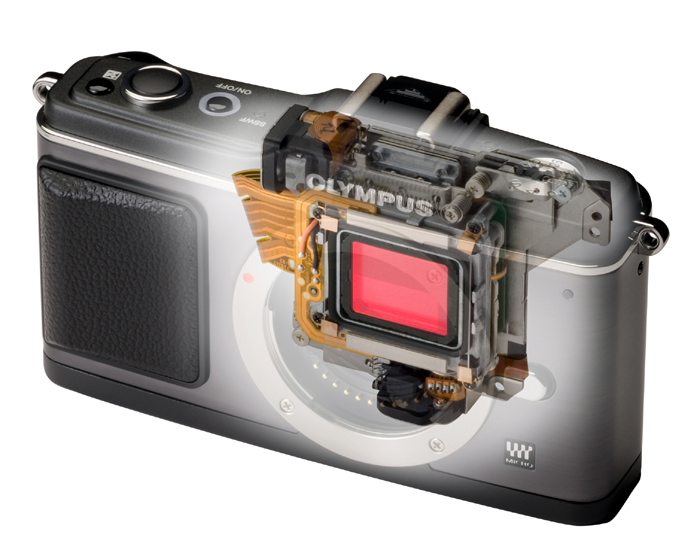 E-P2 cut-away showing layout of sensor, SSWF and in-body IS units.




e-Portrait
Touches up the appearance of subjects even while the shot is being taken. This feature recognises faces and automatically makes skin on the face and adjacent areas appear smoother, brighter and more youthful.
HD Movie
High-definition video (HD video) delivers high-quality movies at a resolution of 1280x720 pixels and a rate of 30 frames per second.
i-Auto mode
This 'intelligent-Auto' mode uses advanced automatic detection technology to allow the camera to recognise the six most commonly used scenes automatically. They enable the capture of perfect photos without any need for manual settings.
i-Enhance function
By invoking this function, the camera automatically enhances colours. In this way the saved results resemble the way we recollect memories more closely.
Micro Four Thirds Standard
Micro Four Thirds was developed to maximise the performance potential of digital imaging technology. It allows users to enjoy the same high image quality as the Four Thirds Standard's 4/3-type image sensor in a much more compact body. The new Micro Four Thirds Standard enables the development of ultra-compact interchangeable lens type digital camera systems unlike anything seen before. It also incorporates a greater number of lens-mount electrical contacts for the support of new features and expanded system functionality in the future.
Multi-Aspect
The E-P2 lets photographers choose from four different aspect ratios that enable individualised framing of scenes. These provide a new means of adding expression to shots and the selected ratio can be seen directly on the camera's LCD. The available aspect ratios include: 16:9, 3:2, 4:3, and 6:6.
Multi Exposure
With this function, two RAW images can be overlapped to create a new picture while shooting. Up to three RAW images can be combined in editing mode.
Supersonic Wave Filter Dust entering digital cameras with interchangeable lenses can cause damage to photos. The Supersonic Wave Filter is a transparent filter which is located between the camera's shutter and sensor. It shakes off settled dust particles by generating a series of ultrasonic vibrations. Olympus was the first to incorporate dust protection.
TruePic V image processor Olympus' latest image processing engine. It automatically enhances important aspects of image quality including: colour reproduction (colour range, saturation and brightness), picture sharpness (reduced image noise, improved edge reproduction), as well as providing faster processing speeds. Furthermore, it supports Art Filters, HD movie quality recording, and high sensitivity shooting at up to ISO 6400 to enable unprecedented creative expression.



Full schematic of E-P2 showing internal layout and placement of essential parts.
---
FULL SPECIFICATIONS
If you require full specs of the E-P2 please press HERE


---
PEN - POTTED HISTORY
The PEN series was first introduced in 1959 as a half-frame viewfinder type camera. With its revolutionary design and price, this camera made photography available to a much bigger user group. The idea behind its design was pure and elegant - to create a camera that was as easy to carry and use as a pen. The PEN was designed by legendary Olympus designer Yoshihisa Maitani, one of the most famous product designers in the history of photography. In 1963 the single lens reflex version of the camera - PEN F was launched as the world's first 35mm half-frame system SLR. By the time of its introduction, 18 lenses were available. 17 million PEN cameras were sold, making it one of the most popular and successful cameras ever. Today PEN cameras are a much sought after collector's item and some are traded for incredible prices on the second-hand market.
Olympus recognise the appeal and longevity of high quality products. The new Pen concept is being delivered through top engineering and design, delivering cameras that not only produce high quality images but are, in themselves, highly desirable.
SUMMARY
Olympus are delighted with the reception the Pen concept has received. Not only has the E-P1 won coveted awards but has proven very popular with buyers - the people that keep the company in business. Strategically the compact market currently exceeds the DSLR market by some 90% and there is plenty of room for a compact/DSLR hybrid type camera. This is where a big chunk of future sales are and microFourThirds is set to fill that market niche with aplomb. The new E-P2 will further satisfy those who look towards MFT as a completely self contained genre or a high quality companion to their existing DSLR system.
We are at the start of the MFT journey. The Pen is our transport. And just as the first Pen camera was continually developed from 1959 onwards, the new Pen will fulfil our ambitions as it too is developed over the coming years to meet our aspirations.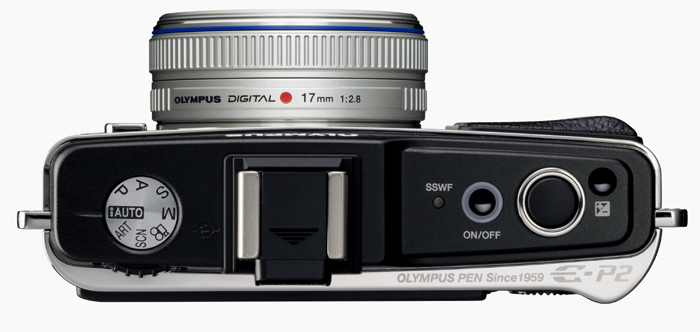 New E-P2 top view. Pure black elegance!
---
---
| | |
| --- | --- |
| Posted November 5th 2009 | Copyright © 2004/5/6/7/8/9 John Foster |