REVIEW NOTES: Any RAW files I provide can be manipulated with Olympus Viewer 2 (version 1) which is available as a free download from Olympus Imaging here . Always check you have the latest version by clicking the HELP/UPGRADE SOFTWARE tab from within the software while connected to the Internet. Olympus Viewer 2 also enables you to upgrade the camera/lens firmware from the software via the 'CAMERA' tab.


RAW CONVERTERS: Having tried several RAW developer softwares I prefer Olympus Viewer. I now use Viewer for all my RAW manipulating needs; I believe it gives the best results for colour rendition and general tweaking and it's free of charge. However, as regards sharpening and noise reduction, there are better softwares out there.


REVIEW UPDATES: I will be updating this article - please refresh your browser.


E-PL1 CAMERA MANUAL: You can download a pdf version of the official E-PL1 manual (7.05MB) here . My UK version of the camera came with a comprehensive hard copy manual - well done Olympus for providing a 'real' 127 page (117mm x 166mm size) manual. Text is quite small so you may need your glasses!


---
BACKGROUND
I have been patiently waiting since March to get my hands on an E-PL1. That I've had to wait so long bears testimony to just how well the camera has been selling; Olympus UK ran out of E-PL1's.
The E-P1 is a year old and it's upgrade, the E-P2 was released last Autumn. Both of these models had quite high retail prices which raised some criticism and demanded a response from Olympus. That response is here with the E-PL1 that in UK is selling for around £450 for camera and basic MZD 14-42mm zoom kit lens. The Electronic Viewfinder (EVF) is now an accessory throughout the E-P range and is priced at around £189. (The VF-2 used to come kitted with the E-P2 but this kit is no longer available in many countries).
The E-PL1 comes with the accessory port enabling the user to fit either the VF-2 EVF or the SEMA-1 stereo microphone pick-up. Of course the camera is fully functional without these two accessories - but for some and dependent on their use, it just works better with them.
Let's have a look at the new E-PL1:


E-PL1 MAIN FEATURES IN BRIEF
* Easiest operation with Live Guide and iEnhance
* Ultra compact design in 4 different colours
* HD Movie and HDMI Control
* Art Filters, Multi Exposure, Multi-aspect
* Accessory Port
* High Speed 12.3 Megapixel Live MOS sensor
* High-performance built-in image stabiliser
* Comfortable Live View thanks to high speed contrast AF**
* Real-time effect monitoring
* Excellent variety of digital lenses
* Unique dust reduction filter (SSWF)


WHAT'S IN THE BOX?
E-PL1 body; in my case champaigne colour (silvery/gold) with a 14mm silver band all the way around the body.
Micro FourThirds body cap (bayonet).
MZD 14-42mm 3.5~5.6 L silver kit lens with front and back caps - back cap is a push fit not bayonet.
Camera Strap
BCS-1 charger and figure of eight lead.
BLS-1 battery.
USB and audio/video leads. No mini-HDMI lead.
E-PL1 paper manual 127 page; Olympus IB software; World Wide Guarantee card for E-PL1 (E) GLD; 1 year only.


E-P2 FULL FRONTAL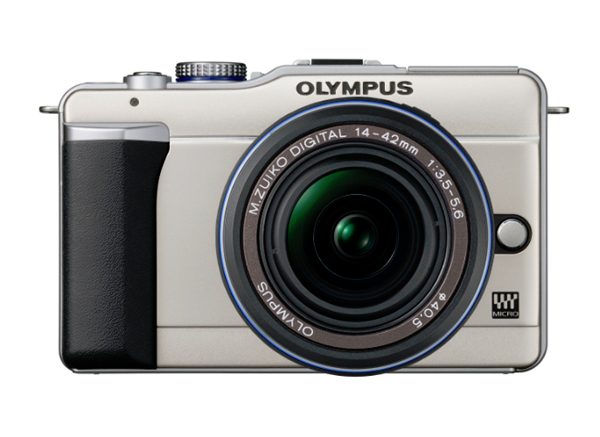 E-PL1 champaigne body fitted with MZD 14-42mm 'L' lens.
Image by Olympus Imaging.
It's fair to say the E-PL1 has been built down to a price. For example the body is all plastic, unlike its siblings with shiny metal covers (that show every fingerprint and scratch). First impression is good; not quite up to the standards set by the E-P1/2, but very nice indeed. There are a couple of 'cheap' areas such as the communications door which is a bit flimsy though adequate and the plastic lens mount on the 'L' version of the kit MZD 14-42mm lens. Stopping with the lens I note too the front and back caps are really cheap compared to its siblings.
That said its general appearance, weight and heft does not strike you as 'cheap and nasty' by any means. In fact it handles nicely and is finished to a high standard.
The frontal aspect presents a boxy look very reminiscent of the Pen EED (from 1967) that also had a 15mm wide silver moulding strip that goes right round the camera exaggerating its boxy look and providing a two-tone finish. The strap lugs are plain chromed oblong metal loops without separate strap hangers. There is little ornamentation other than a single thin 'chrome' strip across the front and the heavy chromed lens mount surround; the body is also free of IS and/or MP badges. The lens mount is stainless steel. The silver lens mount button is set in a black plastic recess and the 'MICRO' badge is printed directly onto the front panel.
The provision of a 'real' grip for the right hand fingers is very welcome and offers more stability with longer lenses than the flat 'grip' on the E-P1/2. The grip is slightly rubbery in texture giving a nice feel.
The camera sits well in the hands. It is less wide than the E-P1/2 and slightly taller giving it a 'squarer' feel. The straight sided grip could use a little contouring but it serves its purpose. I would say the E-PL1 is easy enough to hold in one hand though the shutter button position is not ideally placed for one-handed shooting. There's virtually no body to speak of to the left of the lens meaning you have to cup your hand under the lens for the best purchase. It feels light but not flimsy in any way and is free of panel movement or flex.
The pop-up flash is tiny; its head measures only 15mm x 5mm and has a guide number of 6. When raised it sits above the body by 25mm. I note the flash head can be held backwards and upwards to enable 'bounce' but I doubt it will be powerful enough. If the head is tilted downwards towards the lens the flash is disabled.


E-PL1 REAR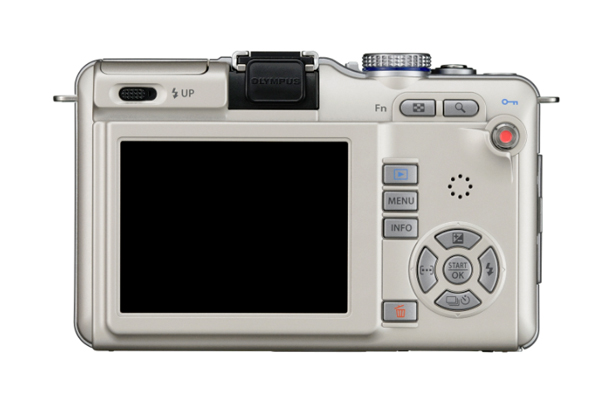 E-PL1 rear aspect.
Image by Olympus Imaging.
The rear aspect is well presented with substantial buttons. Only the 'Enlarge' and 'Function' buttons do not have a nice clicky feed-back feel; the rest have - a nice touch. The buttons are much larger than those on EP1/2 and you will note there are no command wheels. There is no rubber grip pad for the right thumb.
The red centred chrome button is an 'instant' movie recording button which works independently of any other settings of the camera. This saves turning the mode dial to movie.
The screen is 2.6" with a resolution of 230,000 dots.
The flash shoe black plastic protector also protects the rear accessory communications port.
The black flash release slider button is on the left, sat in a slight recess.
On the top plate is the knurled mode dial with PASM, Movie, Scene, Art and iAuto modes. The shutter button is adjacent. On the far right is the ON/OFF button with its built-in blue LED. There is no compensation button ala E-P1/2; this has moved to the 4-way.
On the base plate is a metal tripod bush that is NOT in line with the centre of the lens and the battery and SD card compartment.
The E-PL1 is available in Champaigne, Silver, White, Red and Blue (country dependent). Standard kit zoom is available in silver or black.


SOME THOUGHTS ON OLYMPUS' m4/3rds OFFERINGS TO DATE
The E-P1 was quite heavily criticised for offering no viewfinder. The E-P2 sports an accessory port that enables the use of the Epson developed high specification VF-2 external EVF that has been almost universally praised. The entry level E-PL1 offers the same facility and this is welcomed, certainly by me. As a primarily DSLR user for many years I cannot get used to composing off the LCD screen although I know many do not have this problem. Also, as a user of legacy manual lenses (mainly OM), having to use the LCD screen more or less precludes the use of manual lenses unless the camera is tripod mounted. The addition of an EVF allows me to use just about any manual lens I like and this pleases me greatly. However, I think many might prefer to see an new Olympus m4/3rds body with a built-in EVF. This would allow the user to have an external flash mounted and use the EVF. I think this comes down to space within the svelte lines of the E-P range into which Olympus have shoehorned their in-body Image Stabilization module - we can't have everything!
Both the E-P1 & 2 were also slated by some as having slow Auto Focus. Certainly, compared to any DSLR contrast AF is (was) slow with Olympus MZD lenses (but not quite so with Panasonic lenses). The E-PL1 and the new range of MZD lenses has addressed this problem. So much so that there is firware updates for the E-P1/2 to take advantage of the new firmware algorithms. Using the MZD 9-18mm is an eye-opener! This lens on the E-PL1 is very quick although not yet quite as quick as a DSLR, but a HUGE improvement. BUT I am sure within a couple of years the differences will be negligible. This is partially down to new AF motors in the new lenses. The kit lenses unfortunately are not quite up to this standard though the new firmware has speeded them up considerably.
While it is tempting to compare m4/3rds with standard DSLR's remember they are not a DSLR replacement - yet. Phase Detect AF will be faster than Contrast Detect for some time yet and the general speed advantages a DSLR offers are not yet available in m4/3rds. But as an option m4/3rds offers much in size and portability, as well as being much less intrusive and almost anonymous for certain types of photography compared to some DSLR behemoths. But in terms of Image Quality there is little to choose between them.
The final major advantage m4/3rds offers is that of movie recording. Not being a movie fan at all this aspect is somewhat lost on me on me but I know many thousands are carefully comparing movie capabilty betweeen m4/3rds, DSLR, compacts and traditional movie cameras.
Mirrorless interchangeable lens camera technology is new, as are the design challenges. It won't be long before the differences between the systems is so small as to be insignificant. We live in fabulous times for photography!


FIRMWARE UPDATES FOR E-PL1 (1.1)
Auto Focus Performance This update improves camera AF performance when shooting both stills and videos with the E-P1, E-P2 and E-PL1 cameras when using any Micro Four Thirds or Four Thirds lens. Auto Focus Lock time when shooting stills is improved by 15%. Auto Focus tracking accuracy when shooting movies is also improved.


The above chart is taken from Olympus US website and shows the improvement in AF speed after the new firmware.
Viewfinder/LCD Simultaneous Playback Function This upgrade also brings additional display functionality to the E-P2 and E-PL1 cameras when fitted with the VF-2 Electronic Viewfinder. Photographers using these combinations can now view menu and recorded images on the LCD while the VF-2 Electronic Viewfinder is in use. In reality what this means is the recorded image is displayed in the viewfinder for about 4 seconds and then passed to the LCD. To return to the viewfinder view you have to press the VF-2 button.
Movie-Still-Compatible (MSC) Lens Compatibility This update also ensures that like the E-PL1, the E-P1 and E-P2 camera models are fully compatible with and able to take advantage of two recently announced lenses; the M. Zuiko Digital ED 9-18mm F4.0~5.6 and M. Zuiko Digital ED 14-150mm F4.0~5.6. Olympus has designating these two lenses as MSC, or Movie-Still-Compatible. They are optimized for shooting high definition video with accurate and silent autofocus.


FIRST IMPRESSION
The E-PL1 is a delightfully pleasing camera to hold and use. It feels 'right' in the hands and is a nice balance between being light but having sufficient 'heft' to inspire confidence and (importantly to some) to handle other than the standard range of m4/3rds lenses. While the E-P1/2 hark back to the semi-professional SLR Pen F/FT/FV of the 60's the E-PL1 reflects the more popular semi-automatic viewfinder Pen EED (1967-72) that sold almost a million units and was very much a camera of the masses. It is plainly obvious that Olympus are looking back to their earlier 'golden' years for design inspiration,
The fact that the E-PL1 has been 'dumbed-down' a little from its siblings does not detract from its appeal. This is a mass-market camera aimed squarely at those upgrading from a compact and not wishing to find an overly complex offering. That's why you can set it to iAUTO and have immediate access to all the image quality adjustments without needing to understand the sometimes complex menu system. Yet all the over-ride settings of PASM are available for the more ambitious. Olympus put much store behind their SCENE and ART modes; the former is very much a compact camera trait aimed at helping the non technically minded to achieve great images and the latter is not only fun to use but capable of producing some fabulous results.
Those with lots of DSLR and post processing knowledge tend to decry these modes - but not everyone wants to learn about aperture and shutter speeds and how to develop a digital image. Most folks simply want a camera that is fun to use and produces great results without further input. The E-PL1 is one of those cameras and more.


BODY CONTROLS, BUTTONS & DIALS
The E-PL1 is simply laid out. On the top plate is the mode dial, shutter button and on/off button, with the pop-up flash at the opposite end. The Mode dial offers P, A, S, M, Movie, Scene, Art, and iAuto.
The rear sports the 2.6" LCD screen which is more than adequate for composing and reviewing. There's the standard 4-way that offers short cut buttons to EV compensation, flash, frame rate/self timer and AF point with an OK button in the middle. In addition there's a bank of 4 buttons for review, menu,info and delete next to the screen. There's a programmable Function button next to the magnify button (Off, Face Detect, Preview, One touch White Balance, AF Home, Manual Focus, RAW, Test Picture, My Mode, Underwater case function, AEL/AFL, or Backlit LCD.) Lastly there's the 'instant' movie record button that will start your movie regardless of what else the camera is set to at the time of pressing.
When you switch the camera on there is a slight pause as the dust-buster (SSWF) sequences but there is no separate lamp ala every other Olympus DSLR. (I believe this is deliberate policy - not to overwhelm the user with lights and gismo's). The tiny blue LED in the centre of the on/off switch stays on. The rear screen may show (depending if you locked the zoom lens) a warning about the lens lock (see later). Unlock the lens and all is ready to use. The start up procedure is about 1 second.
By default, as the mode dial is changed there's an info message on the screen explaining the mode you've switched to and what you need to control (you can switch this off).
In the more advanced modes of PAS & M access to the various camera settings is via the Super Control Panel or Live Control Screen that is icon driven. You can have either, both or none of these - selectable in the menu. Personally I find the Super Control Panel the easiest to use as this is what I'm used to from other Olympus DSLR's. But folks coming from compacts will feel more at home with Live Control - it's simple and intuitive.
The shutter button is light and a half press will deliver AF lock with about 1 second with the kit lens. The Movie record button starts recording within 1 second of being pressed. AF is delivered by half press on the shutter button (unless you have C-AF enabled in Movie mode). The instant movie button is also programmable (Record, Backlit LCD, Off, Face Detect, Preview, one touch White Balance, AF Home, Manual Focus, RAW, Test Picture, My Mode, Underwater case function, or AEL/AFL.)
There are no control wheels. All functions are selectable through either of the Control Panels or the menu, being selectable via direct buttons and/or the 4-way arrows. For example the EV compensation button is now the top choice of the 4-way and not on the top plate. It's not quite as good/instant as a direct button, but it still works quickly enough, once you are used to it.
The bottom plate has the usual battery and card compartment. EP-L1 uses the BLMS-1 battery (ala E-4XX and E-6XX and other EP range) and SD/SDHC card. At last Olympus are using a sensible card to replace the defunct/slow xD. There is no room for CF dual slot. The battery compartment door hinge looks rather delicate and might be a weak spot when open. The tripod bush is not centralised to the lens - apparently there was no room inside - so it is moved toward the battery compartment. There is a further I/O compartment on the right with a very flimsy plastic cover.


iAUTO - SIMPLE CHANGES
In iAUTO mode when the OK button is pressed the user can directly alter Colour Saturation, Image colour (White balance), Brightness, Blur the background (Aperture) and Express Motion (Shutter Speed) and access shooting tips by use of an up/down slider operated by the 4-way. For anyone not understanding basic photography this is simple and fun and you can judge the effect directly on the screen.



Left: Primary selection screen - choose the parameter you wish to change and press OK.
Right: Change that parameter by sliding the up (more) or down (less) using the 4-way buttons. The results can be seen on the screen.
By design you can only change one parameter at a time. Therefore you cannot super saturate AND alter the white balance together. Any alterations using iAuto are not applied to the RAW image (if you are saving RAW + JPG.) To alter similar settings in any of the more traditional modes of PAS or M you must access the conventional menu (Picture Mode and then Contrast, Sharpness, Saturation, Gradation) or use your knowledge of photography - i.e. the relationship between aperture and shutter speed. While I can see iAuto being attractive to those with little photographic knowledge I can also see it as a barrier to actually learning about photography, but I'm very old fashioned in my outlook.


LIVE CONTROL vs SUPER CONTROL PANEL
Here you can see the primary difference between the two control panels. They both access the same parameters, it's up to you which one you choose. Most changes you make are seen on the screen.



Left: The Live View control screen - aimed at compact users.
Right: Traditional Super Control Panel - aimed at Olympus DSLR users.
OPTIONAL VF-2 EVF vs LCD SCREEN
The VF-2 internal screen is delightful (and I'm no lover of EVF's). In most normal outside conditions it is clear and bright with virtually no pixelation and accurate colour reproduction. It is almost like looking through my E-3 (yes, it is that good). In very bright sunlight the screen tends to darken and I noticed stray light entering from around my eye because the VF-2 has no proper rubber eye-piece. In these conditions I had to shield the eye-piece with my left hand which immediately remedied the problem. Indoors it remains very good though there is some fine refresh pixelation when you move the camera across the scene. As the ambient light falls the amount of EVF 'gain' increases as does your impression of an electronically generated scene; pixelation and noise increase but not to an unbearable degree at all - you are simply aware this is an EVF. In all but the dimmest of conditions I found I could pretty easily manually focus and only occasionally required the magnified screen. When ambient light levels drop further (when almost dark) the amount of 'gain' turns the EVF view into a mass of coloured vertical streaks that is quite unpleasant. At these light levels the camera cannot auto-focus anyway. The latter said, I was very impressed.
The LCD screen is large and bright enough with good contrast and a delightful 'clarity' for most usage though it was difficult to use in bright sunlight. In certain heavily back-lit conditions I found was simply pointing and guessing the framing as the screen was virtually washed out and was glad I had the VF-2. I doubt higher resolution screens could deliver a good image in bright sunlight from behind. Using the LCD screen is fine in 95% of circumstances; but the VF-2 is a superb option. If you intend to use the E-PL1 with manual lenses the VF-2 is essential and quite capable of fine focus without enlargement.


BATTERY PERFORMANCE
I find the BLS-1 battery a pretty good performer. Overall I was getting several hours of constant use from one charge. But there's a difference between ordinary use and reviewing a camera. I suspect using the optional VF-2 with the new firmware will drop this by at least 10%. Without VF-2 I reckon about 200-250 shots with the normal review time and menu dipping. For a long days use I'd strongly recommend a second battery.


E-PL1 WITH MZD 14-42mm L KIT ZOOM
The standard MZD kit zoom is a good all round performer; the results I obtained were just as good as the ZD kit zoom. It has a film equivalent zoom spread of 28-84mm though is a little slow (f3.5~5.6). Remember to twist out the inner barrel from its locked position to avoid the LCD warning, and you are ready to go. The zoom ring operates smoothly enough with a turn of less than 30 degrees across the range, and in manual focus the fly-by-wire arrangement works fine. In normal auto focus mode you can check the focus by pressing the magnify button to get a 10X view; press again to return to normal view. In manual focus (and with MF Assist enabled) with any MZD or ZD lens, as soon as the focus ring is touched, the camera switches to the same close-up version of the scene to allow critical focus. Leave go of the MF ring for a second and the camera switches back - very clever. Obviously this does not work with legacy film lenses as they do not communicate with the body. But the magnified view is available by pressing the Magnify button when in the appropriate LV mode (green box screen).


INSTANT LIKES/DISLIKES
I find myself constanly touching the instant movie record button and starting a movie. This reminds me very much of the problems with the upper buttons on the E-500 that most folk disabled. Perhaps I'll get used to it or I'll have to change its function.
The rear buttons are larger and therefore more usable than the E-P1/2. That's a good thing.
Because the tripod bush is off centre this means you cannot remove battery or card without dismounting the camera from the tripod - very annoying.
I though I'd miss the direct button for EV compensation changes. But after using the camera for a while the arrangement is fine. BUT I do miss the E-P1/2 vertical wheel and find my thumb still looking for a wheel rather than going to the left/right buttons on the 4-way. I'll get used to it!
I miss having no IR remote control - surely this can be easily fixed? Also, my JUEYING wired cable release (Chinese) that works fine with my E-System cameras) will not work with any of the micro4/3rds machines I've had for review. However I believe that HAHNEL make a compatible wired release unit but do not know if this works with both strains of 4/3rds. Having external control of the camera is important (to me anyway) for tripod/table-top work.


QUICK SETTINGS
Before taking any photographs I quickly went through the menu and changed a few basic parameters based on my previous experience with Olympus cameras. Mode A; IS to IS1; AF (for Still pictures) to S-AF; AF Area to single point; Face Detect Off; Metering to ESP; ISO 200; ISO Auto Set 800/200; NR to LOW; Picture mode to Natural with 0 sharpness and contrast and Gradation to NORMAL. I also instigated a pixel mapping sequence. I set the camera to record my shots in LSF JPEG + RAW. I switched the Live Control off but enabled the Super Control Panel. (The camera is very customizable and I may return to its overall settings in a later article).
I have no experience with movie taking/making whatsoever. For this review I am using the E-PL1 as a stills camera only.


IMAGES FOR DOWNLOAD
On a beautiful end of June day we took a short trip to Richmond, my local town. Steeped in history and built around the 1000 year old castle it offers some good photo opportunities.
Have a look at the following examples. Click on the image to see the original JPG. If you want a particular RAW file for your personal use/manipulation, please email me here.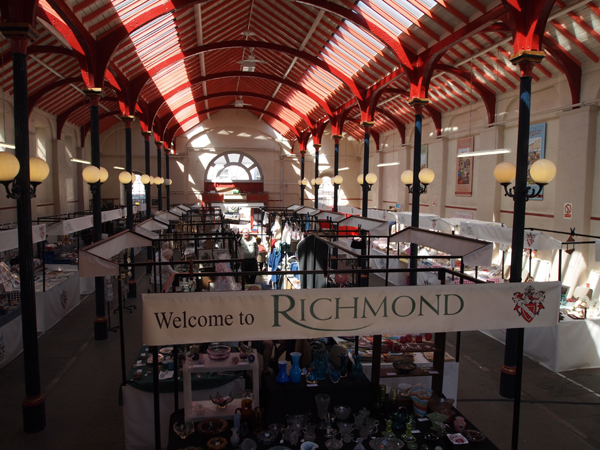 Richmond indoor market. Click on image to download full jpg from camera with EXIF.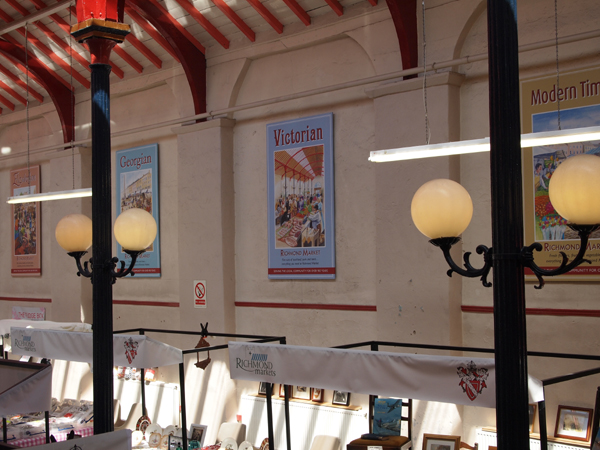 Richmond indoor market wall hangings. Click on image to download full jpg from camera with EXIF.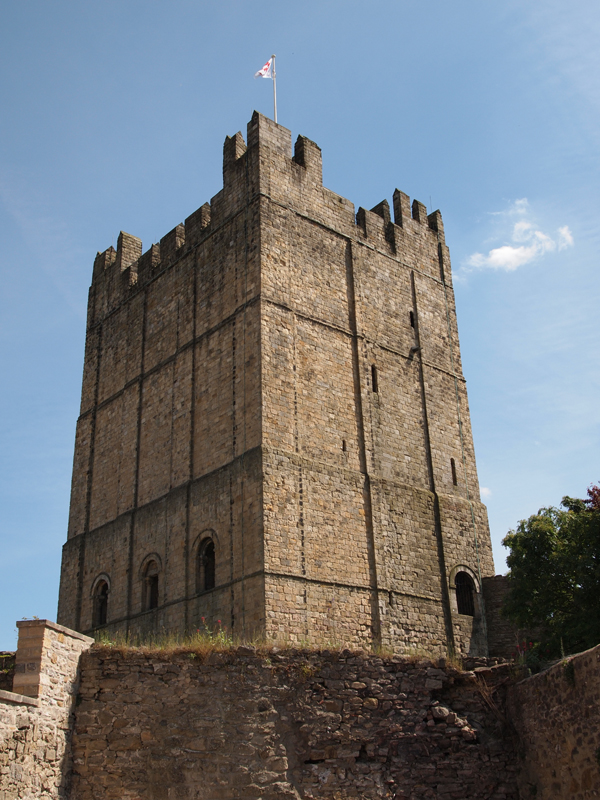 Richmond Castle - Robin Hood Tower. Click on image to download full jpg from camera with EXIF.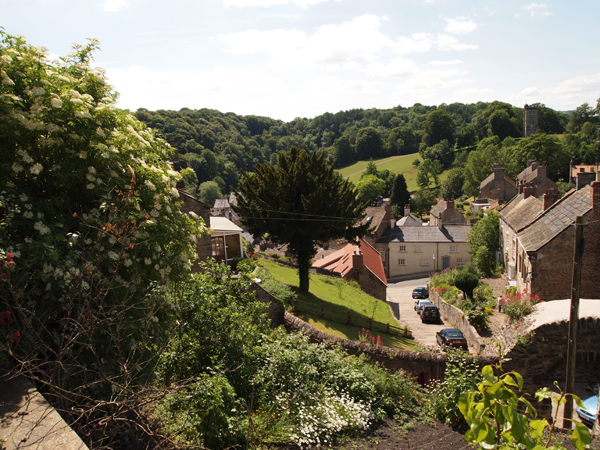 Richmond roof scape with Culloden Tower upper right. Click on image to download full jpg from camera with EXIF.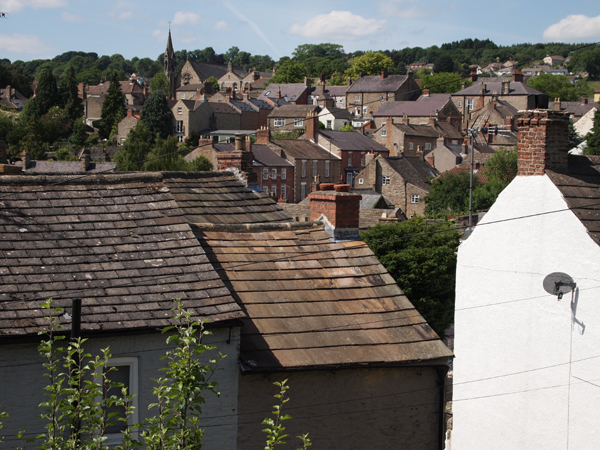 Richmond town roof scape. Click on image to download full jpg from camera with EXIF.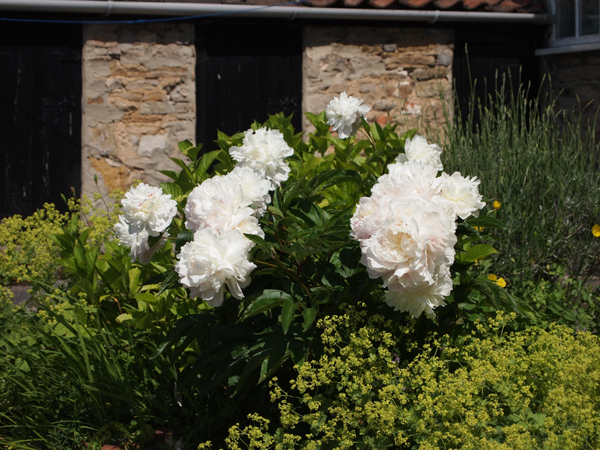 White blooms in full sunshine. Click on image to download full jpg from camera with EXIF.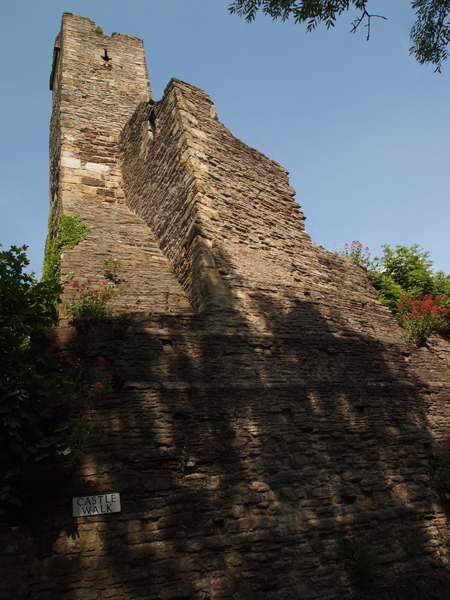 Western watch tower, Richmond Castle. Click on image to download full jpg from camera with EXIF.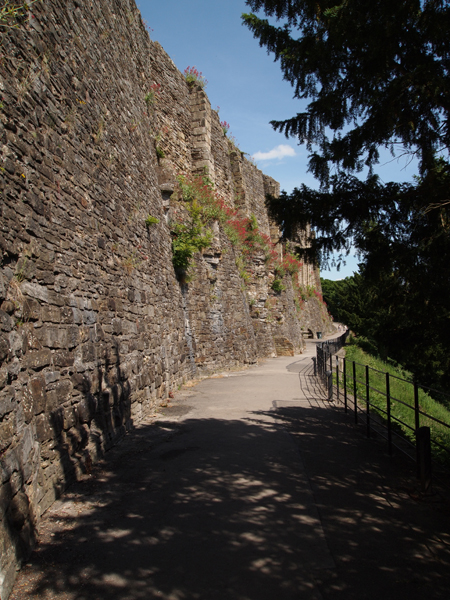 Castle Walk 1 - high above the river Swale. Click on image to download full jpg from camera with EXIF.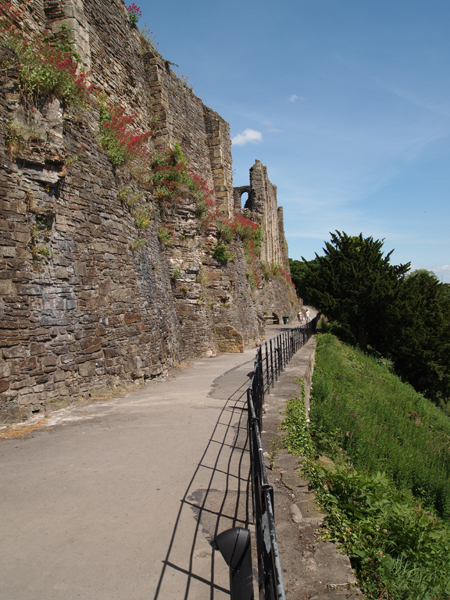 Castle Walk 2. Click on image to download full jpg from camera with EXIF.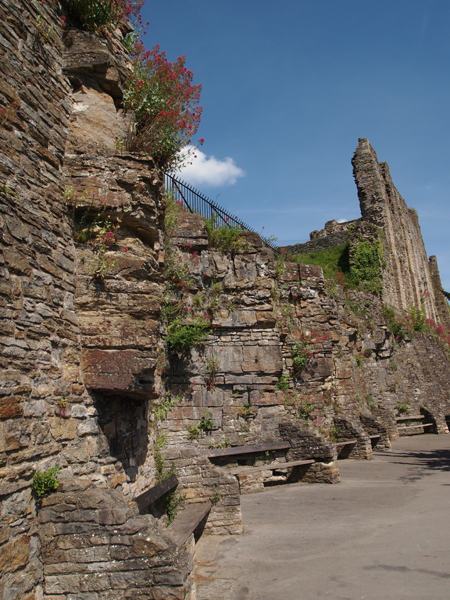 Castle Walk 3 - have a rest! Click on image to download full jpg from camera with EXIF.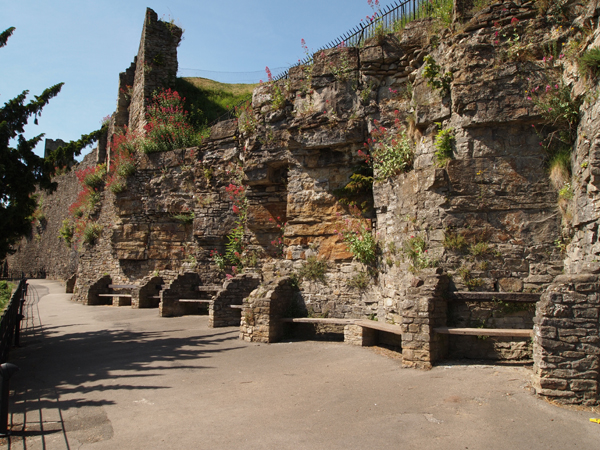 Castle Walk 4 looking westwards. Click on image to download full jpg from camera with EXIF.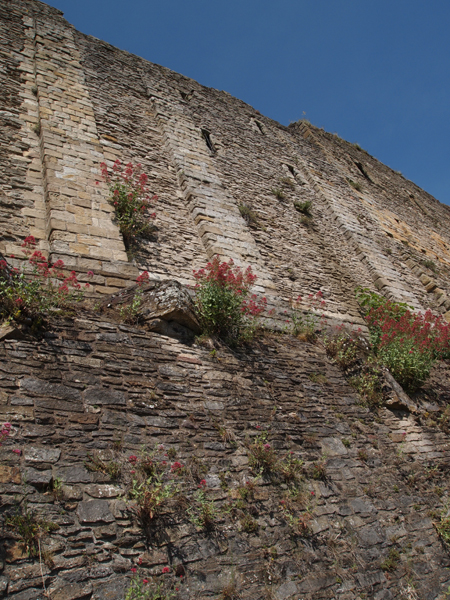 Fortified outer walls of the Castle. Click on image to download full jpg from camera with EXIF.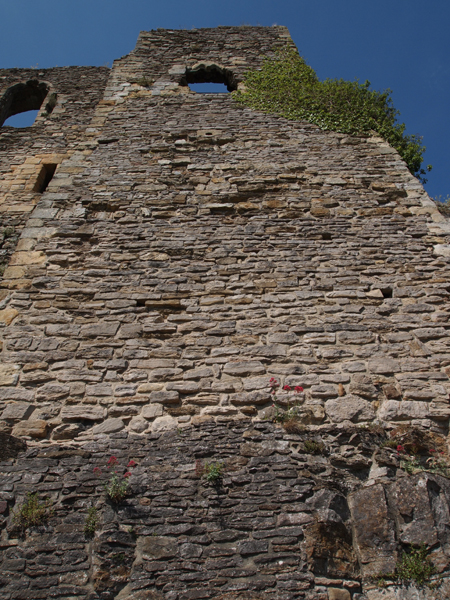 Eastern Watch Tower. Click on image to download full jpg from camera with EXIF.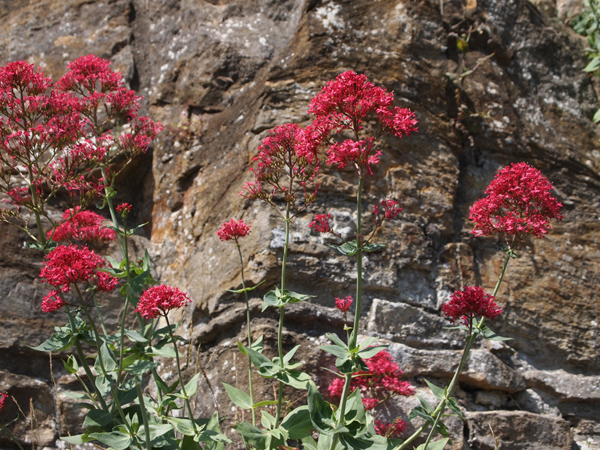 Life blooms in the most difficult places. Click on image to download full jpg from camera with EXIF.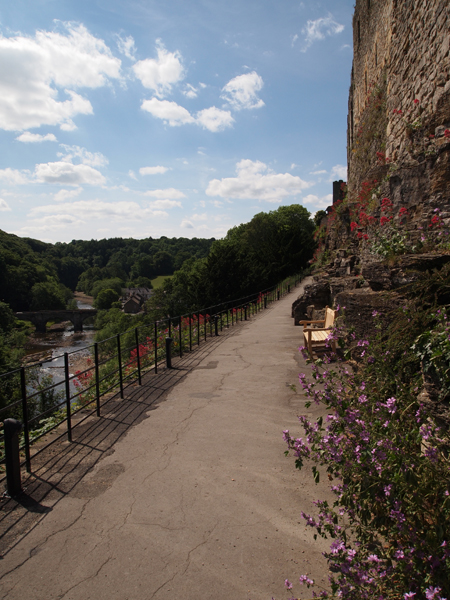 River Swale looking down from Castle Walk. Click on image to download full jpg from camera with EXIF.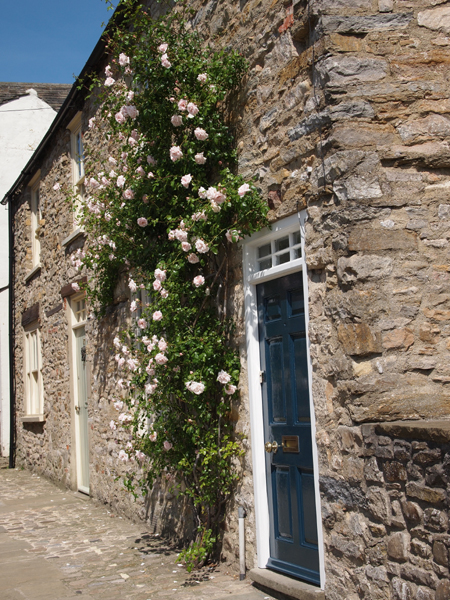 Roses around the door - how quaint. Click on image to download full jpg from camera with EXIF.


Top corner of Richmond's Georgian market place. Click on image to download full jpg from camera with EXIF.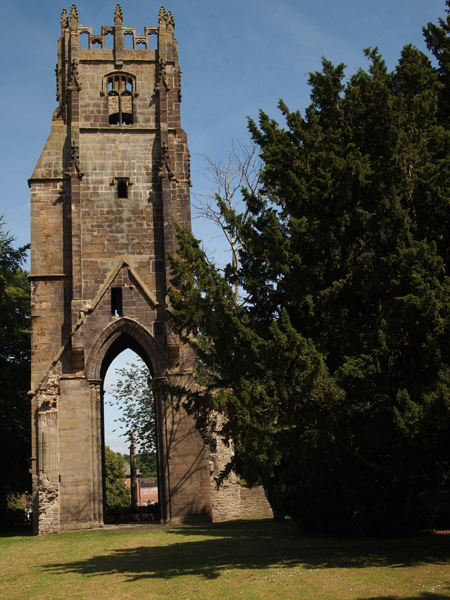 Friary Tower, Richmond. Remains of the Friary built by Cisterscian monks. Click on image to download full jpg from camera with EXIF.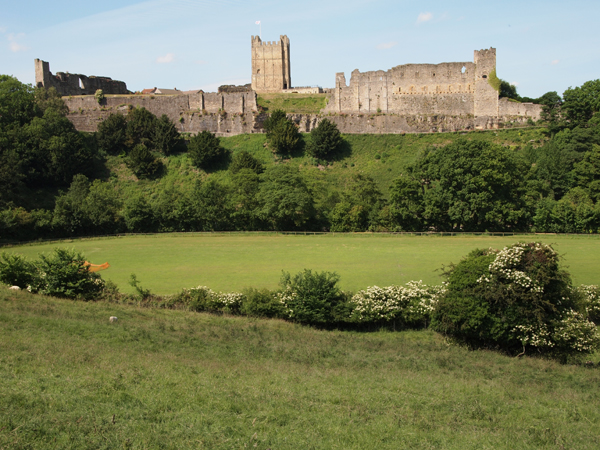 Richmond Castle from Earl's Orchard. Click on image to download full jpg from camera with EXIF.
IMAGES CRITIQUE
Remember, these images are straight from the camera with no post processing of any kind. I did not use any filters and the little 14-42mm kit lens does not have a hood. Apart from occasional application of - 0.3 EV compensation all settings as per papagraph above; all else factory default. Full EXIF attached to original JPG's.
The above images are clean and well rendered with excellent colour and contrast, what I'd expect from any competent camera in the lighting that prevailed on the day. But I am pleased to see good control of the shadows (see the indoor market image) and I think the little kit lens performs very well being reasonably sharp all round. But it does show some distortion that goes uncorrected by the camera software (see Friary Tower image). I've not yet had chance to experiment with this in Viewer or PhotoShop.
The day was very bright and the indoor market image shows how the camera delivers its dynamic range, though I think the highlights in this image are just clipped. Also there is a touch of chromatic aberration in a few images - nothing offensive at all, but it's there.
If you want a copy of the RAW file for any of the above images, please email me here. I do not want to make them available on my server as this can substantially affect my bandwidth usage.


E-PL1 AF PERFORMANCE WITH 4/3RDS LENSES USING THE ADAPTER MMF-1
I have a good selection of Olympus 'traditional' 4/3rds E-System lenses. Some are CDAF compatible, some not, some are HG and others SHG. And I have one non-Olympus (Sigma) 4/3rds lens. I undertook some quick testing - nothing scientific - just to satisfy myself and the reader of the varying performances.
CDAF Compatible 4/3rds (25mm Pancake): This lens auto-focused in the same time as the MZD kit lens set to 25mm. AF confirmed with solid green circle.
Non-CDAF 4/3rds lens (12-60mm): AF with this lens took about twice as long with much motor stepping at the end of the AF sequence. AF confirmed with green doughnut.
Non-Olympus 4/3rds lens (Sigma 30mm): AF with this lens was a tad slower and noisier than a non-CDAF Olympus lens. AF confirmed with green doughnut.
With ZD EC-14 converter: I repeated the sequence with the same lenses as above with the EC-14. AF Results, including AF confirmation, are as above. NOTE: I have no accurate way of measuring the AF period so my observations are subjective.
It was only when the indoors with poorish ambient light that strained my eyes did I observe the AF function stuttering regardless of the type of lens fitted. It's fair to say that at this point an E-System camera would use the strobing flash as an AF assist lamp; however, the E-PL1 has no such command to any attached compatible flash unit. Nor is the camera provided with an independent AF assist lamp. I'm afraid I cannot see the rationale of not having a menu command to strobe an attached flash for AF assist.
However, that said, it is good to know that all my 4/3rds lenses work in all but the poorest of light with the Pen. This extends my repertoire of AF capable lenses to include focal lengths from 7mm to 300mm plus the EC-14.


E-PL1 WITH FL50/FL20 FLASH UNITS
I used the E-PL1 with the FL50?FL20 flash attached (I don't have need for so don't have the FL50R) with the various lens mentioned in the above section. Providing you switch off both the camera and the flash before attaching different lenses I found the compatability and integration absolutely fine. The flash in TTL mode recognised the lens attached and its [zoomed] focal length, be it m4/3rds, 4/3rds with MMF-1 or Non Olympus 4/3rds with MMF-1. Everything worked as it should. My only flash related beef is the lack of AF assist strobing ability that to me seems odd to say the least. The tiny FL20 unit worked just fine and is a good choice for the E-PL1 though bounce is not possible.
Of course you cannot use the hot shoe for more than one accessory at a time. If you regularly use the VF-2 finder and are used to eye-level composing you are pretty much restricted to the on-board flash or do without the EVF. I can see this upsetting some users. Perhaps Olympus will produce a hot shoe doubler that will allow EVF use with a secondary socket to allow use of an external flash unit off-camera. I realise that the FL50(R) can be used as the E-PL1 flash will act as control, but sometimes all that's required is a compatible Olympus flash on a curly TTL flash cable, particularly if you want to use it from behind the camera.


E-PL1 AND OM LEGACY LENSES USING THE ADAPTER MF-2
Micro FourThirds brings the opportunity mount and use just about any 135 format lens (with the appropriate adapter). The VF-2 offers the user a two fold bonus; a superb electronic viewfinder of a similar size as the E-3 and, just as importantly, a place to steady the camera (against your head), thus improving camera stability and avoiding shake. Don't forget the E-PL1 has in-body Image Stabilization too for 99% of legacy lenses. And, the E-PL1 has a dedicated magnify on/off button so you can use the 7 or 10 times magnification in the viewfinder for totally accurate manual focus. If you are going to use any manual legacy lens I'd strongly recommend you to invest in the VF-2. While legacy lenses can be fitted to the E-PL1 without the VF-2, their use is somewhat limited by having to compose and manually focus on the back screen away from the body with the camera some 12-18" in front of you. This causes camera shake and makes the physical act of focusing accurately almost impossible unless the camera is tripod mounted. The VF-2 replicates a DSLR's optical viewfinder.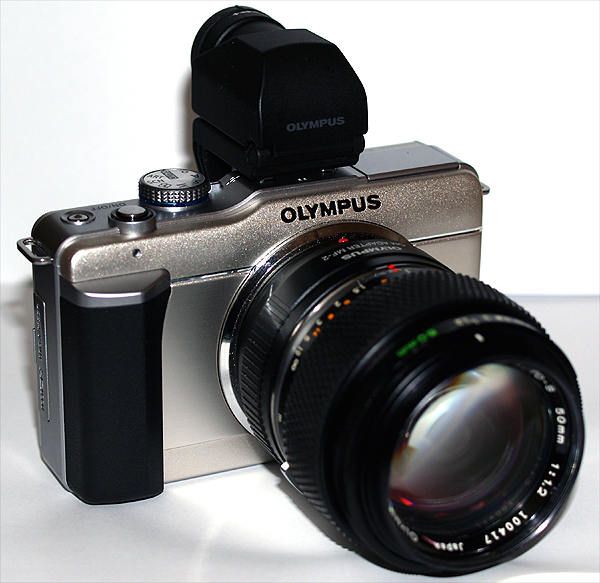 Above: E-PL1 fitted with an OM 50mm x f1.2 fast 'standard' lens via the MF-2 adapter. Don't forget the crop factor means the lens has a field of view equivalent to a 100mm lens on a 35mm camera - so useful for portraits with nice out of focus backgrounds.
Some folks may query the use of manual legacy lenses but for specialist uses such as macro photography, many experienced users prefer manual focus even with their AF capable lenses. One of my most used lenses is the OMZ 90mm Macro for table top and illustrative work. The VF-2 on the E-PL1 simply extends its usability to higher levels than with the original OM system.
My legacy lens collection is restricted to OM and Pen F/FT/FV series with the odd M42 screw mount. The results from using OM lenses on E-System cameras has improved since the E-1 with superior metering and better exposure box design. Even the OM wide-angle lenses can produce half decent results on the E-3. But the shorter registration distance and lack of a mirror/exposure box of m4/3rds promises (and delivers) better results.
I have not undertaken a specific test of OM lenses on the E-PL1 as I do not think the results will be much different to those I obtained when I did the test on the E-P1 - as it's virtually the same camera (slightly less aggressive filter and slightly better JPG engine notwithstanding.)
OM LENSES ON m4/3rds CAMERAS: I undertook some detailed testing of just about all my range of OMZ lenses 8mm through 600mm on the E-P1 (tripod mounted) that you can read about here if you wish. PLEASE NOTE: Dandelion focus confirm adapters do not work on the E-P1/2/E-PL1.
I am delighted that Olympus m4/3rds breathes new life into my large stable of OM lenses. It is wonderful to be able to use them with the VF-2 and have so much focusing accuracy available. Olympus m4/3rds is a revelation for OM system users and I'd recommend any OM user who has not yet taken the digital plunge to try the E-PL1 - it's a worthy successor to your OM though not yet fully matured.


LIKES/DISLIKES AFTER A COUPLE OF WEEKS


LIKES
I very much like the small and neat design
It's m4/3rds (without a mirror) so it has small body and lenses.
The collapsible lens design provides really small lenses.
The improved AF speed.
An on-board flash albeit somewhat limited AND wireless flash control.
The accessory port allowing use of VF-2.
In-body Image Stabilization for ALL lenses.
Excellent metering system with choice of modes.
SSWF dust buster.
Use of SD/SDHC cards - at last!!
Choice of Live or Super Control Panels (or have both).
Choice of four aspect ratios.
Scene Modes are usefull for novices.
Art Modes are FUN!
Dedicated magnify button for use with manual legacy lenses.
Ability to take multiple exposures.
Superb imaging pipeline giving great out of the camera results.


DISLIKES
Absence of control wheel(s).
Menu system might confuse those new to Olympus.
Slow processing with some Art Filters.
Flash could do with a tad more power - say GN10.
Can only use the accessory shoe for one thing at a time.
LCD blackout (displays the last shot only) when frame panning.
Funnily enough I miss the dedicated card access lamp.
Low levels of CA and distortion with the kit lens.


CONCLUSION
The E-PL1 is the third incarnation of Olympus' interpretation of MicroFourThirds and addresses some of the criticisms aimed at the E-P1 and/or E-P2 of no viewfinder, no flash and too expensive. This camera enjoys a new imaging pipeline that produces some of the best out of camera results from any manufacturer. It is a multi-tasking machine capable of stills and movie as well as some fancy Art Filters to apply to both. It caters for all users from beginners to the very experienced and no-one is going to be disapponted.
As a photographic tool the E-PL1 is not quite in the same class as the E-P2 due to the choked shutter speed and reduced ISO capability, but other than this it's a fine piece of engineering that will deliver crisp and well exposed images with the typical 'Olympus' colour signature applied to the out of camera jpg without the need to develop any RAW files. RAW files respond well to manipulation in the new Viewer 2 software and then PhotoShop.
The E-PL1 is a highly customizeable camera even though its main focus is towards the less photographically experienced. This is a wise move from Olympus. While the camera can be controlled very easily in iAuto mode it will hopefully tempt users to the next level. But even if it doesn't it will give those users a great experience.
The mixture of movie and still modes, both manual, semi-manual and automatic with the availability of differing scene capturing choices and the very novel Art Filters will attract buyers from across the spectrum.
And for those of us who want a camera that will exploit legacy lenses with Image Stabilization which can utilise the VF-2 at a reasonable price, the E-PL1 is a great choice.
So; do I recommend the E-PL1? I had reservations about the E-P1's lack of a viewfinder and I was concerned about the relatively high price of the E-P2 with its capability to use the VF-2. However, the E-PL1 addresses my previous concerns, adds a small on-board flash, can use the VF-2 and is affordable. Subject to the reader accepting the few foibles I've discovered and outlined in this article then yes, I recommend this camera.


---
NOTE: This article seeks nothing other than to inform. Only you can decide what equipment you want/need for your use. Bear in mind I own these cameras/lenses, out of my own pocket; I have nothing to gain or lose by publishing this article, photographs, examples or opinion.


---
---
| | |
| --- | --- |
| Posted July 2010 | Copyright © 2010 John Foster |