---
OLYMPUS PROUDLY ANNOUNCE THEIR LATEST MICROFOURTHIRDS CAMERA: OLYMPUS EP-L2
Even easier to use with new accessible accessories: the new Olympus PEN E-PL2
Hamburg, 6 January 2011: Olympus revolutionised easy-to-use high-performance camera design with the first-ever PEN. Now the E-PL2 takes that revolution to a whole new level. It's never been easier for beginners to capture photos and movies in professional SLR quality. A larger 3 inch display, Live Guide access in HD Movie mode, the handy Live Wheel feature selector and a faster, lighter, virtually silent M.ZUIKO DIGITAL 14-42mm 1:3-5-5.6 II lens all add to the latest addition to Olympus? Micro Four Thirds family is a feast for the eyes, a beautiful camera with a fresh, contemporary design. It's also ideal for the social networking generation thanks to compatibility with Olympus' new PENPAL Bluetooth® Communication Unit** and the ever growing range of dedicated PEN accessories. For ambitious users, the E-PL2 offers every opportunity to explore their creativity. They can experiment with Art Filters in still and HD Movie mode, including the new Dramatic Tone filter, and choose from 16 dedicated Micro Four Thirds lenses, three new conversion lenses (macro, fish-eye and wide), plus 27 Four Thirds and more than 500 other lenses in total (using an adapter). For fans of fuss-free photography, the E-PL2 offers superb image quality and unlimited creative freedom with none of the hassle. The E-PL2 is available from January 2011 for around £500.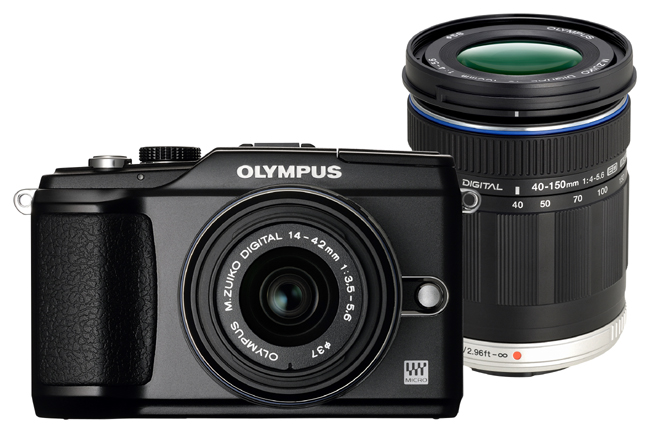 Above: New E-PL2 full frontal with new MZD40-150. The E-PL2 is a design mix of the E-P2 and the E-PL1. Available at present in black and white finishes. The contempoary design is a refreshing change from the mini-DSLR look-a-likes from other makers.
PEN USABILITY
The lightweight, compact E-PL2 is a landmark in user-friendly and beautiful camera design. With a series of intelligent enhancements, it sets another new benchmark for rival system cameras to live up to and even improves on the legendary usability of the multiple award-winning Olympus PEN E-PL1. Like its predecessor, the E-PL2 comes with the excellent integrated Live Guide that teaches beginners step-by-step how to capture great shots and this user-friendly feature is now available in HD Movie mode, too. The new Live Wheel on the back makes it easier to navigate menus and pick out the right feature or mode, while the larger 3" LCD with 460,000 dot resolution is ideal for framing and reviewing shots. Another worry-free feature is the new SDXC* card format that provides the flexibility of a 'future-proof' medium with huge storage potential for high-capacity image files like High Definition movies.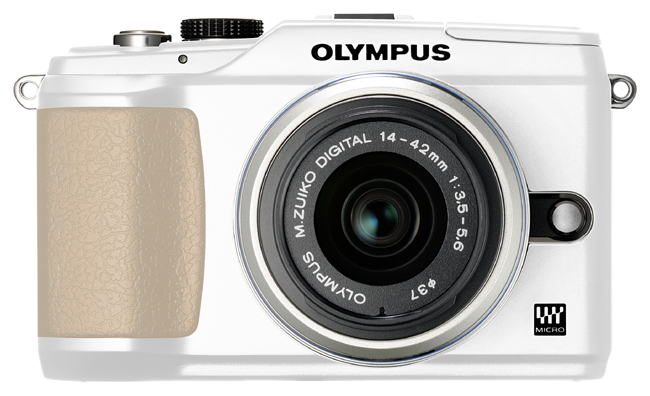 Above: New E-PL2 full frontal in a rather stark white finish beloved of the iPod generation. Personally I prefer the black finish!
PEN CREATIVITY
Like the E-PL1, the E-PL2 is two great things in one a top-notch stills camera and a compact camcorder for capturing High Definition movies. Ideal for budding filmmakers, the E-PL2 now lets users get creative with one of six Art Filters, even in HD Movie mode a feature PEN rivals simply can't match. Among the filters is the new Dramatic Tone Art Filter (taken from Olympus' E-5 D-SLR flagship for professionals) that enhances contrast to create movies and stills with a powerful, otherworldly look. What's more, the upgraded Art Filter II feature means users can now overlay additional effects (Art Frame, Pin Hole and Soft Focus) on top of existing 'filtered' shots.
PEN QUALITY
Every PEN camera delivers excellent image quality. To ensure that quality with fast-moving subjects, the E-PL2 comes with the near-silent M.ZUIKO DIGITAL 14-42mm 1:3.5-5.6 II lens (equivalent to 28-84mm for a 35mm camera) that not only focuses faster, but also prevents the whir that can otherwise ruin a good home movie soundtrack. With ISO up to 6400, shutter speed up to 1/4000th second and sequential shooting at 3fps, the E-PL2 is fully equipped to make the best of the superb M.ZUIKO DIGITAL lens system and deliver excellent images even in poor light. Another advantage for PEN owners is the effective in-body image stabilisation system that corrects camera shake irrespective of the lens or adapter attached. This ensures M.ZUIKO DIGITAL lenses are lighter than the competition, since they don't require in-built IS of their own. With its 12.3 effective Megapixel High Speed Live MOS sensor, Multi Exposure for combining up to three RAW images and built-in flash, the E-PL2 is packed with trademark PEN technology. This heritage shines through in outstanding photo and HD Movie quality no matter how unskilled the user.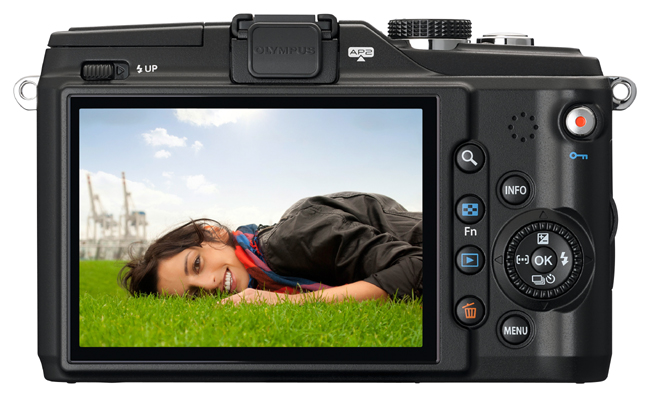 Above: New Black E-PL2 rear view showings its more E-P1/2 button layout rather than the 'old fashioned' E-PL1 style. Note too the newer accessory socket AP2 and of course the flash release lever that pops up the tiny on-board flash.
NEXT-GENERATION PEN ACCESSORIES
E-PL2 users have more opportunities than ever to add to their camera's potential. The Accessory Port 2 opens up a new world of creative and networking options thanks to the rapidly expanding range of PEN accessories. For example, the new optional PENPAL Communication Unit**, the perfect add-on for the facebook® generation. Compatible with any camera equipped with Accessory Port 2, PENPAL lets users store and send compressed images directly from the camera to a computer or smart phone via Bluetooth® at the touch of a button. In an instant they can share their best shots with friends, family and colleagues via social networks. Other mouth-watering accessories include the SEMA-1 microphone kit, optical and electronic viewfinders as well as the new MAL-1 Macro Arm Light for precision illumination of macro photos or close-ups of items users want to auction online. Users can also choose from a huge selection of lenses. In addition to the 27 Four Thirds and 500 other lenses available via an adapter, the E-PL2 is compatible with Olympus? prize-winning M.ZUIKO DIGITAL range of specialist Micro Four Thirds lenses. This now extends to the WCON-P01 wide-angle conversion lens for party and landscape shots, the FCON-P01 specialist fisheye converter for creative effects and the MCON-P01 macro converter for extreme close-ups. As a special treat for the creatively inclined, the E-PL2 is compatible with the RM-UC1 cable release that offers the option of locking the release button for bulb exposure.
The E-PL2 Olympus PEN will be available from around £500 from early January 2011.
E-PL2 MAIN FEATURES
Image Quality
* Art Filters in HD Movie and still modes, incl. Dramatic Tone Filter
* Supersonic Wave Filter dust protection system
* Ultra-effective built-in image stabilisation
* Compact M.ZUIKO DIGITAL 14-42mm 1:3.5-5.6 II fast and near-silent lens (Movie and Still compatible)
* 12.3 effective Megapixel High Speed Live MOS sensor
Ease of Use
* 3.0" LCD with 460,000 dot resolution
* Easy-to-use Live Wheel feature menu
* Live Guide in HD Movie and still mode
* Live View in HD Movie and still mode
Creativity & Flexibility
* Accessory Port 2 for compatibility with a growing variety of PEN accessories
* PENPAL Communication Unit compatible**
* Compatible with new MAL-1 Macro Arm Light
* 1/4000th sec. shutter speed with 3fps sequential shooting
* Multi Exposure mode for 3 RAW images
* ISO 6400 sensitivity
* Long-life BLS-5 Li-ion battery
* Compatible with three new conversion lenses:
WCON-P01 wide-angle (for 14-42mm 1:3.5-5.6 II lens)
FCON-P01 specialist fisheye (for 14-42mm 1:3.5-5.6 II lens)
MCON-P01 macro (for 14-42mm 1:3.5-5.6 II, 40-150mm 1:4.0-5.6 and 14-150mm 1:4.0-5.6 lenses)



Above: New range of three add-on high quality lenses; MCON-P01 for macro; FCON-P01 for fisheye looks and WCON-P01 for wide-angle.
Other highlights
* Compatible with 16 Micro Four Thirds, 27 Four Thirds and more than 500 other lenses (via an adapter)
* Stunning new PEN design
* SDXC card compatible*
For a full list E-PL2 features, go to www.olympus.co.uk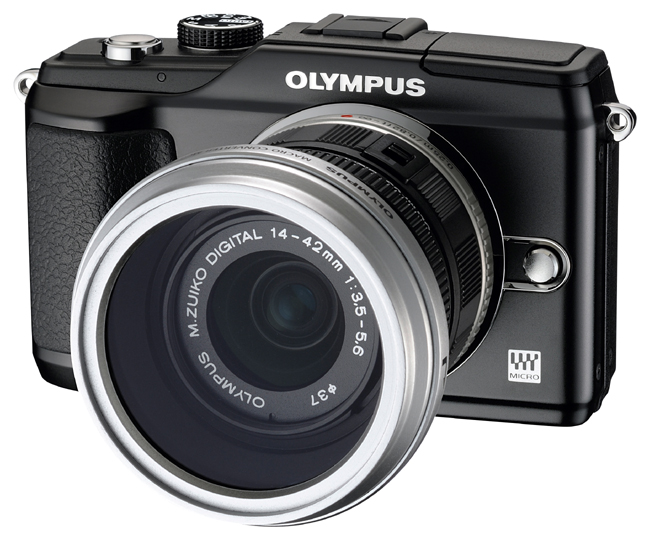 Above: A black E-PL2 fitted with the Macro conversion lens. These conversion lenses were very popular with the 'C series' cameras; C5050, C5060, C7070 and C8080 and are of high quality.
The Olympus PEN E-PL2 is available in the following configurations:
* E-PL2 Kit with M.ZUIKO DIGITAL 14-42mm 1:3.5-5.6 II lens
* E-PL2 Double Zoom Kit (DZK) with M.ZUIKO DIGITAL ED 14-42mm 1:3.5-5.6 II and M.ZUIKO DIGITAL ED 40-150mm 1:4.0-5.6 lenses
* E-PL2 10.7x Zoom Kit with M.ZUIKO DIGITAL ED 14-150mm 1:4.0-5.6 lens
* SD is a trademark of SD Card Association.
** Images can be sent from the PENPAL Bluetooth® Communication Unit to a Bluetooth®-capable smart phone that supports the OOP or BIP Bluetooth® profile. Please check the compatibility of your smart phone before you purchase.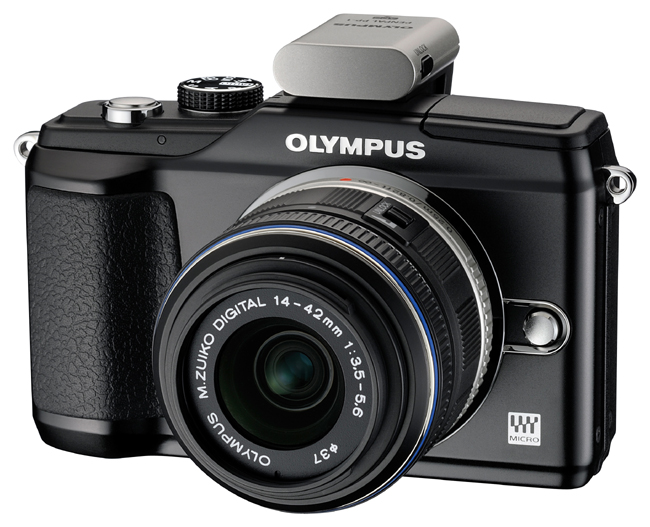 Above: E-PL2 with 'PenPal' attachment in flash hot shoe. There is alao available a Macro lighting set consisting of two LED lamps on poseable arms attached to a unit that plugs into the port/flashshoe - ingenious (see macro arm below).
NOTES ON E-PL2 FEATURES
Art Filters
Make it possible to create special artistic effects in still images and movies directly in the camera. They are:
* Diorama: Gives images a miniature model feel by narrowing the depth of field and enhancing colour and contrast.
* Dramatic Tone: Boosts the contrast to give images a more dynamic atmosphere. Like most Olympus filters, Dramatic Tone is unusual because it works with both movies and stills.
* Grainy Film: This effect recreates the powerful expression of grainy, high-contrast black and white pictures. The resulting strong presence and dramatic atmosphere make the subject stand out impressively.
* Pin Hole: Reduces peripheral brightness, like with an image seen through a pinhole. A unique colour tone results in a style that has an air of secrecy or portrays the feeling of being lost in another dimension or space.
* Pop Art: Enhances colours, making them stronger and more vivid, to create high-impact pictures that express the light-hearted feeling of the pop art style.
* Soft Focus: Creates a soft tone that gives pictures an ethereal, otherworldly atmosphere. It renders pictures as though they were veiled in heavenly light, without obscuring details such as hair or flower petals.
Built-in image stabilisation
Built directly into the camera, this feature can stabilise any attached lens, thus improving the image quality of photos. First a gyro sensor detects the precise direction of the camera shake then, using the on-board Supersonic Wave Drive (SWD), the image sensor shifts to compensate for the unwanted movement.
Conversion lenses
Fish-Eye lens converter: Offers a whole new level of creativity. Depending on the lens, it captures a distorted hemispherical image covering 120° to generate dramatic shots with a wrap-around quality.
Macro lens converter: Enables the user to capture fascinating close-ups from as little as 24cm away from the subject (depending on the lens). Perfect for unusual shots of the natural world.
Wide-angle lens converter: Ideal for shooting in confined spaces, a wide-angle lens converter allows the user to capture a broader shot, for example to include more people at a party. What's more, it dramatically alters the proportions of close and distant subjects. Subjects nearer the lens appear much larger while subjects in the background shrink, creating a dynamic sense of depth.
Macro Arm Light
Not one light, but two bright LEDs each on the end of its own fully flexible metal arm and powered by the camera. Both arms extend out up to 17cm from a sleek and slender unit mounted on the Accessory Port. For macro shots or attractive close-ups of small items for sale in online auctions, the Macro Arm Light is ideal for getting the lighting just right.
Micro Four Thirds Standard
Micro Four Thirds was developed to maximise the performance potential of digital imaging technology. It allows users to enjoy the same high image quality as with the Four Thirds Standard's 4/3-type image sensor in a much more compact camera body. The new Micro Four Thirds Standard has made it possible to develop ultra-compact digital camera systems with interchangeable lenses that are unlike anything seen before. It also incorporates a greater number of lens-mount electrical contacts for the support of new features and expanded system functionality in the future.
Multi Exposure With this feature, up to three RAW images can be overlapped to create a new picture while shooting or in Editing Mode.
PENPAL
A sleek Communication Unit for storing up to 2600 images and transferring them via wireless Bluetooth® to other Bluetooth®-enabled devices, such as a mobile phone, PC or even another PENPAL-equipped camera. From there it's easy to share them with friends in online communities or via e-mail.
Supersonic Wave Filter
Dust entering digital cameras with interchangeable lenses can affect image quality. The Supersonic Wave Filter is a transparent filter located between the camera's shutter and sensor. It shakes off settled dust particles by generating a series of ultrasonic vibrations. Olympus was the first to incorporate dust protection.
AVAILABILITY
The Olympus E-PL2 will be available in late January 2011.
UK price £499 with 14-42mm Zoom Lens and usual box contents.
---
---
| | |
| --- | --- |
| Posted January 2011 | Copyright © 2011 John Foster/Olympus Imaging, Japan. |