Please Note: Any RAW files I provide can be manipulated with Olympus Viewer 1.2. I'd recommend Viewer over Studio or Master if you want the latest RAW development capabilities. If your current Olympus software is outdated the upgrade(s) can be obtained from within the software itself through HELP/UPGRADE SOFTWARE tab while connected to the Internet. In addition if you require an ORF file from any of the examples herein, please email me here.


Having tried several RAW developer softwares I prefer Olympus Viewer even though it can be slow and lacks some sophistication. I use Viewer for all my RAW manipulating needs; I believe it gives the best results for colour rendition and general tweaking, and of course it uses the same processing engine as that of the camera and is compatible with the ART filters. However, as regards sharpening and noise reduction, there are better softwares out there.


Updates None to date.


E-PL3 CAMERA MANUAL You can download a pdf version of the official E-PL3 manual (3.76MB) here .


---
BACKGROUND
This is the third E-P Lite series I have had the pleasure of using, and the fourth E-P series machine I have reviewed. I had some experience with the E-P1 in June 2009 at the Berlin release; read about it here , if you wish.
I've also undertaken a full E-P2 review with lots of downloadable images here .
And a full review of the E-P3 here .
And I've also reviewed the E-PL1 here .
Olympus have chosen a two-pronged approach to their interpretation of Micro-Fourthirds machines. They have two basic tiers, the upper tier is designated E-P (metal body, 2 control wheels) and then there's a slightly less well specified and built Lite series known as the E-P Lite (plastic body, 1 control wheel). However, in reality, there's not a great deal of difference in the specifications on offer between the cameras but the Lite version has slightly less quality finishes and fittings. But note the internals (sensor and JPG engine) are the same for both series.
The E-P1, as a first iteration of their interpretation of micro-fourthirds was impressive but I just couldn't get used to not having a viewfinder and find composing off the back screen alien. I know I'm not alone. In addition the AF was very slow indeed and Olympus was obviously trailing its competitor, Panasonic in this regard. Otherwise the E-P1 is, in most aspects, a very nice and competent little camera with excellent Image Quality. The E-PL1 had virtually all of the E-P1's specifications but in a plastic body with an on-board flash and the accessory port for the wonderful VF-2 electronic viewfinder pioneered by the E-P2. It offered most of the E-P2's attributes at an affordable fee.
In Japan only, Olympus introduced the E-PL1s which featured a new 14-42mm lens designated MSC (Movie & Still Compatible) that increased the AF speed greatly. This lens eventually found its way to the rest of the world with the E-PL2, which to me is a very underrated camera that addressed the major problems seen in the E-P1 & 2 of slow AF and lack of internal flash.
But photographers are a fickle lot and still complained about the AF speed so the Olympus engineers redesigned their 12MP CMOS sensor and doubled its speed allowing rapid AF calculations that now enable an AF performance that will stand comparison with even the fastest phase detect systems on high end DSLR's. Now that's some claim! You can read about this new sensor and AF technology in my article about the introduction of the E-P3 here .
The E-PL3 is one of three camera introduced in mid 2011 (to everyone's surprise) which all use the new sensor, JPG engine and MSC R series standard zoom lens. I intend to explore the E-PL3 in some depth but please note I do not pretend to be versed in video/movies; nor do I have any more than a passing knowledge about making and processing video. For now I am reviewing the E-PL3 as a stills camera. Video is something I will have to come to terms with! There are many reviews on the Internet that discuss the pro's and con's of video making with the Olympus Pen Cameras.


E-PL3 FRONTAL ASPECT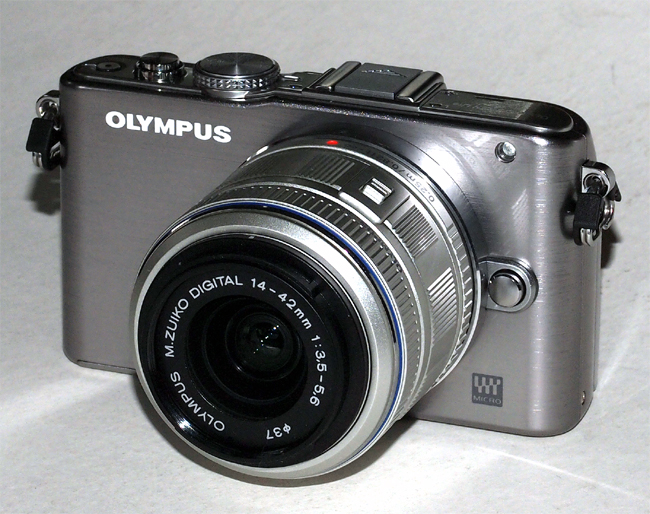 E-PL3 silver body fitted with the MZD 14-42mm MSC series zoom (R series unfortunately not available but the performance of this and the R series lens is identical).
The two-tone effect between body and lens is real - the body silver has a purplish hue and the lens is more silvery.
The R series lens has a different texture to the zoom and MF rings and a detachable front dress ring.
NOTES
The E-P1, 2 & 3 have a metal jacket. The E-PL3 body front panel appears to be metal (brushed aluminium) but the rear panel and the rest of the body is moulded plastic. The body is heavily laquered producing a high quality looking finish. There is no grip (ala E-P series). In the right hand top corner you can see the orange AF assist lamp. The camera is very attractive indeed being much slimmer than the E-P3 and its dropped and rounded corners make it appear even more petite. Build quaility is excellent and the camera oozes classiness. Note there is no in-built flash like the other Lite series machines.
The MZD 14-42mm lens is collapsible in as much as it telescopes back into itself to make a smaller package for carrying when not in use. If you turn the camera on with the lens locked in the closed position you will get a warning on the screen to unlock the lens. In the locked position there is no screen image and the shutter is inoperative. Unlocking and locking is a simple operation via a small button on the lens itself.
I note this lens is no longer designated ED. I do not know if this means the ED elements have been replaced with something new like IR coatings to assist with the new AF method.
The MSC designation means Movie & Still Compatible which infers that little to no sound is made by the lens' AF mechaniism in movie mode, but the lens maintains all its still imaging characteristics. NOTE: the lens is not completely silent in operation when in video mode - the AF mechanism can be clearly heard!
The end of the lens is threaded to take 37mm filters.
The outer tube of the lens has a bayonet fitting to allow the use of attachment lenses from Olympus. These are high quality and are:
** Macro converter MCON-P01 reduces the minimum focus distance to 24cm and increases magnification to 0.28X.
** The FCON-P01 Fisheye converter offering a whole new perepective from its 120° angle of view (79° normally).
** The WCON-P01 Wide angle converter increasing your wide angle capability by an extra 3mm to 11mm - not bad!
These accessory lenses are light and will not stress the lens' AF mechanism. All three are comaptible with the 14-42 (II), 14-150 and 40-150mm lenses. They do offer a quite cheap solution for those interested in Macro, fisheye and wide angle. I can see them being popular with those who don't want an arsenal of exchangeable lenses. If these new attachment lenses are made to the same standards as the old TCON & WCON converters they will produce good results with little loss of light.


E-PL3 REAR ASPECT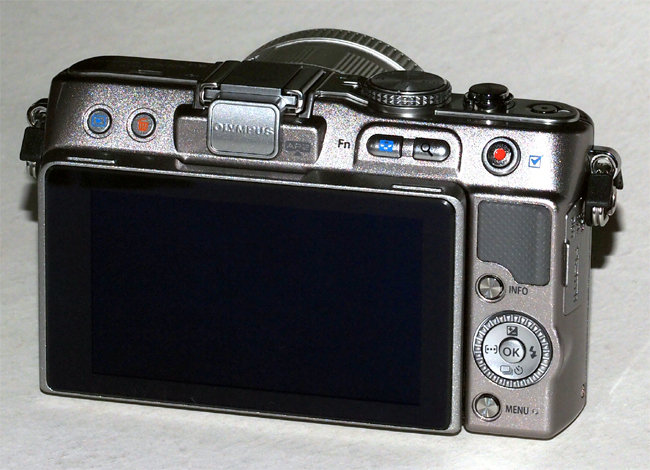 The rear plate appears dominated by the (fold-out) oblong 3.25" x 2" (3" diagonal) 640k dot screen (non-OLED) - see notes below.
Unlike the E-P3 the screen is not smear proof.
The button layout is new being dissimilar to any other Pens though retaining the familiar 4-way.
NOTES
While the screen looks mightily impressive it is in the 16:9 format - a strange decision for Olympus being a native 4:3 format camera! Furthermore there is a blank border around the actual LCD reducing its physical size to 2&5/8" (67mm) x 1&1/2" (39mm) giving its diagonal maximum of 3" (76mm). This means if you set the image format to 4:3 the screen shrinks to a measly 1&15/16" (49mm) x 1&7/16" (37mm) giving a diagonal of 2&3/8" (60mm) - much smaller than any other Pen camera. Obviously it is better in the overstretched formats. I assume this choice is driven by the cameras video capabilities. The screen is excellent but like the E-P3 it protrudes a fraction from its surround making it vulnerable to scrapes if you lie the camera on its back. The screen fold outwards only (more on this below).
The button layout is new and makes use of the sloping top part of the rear plate. The E-PL3 has the same number of buttons as the E-P3 and E-PL2. There is only one control wheel and I note with some pleasure its movement has been stiffened to reduce accidental settings changes.
The rear thumb grip is tiny which will make the use of large legacy lenses more difficult as there is so little real estate to actually get hold of to counteract the weight of a heavy 4/3rds or OM lens. Using such lenses on the E-PL3 might be impractical.
There's no busy lamp - it has a screen icon for this.
The AP-2 accessory port is shown with its protector slid in place.


E-PL3 TOP ASPECT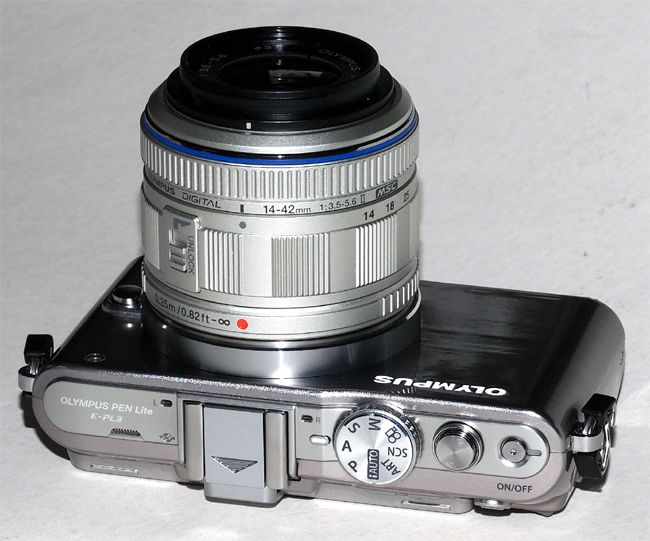 The top plate is uncluttered having only the main command dial, shutter button and on/off button.
Next to the on/off button is a blue ON lamp.
You can also see the twin stereo microphone pick-ups either side of the shoe and the speaker opposite the shutter.
NOTES
There is no on-board flash. Olympus have provided a tiny detachable flash for the E-PL3 (more details below).
The shutter button is metal and has a nice feel to it in use. There is no Function Button or EV compensation button on the top plate. The ON/OFF button is slightly recessed and has its own blue warning lamp. Olympus PEN LITE & E-PL3 logo appears on the left hand chrome top plate insert.


E-PL3 BOTTOM ASPECT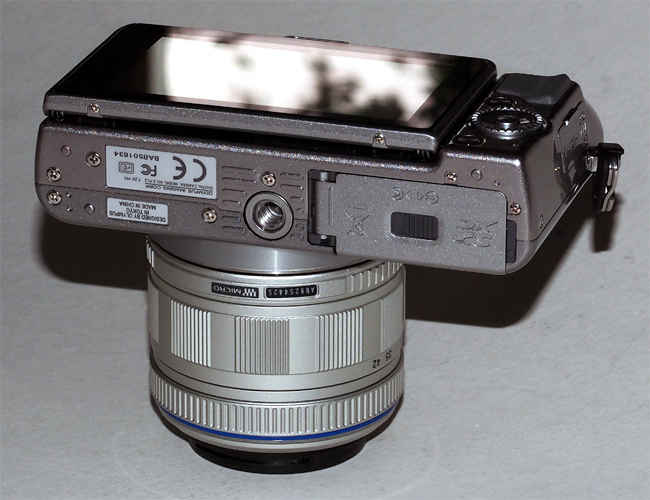 Battery and card door sports a new configuration similar to E-Series cameras.
Note metal tripod bush (not centred).
Comms connection door on right hand side of image, adjacent to the 4-way.
NOTES
This is a deviation from the normal Pen bottom plate brought about by the cameras slimness. Battery/card door now opens along the length of the camera as opposed to across the camera in other models. The small locking latch is recessed into the door and is a bit fiddly in use. The door itself is thin plastic and very flimsy - care needed.
The battery is normal BLS-1 or BLS-5 depending on country. The memory card fits in the slot immediately behind the battery.
You will notice the tripod bush is not in line with the centre line of the lens and is biased towards the battery door; this means that when mounted on a tripod it is not possible to remove the card without taking the camera off the tripod - a real pain.
Camera is tagged 'Designed by Olympus in Tokyo; Made in China.'


E-PL3 OTHER VIEWS - FOLD-OUT REAR SCREEN
Here is the EPL3 with the rear screen folded 45° outwards.
Above: With screen folded out to enable overhead shooting.

NOTES

A competely new feature for the Pen range is a fold-out screen. It does not swivel and tilt. If you pull the top of the screen straight out it will lock at 45° allowing you to take photo's with the camera above your head. If you pull the bottom of the screen out fully it locks at about 100° enabling you to use the camera like a Twin Lens Reflex - looking down. This is excellent for architectural work especially if you enable the grid screen overlay. The screen can be used at any angle between this and closed - useful for macro work. The mechanism is nice and stiff and the screen will stay put where you leave it.
E-PL3 OTHER VIEWS - DETACHABLE FLASH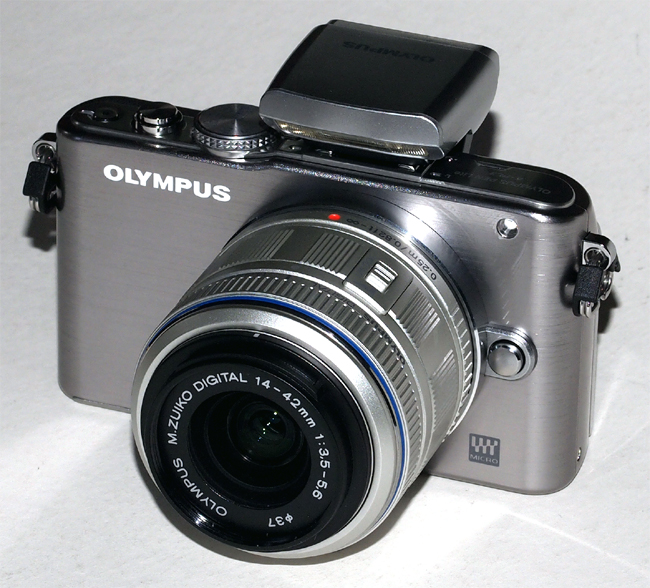 Here is the tiny flash - FL-LM1 - mounted to the E-PL3 in its closed position.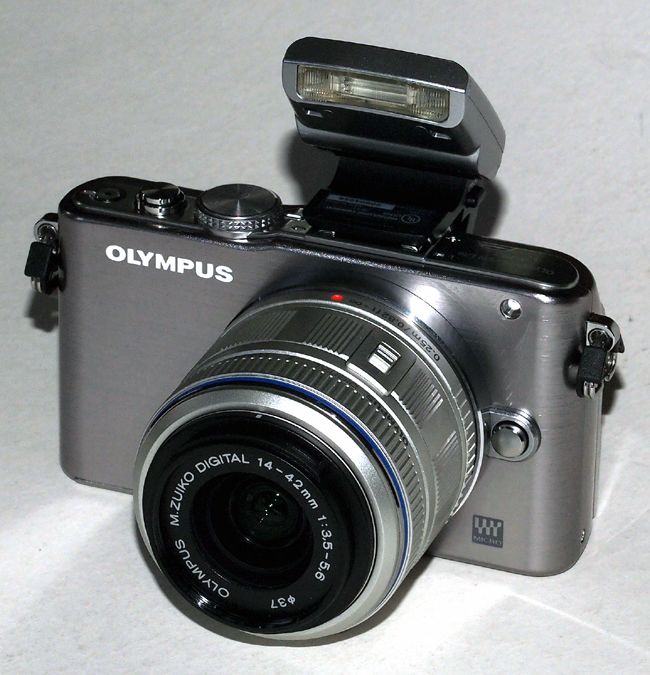 And here is the flash raised.
NOTES
I believe the Sony Nex offers a similar solution to having no in-built flash; whatever, it's ingenious. This tiny flash is very pocketable and draws its power from the AP2 socket so requires no batteries of its own. Though there's no indication of power on the unit I'd guess its Guide Number is 11.
In its raised position it has enough 'height' to throw its light óver the MZD standard zoom (and, obviously, smaller lenses) at both ends of focal length spread. However, I tried the unit with both the MZD9-18mm and MZD14-150mm lenses and the flash created shadow on the bottom of the image at each lens' widest focal length. For interest I tried the flash on the E-PL3 with the some 4/3 ZD Zooms. Sure enough at the wide end there's a substantial shadow cast by the lens but at the long end this vignette is hardly noticeable. Its head is fixed in the open position so you cannot hold it backwards for a bit of low powered ceiling bounce. There are no intermediate stops; it's either up or down.
Having used the flash a few times it is fully integrated with the camera and very effective with smaller lenses. It can be used with the Radio Control feature of Olympus flashes, sending information and commands to remote units such as the FL-50R.
This little flash simply slides into the accessory shoe and automatically locks; to remove you have to press a small locking tab near the hinge.
The FL-LM1 is painted in silver and marked OLYMPUS. I tried the mini-flash on other Pen units; it will not slide fully into the socket on the E-P2 and therefore does not work on this camera. The flash does slide into the socket of the E-PL1 1&2 but will not lock into place and so does not work with these Pens either (they have their own on-board flash). I simply do not understand this rationale as it would be a great addition to the E-P2. It has obviously been designed to be used exclusively with the E-PL3 and E-PM1 (FL-LM1 = Flash; Lite & Mini 1). I do not like this lack of compatability.


E-PL3 OTHER VIEWS - VF-2 ELECTRONIC VIEWFINDER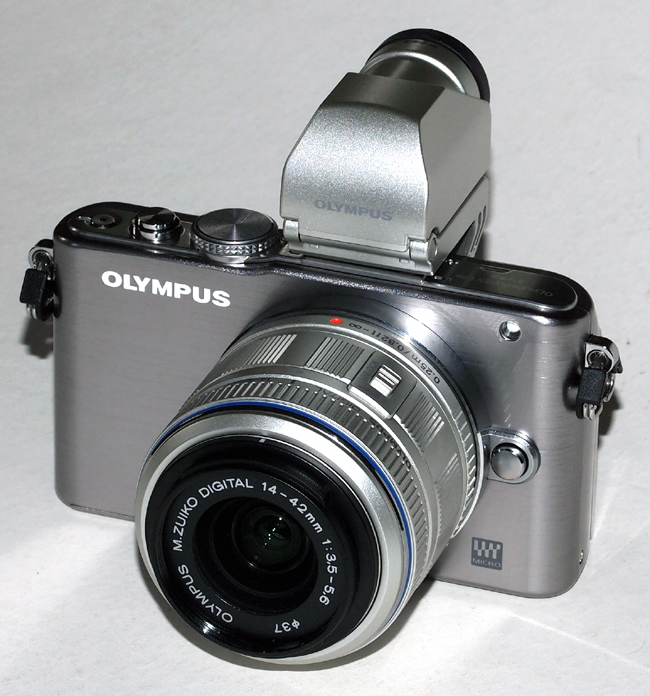 E-PL3 with the wonderful VF-2 fitted.
VF-2 in 90° mode - ideal for architectural work or candid street shooting.
NOTES
The VF-2 is a high quality detachable electronic viewfinder (EVF) derived from Epson. It has a resolution of 1.44 million dots and a high refresh rate. It gives a classic 4:3 view (can be altered in camera) that is about the same as the optical finder on the top of the range E-5. Only when the light drops to low levels is this device bothered by noise gain. For anyone used to a classic OVF this really is the very best solution so far. I really hope Olympus will provide a later Pen with an internalised EVF (maybe the Pro-Pen). But for now the VF-2 is a worthwhile accessory I'd highly recommend. It has a built-in dioptre adjuster and there's an eye shade available too (EP-9 Eye cup for VF-2).
I am very satisfied with the VF-2 as an accessory and would recommend it to anyone requiring an eye level viewfinder experience and wanting the additional stability that it provides when using manual focus legacy lenses. Though I'd still prefer an internal EVF I am understanding more Olympus' reponse.
The advantage of EVF's over OVF's is that any information that can be displayed on the rear screen can also be switched to the EVF giving the user instant access to many control and other features of the camera right there in the viewfinder, without ever taking his eye off the scene. However, many folks believe the EVF will never surpass the OVF for 'instant' vision. (EVF's are catching up rapidly though).
The VF-2 is available for around £180-200. Yes, it is expensive and yes it clutters up the top plate and yes it ruins pocketability. All that said it's a cracking accessory to have and not one I'd do without.
The VF-2 is available in black or silver.


NEW VF-3 EVF
Illustrated left is the new VF-3 from Olympus. This new Olympus electronic viewfinder has been especially designed for the accessory port (AP2) and to match the style of the latest PEN cameras. Perfect for entry users who are keen to take pictures or movies from far away motifs to easily frame the image. Additionally with the tilting mechanism (up to 90 degrees) low angle shoots become an enjoyable shooting experience. To control the result the electronic Viewfinder shows all image adjustments like exposure compensation, white balance, aspect ratios, etc. before you press the release button and thanks to the lock mechanism you will not loose this handy accessory. Available in black or silver.

Features:

Detachable locking electronic Viewfinder (VF-2 does not lock).

Resolution of 920,000 dots.

Superb price-performance ratio priced at around £150.00.

Perfect for low angle shooting.

Tilting mechanism.

Bright with high contrast from the center to the edges.
NEW m4/3rds LENSES
The basic kit is a body with standard kit MZD14-42mm IIR MSC zoom. The VF-2/VF-3 EVF does not come packaged and appears to be available only as an accessory. Newly announced lenses are a new (cosmetic change only) MZD14-140 IIR MSC; an exciting MZD12mm x f=2.0 wideangle lens with depth of focus scale and a MZD45mm x f=1.8 portrait lens. For more details about the latest releases see here . For the full rangeo of MZD lenses please go to this page here .


E-PL3 IN USE - FIRST IMPRESSION
This is a handsome camera that longs to be touched and held. It is smooth and rounded and you simply have to caress it! Unlike the retro-design of the E-P series this E-PLite model is entirely new and fresh and will appeal to those stepping up from compact use. The E-PL3 (to me) is the first of the Lite machines that is truly 'A Small Object of Desire'. I was not expecting this after spending some time reviewing the E-P3 and in many ways I actually prefer the look and feel of the E-PL3. My only slight reservation is lack of a frontal grip but this probably comes from my preference to use legacy lenses on the Pen range. If you are using only m4/3 lenses there really is no problem. The E-PL3 with 9-18mm and 14-150mm lenses is light and small but gives you excellent imaging with a focal length range of 18-300mm (in 35mm terms). I can see the attraction.
However, aesthetics are one thing, performance is another. Let's see what the E-P3 offers.
GENERAL SPEED
As said, I have just finished reviewing the E-P3. This machine is just as fast in all aspects (as it should be - it has the same internals). Olympus have not crippled the E-PL3 in any way as far as responsiveness is concerned. It is fast and nimble in all respects. Start-up is almost instantaneous and quicker than the E-P3. On moving the camera around rapidly there is no discernable screen lag and a barely perceptible amount through the VF-2 (when fitted). Changing the mode dial brings up a screen overlay with the selected mode and a brief note about it. The buttons and dial seem to respond immediately.
AF SPEED WITH LATEST MZD LENSES
I was certainly very impressed with the AF speed performance on the E-P3. This machine is identical as far as I can see. The E-PL3 I recieved has the MSC only version of the 14-42mm (not R version) but on pressing the shutter button halfway AF is virtually instantaneous with the green target box flashing its presence and a beep of confirmation. I have no accurate equipment to measure rapid AF speed but I can guarantee you will be impressed. Comparing it with the E-5 it is certainly as quick and definitely quicker than the entry level E-System cameras such as E-420/520 & 620. Comparing AF speed with the E-PL2 fitted with the same lens the E-PL3 is quicker but not by that much. Compared with the E-P1&2 with the first generation of 14-42 zoom it is at least 3x quicker. Compared to the E-P1&2 with the latest generation lens fitted it is 2x quicker. I cannot test Olympus' claim of the fastest AF of any camera including top level DSLR's because I have niether the cameras nor equipment available, but compared to the E-5 anyway, it seems to be true.
AF SPEED WITH 4/3RDS ZD LENSES
Please Note: I carried out a lot of AF testing with the E-P3 and 4/3 lenses using the MMF-1 adapter. I have repeated some, but not all, of those tests with the E-PL3 and have found the performance identical. The results shown here come from my E-P3 experience; the E-PL3 is no different. However, as already said the E-PL3 shape and size and lack of grip may well preclude using legacy lenses thereon; only you can make that judgement.
Here's the results in normal daylight conditions with a target less than infinity. My assessment of AF speed is pretty primitive consisting of a small electronic second counter and my own experience. This is no good for rapid AF measurement, but adequate for slower AF times.
ZD12-60mm SWD AF = 2.25 seconds. Non CDAF enabled.
ZD14-42 kit zoom AF = 1.5 seconds. CDAF enabled.
ZD40-150mm kit zoom AF = 2 - 2.25 seconds. CDAF enabled.
ZD 25mm compact AF = 1.5 seconds. CDAF enabled.
ZD50-200mm SWD AF = 3 - 6 seconds.
ZD50-200mm OLD AF = 3 seconds.
ZD70-300mm AF = 2 seconds. CDAF enabled.
ZD14-35mm SWD AF = 2 seconds at wide angle; 2.5 - 3 seconds at tele (more steps).
ZD35mm Macro AF = 3 seconds Non CDAF enabled (6 seconds if hunting).
ZD50mm Macro AF = 2.5 - 3 seconds Non CDAF enabled (5 - 6 seconds if hunting). Non CDAF enabled.
PanLeica 14-50mm (faster version) AF = 2.5 seconds and very quiet. Non CDAF enabled.
Sigma 30mm AF = 2 seconds (clunky steps but quick). Non CDAF enabled.
ZD11-22mm AF = 2 - 3 seconds. Non CDAF enabled.
ZD7-14mm AF = 2.5 seconds. Non CDAF enabled.
ZD14-54mm Mk I AF = 2.5 - 3 seconds. Non CDAF enabled.

COMMENTS ON ABOVE TESTS Anyone wishing to use the ZD CDAF enabled lenses on the E-PL3 will see a a slight dip in performance compared to the MZD version (where appropriate). For those who wish to use their ordinary ZD, Sigma and PanLeica 4/3rds lenses the results are more mixed and none of them fares that well compared to the native MZD MSC lenses. But some of them perform not badly and provided you are not using them for sports or other action photography they will work satisfactorily. Bear in mind too that most of us are landscape shooters and for that type of imaging fast AF is a non-requirement. If you are a tripod shooter it simply doesn't matter.
I did notice that with most of the 4/3rds zooms used in the test, they were very noisy when zooming (except the PanLeica). Some are also noisy going through the AF steps so I'd imagine this makes them unsuitable for any video with sound. From my limited experience the best legacy lens to offer high resolution with a fast and bright zoom and silent operation is the OM35-80mm 2.8 - more about this in another article.
Of the range of lenses tested above by far the worse performer is the ZD50-200mm SWD and this must be to do with the stepping distances in the tele zoom because the ZD14-35mm SWD performs quite nicely, as does the ZD12-60mm SWD.
It's all about horse for courses. 4/3rds high and super-high grade lenses will surpass the standard MZD lenses in resolution I am sure. They also offer some focal lengths and levels of brightness not yet covered by MZD. Whether you want to mix the m4/3rds system with traditional 4/3rds glass is a matter for you. I certainly will be because this means I can make my 4/3rds bodies last longer.
Of particular note in this section is the latest and rumoured comment by Watanabe-San from Olympus about the non-likelyhood of 4/3rds lenses working fully on the Pen range and the company's so called abandonment of this goal. This is the translation from Russian to English:
"There is nothing sensational out of that battlefront (4/3rds): yes, DSLR system is also important for us, we honour and remember users of our 4/3 optics. We have E-5 in our product line for them. It is possible that we return to active development but now I cannot say something audible. Current situation is so that we have to provide stability and survival, and that is what PEN system is dedicated to. By the way, their sales are good. We tried to adapt big optics to micro system but there are fundamental troubles: phase detection system is made to calculate needed focusing shift and to shift lenses to proper place at once but contrast detection system uses iteration fidgets by its nature. We cannot to join them right, so in fact we have capitulated. Approximately in this way. Watanabe also said me that many leading managers and bosses use E-5 personally so understand anxiety of simple users very well."
To me the most alarming part of the interview (if correct) is Watanabe-San's reference to 'remebering users of 4/3 optics'. It rather smacks of this is now in the past; we remember them but we move on. On the other hand it may mean that traditional DSLR development may have to continue for a while yet, thus ensuring continued production of the E-5. It is such a pity Olympus did not update the E-620 and have two 4/3rds bodies to offer the 4/3 faithful.
Please bear in mind this is an unconfirmed comment that has been through at least one translation software; it might be true or be totally meaningless. Until there is confirmation treat this report with a huge pinch of salt.


E-PL3 BODY CONTROLS, SCREEN, BUTTONS & DIALS
If you are familiar with the Pen series will know the general layout of the controls. The E-PL3, due to its slim build and stepped shoulder to top plate has a different button arrangement but it is all self-explanatory. There is only one control wheel (around the 4-way). As with previous Lite models this camera has no dedicated EV compensation button next to the shutter button, present on E-P1&2. EV compensation is achieved via the 4-way in default set-up. Surprisingly the Fn button cannot be re-mapped to EV compensation! There is only one Fn button but two of the 4-way buttons and the dedicated video button can be re-mapped to suit your preferences. Basically, you can set the buttons pretty much as you like (but Fn and video button not to EV compensation) but you'll need a good memory!
Buttons are quite clicky in use offering feedback and the 4-way control wheel is now nicely stiff.
The screen resolution is satisfactory and the screen is bright and contrasty - my only complaint is that if you shoot in 4:3 the visible screen is quite small.
As noted above the screen could use some sort of protection as it sticks off the backplate. It requires a high quality screen protection film fitting from new.
Shutter button is light and responsive - but slightly smaller than the E-PL2.
There's a blue ON lamp near the ON/OFF button that I find quite bright.
If you have the VF-2 fitted you will see the switch on its rear aspect that flips the feed from the sensor (i.e. the TTL view) between VF-2/3 or LCD. You choose either LCD or EVF display; all Live View and Menu display choices will appear in the EVF just as they do on the rear screen, including reviewing images. If you set REC VIEW to AUTO and have the VF-2/3 enabled your review image is shown on the VF-2 for a few seconds and then displayed on the rear screen. This is a better solution than constant toggling between the VF-2/3 and the screen.
The front plate is graciously free of MP count and IS icons.
In general the rear control buttons are well laid out but are small. Using the E-PL3 wearing gloves will be virtually impossible.
On the right edge of the camera is the comms compartment with combined AV & USB and HDMI plugs.


ACCESSING THE MENU, LIVE CONTROL & OTHER FUNCTIONS
The Pen series provides two main points of access to control the camera, other than the direct or customized buttons. There's the main menu and a compact style 'Live Control panel' accessed by pushing the OK button at any time. The Super Control Panel, beloved of E-System users is available as an extra layer of control via the menu. However with them both enabled I found it overly complex and now have one or the other, not both. Both offer the same level of control but are laid out differently. The more time I spend with the Pen cameras the more I prefer the Live Control panel (default).
MENU
The menu system has been enhanced a little and now appears on a white screen with some coloured icons in the COGS menu. It is still quite long and complicated to navigate. One enhancement is the provision of a pale blue pop-up box when you access a menu function that tells you in a few words what the function does. Yes this is useful but the box prevents you seeing what's on the rest of the menu and is self defeating. I've read a lot of criticism about the length and complexity of the Pen menu system but if you want customizability you have to have complexity. If you scroll through the menus a few times it all makes perfect sense.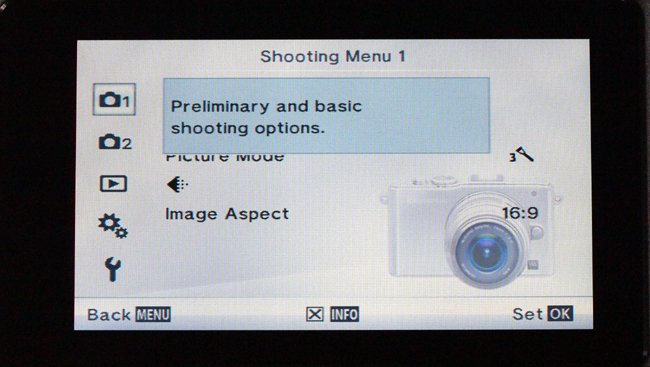 Above: Shooting Menu 1 - Bright and clear but I dislike the blue pop-up box.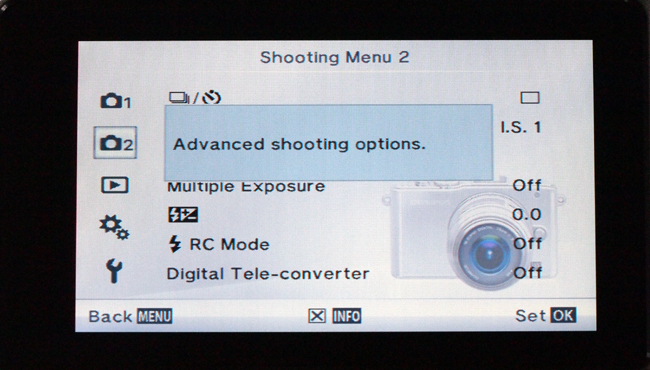 Above: Shooting Menu 2.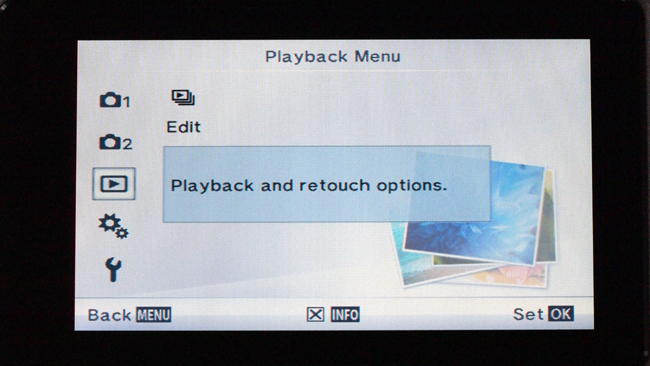 Above: Playback Menu.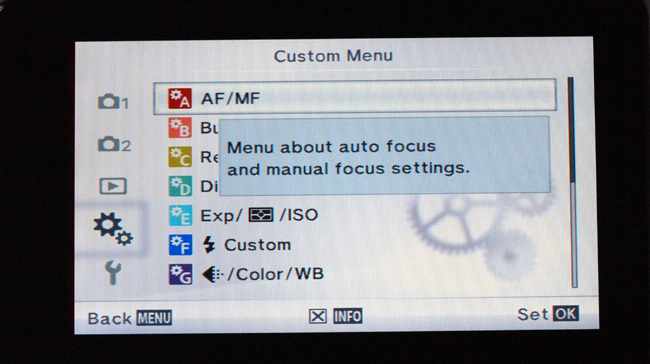 Above: Custom Menu - you have to enable this menu selection. Here you set up your camera. There are 2 screens with 10 sub headings. It is very comprehensive and allows you to set up the camera in many ways to suit your style.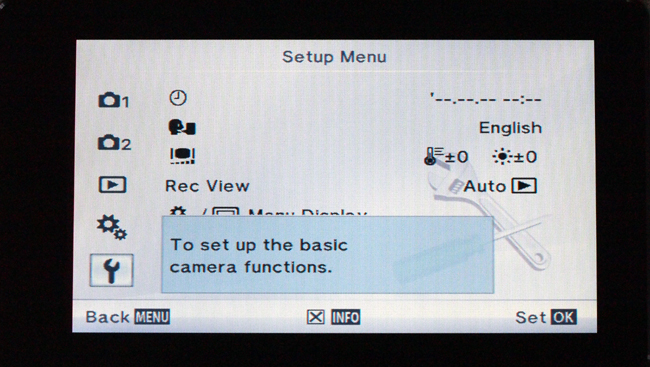 Above: Setup Menu.
I am not going to explore the menu system; suffice to say it is long and quite complex in places but is laid out logically and most choices are easy to find. To me exploring the menu system and customizing your camera to suit your personal needs is one of the pleasures associated with buying a new camera. Olympus offer an astonishing amount of customizability so enjoy their engineers work.
QUICK SETTINGS
After I had a quick look through the menu I changed a few basic parameters - SAT set to NORMAL (off) and NR to OFF; Picture mode to Natural with -1 sharpness and contrast. Face/eye priority - OFF; Function Button - AF HOME; 4-WAY Wheel default; Auto ISO - High 1250 Low - 200; INFO settings to include Highlight & Shadow. The brightness and contrast of the EVF seemed about right for my eyes. I record my shots in LF JPEG + RAW. I will further fine tune the camera a little later to suit shooting requirements. I may even put together an article on how to customize your camera.


BATTERY PERFORMANCE
I found pretty good. When reviewing a camera (takes about 2-4 weeks) I spend lots of time dipping in and out of the menus and trying different settings. It seemed to me the E-PL3's battery life is better than the E-P3 - probably due to less battery drain from the OLED screen of the E-P3. I'd say in normal use the battery will be good for 300 shots with reviewing etc.


SOME SMALL DISLIKES
The screen dimensions/format. I rather like the 4:3 format but this gives you almost the smallest review screen.
The buttons are small and I'm not keen on the control wheel around the 4-way switch and with large lenses it tends to get accidentally altered. But with m4/3rds lenses on board it shouldn't be too much of an issue. Obviously it can't be disabled.
Gloved use of the E-PL3 will be impossible because of the lack of real estate on the rear panel and small buttons; the screen takes up a lot of space and will be easily scratched if not careful.
Because the tripod bush is off centre this means you cannot remove battery or card without dismounting the camera from the tripod - very annoying.
I miss having no IR remote control - surely this can be easily fixed? I am considering an after market radio controlled remote.
I am used to Olympus menu systems but can see why some new users might find it difficult.


SOME BIG LIKES
At last the AF assist lamp - about time too.
The detachable flash - so small you can pop it in your pocket. OK you still can't use the shoe for two things at once but this solution is good.
Tiltable screen. Having had the C5050/C8080 and the E-620/E-3 I appreciate just how useful these are.
Slim and lightweight body - using an E-3 most of the time lets me really appreciate this little beauty.
Image Quality.


SOME IMPROVEMENTS I'D LIKE TO SEE
Here I was going to bang on about having an internalized EVF. I think I'd be wasting my breath though. It's all down to size, cost and future obsolesence. I believe Olympus will not consider an internal EVF for any Pen until (maybe) the Pro-Pen. They give us the choice of two external EVF's and that's it. Actually the more I use these little Pens, the more I'm seeing their logic. It's just difficult for us dyed in the wool SLR users to adapt.
The tripod bush needs to be centred with the lens and card access other than through the battery compartment.
An IR sensor to be provided for remote operation.


E-PL3 WITH NEW MZD 14-42mm MSC KIT ZOOM, MZD14-150mm & MZD9-18mm
The standard zoom is the equivalent of a 28-84mm (in 35mm terms) and at f3.5~5.6 is a little slow but no different to most kit zooms. Remember to twist out the inner barrel from its locked position to avoid the LCD warning, and you are ready to go. The zoom ring operates smoothly enough with a turn of about 30 degrees across the zoom range, and in manual focus the fly-by-wire arrangement works fine. In manual focus with any MZD or ZD lens, as soon as the focus ring is touched, the camera switches to a close-up version of the scene to allow critical focus - a great feature (needs to be enabled). Leave go of the MF ring for a second and the camera switches back to normal view. Obviously this does not work with legacy OM 35mm lenses as they do not communicate with the body. But with such lenses the magnified view is available by pressing the dedicated magnify button button when in green box LV mode. This feature is exceptional for macro or table-top work using OM macro lenses.
AF is virtually instantaneous regardless of the previous focusing distance, be it close focus or infinity. This is a huge advance for Olympus and finally puts to bed the previous (and justified) criticism of pedestrian AF performance. However, I did find some AF issues when using the MZD14-150mm getting a lock with the lens set to its widest when the subject was less than 10 feet away. My example of the MZD9-18mm proved very wayward indeed and failed to lock on many ocassions at its widest focal length. This was troublesome though I cured the problem by cleaning the AF pick-ups on the lens and in the throat as well as making sure the lens was locked onto the body properly (i.e. without touching the release button). However, I may send the lens to Olympus for servicing. Generally though I had no other problems with the AF performance in daylight.
Sometimes in poor light the AF function was slowed using either lens. The AF assist lamp helps and activates at long distances too, but is effective at a maximum of about 3m, so it does not resolve the problem if you are too far away. When the AF assist lamp glows AF is still slowed but will lock in about 2 seconds. Common sense must prevail here and sensible AF target selection and positioning is required. The new system is much improved over the E-P1/2 and E-PL1/2 but not perfect. So, in gloomy conditions the new AF system is better than most compacts I've used, but not as good as say the E-system mid-range machines fitted with a budget kit lens lens and AF assist (strobing) disabled and far behind the E-5 with SHG lenses.


E-PL3 AND OM LEGACY LENSES USING THE ADAPTER MF-2
Micro FourThirds brings the opportunity mount and use just about any 135 format lens (with the appropriate adapter). The VF-2 offers the user a two fold bonus; a superb electronic viewfinder of a similar size to the E-3/5 and (just as importantly) a place to steady the camera (against your head), thus improving camera stability and avoiding shake. And, of course, you can see the magnified view in the viewfinder for totally accurate manual focus.
While legacy lenses can be just as easily fitted to the older E-P1, their use is somewhat limited by having to compose and manually focus on the back screen away from the body with the camera some 12-18" in front of you. This causes camera shake and makes the physical act of focusing accurately almost impossible unless the camera is tripod mounted. The addition of the VF-2/3 to later Pens obviates this producing a much better combination.
Some folks may query the use of manual legacy lenses but for specialist uses such as macro photography many experienced users prefer manual focus even with thier AF capable lenses. One of my most used lenses is the OMZ 90mm Macro for table top and illustrative work. The VF-2/3 on the E-PL3 simply extends its usability.
My legacy lens collection is restricted to OM and Pen F/FT/FV series with the odd M42 screw mount. The results from using OM lenses on E-System cameras has improved since the E-1 with superior metering and better exposure box design. Even the OM wide-angle lenses can produce half decent results on the later E-Series machines. But the shorter registration distance and lack of a mirror/exposure box of m4/3rds provides even better results.
OM LENSES ON E-P1: I undertook some detailed testing of just about all my range of OMZ lenses 8mm through 600mm on the E-P1 (tripod mounted) that you can read about here if you wish. NOTE: Dandelion focus confirm adapters do not work on the Pen series. The resultant imagery using the E-PL3 will be very similar.
WARNING: You may find the E-PL3 body simply too small and thin to use larger legacy lenses thereon. I think the smaller OM lenses are fine, most Pen F lenses are reasonable too (though their resolution is a tad lacking), but the 4/3 ZD zooms are a little on the large side for comfortable handling. I will selectively use my legacy collection. For you - well, it's your call.


ABOUT COLLECTING LEGACY GLASS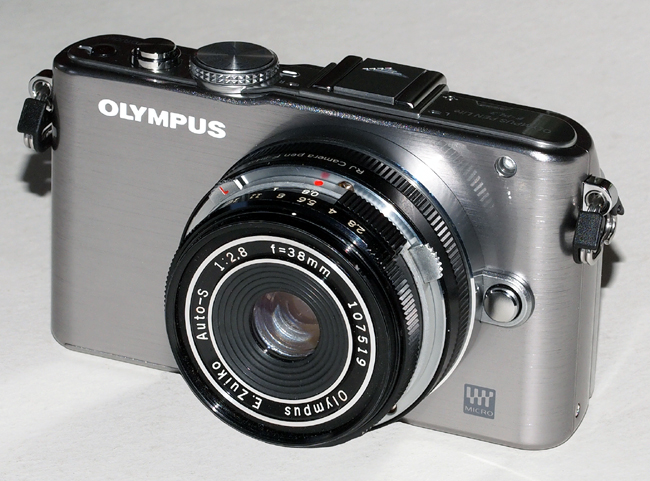 Above: The E-PL3 fitted with a Pen FT 38mm x f=2.8 Pancake lens from the early 1970's via the RJ adapter.
NOTES
It is easy to see why there's a resurgence of interest in legacy lenses from many defunct stables. If you should look to the old Pen F system for lenses be warned that Pen F lenses have been collected strongly since the demise of the system in 1970 so prices can be eye-watering. Some OM lenses too fetch staggering prices, especially for the brighter version primes. My experience tells me that the slower version OM primes actually perform better than their faster siblings so look for these if you fancy a small stable of fixed length lenses for your bag. OM zooms are fiddly to use as you have to manually stop down, zoom then manually focus, a process that some find too lengthy. Most run of the mill OM zooms produce 'OK-ish' results that to me are not worth investing time/money in. However, the more expensive and fast zooms like the OM 35-70 x 3.5 and the famed OM 35-80 x 2.8 do deliver very good results and may be of interest to video fans because of their silent focusing.
Using old glass on modern cameras is not only fun, it harks back to an era when the photographer was more 'in control' and had a different input into the photographic process. If you want to quickly learn how to manually focus and about depth of field and hyperfocal distance, then pop a manual lens on your digital Pen!
Whether anyone should actively acquire legacy lenses is a matter for them. If I didn't already have a stable of OM & Pen F lenses I'm not certain if I'd seek them solely for use on the Digital Pen series.


E-PL3 ISO TEST
I undertook my standard ISO testing with the E-P3 which you can see here . As the E-PL3 has the same sensor, AA filter and processing engine the results will be identical. I do not propose to repeat them here.
However, I've decided to show you some macro and table top shots taken with the E-PL3 at various ISO with its native kit zoom at f=5.6 and three different dedicated macro legacy lenses; Pen F Macro 38mm/3.5; OMZ 50mm/3.5 and OMZ 90mm/2.0.


MACRO & TABLE TOP EXAMPLES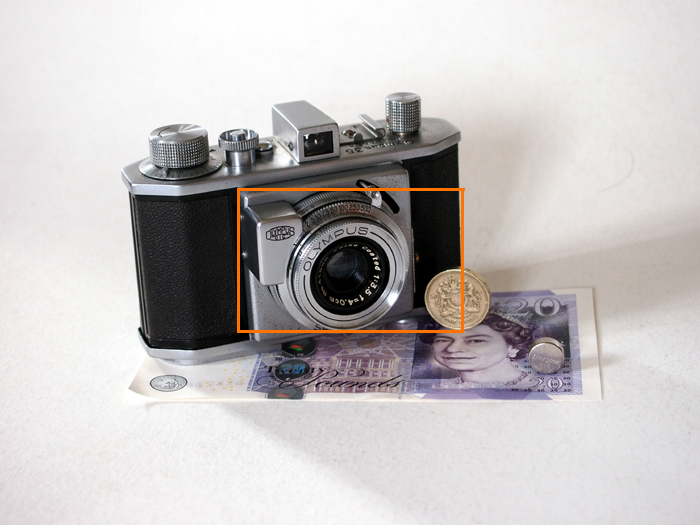 A typical table-top/macro type shot; indoors naturally lit. E-PL3 with standard MZD14-42 kit zoom at 42mm; f=5.6; ISO 200. The progression of images from which the crops below are taken are achieved by increasing the ISO only; 200, 400, 800, 1600, 3200, 6400 & 12800. Click on image to download original jpg.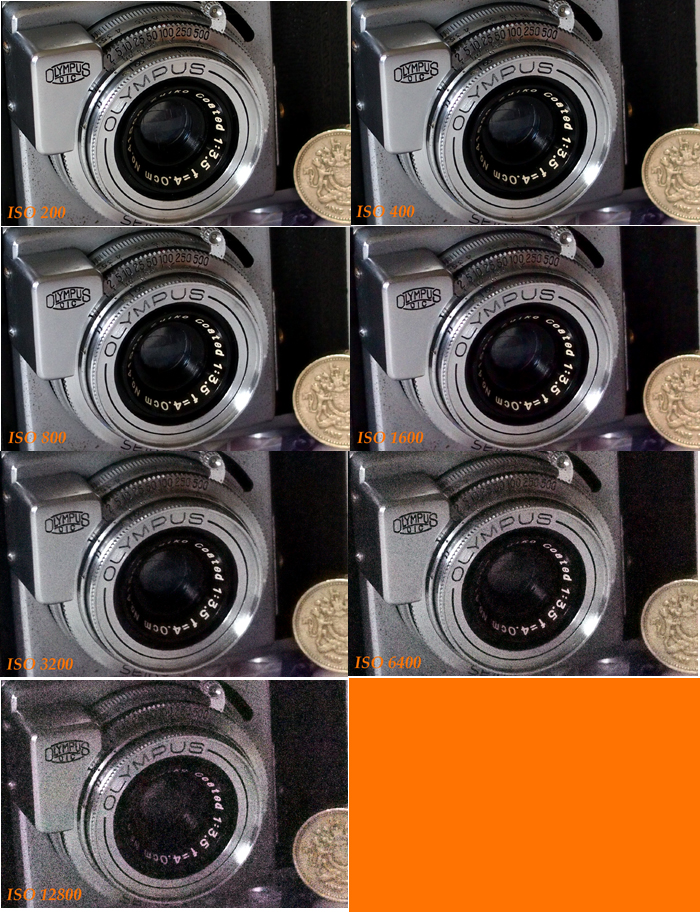 These are a series of crops from the centre taken at ISO's 200 thru 12800. Click on image for a slightly larger jpg. If you require original jpg or orf file at a particular ISO, please email me.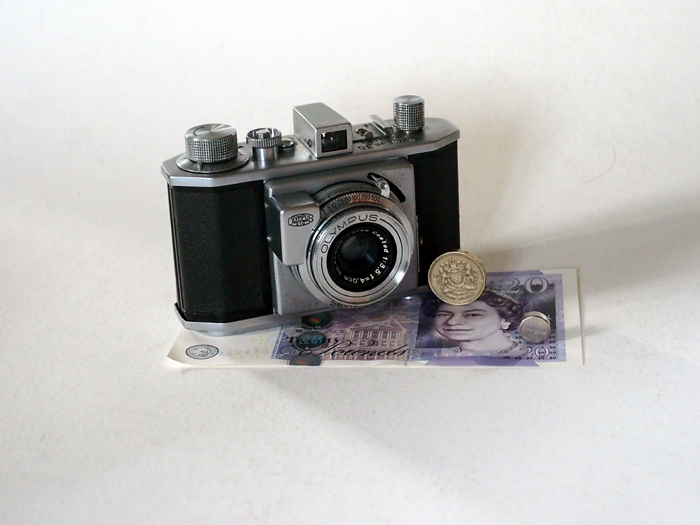 Above is the table-top shot taken with the Pen F 38mm/3.5 Macro lens at f=5.6 on the RJ Adapter. This is at ISO 1600. Click on image to download the original jpg.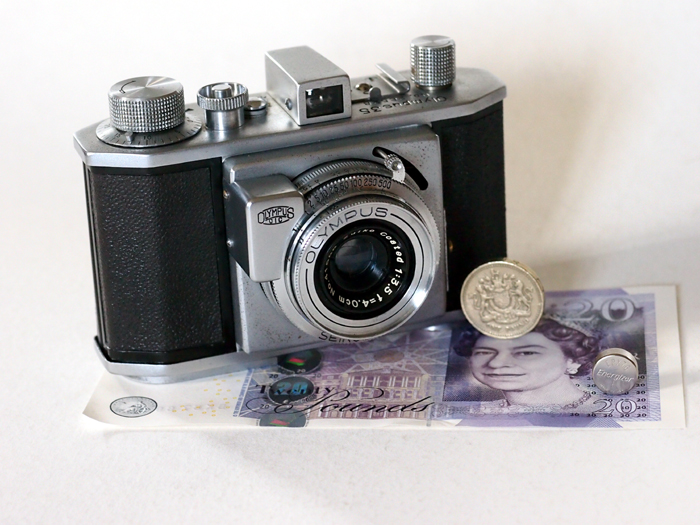 Above is the table-top shot taken with the OM Zuiko 50mm/3.5 Macro lens at f=5.6 on the MF-2 Adapter. This is at ISO 1600. Click on image to download the original jpg.


Above is the table-top shot taken with the OM Zuiko 90mm/2.0 Macro lens at f=5.6 on the MF-2 Adapter. This is at ISO 1600. Click on image to download the original jpg.
CRITIQUE
As said earlier, I did not repeat my normal house shots at differing ISO's because this camera has the same sensor and processing engine as the E-P3 and I provide those examples here. However I thought some inside shots that are not brilliantly lit might show the ISO capabilities better. I think the above shots do so very well. As with all 4/3rds chips ISO gain can be problematical leading to excessive noise as the ISO increases; it is the major 4/3rds sensor weakness. But Olympus has been working to make this better and here you can see the results are very clean up to and including ISO 1600 and acceptable up to 3200. ISO 6400 is a bit noisy and you can clearly see the noise reduction results in loss of detail but not bad really. The ISO 12800 to me is a bit of a joke but if you are stuck I suppose it will at least produce something. Note too, as with other recent Pen cameras, the extended ISO range is at the expense of ISO 100.
Personally I believe the high ISO performance is an artificial demand brought about by pixel-peepers who never print a photo. I also believe it is better to offer more lower ISO choice than simply keep 'cranking up the volume'. The noiser the image the more noise reduction is applied leaving your shots with less detail and taking on that horrible 'plastic' look.
Though the ISO 1600 shots are to my eye very acceptable you can see they are just beginning to show the effects of in-camera noise reduction (starting to be a tad plastic) and to me are on the cusp before becoming questionable. I've provided these shots with their original jpg's so download them and put them through your favourite noise reduction software or process them in any way you wish. I had the basic camera settings very conservative so the files should take some sharpening afterwards, if necessary.
If you require the RAW files please email me direct and ask. They are simply too large to have sat on my server.


SOME RANDOM IMAGES FROM THE E-PL3
I have been out taking some everyday images with the E-PL3; the sort of shots anyone might take when out and about. Whilst I was not entirely happy with those from the E-P3, the results from the E-PL3 are just fine. Perhaps the non-OLED screen on the E-PL3 gives a more accurate rendition of the scene and does not make you think your shots are more colourful and contrast laden than they actually are. I also tried out the Dramatic Art Filter and I'm quite pleased with these too.
I decided to use the full 16:9 format that suits the screen. I am pleased with the results though this format does not appeal to everyone.


This is with the E-PL3 and MZD 9-18mm ED @ 9mm: ISO 200; (EXIF is attached.)
Click on image for the original JPG version.
I have applied slight tonal and curve adjustments to reproduce the scene as I saw it as it was a tad flat.
There is a touch of purple finging and softening at the peripheries and some distortion typical of super W/A lenses.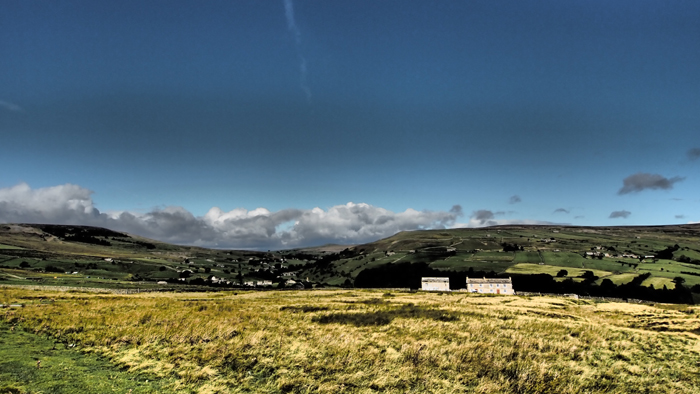 This is the same taken with the Dramatic Art filter applied at the time, not in PP. (EXIF is attached.)
Click on image for the original JPG version.
This filter is worth using if the scene is a bit samey (bland) but has some strong contrast.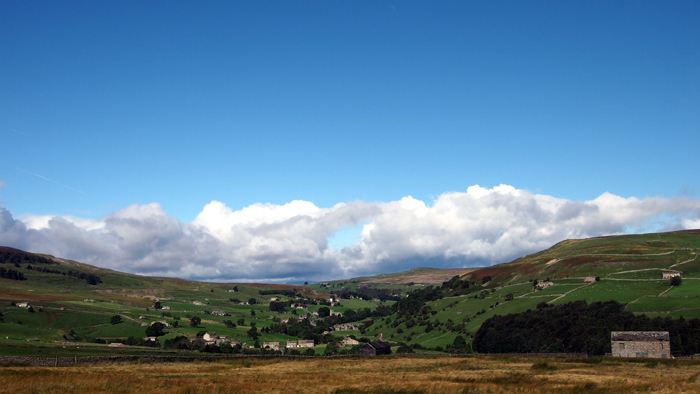 This is the same scene taken with the E-PL3 and MZD 9-18mm ED @ 18mm; ISO 200; (EXIF is attached.)
Click on image for the original JPG version.
Again a slight touch of tonal and curve adjustments applied to original jpg.
P/F has disappeared and the distortion is well controlled at 18mm.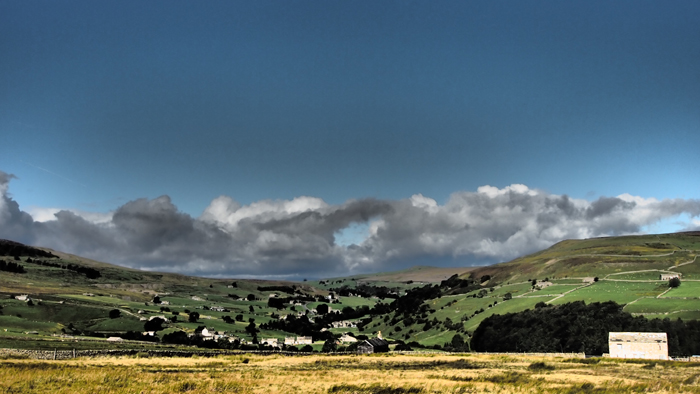 This is the same scene as above but with the Dramatic Art filter applied at the time, not in PP. (EXIT is attached.)
Click on image for the original JPG version.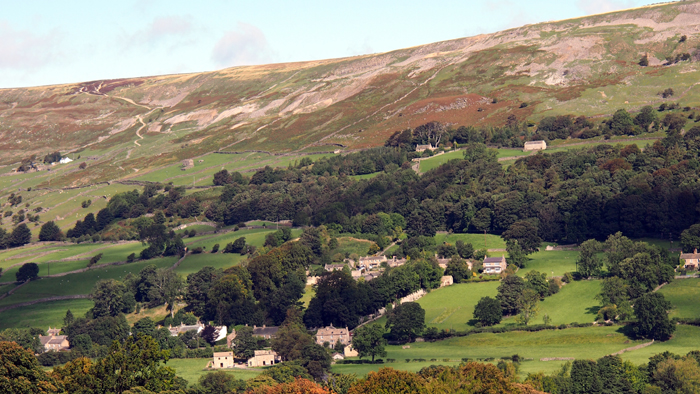 This scene is looking over Swaledale towards Fremington Edge with the 14-150mm MSC at 54mm: ISO 200; (EXIF is attached)
Click on image for the original JPG version.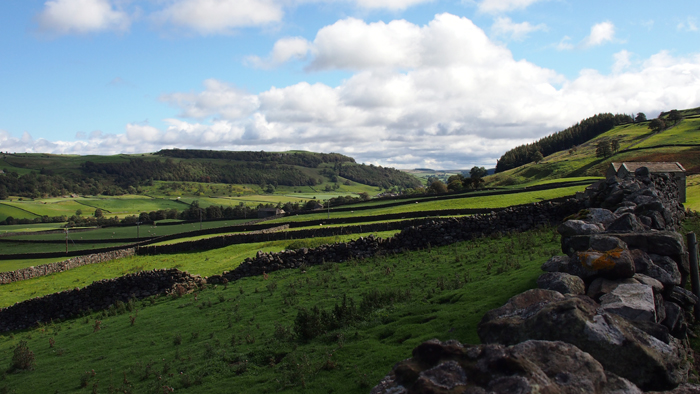 Looking down Swaledale East towards Richmond with the MZD9-18mm ED at 17mm; ISO 200; (EXIF is attached.)
Click on image for the original JPG version.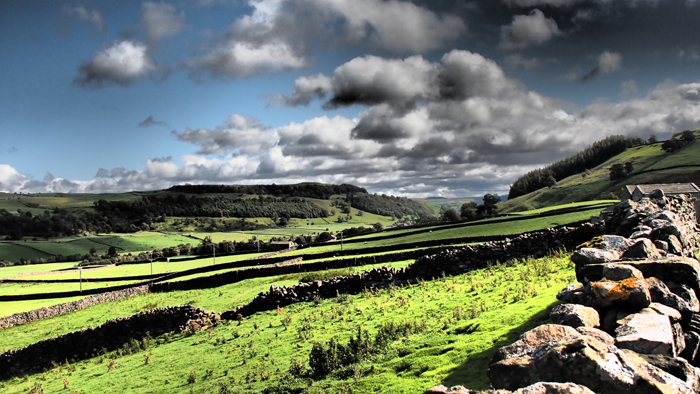 This is the same scene as above but with the Dramatic Art filter applied at the time, not in PP. (EXIF is attached.)
Click on image for the original JPG version.
Strangely this rendition coincides more with my memory of the scene - it was very bright and contrasty.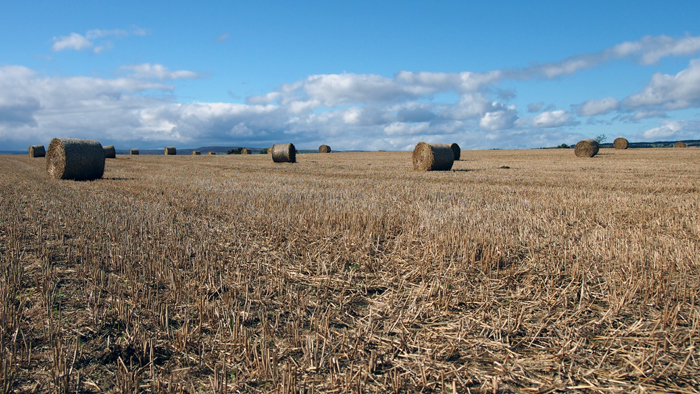 Strawfield in Wensleydale with the standard MZD 14-42mm zoom at 18mm; ISO 200. (EXIF is attached.)
Click on image for the original JPG version.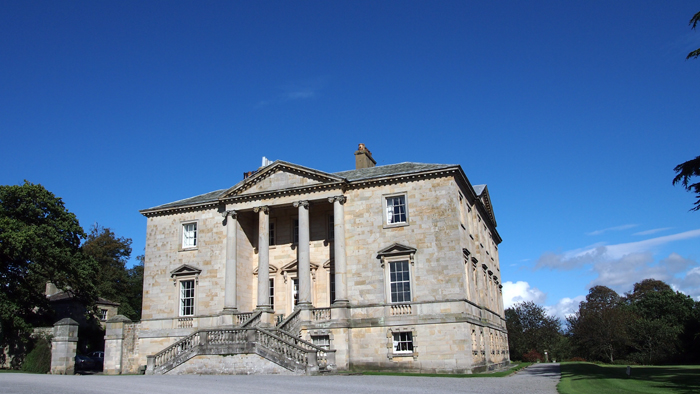 Frontal aspect of Constable Burton Hall, Wensleydale with MZD 14-42mm zoom at 14mm; ISO 200. (EXIF is attached.)
Click on image for the original JPG version.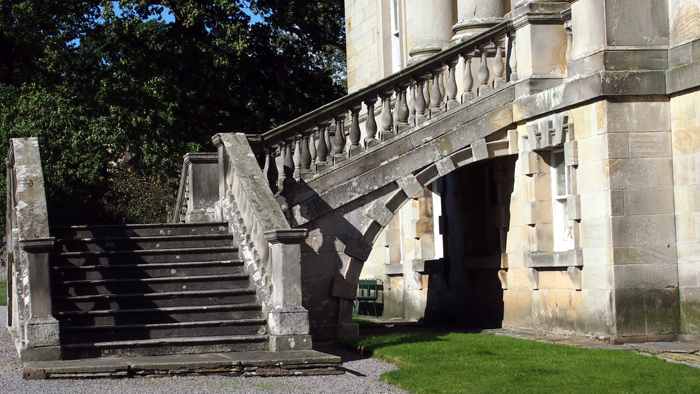 Architectural detail beneath front entrance parade, Constable Burton Hall with MZD 14-42mm at 42mm; ISO 200. (EXIF is attached.)
Click on image for the original JPG version.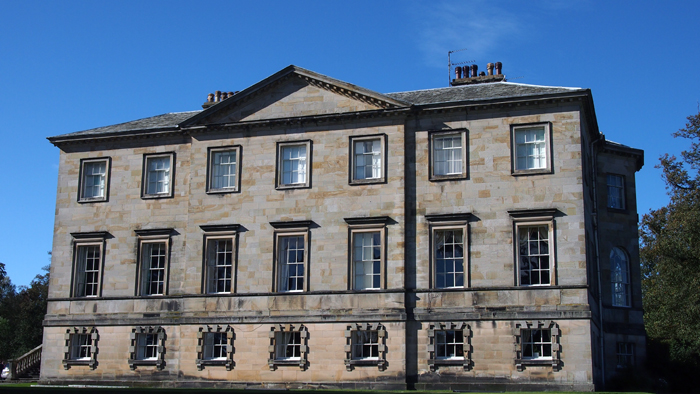 Southern elevation, Constable Burton Hall with MZD 14-42mm zoom at 22mm; ISO 200. (EXIF is attached.)
Click on image for the original JPG version.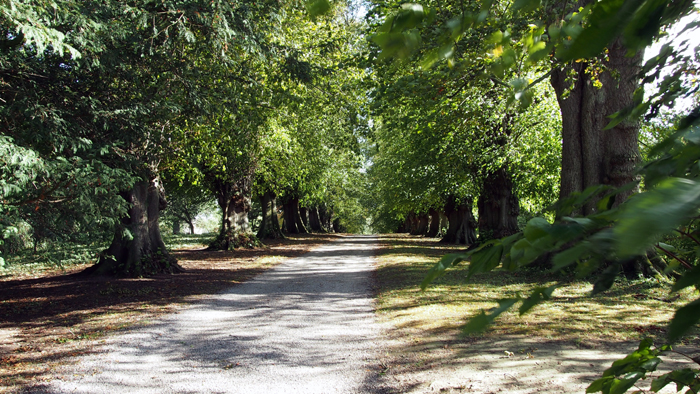 Avenue of trees, grounds of Constable Burton Hall with MZD 14-42mm at 14mm; ISO 200. (EXIF is attached.)
Click on image for the original JPG version.
CRITIQUE
If you read my E-P3 review you will have noted I wasn't entirely happy with its output. The results on my calibrated monitor did not match up to the promise of the cameras OLED screen, but apart from that I found them all to be a bit flat and lifeless. Changing the picture mode to Vivid seemed to cure that though this does lead to other problems with too much contrast and satuaration.
However, the E-PL3 has behaved very well and is completely in line with all my previous Pen camera experience; in other words it is just fine. I can only think the review sample of the E-P3 (which was a pre-production unit) was just a tad 'off' with its jpg processing.
That said there are some examples from the above images that need a touch of post processing to bring out the best, but in general they are excellent images straight out of the camera.
I've had no need to experiment with the RAW files as the jpg is totally fine. But as said if anyone wants the original orf's please email me direct.


CONCLUSION
First off I'm very much at home with the E-PL3; more so than the E-P3, even though there are a couple of things I don't like about the E-PL3. The camera feels 'right' in my hands (and I have quite large hands). I enjoy the smoothness of the finish and its dimensions are just about spot-on for me as long as you stick with the MZD lenses. I think it would benefit from a small grip and I notice Richard Franiec has decided to manufacture one for the E-PL3 similar to the XZ-1; more details here. I've really enjoyed reviewing the camera and will be very sorry when it goes back to Olympus UK.
The screen (whilst I don't particularly like its format) is clear and crisp and does not deceive like the OLED on the E-P3. I ended up setting the picture format to 16:9 to take full advantage of the screen size and although I thought I would not like this output, I soon came to appreciate the letterbox like imaging. The fact that it is tiltable is a huge bonus for many different applications, including architectural work. However, in very bright light it is just like the majority of other screens - poor.
That said, the wonderful VF-2/3 comes to the rescue providing a DSLR like finder that is more or less impervious to external brightness. I simply cannot imagine using this camera without the VF-2 in my pocket.
I really appreciate the cameras innate speed - nothing feels sluggish, nothing slows you down or gets in the way of you enjoying what you are doing, and this is important - when everything is working just right the machine becomes invisible, allowing you to concentrate on your photography.
This is a great camera. Although not quite as well specified as the E-P3 it comes a very close second. I can't see anyone regretting buying this little machine.
The E-PL3 is a photographers dream with seemingly unending ways to customise the camera to your own specification and is virtually the same as the E-P3. It is aimed at a broader audience than the E-P3 with lots of customizability for the more experienced user, but with a fully automatic mode(s) (iAUTO) and P to satisfy those who simply rely on the camera to do most things.
The 'new' menu system is just as complex as the older system so some study and a level of understanding is required by new users. The little pop-up explanation box new to the menu system does help though personally I don't like it.
The mixture of modes, both manual, semi-manual and automatic with the availability of differing scene capturing choices and the very novel Art Filters will attract buyers from across the compact spectrum.


LIKES
Fast AF is brilliant and will silence any critics.
Faster processing has increased the write speed by about 40% - a LSF+RAW takes about 4 seconds to write to a fast card; the same takes over 6 seconds in the E-P2.
Frame rate of 5fps is great for many applications especially sports and kids.
Very responsive in all areas of operation - it feels slick and smooth.
The amount of customizability is wonderful.
AF illuminator - at last.
Tiltable screen.
The design - simple, elegant and not retro. I have nothing against the retro look Pens but this is refreshing.
External mini-flash is great for daylight in-fill and general close quarters indoor work; easliy kept in your pocket.
Being able to use the wonderful VF-2 and other accessories in the AP2 smart port.
Out of camera jpg's are excellent.


DISLIKES
I miss the vertical control wheel; but this is one of the differentiating points between E-PL3 and the E-P3.
Needs a small grip of sorts - non-OEM I suspect.
Though I like the flash solution an internal pop-up flash would be better.
Screen is not smear-proof like the E-P3.
The wide format screen is not entirely my cup of tea though it is perfectly usable and good quality/resolution.
I still have problems with circular control wheel around the 4-way - I find it fiddly in use even though it has been 'stiffened'. But this is the Pen design so I'll have to get used to it.
When using the left hand button of the 4-way my finger nail catches the screen surround - annoying.
Position of the battery/card compartment in relation to tripod bush means dismounting the camera to access the card.
I have relegated the lack of an internal EVF to last place as I'm seeing the Olympus strategy here, though personally I'd still prefer one!


WILL I BUY ONE?
Simple answer is yes. Reasons:
1. Price point compared to E-P3 and specification.
2. Performance.
3. IQ.
4. Feels right.


---
NOTE: This article seeks nothing other than to inform. Only you can decide what equipment you want/need for your use. Olympus provided the E-PL3 as a review sample which will have to be returned. I have nothing to gain or lose by publishing this article, photographs, examples or opinion.


---
---
| | |
| --- | --- |
| Posted September 2011 | Copyright © 2011 John Foster |