---
Please note the vast majority of this article consists of my personal views and opinions on the recent releases and is not simply a regurgitation of the Olympus release material. The only release commentary I have used is noted as such in the E-P3 section.
---
OLYMPUS ANNOUNCE THREE ADDITIONS TO THE RANGE OF MICROFOURTHIRDS CAMERAS
I think we were all expecting ONE m4/3rds camera from Olympus but THREE together came as quite a surprise. Olympus have not been sitting on their hands since the E-PL2 was announced back in January and have responded to Panasonics GF3 with their own mini-version of m4/3rds, the new E-PM1. In addition there's a new E-P3 with the world's fastest AF system and a new mid-range model the E-PL3 with a swing-out LCD screen. Let's take a look at what Olympus are to give us later in the year.
E-P3
Building on the success of the Pen models E-P1 & E-P2 comes the latest model, E-P3. This is the current 'top of the range' m4/3rds machine from Olympus and is brimming with new features, some of which we might have anticipated and some not! The camera is very much like the E-P2 in design and finish but has some surprises in store.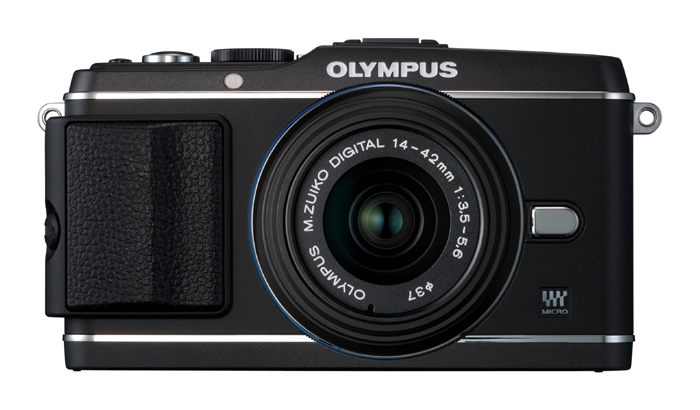 Above: New E-P3 full frontal with new MZD14-42mm IIR. It pulls strongly from the original Pen design with a few minor cosmetic changes, the most noticable being the detachable grip (ala OM2SP, OM3 & OM4) that demonstrates how the modern designers are looking back to previous design classics.
E-P3 HEADLINE FEATURES
ULTRA FAST AF World's quickest FAST AF for cameras with interchangeable lenses, always on, with 35 AF points, low-light AF Illuminator and out-of-picture AF Tracking
3" OLED SCREEN Super-bright, wide-angle, touch-sensitive 3.0? OLED display with 610,000 dot resolution for photo-quality colour reproduction
TWIN CONTROL DIALS Separate dials for quick manual adjustment of aperture and exposure
TOUCH SENSITIVE SCREEN Touch-sensitive Live Guide in HD Movie, still and P/S/M/A mode
COMPLETE LIVE VIEW Live View in HD Movie and still mode
CUSTOMISABLE 3 customisable buttons
EVERYTHING'S LEVEL Level gauge for at-a-glance appreciation of position relative to horizon
LIVE WHEEL Easy-to-use Live Wheel feature menu
NEW TRUE PIC VI Powerful TruePic VI image engine for faster recovery time and excellent image quality
IN-BODY IS Ultra-effective in-body image stabilisation for blur-free movies and stills with any lens
NEW SENSOR 12.3 effective Megapixel High Speed Live MOS sensor for excellent low-light performance and Full HD movie recording
HIGHER ISO ISO 12800 sensitivity
NEW VIDEO CODECS 1080i 60fps Full HD stereo movie recording as AVCHD or Motion JPEG
LENS COMPATIBILITY Compatible with the new generation of dedicated PEN lenses
ART FILTERS Ten creative Art Filters in HD Movie and still modes
EFFECT FILTERS Five effects that can be combine with Art Filters: Pinhole, Soft Focus, Frame Effect, plus new Starlight and White Edge
ACCESSORY PORT APII Accessory Port 2 for compatibility with the growing family of PEN accessories, e.g., the VF-2 Electronic Viewfinder and PENPAL Communication Unit
LENSES GALORE Compatible with 20 Micro Four Thirds, 27 Four Thirds and more than 500 other lenses (via an adapter)
SHUTTER SPEED/FRAME RATE 1/4000th sec. shutter speed with 3fps sequential shooting
MULTIPLE EXPOSURE Multi Exposure mode for 2 RAW images
NEW BLS-5 BATTERY Long-life BLS-5 Li-ion battery
DESIGN Timeless PEN design with interchangeable, removable grip in two sizes
3D 3D still photos
HIGH TECH COMPATIBILITY SDXC*** card and Eye-Fi compatible
WIRELESS FLASH Wireless flash control for 'R' type flash units


WORLD'S FASTEST AF SYSTEM
The sluggish AF system of the E-P1 received much criticism from users and this was put down to a combination of the original MZD14-42mm lens and the cameras AF system. This reputation has followed Olympus since then despite improvements in their lenses leading to the latest generation MSC lenses. It is imperative Olympus puts this criticism to bed once and for all. Without a rapid AF system the PEN range will never compete with its competitors or the E-System.
Olympus have also increased the AF points from a basic 11 points to a more generous 35 point system. My worry is that even with 35 points (or boxes) the system is still not accurate enough to nail focus on an eye, for example. I'll be interested to see how good the new AF system really is.
To counter the above Olympus have installed an eye-detection system to ensure pin point focus. This is one solution but relies on the user enabling it in the menu, something that can be a pain. I still prefer the DSLR approach of having the AF points always on the screen - it's what I've grown used to - it's intuitive and natural; compose the shot then ensure your point of focus or the other way round, either way YOU know what's in focus.
There is also a selectable 'AF always ON' feature which is set to speed up the whole process. I wonder how this might affect battery longevity and the focus motors? In addition C-AF is enhanced.
The camera now features an AF assist lamp, about time too.
Will it be quick enough for sports photography or simply chasing around the garden after your kids for that one killer shot?
Let's have a look at the schematic released to explain how their new AF system works: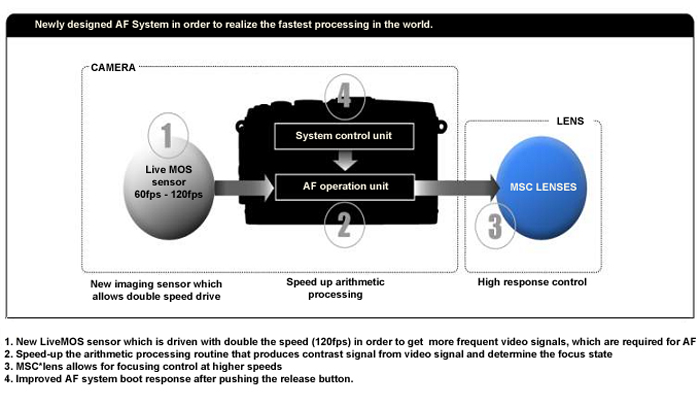 Above: The new system that relies on powerful internal processing. Is this the solution to the old problem 'PDAF is always faster than CDAF' - time will tell. Certainly the MSC lenses have improved the PEN AF performance to within a smigin of the E-5. Is this really the killer feature of the new PEN?
A LOOK AT THE IMAGES WITH THE RELEASE COMMENTARY
Let's have a look at the various images of the new PEN E-P3 with the commentary from the Olympus release documentation: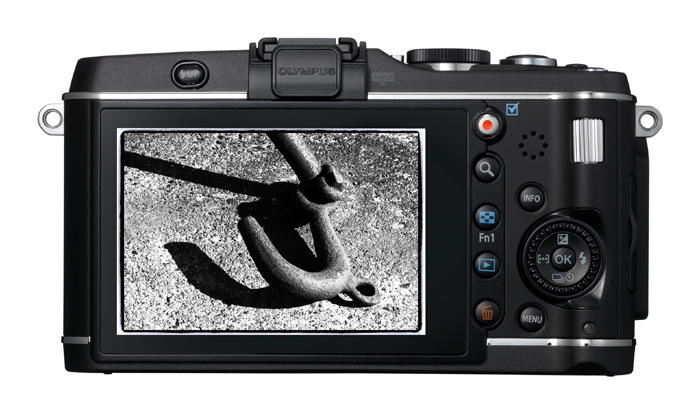 Above: New E-P3 back plate view. Here you can see the 3" OLED screen and the button layout not dissimilar to the E-P2. Note the direct video button, two control wheels and flash release on the left. Like most on-board flashes this little flash with its GN of 10 is too small for serious application but good to have and very useful for daylight fill-in.
New PEN flagship rewrites category rules PEN E-P3 boasts record-breaking FAST AF and touch display
Hamburg, 30 June 2011: When Olympus launched its PEN Micro Four Thirds system cameras, it created a whole new camera category. Now it has launched a visionary new PEN flagship that defies categorisation altogether. The PEN E-P3, or simply 'PEN', has the fastest auto-focus of any camera with interchangeable lenses. With its world-beating FAST AF (Frequency Acceleration Sensor Technology), timeless metal design and state-of-the-art touch-sensitive OLED display, it's a genuine alternative to bulkier and more expensive SLRs. Leading a three-strong generation of new PEN range cameras, it owes its amazing focussing speed to a powerful new processor: The TruePic VI image engine designed especially for mirror-less cameras. In addition to the new FAST AF, TruePic VI serves as the motor for ten Art Filter special effects and the large, tap-sensitive OLED display that previews and plays back in photo quality. In combination with a faster and more sensitive 12.3 Megapixel sensor, TruePic VI ensures outstanding picture quality, especially in low light. For experienced users, the PEN has more special treats in store - two dials on the back for making quick adjustments to exposure and aperture, plus in-body image stabilisation that counteracts camera shake irrespective of the attached lens. The PEN E-P3 14-42 lens kit is available from August 2011 for £799.
Instant classic
Pick up the new PEN and you realise you're holding a potential style icon. The craftsmen at Olympus have managed a rare feat, drawing on the charm of the golden era of camera design some 50 years ago to create a camera that will still turn heads 50 years from today. If their vision was a timeless classic, that's exactly what they achieved.
Instant AF
With its compact design, user-friendly features and first class picture quality, Olympus' award-winning PEN system camera range is already a firm favourite with both ambitious amateur photographers and professionals looking for a practical second camera. Led by the E-P3, the new PEN generation significantly enhances that reputation. One of the PEN's most striking - and useful - characteristics is the sheer speed and versatility of the record-breaking autofocus. Driven by the new and powerful Olympus TruePic VI processor, the FAST AF focuses quicker than any other camera with interchangeable lenses, giving PEN owners the very best chance of capturing fast-moving shots. What's more, it offers 35 separate focus points, spread over nearly the whole sensor, making it possible to focus on small subjects, no matter where they appear in the picture. In low light conditions, the built-in AF Illuminator compensates for potential loss of accuracy while new AF tracking technology ensures subjects stay sharp even when they move in and out of the frame. Another potentially shot-saving bonus is Full Time AF - the focus is always active so the image is always in focus and the camera doesn't waste time focusing when the user applies pressure top the shutter release.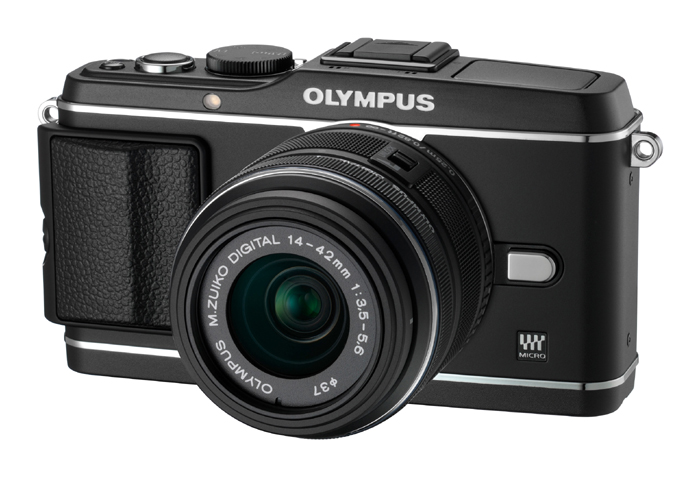 Above: New E-P3 rightside with new MZD14-42mm IIR. Note the new cosmetics to the lens and the AF assist lamp to the left of the lens. This example is fitted with the standard square grip but there are others available including one with the Gothic Pen F Logo to match the optional Pen F logo lens cap.
Instant control
Unique to the flagship PEN is the three-inch, touch-sensitive OLED display. It's not only intuitive and practical to use, but also delivers a superb, photo-quality picture, regardless of ambient light conditions. Compared to similar LCD screens, an OLED display generates superior contrast, deeper blacks and a broader spectrum of colours. It is brighter, the angle of view is wider and it uses less power. The PEN's display offers fingertip scrolling and enlarging of photos as well as control of the shutter release, AF points and the pop-up Live Guide - the celebrated PEN assistant that makes it easy for less experienced users to get crucial parameters such as aperture and depth of field exactly right. Even professionals will be glad to note that there's now direct access to Live Guide in P, S, M and A modes, if need be. Unlike with some of PEN's rivals, Live Guide is available for both movies and stills.
But for most serious photographers, experimenting with settings is half the fun - and they don't want to scroll through endless menus to make their adjustments. That's why Olympus has incorporated two additional dials on the back of the PEN. With just their thumb, users can fine-tune aperture and exposure time in an instant - without having to switch between menu sections. The chosen settings appear bright and clear on the OLED screen, or in the optional electronic viewfinder. Fans of hands-on shooting will also love the three customisable buttons they can assign to their favourite functions. The buttons, dials and new FAST AF help users react quicker to spontaneous situations and capture fleeting scenes or fast-moving subjects before the opportunity is lost.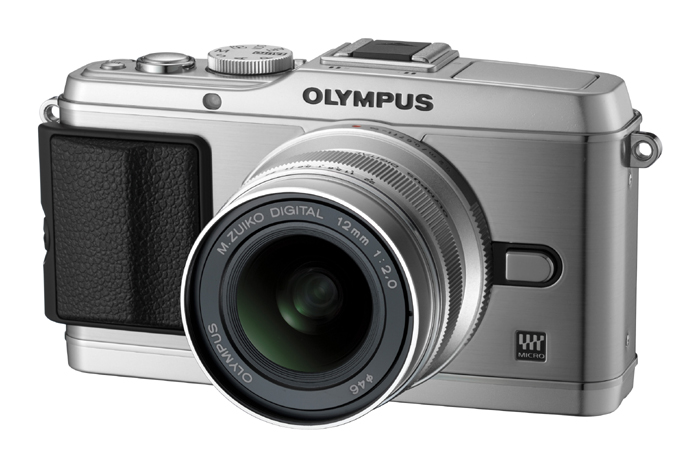 Above: New E-P3 rightside with new MZD 12mm x f=2.0 wide-angle lens. (See the bottom of this article for details of the new lenses). This is a very nice combination for street shooting as the new 12mm lens can be accurately hyperfocally focused to allow instant photography with no need for AF or composition - typically shoot from the hip - for truly candid captures.
Instant art
A wide choice of creative Art Filters and effects is a bonus for ambitious users and pros alike. The PEN offers ten different filters for adding special effects without the hassle of computer software. Several of these can be combined with additional effects, such as new Starlight and White Edge. Users can choose from the Pop Art, Soft Focus, Pale & Light Colour, Light Tone, Grainy Film, Pinhole, Diorama, Cross Process, Gentle Sepia and Dramatic Tone Art Filters. All ten filters can be applied to both still shots and movies.
The PEN records movies with a stereo soundtrack in radiant 1080i Full HD quality at 60fps - and in a choice of formats. For playing back on TV, users can choose AVCHD, which generates a smaller file size. If they want to edit their movies first, the 720p HD Motion JPEG format is ideal. It generates larger files but is easier to handle with PC editing software.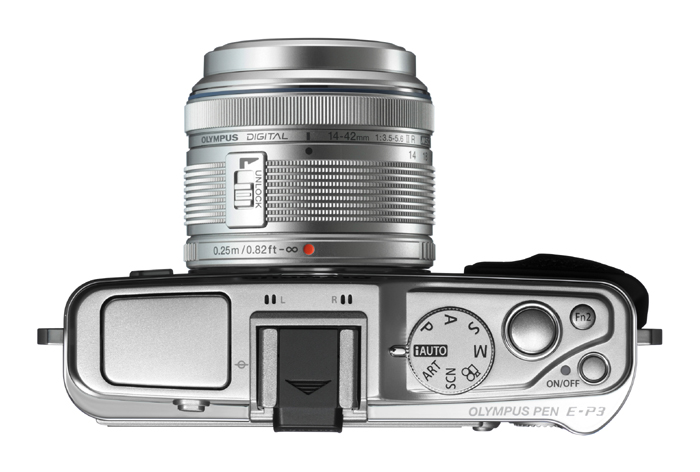 Above: New E-P3 Top Plate View showing the position of the in-built flash and the moved command dial (from the left end to right). Note too the absence of a direct EV compensation button ala E-P2 but there is a seconf Fn programmable button. Note the twin L&R stereo microphone pick-ups moved from the front plate; the speaker is on the back plate ala E-P2. It is quite busy.
Instant power
At the heart of every new PEN is the powerful TruePic VI image engine. Like the processors in computers, TruePic VI is essentially two units in one, with one half dedicated purely to image reproduction. The result is outstanding quality, colour and detail, with light sensitivity boosted to an impressive ISO 12800. TruePic VI also shortens recovery time and reduces noise noticeably during movie recording.


Above: E-P3 sporting the new FL-300R flash. The new flash is GN30 (ISO 200) and as you see is bouncable by tilting it backwards. It appears to have an in-built AF assist lamp (to be confirmed). Unfortunately, the head does not swivel. Olympus also offer a Mini-flash with the same specs as the on-board flash to fit the E-PL3 and E-PM1.
Instant compatibility
Like every other PEN, the PEN E-P3 is a system camera. The moment users purchase it, they gain instant access to more than 500 Micro Four Thirds, Four Thirds and other lenses (via a adapter), including Olympus' legendary M.ZUIKO DIGITAL range of high-quality optics. Highlights of the range are two new fast-aperture lenses. The M.ZUIKO DIGITAL ED 12mm 1:2.0 (24mm in 35mm terms) wide-angle 'Street Photography' lens is ideal for capturing broad subjects such as landscapes, especially in low-light conditions. By contrast, the M.ZUIKO DIGITAL 45mm 1:1.8 (90mm in 35mm terms) portrait lens delivers remarkable portraits with beautiful background blurring. Another first-class option is the re-sculpted M.ZUIKO DIGITAL 14-42mm (28-84mm in 35mm terms) 1:3.5-5.6 II R. All three lenses are specially designed for near-silent operation, so users can shoot HD movies in stereo without the background whir. Their metallic casing and compact, lightweight design makes them a perfect match for the PEN. Irrespective of the specifications of the lens users attach, thanks to built-in Image Stabilisation they can be confident of capturing blur-free shots. And thanks to Accessory Port 2, they can also select from the ever-growing family of PEN-dedicated accessories, including the Bluetooth®-compatible PENPAL that automatically reformats still photos for wireless transfer to other compatible devices and social media.


The PEN E-P3 with MZD14-42 kit is available with the body in classic black, white or silver from August 2011, for £799.


E-P3 Grip choices
As said the E-P3 now sports a fixing point for a removeable grip. Olympus will provide a choice of three grips but more exciting is the possibilty that other manufacturers will offer a range of different grips to suit differing needs. I envisage a host of choice.



Above: New E-P3 showing a choice of grips; no grip showing the cameras smooth metal lines, the standard ribbed grip and the large (heavy lens) grip when using larger 4/3rds and OM lenses. The Gothic F grip is the same size as the standard but smooth with discrete silver Pen F logo.
MY PERSONAL TAKE ON THE E-P3
I think it was odds on that the E-P2 was going to be replaced. I was hoping the next PEN iteration would have an internal EVF but no so. (I predicted this some time ago when the Accessory Port of the E-PL2 was upgraded to AP2 when I concluded that I doubt Olympus would go to the expense of upgrading the port to simply abandon it in deference to an internal EVF.) Maybe Olympus believe an internal EVF is not necessary, or having the option of an external add-on VF-2 is the answer for those who want an 'optical' type finder. Personally I'm not convinced and while the VF-2 is excellent it has the major disadvantage of taking up the hot shoe, leaving the photographer the choice of an external flash in the shoe and composing off the rear screen or using the VF-2 with an external 'R' flash on a tripod radio controlled from the cameras internal flash. And the fact that an internal EVF is just so much more intuitive. Maybe Olympus' market research tells them this is the way to go? Or perhaps an internalized VF-2 is simply too large to fit in the svelt body of the E-P series? Panasonics G1 (that did have the high performance internal EVF) was not a small camera.
I'm glad to see the AF speed has been dramatically increased. I was very pleased with the AF speed of the E-PL2 with its new lens, but this promises much more. If the AF speed is now influenced by the cameras internal processor then AF promises to be faster with the 4/3rds range of lenses, especially those that are not CDAF enabled. This will be another step on the way to replacing the E-Series machines with m4/3rds. I'm really looking forward to trying this new AF system with my 4/3rds stock. In addition, the increase in AF 'points' is also welcome as my previous beef was the size of the green boxes and trying to get an accurate focus point on an eye - something which is easy on a conventional DSLR. The smaller boxes will help, but not eliminate my beef. I notice that the camera has 'eye recognition' on board so this function might help out, however it is just another thing to think about (and enable) when photographing people. Maybe I'm old fashioned!
I'm hoping the TruePic VI processor will be able to keep up with applying various filters to multiple shots or when using video, something that causes the E-5 and other Pens to grind to a halt (almost) when used. Time will tell. The new processor promises better colour reproduction - not that I had any complaints before - and an improved auto gradation system that reduces noise in lifted shadows. It will be interesting to see the various Art Filters. I also note that the TruePic VI has the same fine detail processing of the E-5 engine. Another nail in 4/3rds coffin??
Having used the OLED screen on my XZ-1 I've got used to its rich and slightly over saturated colours. Certainly an OLED screen is better than an LCD panel but remember you may be disappointed when you see the results on your PC screen that suddenly look a bit different (and not in a good way) to the OLED rendering.
The touch sensitive screen might pose difficulties. I have enough problems wrongly pressing the standard buttons on all the Pens when using bigger lenses as well as constantly turing the dial around the 4-way on the E-P1&2! Some days it drives me nuts.
I think the exchangeable grip design is inspired (probably by the OM series OM2SP, 3 and 4 + Ti versions). There are times you don't need the grip and other times when a differently shaped or larger grip might suit better. I genuinely hope this bit of design is functionally based and not to do with aesthetics only. The large grip doesn't look quite big enough to help when using say a SHG 4/3rds lens like the ZD35-100mm but I'll be very happy to be proven wrong. I'd really like to see a removeable battery grip similar to those available for the E-System. This would give the small PEN body some more real estate for the hands and fingers when using legacy lenses such as 4/3rds or OM. The battery compartment is on the correct side of the camera to facilitate this.
It's good to see the infamous 'black-out' being reduced substantially. Many folks can't get on with m4/3rds or Live View for this very reason. Again, I think it's a DSLR hangover thing. Having this black-out cut in half is welcome.
The AF assist lamp is long overdue. If it's the same as the one fitted to the XZ-1 it should be sufficient though the specs say only 3m reach. This lamp should have been fitted to all Olympus DSLR's and previous Pens as a matter of course. I can't really applaud the company for fitting something now that should have been a part of all their cameras.
E-P3 AND THE FUTURE
What many folks don't realise is the amount of time it takes to develop new technologies. 'We' may think 'why can't they just do so and so' but it's never as simple as that. I can see where Olympus want to go with m4/3rds and I understand why they've dropped traditional 4/3rds. There will come a convergence point when m4/3rds CAN replace DSLR's, even the E-5; but we are not here yet. The E-P3 represents some more significant steps on that journey. I still think Olympus have been premature in their treatment of 4/3rds but they could not go on losing money on a non-competitive system. Us Olympus fans might think the E-620 or E-30 or whatever adequately filled our needs, but truth is we are the minority. The camera division needs money for research & development and I'm hoping m4/3rds will bring more than 4/3rds.
I'm also hoping Olympus have done their market research properly. Understanding the needs of potential buyers is important, but so is listening to the views of those who have already invested in previous systems. Let's hope 4/3rds and m4/3rds will combine into one beautiful system that will satisfy high-end compact users and both amateur and advanced DSLR users too. I think we are about 18 months away from a 'pro-grade' PEN.
E-P3 SPECIFICATIONS
Anyone wishing to view the detailed specifications of the E-P3 please click HERE. (Courtesy of Olympus Imaging, Japan.)


---
PEN E-PL3
This camera IS a surprise! It's only 6 months since the E-PL2 was announced so I'm assuming they will be marketed together for some time. The E-PL2 is a cracking little camera and a credit to the design team. The E-PL3 is a design step away from the E-PL2 (that seems to be an entry level E-P2/3) and leans more towards the XZ-1 compact, with its smooth lines and compact-type shape but does sport a long overdue feature - a fold-out screen. It is slightly smaller than the E-P3 but larger than the new PEN Mini. It seems to me Olympua are trying to differentiate between the models by features provided as I see there's no in-built flash on the E-PL3 but a faster frame rate!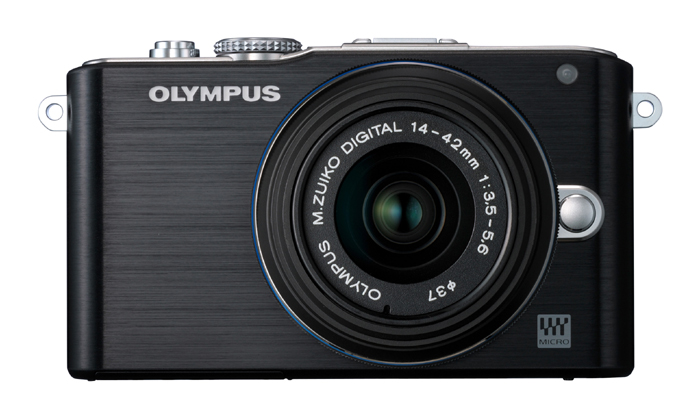 Above: New E-PL3 full frontal with new MZD14-42mm IIR. Its most noticeable frontal feature is the lack of a grip or means to attach one which rather suggests the camera is only suited to using the smaller MZD lenses and not the larger traditional ZD 4/3rds lenses.
HEADLINE FEATURES
FLEXIBLE 3 INCH WIDE TILTING LCD MONITOR The first PEN model with Tilt LCD. Beautiful compactness with high functionality
HIGH PERFORMANCE OF HIGH SPEED SEQUENTIAL SHOOTING
SIX DIFFERENT ART FILTERS Six most popular Art Filters with Art Filter Variations and Art Effects
HYPER CRYSTAL LCD WITH A REPUTATION FOR HIGH-CONTRAST COLOR
16:9 WIDE PANEL WITH 460,000 DOTS
3:4 ASPECT MODE TO SUPPORT ANGLE SHOOTING FOR PORTRAIT ORIENTATION
NEWLY-DEVELOPED SMALLER SHUTTER UNIT TO FIT THE DOWNSIZED BODY
HIGH-SPEED SHUTTER WHICH ALLOWS MAX. 4.1 FRAMES/SEC @IS=ON, 5.5 FRAME/SEC @ IS=OFF OF SEQUENTIAL SHOOTING


E-PL3 A BRIEF LOOK AT THE RELEASED IMAGES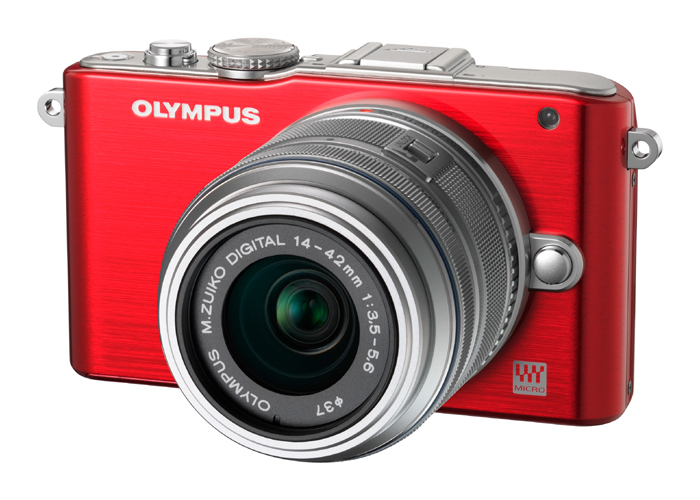 Above: New E-PL3 threequarter view with new MZD14-42mm IIR. The camera is available in black, silver, red and white. Lenses are normally silver or black though some are black only.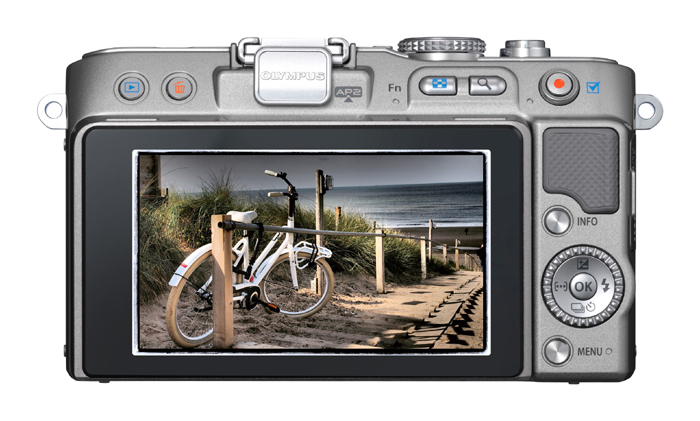 Above: New E-PL3 rear plate view with MZD14-42mm IIR. Here you can see the very simple button layout rather reminiscent of the E-PL1 with only one mapable function button suggesting much reliance on the touch sensitive rear screen interface.

Above: New E-PL3 top plate view. There is no built-in flash but Olympus are offering a mini-flash unit with the same specifications as the on-board flash in a really small package that will easily fit your pocket. About the same thickness as the E-P3 even with the fold-out screen which requires a suitable moving frame. Screen folds out and then swivels in the vertical plane only - no horizontal movement.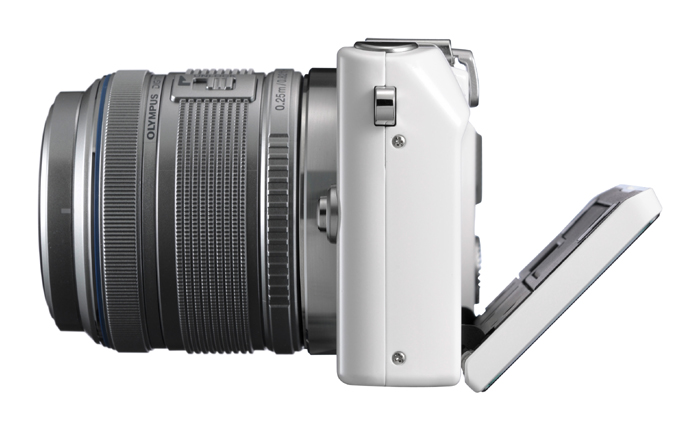 Above: New E-PL3 side view with new MZD14-42mm IIR. Here you can see the fold down tiltable rear screen in operation - reminiscent of the C5050 and C8080. This will be great for macro work, low down or overhead shots. Screen does not have full movement like the E-3/5/30/620. Personally I prefer the vertical movement only so if using the screen like a twin lens reflex (especially for architectural shots) you are more or less in line with the subject.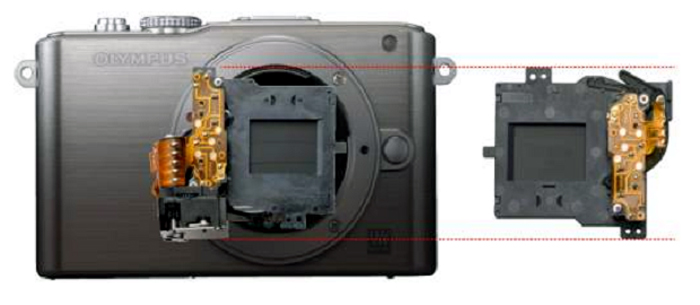 Above: New E-PL3 internal detail showing the new shutter mechanism that allows for higher speed shooting. This shutter is rated at max. 4.1 frames/sec @is=on, 5.5 frame/sec @ is=off of sequential shooting, both of which are faster than the E-P2/3.
PEN E-PL3 FIRST IMPRESSIONS
In an effort to distinguish between the E-P2/3 series and the E-PL (Lite) models Olympus seem to have stripped out some of the features of the recent E-PL2. Perhaps the sales of the Lite model were impacting on the E-P2?
The pre-release documentation does not actually state that the E-PL3 has a touch sensitive screen, so I'm asuming it has for this article but will need to confirm this. LCD panel is slightly improved to 460,000 dot.
Olympus are determined to make their cameras smaller. The downsize look and low profile of the E-PL3 reminds me of the Sony NEX where the lens appears to dwarf the camera body. As a traditional DSLR user/lover I can't say it appeals to me but I can see its attractions to the fashion conscious and those in search of a smaller DSLR-type machine.
Lack of any sort of grip will restrict this camera to only the smaller MZD range of lenses. I can't see it being comfortable to use with the MZD75-300 for instance and you would certainly need the VF-2 fitted to the shoe for stability.
No on-board flash seems like a retrograde step and will lead to some derision. I suppose if the objective was to reduce the size from the current E-P2/3 range and they have installed a different shutter mechanism there simply may not have been the room.
Again, the company is marketing a tiny add-on flash about the same size as the on-board one. I can't help but think this strategy might lose customers coming from compacts that nearly always have an on-board flash.
The tiltable screen is excellent and will be a boon for difficult framing and architectural shots.
The higher speed shutter will be welcomed by many coming from traditional DSLR's. To me it seems a strange choice to put the improved shutter in the Lite version of the range. There is no information on the anticipated shutter life but I would guess 50,000 actuations.
The E-PL3 is due out in September 2011; price not yet determined.


---
PEN E-PM1
Another surprise from Olympus though perhaps we could have predicted this as the company's response to the Panasonic GF-3. Again, a further reduction in size and weight which seems to be the current trend for non-traditional DSLR-type machines. Actually there comes a point when cameras can be too small to be usable - many complained the OM1 was too small for comfortable use. But I can see Olympus' strategy here - to appeal to the current advanced compact user the 'step-up' in size must be attractive. On the other hand those stepping DOWN from traditional DSLR's will find this camera far too small and 'toy-like'. It's a difficult balance to strike and that Olympus have differentiated their range by size and then features is, I suppose, one way of offering a structured range of choice to the user.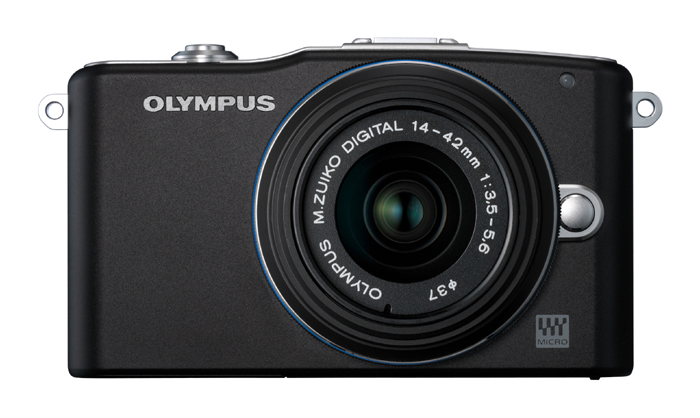 Above: New E-PM1 full frontal with new MZD14-42mm IIR. Looking almost the same as the E-PL3 (just a tad smaller) from the front, the big surprise is the remarkable slimness of this model; it is more akin to the acclaimed Olympus XZ-1 than the PEN series and is the smallest in the current range (and in the world according to Olympus). This camera is aimed at those wanting the smallest possible camera with high output imaging of larger sensor chips and is designed to appeal to the true fashion conscious with its six colour choice of finish (purple, silver, white, pink, brown & black).
E-PM1 (PEN-MINI) HEADLINE FEATURES
SMALLEST PEN WITH STYLISH BODY & SIMPLE OPERATIONS
SIMPLE PEN, WITH SLR ART IMAGE QUALITY IN AN EXTREME SMALL AND LIGHT BODY Carry the Mini anywhere to enjoy SLR Art Pictures.
LIVE GUIDE TO INTUITIVELY CONTROL BACKGROUND DEFOCUSING AND MORE Get SLR image quality in the auto mode, and easily control background defocusing and much more
EQUIPPED WITH SIX POPULAR ART FILTERS Easily enjoy artistic pictures by simply selecting an Art Filter from the menu
LIVE GUIDE CALL-UP FROM P/S/A/M MODES
SETTING OF LIVE GUIDE CALL-UP WITH FN BUTTON AS A DEFAULT
LIVE GUIDE OPERATES WITH THE TOUCH PANEL
6-COLOR VARIATIONS BASED ON THE LATEST STYLE TO SUIT VARIOUS LIFESTYLES
THE WORLD'S SMALLEST AND LIGHTEST BODY RENOWNED FOR ITS SLIMNESS
ADVANCED FLASH FUNCTION With the add-on external mini-flash unit the camera has full flash functionality (a) GN10 (ISO200) (b) Wireless flash control function (group luminescence with the add-on and external flash unit) (c) manual mode (Full, 1/2, 1/4, 1/8, 1/16, 1/32, 1/68) for flash power settings.


E-PM1 A BRIEF LOOK AT THE RELEASED IMAGES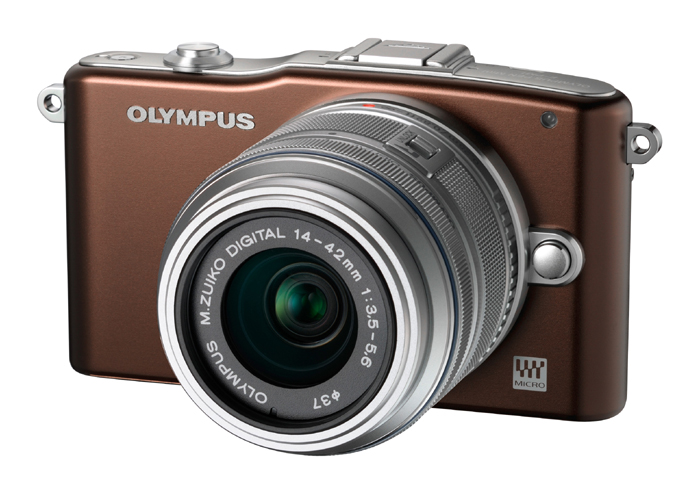 Above: New E-PM1 threequarter view with new MZD14-42mm IIR. The camera is available in purple, white, silver, pink, brown and black. Lenses are normally silver or black so users can mix and match.

Above: New E-PM1 top plate view. Here you can see the very simple layout and note no on-board flash. There's an ON/OFF button and shutter button but note lack of traditional PASM etc dial. On the opposite end ther's the L&R microphone pick-ups and the speaker. Very minimilistic.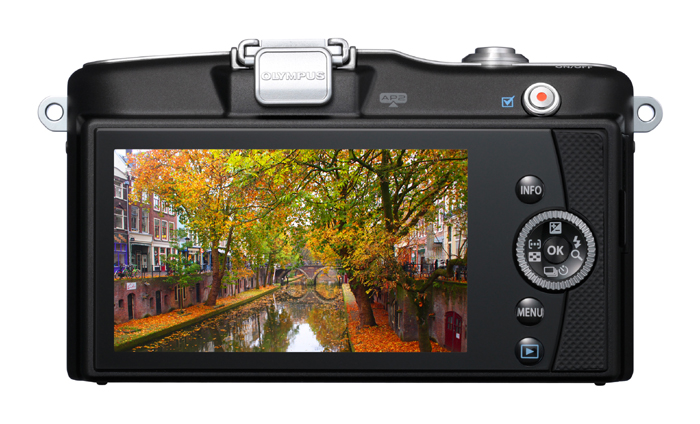 Above: New E-PM1 rear plate view. Simple and elegant - this camera is aimed at the novice user and/or those looking for the smallest package available, so lacks all the button interface chosing to rely on the availablity of the 'Live Guide' system via the Fn button. With only one mapable function button suggesting complete simplicity and much reliance on the touch sensitive rear screen interface.

Above: New E-PM1 composite showing the range of available colours. Not especially interesting to me (I prefer black cameras) but this camera is unashamedly aimed at the fashion conscious.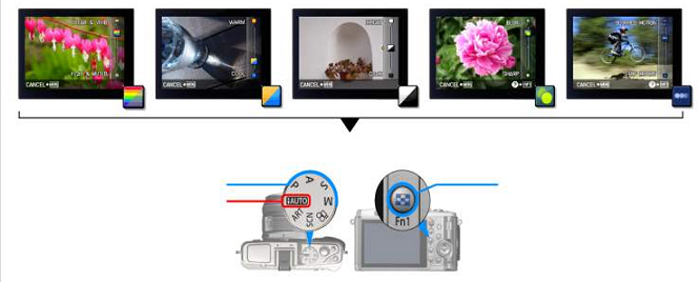 Above: Diagram showing the availablity of Olympus' 'Live Guide' system for direct control of functions like blurred backgrounds (depth of field), shutter speed, WB and colour etc. Automatically available in iAuto mode & PASM and by pressing the Fn (function) button on the E-PM1. This feature first appeared on the E-PL1 and is apparently popular with novice users. On the EPM1, whether this is the only way to control functions like aperture & shutter speed remains to be seen as the wheel around the 4-way looks overcrowded already.

Above: All three new cameras showing off the new FL-300R unit as well as the new wireless Mini-flash unit and the new flash control menu interface. I cannot make out whether there are two Mini-flash units or not. The mini-flash when fitted behaves exactly as the on-board flash on the E-P3.
PEN E-PM1 FIRST IMPRESSIONS
A Mini-PEN; I suppose we should have expected this model. Olympus have always been noted for their pursuance of miniturization (it's a pity they didn't apply this to the E-3/5!!). The E-PM1 distinguishes itself as being the smallest mirrorless camera available (at the moment).
Obviously aimed at those progressing from compacts as a first step towards a mirrorless DSLR-type camera; novice users and yummy mummies.
With a compact prime like the Olympus MZD 17mm or Panasonics 20mm fitted this really is a pocketable high Image Quality output camera.
Once again no on-board flash; instead we have an optional Mini-flash unit that uses the hot shoe.
The accessory port AP-2 will take all current Olympus accessories including the VF-2. I doubt folks will use this camera with the electronic VF clipped into the flash shoe.
I suspect lack of direct control over most functions will be a turn-off to the more experienced user.
Compared to a compact, the image quality from this simple and elegant mirrorless camera will be miles ahead.
The E-PM1 will be available early Autumn 2011 at a price yet to be determined.


---
TWO NEW MZD PRIME LENSES
Olympus gave us a broad hint last year they were working on some primes, and here they are. There's a 12mm x f=2.0 street photography wide-angle lens (35mm equivalent of 24mm) and a 45mm x f=1.8 portrait lens (35mm equivalent of 90mm). Certainly there's room in the MZD line up for more lenses for the growing range of PEN cameras. There's also a new MZD14-42mm IIR standard zoom and a MZD14-150mm IIR though I have been told the differences are purely cosmetic.


LET'S TAKE A BRIEF LOOK AT THE RELEASED IMAGES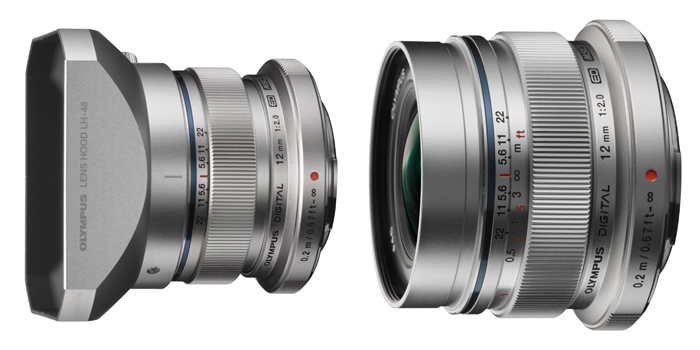 Above: MZD 12mm x f=2.0 wide-angle lens. On the left it's fitted with its rectangular hood (similar to the ridiculously expensive hood for the MZD 9-18mm) and to the right without hood and showing the intriguing depth of field scale which reveals itself when the lens is clicked from AF to manual. Hurray! At last a real and usable DofF scale. The lens is designated MSC (movie & still compatible).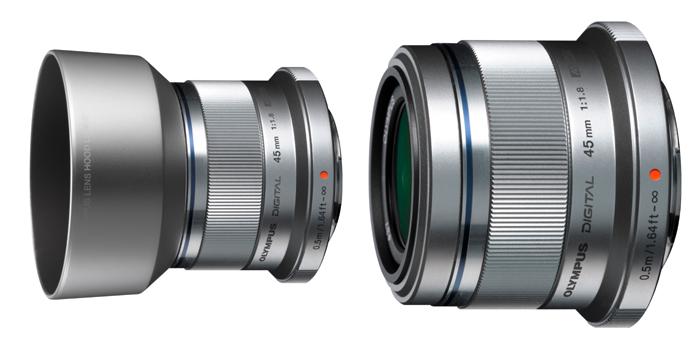 Above: MZD 45mm x f=1.8 bright portrait or medium reach telephoto lens. Olympus DSLR users will be very jealous of thei lens as they have been waiting for a dedicated portrait lens for the E-System for long enough. On the left it's fitted with its round telephoto-style hood and on the right without. I note there is no DofF scale provided on this lens. I wonder why Olympus chose this? The lens is designated MSC (movie & still compatible).
New MZD LENSES - FIRST IMPRESSIONS
First off both these lenses are made of metal not plastic/engineering grade plastic. They also have a classical almost Leica look about them. A metal construction guarantees longevity and I hope the AF mechanism is up to the job. Both are MSC designated so will have the least number of moving elements as possible which also guarantees fast auto focusing. Pricing is about what I expected; the 12mm will be available in July 2011 at about £700 and the 45mm available in September for about £300. Typically wide-angle lenses are more expensive to manufacture than telephoto's. And, typically, Olympus lenses, especially fast ones, are always expensive.
By far the most interesting lens of the pair is the 12mm x F=2.0. After many years of waiting here we have an 'old fashioned' design with a DofF scale incorporated! Olympus choose to call this type of lens 'Snap Focus' which, to me anyway, is a little confusing. Normally 'Snap Focus' refers to that moment when during manual focusing that the image 'snaps' into clarity on the SLR screen. The way Olympus describe the new feature is actually hyperfocal focusing where you set the lens aperture against the distance ring to give you the required amount of in-focus coverage. The larger the aperture size the less depth of focus is given and vice-versa. Ideally when street shooting you set your camera to the smallest aperture light permits (with suitable shutter speed and ISO) to give you the maximum depth of (things being in) focus. This way you simply point the camera at the subject without AF or composing and 'snap' away knowing everything between say 12' and infinity will be in focus. It allows virtual anonymity when shooting and is the favoured method of many classic street photographers.



Above: MZD 12mm x f=2.0 on the left in AF mode with no DofF scale showing and on the right in manual focus or 'SNAP' mode with the DofF ring showing. In the past virtually all manual focus lenses had this scale provided.
The 45mm x f=1.8 Portrait lens is a different animal altogether. This lens is provided with a maximum aperture of f=1.8 - the brightest aperture of any current Olympus lens including E-System lenses. It is designed to offer beautiful defocusing when taking portraits so any background objects are blurred away and no longer distract. At maximum aperture the lens will have a very shallow depth of field - it could be as little as 3-6" meaning anything infront or behind this focus range will be thrown out of focus. The fact the focal length is slightly telephoto (90mm equivalent) also exagerrates this effect. Accurate focus, normally on an eye, is absolutely essential. Using very bright lenses requires skill and practice but the results can be stunning.
I've got to applaud Olympus for introducing these two lenses - they are long overdue. They offer the photographer something not previously attainable within the previous lens range and is another small step towards the m4/3rds system becoming a serious challenger to traditional DSLR machines.
June 30th has proven to be an interesting day indeed! The design team at Olympus have been extremely busy, and it shows. In general I welcome today's announcements but in some ways am still a little confused as to the way Olympus choose to differentiate their products by feature. To me it would make more sense to offer the very best features (such as the faster shutter) in their top tier E-P3 and work down from that. However, I'm no marketing guru so what do I know?


PEN WORLD ACCESSORIES
Along with the above announcement comes some new accessories I thought you might be interested in. With each addition the PEN system grows - let's hope it continues and develops into a true system camera .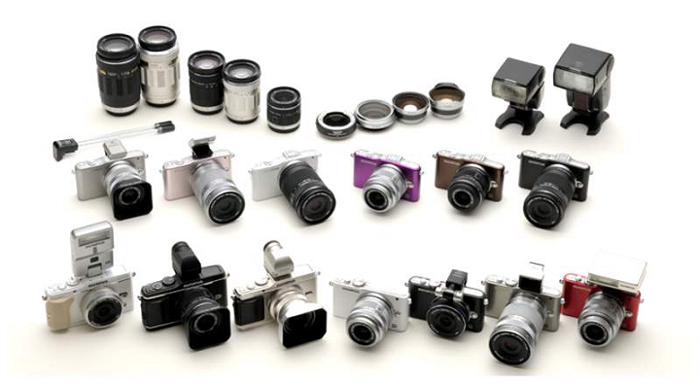 Above: Latest range of PEN cameras and accessories. In addition there are a range of 4 'Street Cases' 2 soft and in medium and large and two firm in small and large as well as half cases for all three cameras and a full case for the E-P3 in black or brown. For underwater fans there's a new U/W case for the PEN-Mini (PT-EPO6L) and the PEN E-PL3 (PT-EP05L). There's also a fully customisable aluminium case priced at £139.99!
I do wish Olympus well with this multiple launch and look forward to any review samples that may head my way. I'll give readers plenty of warning of any forthcoming reviews.
My thanks to Olympus UK for the images provided in this article.


LATE ADDITION - JAPANESE CAMERA MARKET SALES MAY 2011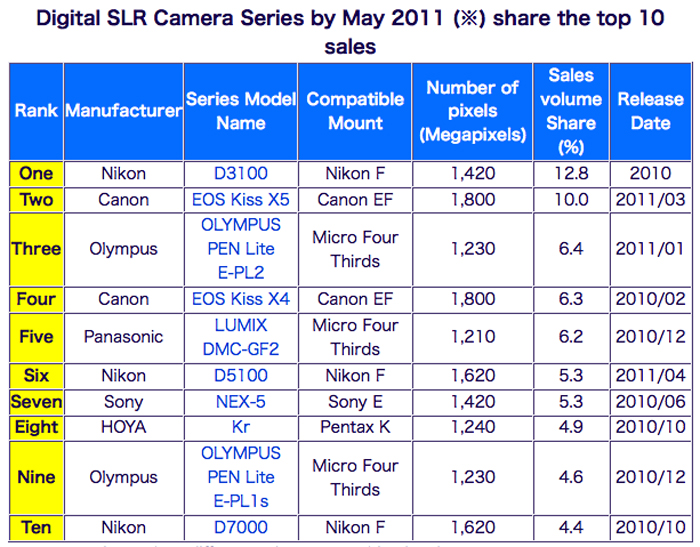 Above: Chart showing the to 10 camera sales for month of May 2011 in Japan.
Fortuitously I came across the above chart that shows the market share of top 10 cameras sold in Japan last month (May 2011). Some 31% of sales were of the mirrorless type and the leading seller in this group was the Olympus E-PL2 with 6.8% of sales and coming third in the total line-up against the number one seller, the Nikon D3100 with 12.8% of sales. The E-PL1s is in position nine with 4.6 of sales. That Olympus achieved half the sales of the all conquering Nikon must have proven very satisfying to the Olympus marketing people.
These results are for Japan only. The picture doesn't look so good elsewhere in the world with Olympus cameras not appearing in any of Amazons top 20 sellers in US, UK, Germany, France and Italy. Olympus still have a battle to fight.


---
---
| | |
| --- | --- |
| Posted June 30th 2011 | Copyright © 2011 John Foster/Olympus Imaging, Japan. |