---
AFTER THE SPECULATION & OLYMPUS' PROBLEMS - HERE IT IS; BUT WHAT IS IT?
8th February 2012 Announcement: Drawing much from the DNA of the famous Olympus OM system camera comes this new offering from Olympus, the new OM-D(igital) called the E-M5. Though it is a deviation from the previous PEN range it is still a Micro-FourThirds camera as opposed to a 4/3rds machine and as such has the m4/3 lens to sensor registration distance that accepts m4/3 lenses and 4/3 lenses only with an adapter.
My first question to Olympus UK when I was given the pre-announcement images and specification was 'Can this new camera operate 4/3rds lenses any quicker than existing m4/3 machines (does it have a PDAF sensor on the chip?) Unfortunately the answer came back "No AF improvement on 4/3 lenses I am afraid".
I was disappointed with this news; it seems that Olympus' promise of 'One beautiful system' is not here yet, and I suspect may never arrive as the engineers have already dropped a pretty big hint that this ambition might be more difficult to achieve than they first thought. So where does this leave the 4/3rds faithful? To me it looks like Olympus may have to continue producing a top-spec 4/3 camera such as an E-6 or E-7 if they are to abide by their previous promise that there will always be a body on which 4/3rds lenses can be used to full advantage. So, in that sense, the OM-D, as well as offering a top-spec m4/3 machine (weatherproof), also guarantees the continuation of the 4/3rds line, albeit with one camera only!
However, it does prove that the camera division in Japan is working hard to expand their money making m4/3 camera line and are confident enough to move away from the PEN concept and into a new realm of camera - a true system camera. So this is good news as well.
As said the camera draws heavily on some design aspects from the defunct OM system, the brainchild of Yoshihisa Maitani. I can see many influences here from OM4 through to OM2000 (sacriledge)! The EM-5 will be available in two finishes, black and chrome. The chrome version reminds me of the double digit OM cameras OM10, 20, & 30, whereas the black is a cross between OM3/4 and OM2000 (not a true OM machine).
That said this is no OM clone. It merely suggests its heritage. There is no shutter speed dial around the lens throat and no aperture dial adjacent to this when the lens is mounted. The prism hump is too tall and flat. But it does share a metal chassis construction which will give the body rigidity and durability and it exceeds its OM DNA by being weatherproofed. This is a digital camera with all the bells and whistles we've come to expect from this 21st century technology, not the simplicity of form and function that came with 20th century classic analogue machines.
As for the name, I've got to admit some confusion unless Olympus is seeing a complete new range of OM-D cameras and this is the first incarnation called the E-M5, and not a psychological replacement for the E-5. The name suggests that there will be more models and even grades within that structure (ala true OM). If so I look forward to this development and hope the OM-D does well for the company.


THE MANUFACTURERS SPIEL
Speed and sophistication, sublimely packaged - welcome to the next generation: Faster, sharper, smarter: the dust and splash-proof Olympus OM-D, with game-changing IS, electronic viewfinder and stunning new lenses
Olympus is taking the forty-year pedigree of the OM series into the next generation with the launch of the OM-D, featuring the world's first*1 5-axis image stabilisation (IS) system to eliminate blur in stills and movies. See the blur reduction effect live via the fast electronic viewfinder, while simultaneously benefitting from the fastest*2 auto-focus of any interchangeable lens camera (including all D-SLRs) with a further refinement of the world-beating FAST AF (Frequency Acceleration Sensor Technology) also found on the popular PEN series models. The camera's innovative new 16.1 megapixel high-resolution Live MOS Sensor works in tandem with the powerful TruePic VI image processing engine to achieve outstandingly refined image quality and high sensitivity.
The integrated 1.44 million dot high-definition electronic viewfinder lets the photographer to check manual adjustments to brightness and colour tones on-screen and with a new interface for exceptionally easy viewing. This faster, sharper, smarter camera comes attractively packaged in a durable dust/splashproof magnesium-alloy body that lets the OM-D go-anywhere.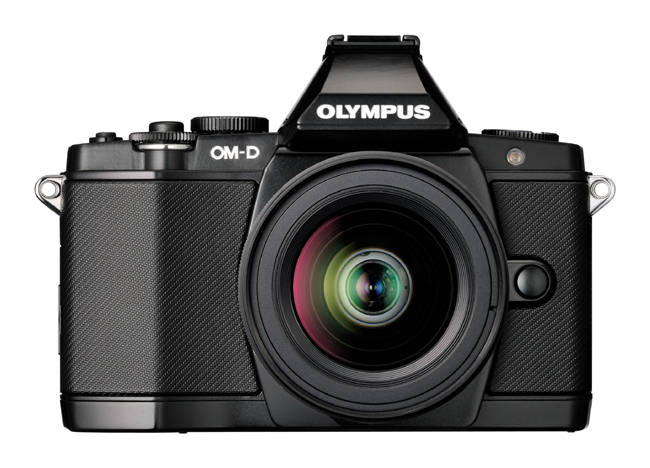 Full frontal E-M5 with 12-50mm MZD zoom lens.
New accessories such as the optional HDL-6 power battery holder grip, MMF-3 Four Thirds mount adapter and FL-600R electronic flash add to its adaptability, while two new lens options - the M.ZUIKO DIGITAL ED 75mm 1:1.8 and the M.ZUIKO DIGITAL ED 60mm 1:2.8 macro - are under development and will extend creative applications for the user.
The OM-D (E-M5) comes in a silver or black body.
The OM-D is available from April 2012 as a kit with the M.ZUIKO DIGITAL ED 12-50mm 1:3.5-6.3 for £1149.99. Body only price to be confirmed.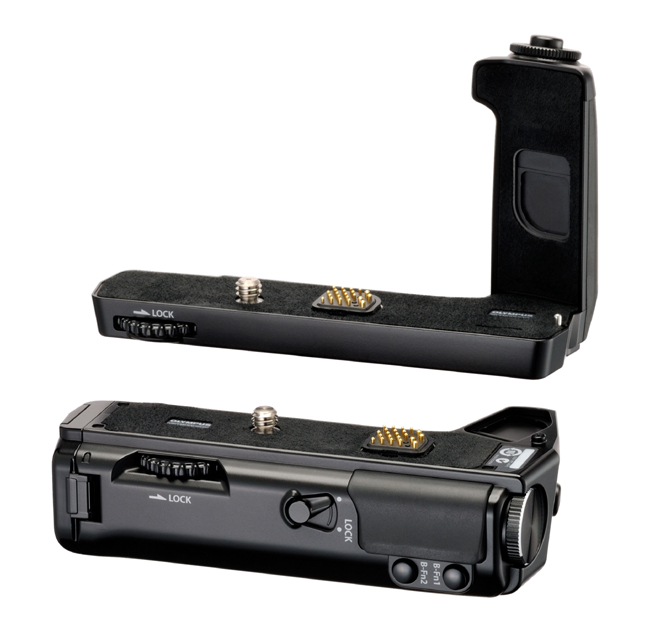 New two stage grip/battery holder. The old OM motor drive was similar where the thinner part conatined the driving mechanics and the thicker lower portion held the power source. The new grip can be used singly or stacked. The thinner portion offers a horizontal aspect shutter button and the thicker, lower section gives more power reserve and additional function buttons and mode dial.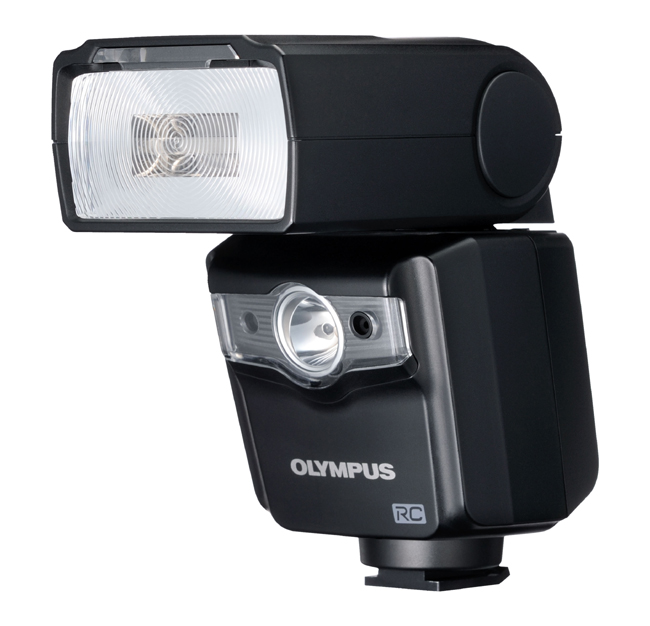 New flash gun with GN of 50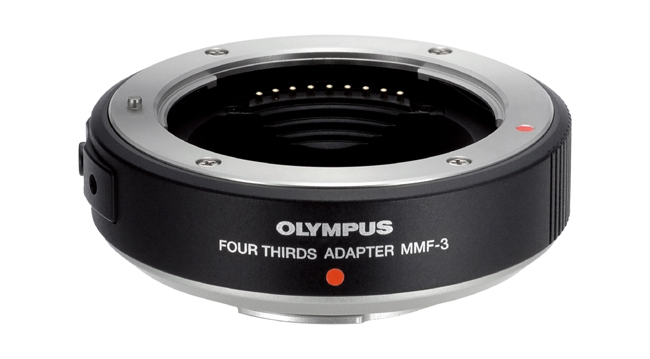 New 4/3 lens adapter which is now weatherproofed. Other functionality is not known at present but it appears exactly the same as previous models.
OM-D HEADLINE FEATURES
1. Speed - the world's fastest FAST AF auto-focusing system plus 3Dtracking for improved moving object tracking performance
2. 16.1-megapixel new Live MOS sensor, for high resolution and excellent low-light performance
3. 1.44 million dot high-definition electronic viewfinder, with unique optical design to reduce vignetting, 100% field of view and very short display time lag
4. Powerful TruePic VI image engine, for faster recovery time and excellent image quality (still image shooting sensitivity as high as ISO25600)
5. Ultra-effective in-body image stabilisation using the world?s first 5-axis IS, for blur-free movies and stills with any lens
6. Compact, lightweight body in the tradition of the famous OM series, in magnesium alloy and enhanced with proven dust-/splashproof capability
7. Fully compliant with the Micro Four Thirds System standard
8. Additional lens options under development - the M.ZUIKO DIGITAL ED 75mm 1:1.8 and the M.ZUIKO DIGITAL ED 60mm 1:2.8 macro
9. Tilt LCD (3.0-inch swivel-type OLED monitor, capacitive touchscreen panel with fast response)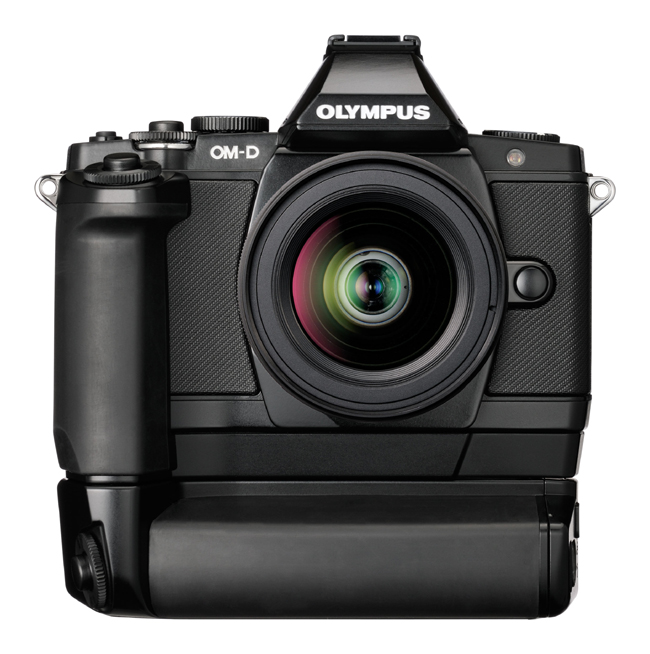 Full frontal EM-5 with double stacked grip. Slightly smaller than the OM analogue camera with winder attached.
Superior speed
Experienced camera users will appreciate the advances in camera speed on the OM-D, with the FAST (Frequency Acceleration Sensor Technology) AF system, a world-beater also featured on the PEN E-P3, driving the Live MOS Sensor at 120 fps. The speed of communications for controlling the lens action has been improved, while the MSC (Movie & Still Compatible) system has also been adopted for AF speed increase and noise reduction in the lens. In sequential shooting, the camera is capable of operating at an impressive 9 fps, and even with focus employed it can perform at a maximum speed of 4.2 fps. Users are also sure to appreciate the noticeable reduction in Live View return time after release. This has been achieved by using independent image-processing cores for the recorded images and Live View images, as found in the new TruePic VI engine, since the output to the rear-panel monitor or electronic viewfinder is no longer dependent on completing recording of the captured image.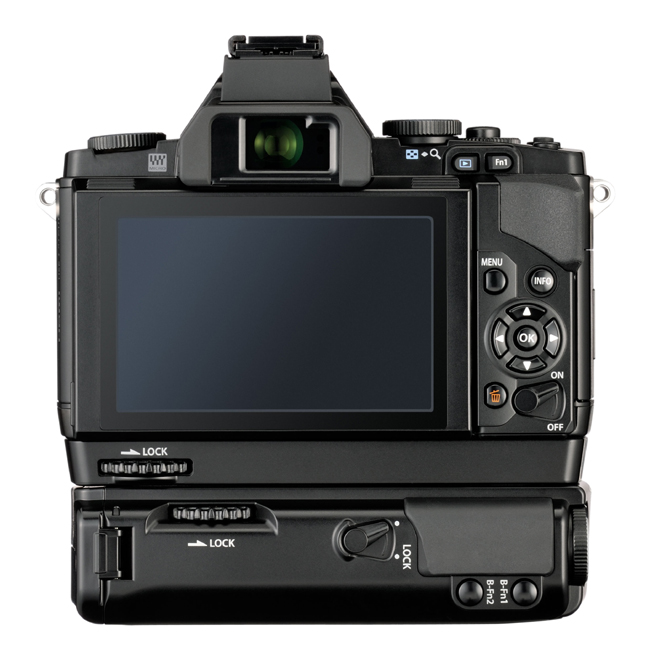 Rear aspect of new E-M5 with grip. The rear screen tilts up and down but no swivel action. Note the twin locking nuts for attaching each part of the two stage grip - ingenious.
Superior image quality and colour reproduction, plus Art Filter enhancements
The new High-Speed Live MOS Sensor on the OM-D comes with 16.1 megapixels, and allied to the TruePic VI image processing engine it offers excellent noise reduction capability and still image shooting sensitivity as high as ISO25600. There's more faithful reproduction of a wide brightness range, thanks to the expanded dynamic range. Fine Detail Processing technology, first seen on the E-5, eliminates moiré and pseudo-colours, while Real-Colour Technology is used to reproduce previously hard-torender colours such as emerald green. The OM-D offers a new 'Key Line' filter to enhance edge lines, allowing the picture to look more like an illustration; there are two variations, providing different-strength effects. Art Filter Bracketing enables the user to generate multiple pictures with different Art Filters from a single shot - all features designed to inspire the user to experiment and become more creative in their camera use.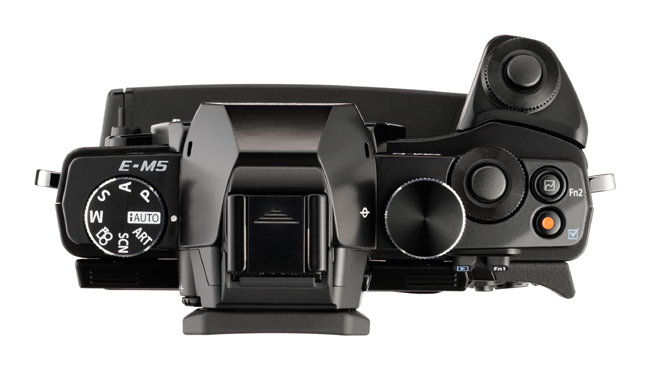 Top plate view of E-M5 with grip mounted - notice twin shutter buttons.
Superior viewfinder quality
The 1.44 million dot high-definition integrated electronic viewfinder is a first on an Olympus interchangeable lens camera, and is sure to prove a strong selling point. It features a 100% field of view and max. 1.15x magnification, with an 18mm eye point. The optimised display time lag is a major benefit, particularly when shooting fast sports action, while the unique optical design means the image can be viewed clearly from the centre to the periphery with little or no vignetting. The camera's eye sensor can switch between the rear-panel monitor and electronic viewfinder automatically - a small but significant enhancement to ease-of-use. Information, including shutter speed, is displayed at the bottom of the viewfinder - allowing the user to concentrate on the framing operation. The electronic viewfinder, unlike an optical viewfinder, also assists in image composition, by allowing the user to check the effects of various manual adjustments and Art Filters. Extended through-the-viewfinder operation is further facilitated via a new interface, EVF Creative Control, which enables separate adjustment of highlight and shadow brightness, monitored using the viewfinder image with a tone curve overlay. White balance, magnification and aspect ratio can similarly be adjusted without the eye moving away from the viewfinder.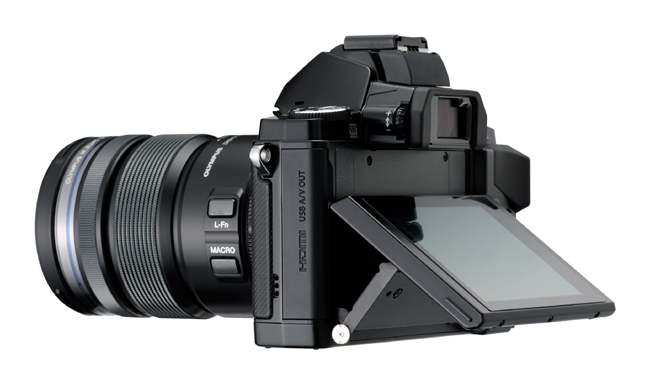 Rear three-quarter view of EM-5 with the rear screen tilted; fitted with the new MZD 12-50mm Zoom lens.
Superior, world-first 5-axis image stabilisation (IS)
The previous mechanism compensated for camera shake by dealing with two kinds of rotary movement, yaw and pitch. However, camera shake is actually caused by five different kinds of motion, and the new IS mechanism now also corrects effectively for horizontal shift, vertical shift and rotary motion (rolling). Particularly when shooting at larger magnifications (macro shooting), the user will appreciate the value of being able to correct blur. The OM-D also comes equipped for shooting on the move, as multi-motion IS with wide frequency-band compatibility compensates for shake.


As I understand it the new camera comes with a small pocketable flash (GN10) - same idea as the Pen EPL-1 etc. Here it is raised. I'm also pretty sure the small E-PL1 PEN flash fits/works with this camera.
Superior movie functions
The camera's built-in IS has evolved into the MSC (Movie and Still Compatible) IS system, offering improved stabilisation of movie images. Users who like to perform their movie post-editing on a PC will particularly appreciate the Full-HD movie recording function which adopts the MOV format (MPEG-4 AVC/H.264). It allows a recording time of about 29 minutes. Traditional AVI (Motion JPEG) format is also available. Linear PCM audio is used for both recording modes. One-shot echo and multiecho effects can now be added to movies, adding to the user's creative options.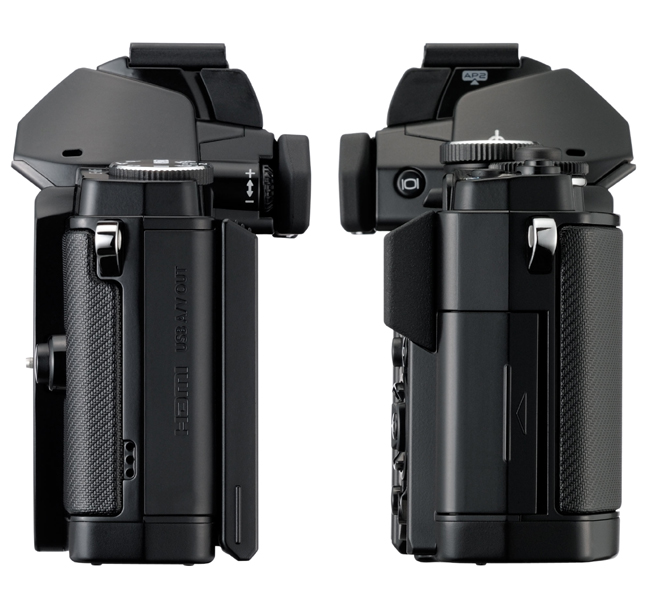 Side views of the black EM-5 showing the various ports and access bays. Notice how far the thumb grip protrudes from the back.
Superior ease-of-use and reliability
Alongside the enhancements to facilitate operation while working through the viewfinder, the OM-D also features a 3.0-inch OLED rear-panel monitor that can be tilted by max. 80° upwards or max. 50° downwards, to assist when shooting from high and low angles. It uses a special layout of 610,000 dots and can display video data equivalent to VGA, while its capacitive-type touchscreen has a high response speed that enables intuitive operation with finger-tip focussing and shutter release. In a further development facilitating ease-of-use, the Live Bulb feature updates the Live View image on the rear-panel monitor at preset intervals during bulb shooting. It also allows the user to assess the final image during the exposure and to adjust the exposure time accordingly.
The OM-D is a camera to rely on, even in demanding conditions. It makes extensive use of shields and has a tough dust-/splashproof construction. To facilitate use of interchangeable lenses, Olympus has developed the SSWF (Super-Sonic Wave Filter). Installed in front of the image sensor, it is activated as the camera is switched on to remove any dust attached to the image sensor by generating supersonic vibrations.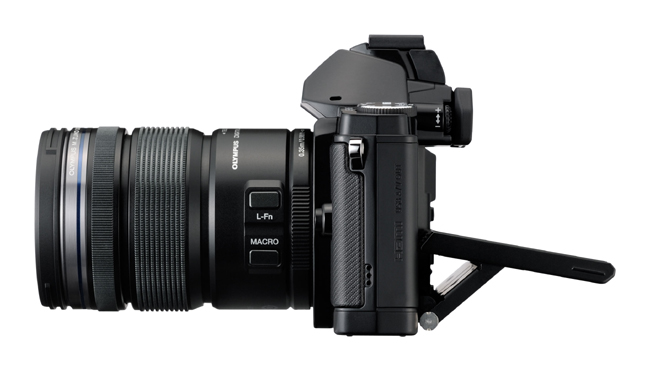 Side view of camera with the new MZD 12-50mm lens fitted - notice the macro setting switch!
Superior lens options
The OM-D is compatible with all MFT Olympus lenses, which will be supplemented by two new lens options later this year: the M.ZUIKO DIGITAL ED 75mm 1:1.8 and the M.ZUIKO DIGITAL ED 60mm 1:2.8 macro. The 75mm lens is in a high-quality metal design and affords fast aperture settings for portraits and indoor sports shooting, while the dust and splash proof 60mm lens features 1:1 macro and a closest shooting distance of just 0.19m. Lens prices will be announced later.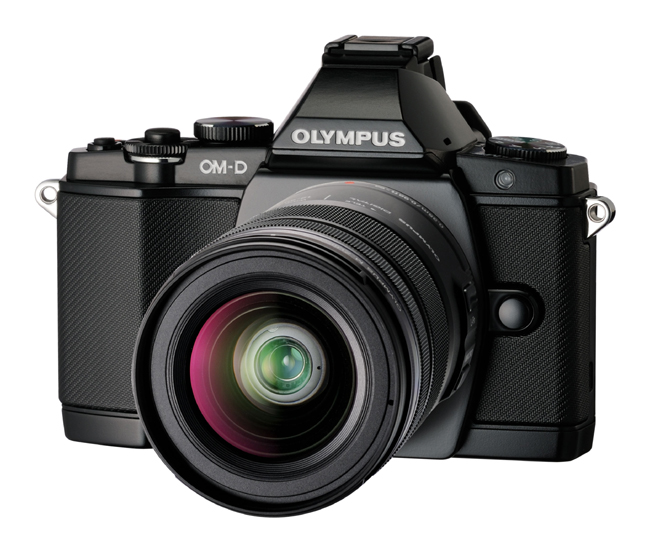 Three-quarter view of EM-5 with MZD 21-50mm Zoom fitted.
Accessories (Prices to be announced)
HLD-6 power battery holder grip, in the same dust/splashproof construction as the OM-D body. This innovative, adaptable two-part grip can be used either as a landscape grip, for easier camera handling, or (with the second part attached) as a portrait grip with an additional shutter release. The portrait grip accommodates an extra lithium-ion battery to supplement the one in the OM-D, thus extending battery life. Used together, the camera can record about 650 images (CIPA test standard).
FL-600R electronic flash (GN 50 at ISO200 or GN 36 at ISO100), with improved recharge time and enhanced flexibility and operability for movie recording, and with a wireless control option. The flash is equipped with an LED that can be used to light movies and as a brighter AF auxiliary light.
MMF-3 four thirds mount adapter. Designed for mounting a four thirds lens on a micro four thirds camera body, the MMF-3 features the same dust-/splashproof construction as the camera. It is ideally suited for use with similarly dust-/splashproof "Pro" and "Top Pro" series lenses.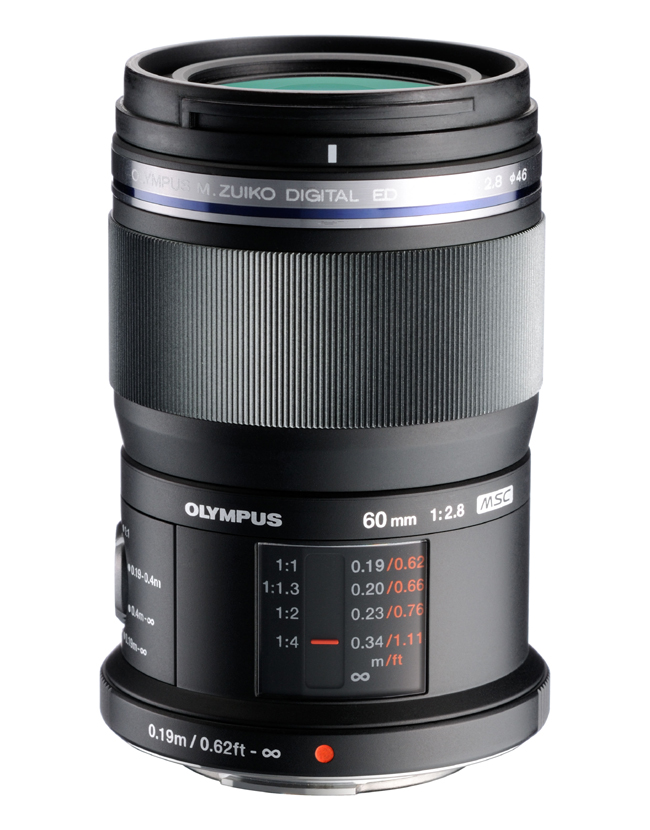 Details of new MZD 60mm x f=2.8 Macro lens.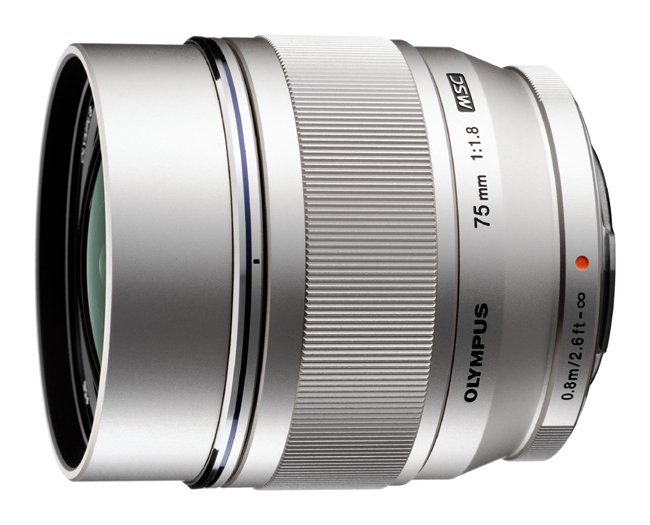 Details of new MZD 75mm x f=1.8 fast Portrait lens.
MY TAKE ON THE NEW CAMERA - FOR WHAT IT'S WORTH
As a great fan & user (& collector) of the original OM System this new camera pleases me in some ways, but in others exasperates me. Here I'm speaking as an early adopter and huge fan of the original 4/3rds camera system, that I genuinely believe could have been much greater over the last 9 years if only it had been developed and marketed better. The OM-D is, in many ways, what 4/3rds should have delivered in 2003 or shortly thereafter. After all it was Olympus who promised us smaller and lighter system cameras and lenses within the 4/3rds standard, and yet we ended up with the behemoth E-5 and some whopping fast zoom lenses. It just seems a liitle unfair on the 4/3rds faithful that their system is now almost a dead-end and the lenses they paid so much for are not fully operative on m4/3rds machines such as this one. It seems that Olympus was too eager to abadon the original 4/3 concept after Panasonic had shown them the way with micro-fourthirds. I truely hope Olympus will abide by their promise to always offer a camera body that will use 4/3rds lenses to their full extent and look forward to the next incarnation of the E-System. However, rant over.
Olympus have delivered a superb 'classic' styled camera that I hope will be the start of a true system camera, just like OM. For those just starting the OM-D could offer much if it follows the ethos of OM. The new lenses rather hint at the promise of more to come and are of a high standard of speed and sharpness and weatherproofing, as only Olympus can make.
The OM-D's size and weight seem just about right to me but I'm anxious to compare the camera in hand to my favourite of all analogue cameras, the incomparable, simple, and virtually perfect, OM2n. From the images seen so far, it is very hard to judge size, shape, feel and heft and although it may appear to be OM size it might be a little too small, so I'm reserving my judgement until it's actually in my hands. It does however, show its famous DNA and I have the feeling I'm not going to be disappointed when the new OM-D arrives for a review. With a new sensor and processing pipeline and the internal viewfinder technology from the VF-2 as well as a tiltable screen for macro work, it promises much. How I hope it delivers.
FINAL THOUGHTS
If the OM-D is the first in line of a 'replacement' OM type system the company will have to keep ahead of the game, unlike with the PEN and E-System camera range, and continually strive to provide the latest in sensor and other technologies rather than relying on an older solutions for several years. Whether Olympus like it or not, the market place is driven by 'the next big thing' and 'keeping up with the competition' and they have suffered badly from not participating in the MP race (ala E-1 and PEN) as well as falling behind in the AF and DR stakes. Just telling folks that 12MP is sufficient is simply not good enough when the company price their cameras so highly.
All that said, I genuinely hope the OM-D is the start of something really big for the firm that will bring long awaited success and profit to this venerable and innovative company and take the pressure off the camera division. Olympus nearly brought about thier own demise - let's hope the OM-D will rise like a Phoenix from the ashes.
I'll be posting my full review of the E-M5 in due course and I suspect I may even be digging deep to buy one too!
SOME OLYMPUS FEEDBACK
Mark Thackara, Olympus UK Marketing Manager has sent me this statement in an effort to clarify the position regarding 4/3rds lenses on m4/3rds bodies and the future of 4/3rds in general -
"No one has ruled out improvements in performance of 4/3 lenses on MFT, we are just not there yet. Add to that, the already stated commitment to support the 4/3 system and it is fair to say that we are fully behind everyone as far as we can be. Personally, I think it is right to prioritise getting the MFT system as strong as it can be since there is no doubt that it is one future for many people. It ticks an awful lot of boxes. It is easy to nitpick around the OM-D but I think we have addressed most of the requests made by Olympus enthusiasts. It is lovely to hold! So what next - well we will continue to try and do the best for everyone whilst striving to break the hegemony that exists in the market by coming up with genuinely innovative products. Can't say fairer than that"
OLYMPUS FREE GRIP OFFER WITH PRE-ORDERS OF OM-D
In a nod to the 40th anniversary of the original OM, Olympus are offering customers who pre-order the chance to claim the ingenious two part grip and battery pack free! Talk to your local Olympus Pen Elite Centre, Warehouse Express, Amazon, Dixons Black Stores and selected Jessops. Pre-order the camera and Olympus will ship the grip to you on delivery of the camera.
See the OM-D first at Focus on Imaging or find out more at www.olympus.co.uk. The OM-D is available from April 2012 as a kit with the M.ZUIKO DIGITAL ED 12-50mm 1:3.5-6.3 for £1149.99. Body only price to be confirmed.