Please Note: Any RAW files I provide can be manipulated with Olympus Viewer 3 version 1.1 (latest version). I'd recommend Viewer 3 over other softwares (for now) if you want the latest RAW development capabilities and support for new cameras. If your current Olympus software is outdated the upgrade(s) can be obtained from within the software itself through HELP/UPGRADE SOFTWARE tab while connected to the Internet. You will need your cameras serial number.


Having tried several RAW developer softwares I prefer Olympus Viewer even though it can be slow and lacks some sophistication. I use Viewer for all my RAW manipulating needs; I believe it gives the best results for colour rendition and general tweaking. However, as regards sharpening and noise reduction, there are much better softwares out there. Look at the on-line forums for recommendations. That said out of camera jpg's are so good these days I tend to use jpg's for most of my work but set the camera for jpg and RAW in difficult conditions. This gives me all I need.


Updates 29/10/13 - added reader feedback - section 6 (bottom of review) some text additions.
Updates 12/11/13 - additions to eye-piece surround section 1[c] and Live and Super Control Panels - section 1[j].


OM-D E-M1 CAMERA MANUAL I strongly recommend you download and read the pdf version of the official E-M1 162 page manual (4.67MB) here. The camera comes with a basic manual only.


---
INTRODUCTION
This is my first look at the E-M1. I have no idea how long I will have the loan camera for so I'm devoting this web-page to the camera's claim to be the successor to the Olympus E-5 DSLR. To do this I'm looking at those areas of performance that will primarily concern 4/3rds devotees rather than existing micro4/3rds owners. I'm hoping to undertake a fuller review later. For now I'm going to concentrate on four main aspects:
1. the all important 'first impressions' with a quick look at control functions, knobs and buttons; menu
2. general ergonomics; the efficacy of the electronic viewfinder; battery life
3. performance and handling using the MMF type adapter and a series of 4/3rds lenses; performance with native m4/3rds lenses; image stabilisation system
4. image quality; high ISO performance; other features new to E-M1
If I have enough time I will undertake a fuller review.
The E-M1 is a sophisticated machine capable of video as well as still photography. I do not pretend to be versed in video/movies; nor do I have any more than a passing knowledge about making and processing video. So I am sticking to still photography which, I believe, (and Olympus underscores) is the fundamental purpose of this camera.


BACKGROUND
The OM-D series was introduced to us through the E-M5 about 18 months ago and stands above the Pen series. The E-M5 was the first in a series of micro-fourthirds machines aimed at the advanced amateur with the promise of a further machine at the Professional level later in the series - this is the E-M1. Those of us who subscribed to Olympus' Four-Thirds camera system have been denied any follow-up to the E-5, let alone any of the lesser iterations for several years. We have been concerned that our beloved 4/3rds lenses were not fully supported by m4/3rds machines. Yes the lenses will mount via the MMF adapters but the AF performance was lacking for all but landscape, table-top and macro work. Resonating in our collective minds was Olympus' promise to always provide a body capable of FULLY exploiting 4/3rds glass and Toshi Terada's promise of One Beautiful System.
When no replacement to the E-5 was forthcoming Olympus hinted that an E-7 was being prototyped even though they had always maintained m4/3rds was their preferred option. So the 4/3rds faithful held their nerve and waited. And waited. And waited.
We now know the truth. Olympus trialled a prototype E-7 alongside a new micro4/3rds professional grade camera which, they believed, could compete with and even out-perform the E-5's successor. Both machines were sent to selected photographers the world over who reported back their findings. It became apparent to Olympus that the new m4/3rds machine was damned good - in fact most testers reported it to be better than the E-7. Of course no-one knows the specifications, design or capabilities of the prototype E-7 but we must accept that Olympus would have made it a true E-5 replacement with the same imaging chip and pipeline as the E-M1 but in a traditional DSLR body with an E-3 type viewfinder, mirror and PDAF sensor. That being so I can fully understand why it took so long to get to the E-M1 announcement.
This brings us up to date. Olympus have announced their new OM-D machine, the E-M1 and told us, categorically, that it IS THE E-5 REPLACEMENT and it is actually better than the prototyped E-7 in many ways. Their engineers have satisfied themselves the E-M1 is a worthy replacement to the E-5 because it does everything the E-5 does, better. It is professional grade, drip and dust proof (throw in freeze proof too), can utilize 4/3rds lenses as well as the E-5 via a new twin AF system, has a larger and more sophisticated viewing system, produces imaging superior to the E-5, is smaller and lighter and can use the growing arsenal of rapid focusing MZD m4/3rds lenses.
So, is it true? Can Olympus be forgiven for spiriting away Four-Thirds but returning us this "one beautiful system"?


HEADLINE FEATURES
New CMOS 17MP sensor; 16MP effective (4/3rds size and 4:3 aspect ratio) sensor manufacturer Sony
True-Pic VII Third generation Fine detail processor
Electronic Viewfinder with 100% coverage with 1.48X magnification
EVF resolution: 2,360,000 dots
Manual focus assist plus focus peaking
5-AXIS Image Stabilization
ISO range 200 - 25600 with lowest ISO equivalent to 100
Extended HDR feature plus in-camera blending
3" tiltable touchscreen LCD
Twin Control Dials with dual mode function
Movie mode Max: 1920 x 1080 at 30 fps
Up to 10 Frames per Second in photo mode
Twin AF Auto Focus system (contrast & phase detect)
Time Lapse function
Built-in WIFI feature
Single Card Slot: SD/SDHC/SDXC
HDMI compatible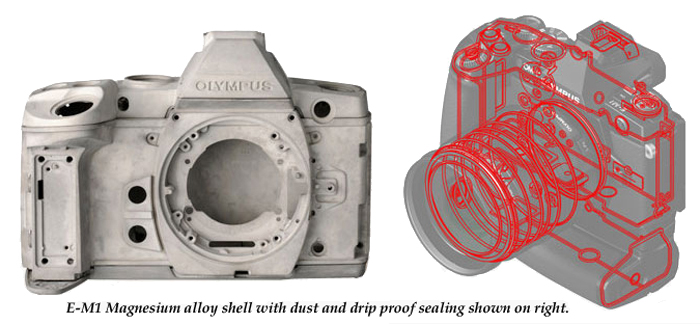 E-M1 body shell and 'weatherproofing' seals.
BOX CONTENTS DEPENDENT ON ORDER
OM-D E-M1 body only (only black)
Standard Kit Lens MZD ED 12-50mm f3.5~6.3 zoom with power focus ring
SHG Zoom Lens Kit MZD ED 12-40 f2.8 zoom
Detachable flash FL-LM2
Strap
Lithium-Ion battery BLN-1 and charger/cord
USB and AV cables (HDMI)
CD-ROM, Warranty Card and basic manual


---
SECTION 1: FIRST IMPRESSIONS; CONTROL FUNCTIONS, KNOBS AND BUTTONS; MENU
The first time you handle a camera can be quite magical. The way it presents itself; how it strikes the eye; how it feels; how it sits in your hands; how the controls fall to your fingers are all unquantifiable qualities that can affect your opinion of that machine forever. Some cameras have it, some do not. The old E-1 had it in bucketloads but the E-3 did not. This thing has it!
The E-M1 feels right and looks right. It is not 'pretty' but it screams functionality. It oozes class. This is a well thought out piece of gear. I can see the hands of photographers in this machines design. I keep picking it up as if to savour that first time moment, again and again.
This is a review sample, body only. I mount my MZD 45mm f1.8 lens and switch on the E-M1. Everything is up and ready to go after the briefest of pauses - maybe a second. The tiniest buzz from the IS mechanism is hardly noticeable and the rear screen is simultaneously illuminated. I bring the viewfinder to my eye and the auto-switch turns the screen off and the EVF on - instantly - no delay. The viewfinder is superb; I half depress the shutter button and the AF mechanism does its job so swiftly that its 'chirrup' and the green rectangle have come and gone before I know it - WOW! And the shutter noise is a beautiful susshhh-sush very much along E-1 lines but much quieter. Gone is the clacky E-3/5 noise and the resonant double whoosh of the 4/5/600 series. It is a more sophisticated sound than the m4/3rds series shutters too. This is a shutter sound a man can live with!
The body weighs 497 gm. With the 45mm prime fitted the camera weighs only 613gm. That's only marginally more than 575gm Zuiko Digital 12-60mm HG zoom alone. The E-M1 is not small like some of the Pen range but it's certainly not large either. I expected it to be about the size of the E-620 and it is very close albeit more slender (less thick) by quite a margin and with a better grip. Without a lens the E-M1 weighs less than the 533gm E-620 too. Compared to the 813gm E-5 it replaces the difference is enlightening (!) being some 316gm lighter (body to body). That's almost 40% less.
For those amongst us who are OM users/fans you can see the OM heritage in the E-M1. The On/Off switch on the E-M1 is a copy of the rewind/ISO and compensation dial with the Auto/Manual/Battery check switch of the OM4 Ti - same end of the top plate too. The viewfinder hump is very similar and whilst the E-M1 is a digi-cam its DNA is plain. The E-M1 is lighter than the OM4Ti, less wide by about 20mm, the same height and depth except the E-M1 has a substantial grip. If I was asked which Olympus camera does it closely resemble I'd say the OM4Ti.
OK first impressions over - let's have a look in detail.


IMAGES


1[a] E-M1 FRONT PLATE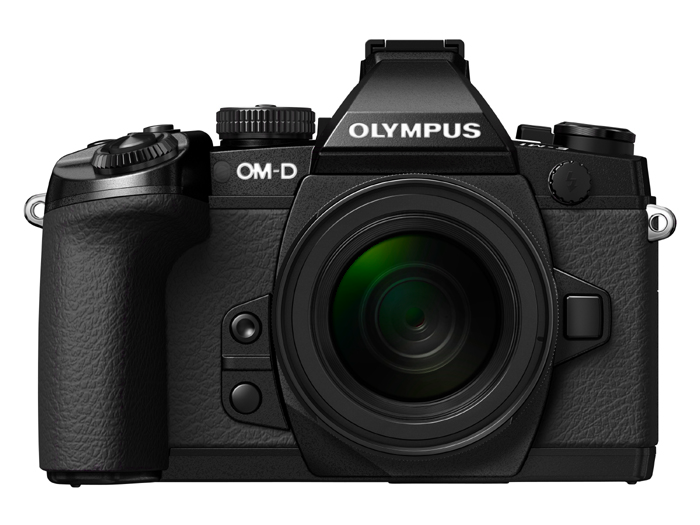 E-M1 is only available in black
This is fitted with the MZD ED 12-50mm 3.5~6.3 standard zoom (SHG 12-40 f2.8 not available until November)
Size wise it is between the E-450 and 620. Grip is quite substantial
NOTES
The textured finish is silky black (not shiny but not matt) with 'grippy' black vinyl coverings to all parts in contact with hands/fingers. The EVF hump is quite high with a flat top. There is no in-built flash ala most E-System machines. Flash is a separate pocketable unit.
Very modest nomenclature - OLYMPUS across the front and OM-D to the left. As it should be.
Next to OM-D is the orange AF illumination lamp - great.
No lettering to the 12-60mm lens dress ring, designed not to reflect when capturing macro images.
The lens release button is right of the lens mounting plate and black.
Twin programmable buttons to the left; bottom button DofF; top button one-touch WB (by default).
Above the lens lock button, in the top plate is the external flash synchro plug for tethered lighting/studio work.
Immediately above the viewfinder is the APT port that allows attachment of various accessories like the twin macro light arms. It is blanked off by a removeable bung.


1[b] E-M1 TOP PLATE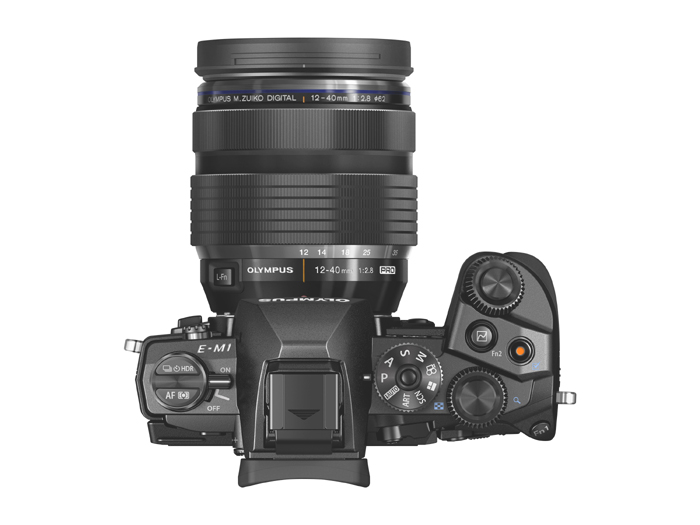 This (Olympus) image of E-M1 fitted with 12-40mm f2.8 Pro zoom
Four main control components; twin control dials (right), command dial (centre right) on/off etc switch (left)
Top plate buttons: 6 in all, see below
NOTES
Once again modest nomenclature; simple E-M1 to front left of top plate.
Top plate is very slim compared to E-System machines. At first glance it might appear crowded but it is extremely functional. The On/Off switch to the left also contains 2 eliptical direct access buttons - drive, timer, HDR on the front button and AF and metering mode on the rear button.
Centre above the viewfinder is the hot shoe sitting above the AP2 port.
On the right is the command dial with the normal PASM, Movie, Photo Story (new), Scene, Art Filters, iAUTO. In the centre is the lock button - a great feature that secures your dial where you want it at the press of the button (E-1 like but better). To unlock, press again and click the dial around its nine detents.
Immediately adjacent is the rear control wheel with Function 2 and Movie buttons in front then the front control wheelaround the shutter button. To the far right rear where the back corner of the top plate has been chamferred off is Function 1 button. Both control wheels are multi-functional and all buttons are re-programmable.
Low down on each side of the 'hump' toward the front are two tiny elongated holes for the left and right microphones.


1[c] E-M1 REAR PLATE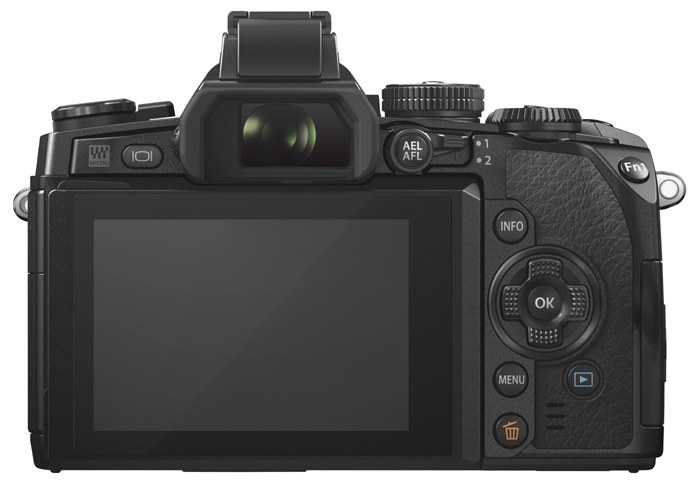 An uncluttered rear plate with thumb grip area
On the left the 3" tiltable screen in its closed position
On the right the normal 4-way with OK button, info, menu and delete button with review button far right
NOTES
The rear plate is quite straighforward with some new innovations. Dominating the rear is the huge 3" tilting 1.037 million dot (touch if you want it) screen. As far as I can ascertain it is not OLED.
Above the screen is the Electronic Viewfinder (EVF) rear pupil with its in-built eye sensor to switch between eye and screen. I'm not sure if its rubber eye-piece surround is demountable. Update - Yes it is replaceable, thanks to j-m Guillemaut who spied an EP-13 Eyecup for OM-D E-M1 Micro Four Thirds Camera in B&H Photo, US that appears to be more rounded with a deeper rubber surround. My experience of using the E-M1 on a bright day with the sun behind you suggests this deeper eye-piece will be useful to avoid the 'rainbow' effect of light leakage into the EVF from behind and for those of us who wear glasses.
Underneath the eye-piece rubber surround lies the dipotre adjustment - quite fiddly to operate but needs infrequent (if any) adjustment once set.
To the left of the dioptre is the button to manually switch the feed between screen and EVF.
To the right of the eye-piece is the standard AEL/AFL button.
Next to this is a new feature, a 2-way switch offering more functions to the front and rear control wheels. For example, by default, in position 1 the front wheel in A Mode alters compensation and the rear aperture; in position 2 the front controls ISO while the rear selects WB - brilliant. All of these functions against modes are selectable/programmable in the extensive menu system.
Above the 4-way is the INFO button that displays selectable information on the screen in any of the cameras modes.
Below the 4-way is the MENU button accessing the extensive menu system.
Below the menu button is the DELETE button.
To the far right is the REVIEW button allowing access to your stored images.
Below the REVIEW button is the camera's mono speaker.


1[d] E-M1 BOTTOM PLATE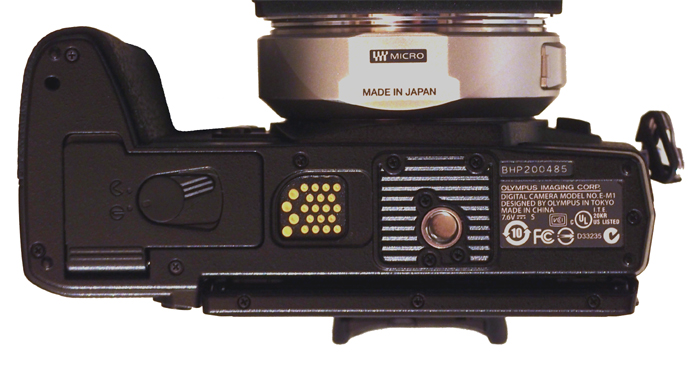 Looks similar to many older analogus SLR bottom plates.
NOTES
Like the E-M5 this camera sports the ability to accept a battery grip (HLD-7). The section in the centre is slightly recessed and provides the pick up points for the electronic/power connection for the grip (this is covered by a rubber grommet). Unfortunately the grip only holds one battery, which seems odd. It offers two control dials, two function buttons (all can be assigned various functions) and a shutter button. The camera can be programmed to exhaust the grip battery first or vice versa. At the front edge of the cameras in-built grip you can see an alignment hole for the HLD-7 grip locating end-pin.
The battery door is to the left and opens to reveal the BLN-1 battery. It is 7.6v 1220mAhr unit with CIPA rating of 350 shots.
Unfortunately the tripod bush is not in line with the centre line of the lens but at least it is kept away from the battery door making it just possible to replace the battery when on the tripod - depending on the size of your plate.


1[e] E-M1 SIDE PLATES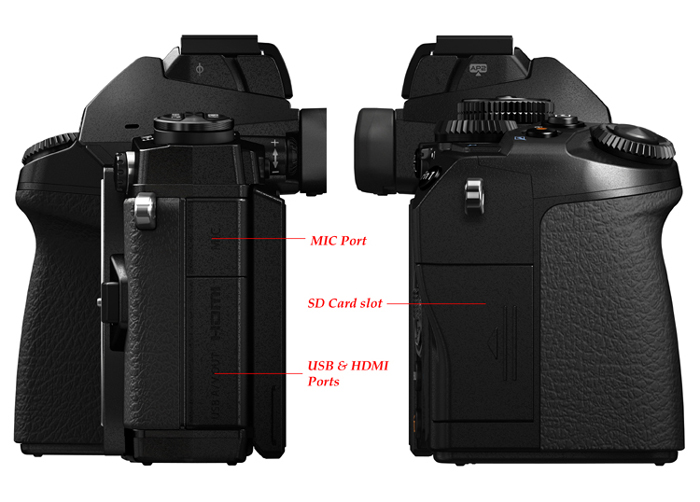 Here are views of either side of the camera showing various compartments
NOTES
The SD type memory card slot (single slot only) is palced on the users right side of the camera covered by a 'slide-out to unlock' hinged weatherproof cover ala E-3/5 design. Some users might find the single slot rather unfriendly being used to double slots allowing transference of images etc. It seems there is simply no room for a second slot of any format. We will have to either acept this or look elsewhere.
The card simply presses down into its slot and is automatically locked in place. To remove press again. The card fits with its pick-ups facing the back of the camera.
The 'communications' ports are placed behind two separate rubber weatherproof covers on the users left shoulder of the E-M1. Under the top cover is the microphone port and the lower cover hides the USB and HDMI ports. The screen must be moved outwards to lift the covers.
On each side of the camera are the strap lug mounts which stick out about 4mm. These hold the triangular strap holders. These are the only things I don't like about the E-M1. They remind me of the E-4XX series and do catch the hands and fingers when generally using the camera. However I can't see an alternative and I'm sure I'll get over this tiny dislike.


1[f] E-M1 LENS OFF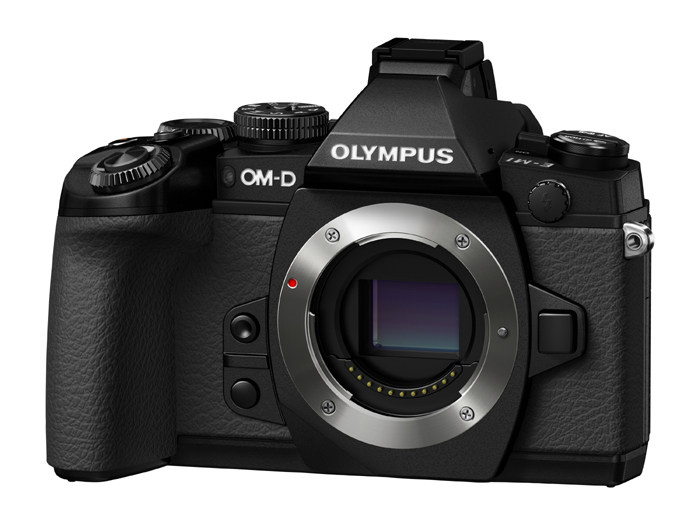 Shown above is the E-M1 with lens. You can see the sensor (well the SSWF dust buster anyway).
NOTES
This view of the camera gives you an idea of the size of the built-in grip. Because the camera is quite small the grip is relatively thin compared to the E-3/5 and maybe not quite as comfortable to wrap the fingers around. That said it is great to use and I can carry the camera by the grip depending on the lens mounted.
Here you can also see the m4/3rds sensor behind the clear cover of the Super Sonic Wave Filter that is Olympus unbeaten answer to dust on the sensor. Other makers have their own versions and though it is often plagiarized it has not been surpassed. I have been using 4/3rds cameras since 2003 and never required a sensor clean after many thousands of photographs. Yes I may have had dust on the 'sensor' but a few operations of the SSWF has cleared it wonderfully. Too many folks take the Olympus solution for granted - it is a superb answer to the annoying and ever present problem of dust. Electronic devices attract dust like a magnet. The SSWF shakes the cover in front of the sensor at a supersonic rate to rid itself of dust particles, resulting in clear imaging - brilliant.


1[g] E-M1 WITH SEPARATE FLASH FITTED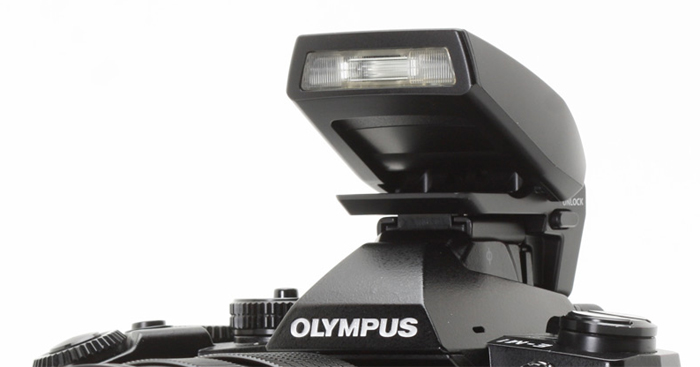 E-M1 fitted with the included pocketable flash FL-LM2
NOTES
The E-M1 is a small and compact mirrorless DSLR-type camera offering great functionality and deemed to offer more than its predecessor, the E-5. One missing piece is the integrated flash on most other Olympus DSLR's. This problem is addressed by providing a small pocketable add-on flash, the FL-LM2. This add-on has about the same strength as the E-5 on-board unit with a guide number of 10. Not powerful for any serious work but still very useful. It will also operate any wireless units.
Again some users may find this problematical. It's a matter of personal taste/preference. My own take is this solution is better than no flash at all (ala E-1) and the majority of small on-boards on the previous incarnations of the E-System were more about providing light for the AF system than a usable flash. To me the FL-LM2 is an acceptable compromise.
1[h] DIFFERENT LENSES ON THE E-M1
To see the full array of m43/rds and 4/3rds lenses on the E-M1 spend some time at Four-Thirds.org here .


1[i] BODY CONTROLS, KNOBS & DIALS, SCREEN, FLASH COMPATIBILITY, GRIP.
If you have handled either an E-Series camera or a PEN machine the controls of the E-M1 will be familiar. On the right-hand top plate is the usual MODE dial (PASM + iAUTO + ART, SCENE, + MOVIE & PHOTO-STORY) while on the top of the grip part are two control wheels with the shutter button placed inside the front wheel. There is a dedicated (but programmable) MOVIE button (red dot) and a tone-curve button giving access to highlight and shadow control via the control wheels. Add to this the twin functions of the control wheels via the 2-way switch and the programmable Fn buttons and the on/off switch with in-built direct buttons (2) on the left end and you have a competent machine. I think the number of direct control buttons (5) is spot-on as they offer control without menu-diving. But too many buttons can be confusing.
There is no dedicated compensation button. Instead and by default the dial around the shutter button gives direct access to compensation in most modes (A, S, P & ART). You can programme other buttons to that function. In fact all the buttons, dials and 4-way pad are programmable. But unless you have a very good memory I'd be wary of changing too many functions at once or you'll get no-where fast! Best do this over many weeks of use and in response to your own needs rather than reading what other folks have done.
On the back of the camera are the normal 4-way (customisable), the INFO button (multi-purpose), MENU and DELETE button (single purpose) and the REVIEW button (similar). Left of the EVF pupil is the MONITOR button that switches the rear screen feed off/on (only).
Some buttons are clicky, some not but all are well sprung giving good feedback. Some buttons are 'press to on' and 'press again to off', whereas others rely on a shutter half-press to switch the function off. My hands are quite large and I have no issues at all with the button size/movement/placement. My only small concern is they may be too small when wearing gloves or with especially large hands/fingers.
The screen is beautiful; unlike the OLED screens it seems accurate rather than too rich and contrasty. The tilt function is great for normal photography in landscape mode offering TLR-like composition and over-head shooting. But in portrait mode it offers no advantages. The screen is good enough to judge critical sharpness.
The screen is also touch sensitive, a feature I personally do not like. However you can disable this in the menu. When I tried the touch-screen I found the eye-detector near the EVF rear pupil would react to the presence of my hand when altering settings etc., and switch the rear display off. I found this very annoying. But my main objection is when simply handling the camera generally; it is too easy to alter a setting by mistake and not realise what you have done. It's OK on the tripod, in fact the touch screen is more convenient than the EVF, but not for general photography (for me). I know many folks love them.
The screen could use some sort of protection as it sticks off the its mounting plate. However, the viewfinder surround offers protection from above in folded position. It requires a high quality screen protection film fitting from new (most of these do not interfere with the touch function). You can programme how long the screen stays illuminated before turning itself off to conserve power.
Shutter button is light and responsive with a tactile feel.
I found the ON/OFF switch on the top left of the camera (ala OM4) to be perfectly fine in operation. You pick up the camera with both hands and the left hand thumb falls to the ON/OFF switch naturally. There's no ON lamp.
The viewfinder's dioptre is fiddly to use, but once set you'll not touch it again. On the right had side of the rear pupil surround is the eye-sensor that switches the feed between screen and EVF depending on the proximity of your eye. It's almost instantaneous in switching. You can also choose the 'style' of the overlay to the EVF; this offers a choice of how the exposure information is displayed on the EVF screen. I chose style 1 that mimics the OM4 type display into a blue strip at the bottom of a slightly reduced VF screen size.
All the controls and buttons are very well laid out and highly accessible. Once learned you can use this camera up to the eye without reference to its physical interface.
The E-M1 has the same electronic interface as all other E-System, Pen and OM-D machines so is totally compatible with the FL series of flash guns, old and new. Also equipped with wire-less flash connectivity it will utilise all the 'R' designated flash units. I tried the E-M1 with my FL-50 and tiny FL-20 which worked flawlessly. I have no 'R' series units.
The review camera came without an HLD-7 grip so I cannot comment on this aspect. From what I've read the grip only holds one battery BUT leaves the camera battery in place, unlike the E-3/5 and E-620 grips. So, overall, there's no difference in the amount of back-up power offered. The camera has a setting in the menu that dictates which battery is exhausted first, grip or camera. I'd be tempted to exhaust the grip first.
The grip adds functionality. There's one additional shutter button, two control wheels and two Fn buttons, all configurable. Interestingly Olympus have not gone down the two part grip ala E-M5.


1[j] ACCESSING THE MENU, LIVE CONTROL PANEL, SUPER CONTROL PANEL & OTHER FUNCTIONS
The E-M1 provides two main points of access to control the camera functions, other than the direct or customized buttons. First there's the main MENU that accesses every function available in the camera. Second there's a choice of two less complex and more intuitive overlays giving access to the main 'shooting' functions; a compact-camera style 'Live Control panel' and the Super Control Panel (SCP), beloved of E-System users. To enable your choice go to Cogs D/Control/PASM/and enable either or both (personally I have both enabled in PASM). Either or both are then available for display at a touch of the OK button in PASM (restricted in other modes). If both are selected the OK button brings up the Live Control Panel then the INFO button toggles between the Live Control Panel and the Super Control Panel. In previous OM-D and Pen models both panels offered exactly the same level of control but in different lay-outs. In the E-M1 each panel offers slightly different selections, though the main shooting functions remain identical.
SUPER CONTROL PANEL (SCP)
To operate the SCP merely scroll through the various functions with either the 4-way pad or control wheels and then press the OK button to bring up the different settings available within that function. Simple and intuitive. The engineers have improved the SCP by including a means of assigning functions to all 5 Fn buttons. Fn1 & Fn2, B-Fn1 & B-Fn2 and L-Fn1 subject to being fitted to the camera of course. This avoids menu diving and is quick and accessible. A really great, but easily missed, feature.
LIVE CONTROL PANEL
This overlay is reminiscent of many compact cameras (Casio in particular) showing a 'set-square' configuration on the screen with a vertical band on the right of the screen and a horizontal band on the bottom of the screen. As you scroll up and down the vertical band (using the 4-way pad or control wheels) each function is highlighted then the various settings available within that function appear across the horizontal band at the bottom - slightly quicker than the SCP but just as intuitive.
EVF/SCREEN SHOOTING INFORMATION
By default the shooting screen shows the basic parameters for the exposure; ISO, shutter speed/aperture, Mode (PASM) plus any choices you have made for your shooting preferences. But you can add to the basic information shown on the default shooting screen from the MENU.
You can determine exactly the type and degree of other shooting information available via the menu system (Cogs D/Info settings/LV-Info). Here you can chose between - Histogram, Highlight&Shadow (Blinkies), Image Only, Level Gauge. If you choose to have all four displayed you have to cycle through the four screens (five with the default screen) with the INFO button. Unfortunately you cannot have all 4 additional screens overlaid. Some users find this annoying but I can see the rationale - all four might lead to a cluttered screen/EVF. Personally I prefer the Blinkies to the Histogram so I have only three choices enabled, Blinkies, Image Only and Level Gauge.
For those unfamiliar with Blinkies (when enabled) the screen or EVF will show areas of over exposure (orange) and areas of under exposure (blue) blinking in real time. You can simply adjust your exposure value to reduce or eliminate the amount of over/under exposure with the control wheels. To me this is far more convenient than the Live Histogram.
MENU
The menu system is long and complex to navigate. There is a box that pops up when you access a menu function that tells you in a few words what that function does. This is useful but the box restricts you seeing what's on the rest of the screen and slows the access procedure. For those who might criticize the menu system for its complexity it's a case of if you want customizability you have to have complexity. That siad, if you scroll through the menus a few times it all makes perfect sense and they are now colour coded! Anyone with a sound knowledge of photography will find the menu 'relatively' straightforward. Yes it's long and the choices are wide and varied, but it all hangs together and makes sense. But for novice users setting up the camera it will be a daunting task. If I have the camera long enough I MAY put together a customisation article to help.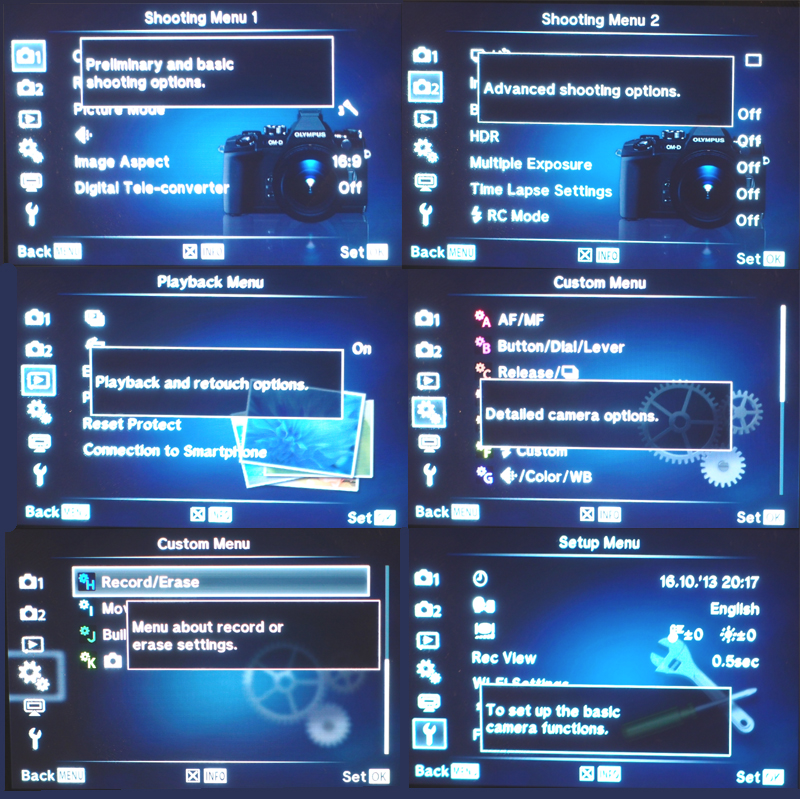 Above: The main menu screens - in the usual shade of dark blue.
Above are the six primary menu screens. I am not going to explore the menu system here; suffice to say it is long and quite complex in places but is laid out logically and most choices are easy to find. To me exploring the menu system and customising your camera to suit your personal needs is one of the pleasures associated with buying any new digital camera. Olympus offer an astonishing amount of customisability so enjoy their engineers work.
Whatever your level of expertise you will have to make changes, selections and adjustments to your new camera so you might as well spend some time learning the MENU system.
If I get time or have the camera long enough I may put together an article on how to customize/set-up your E-M1. I did the same for E-420/620 and it proved to be extremely popular.


---
SECTION 2[a]: ERGONOMICS
Ergonomics can be a matter of preference but the better laid out a camera is the quicker the user appreciates the machine and the sooner it simply disappears in use. If a user can say the camera doesn't get in the way of their photography, this is the highest accolade. Being able to instinctively and intuitively use all the cameras features and functions without looking at the interface is the ultimate test. But producing a layout that enables this is a different matter. Of all Olympus DSLR's the E-1 comes the closest to this goal, with the E-30 next. To me the E-3/5 missed the target. The m4/3rds Pen cameras are a tad too small to have really good ergonomics but size isn't the main criteria as the E-3 is huge but it also fails.
I know it takes a while to judge ergonomics, but there's nothing that strikes me as odd or awkward on this camera. The buttons are well placed and reasonably sized, the twin control wheels with twin functions each are not only innovative but exceptionally smart. Even the two buttons around the on/off switch are sensible. Its command dial is welcome (not on E-3/5) and the lock feature is inspired - even better than E-1. After several days of intensive use and study I haven't got a single gripe with the layout. It is easy to learn and easy to use - a flying start for good ergonomics.
I certainly can't say that about the E-3/5. Too big, too heavy, too many buttons, shutter button badly placed, control wheels too far apart, some buttons unreachable without contorting the right hand. Hard to learn and difficult to use spontaneously. Yes, it can be mastered but it will never be intuitive to use.
After two weeks of pretty intensive handling I'm thinking its ergonomics are excellent. It is certainly intuitive to use. One or two function swops can be confusing but I soon learned. Overall, very impressed.


2[b]: ELECTRONIC VIEWFINDER EXPERIENCE
If you have used the acclaimed VF-2 EVF clip-on unit for the Pen & XZ Series, you will understand just how much progress has been made since the C8080 days. The unit in the E-M1 is much improved over the VF-2 with higher resolution and greater refresh rates.
The E-M1's EVF is very large with a 0.74x equivalent magnification. This puts it almost on par with the best optical finders found in full frame cameras from Nikon and Canon. It has 100% coverage of the field of view and with a high refresh rate provides an exceptional experience for accurate and critical composition. DPR has a size comparison on their great website that serves as a real eye-opener to anyone in doubt.
There are plenty of adjustments available for the EVF so you can 'tune' it directly to your needs and circumstances. You can turn On/Off Live View boost which effectively stops the EVF from showing exposure compensation thus making it appear more 'natural'. You can also turn Off/On its Auto Luminance which stops the EVF from gaining up/down when the ambient lighting conditions change from bright to dim. These settings might persuade OVF lovers that the EVF can 'determine the scene' more like a standard OVF. However, some may prefer the EVF enhanced functions by default.
Some will always argue EVF can never beat an optical viewfinder and I suspect these folks may never be convinced. I've been using Olympus DSLR's since 2003 with the E-1. Olympus have never been known for brilliant viewfinders, especially in their consumer grade units and apart from the E-1/3/5 all can be described as mediocre. By comparison this EVF is a revelation.
It is bright, sharp, clear and large. It has a dioptre. I perceive no lag whatsoever, even when panning. In all but the worst lighting conditions it is absolutely fine. It is a million miles away from the early EVF's like the C8080 etc. For all intent and purpose it is a damn good replacement for an optical unit.
I did notice one thing when outside testing lens AF. With the sun from behind unless I pressed my eye hard into the rubber eye-piece surround the sun caused rainbow-like abberations in the viewfinder that obliterated the bottom half of the VF. I think the E-M1 needs a larger, softer rubber surround to the EVF.
Where it may start to be problematic is when the light levels fall. Here the unit compensates for lack of light by 'gaining-up' the signal which adds noise and a bit of streaking to your view. It has to be pretty dim before streaking occurs. It will eventually reach a point when the noise is unacceptable but at this point you will not be able to see anything through an optical finder anyway.
I've just compared the E-M1 fitted with the Sigma 30mm f1.4 for 4/3rds to an OM4Ti fitted with the OM 55mm f1.2 in my artificially lit study. It pains me to say this but there is virtually no difference. Yes, you can tell which one is the optical finder against the electronic one but the actual viewing experience of the EVF is clearer and brighter. I think that's a pretty good test.
Having used EVF's in the past I've never been impressed at all. They are impossible to use with anything other than in-built AF systems and are not good for critical composition or depth of field or judging shadows or highlights. This EVF is in a completely different class.
Of course the advantages of EVF technology is in the overlays and instant feedback of any tweaking the user makes, such as compensation for example. As you look at the scene through the EVF and adjust the exposure parameters the result is right before your eyes - no more guessing how it will turn out - you can see. And the overlays allow you to see all the changable parameters in real time as they affect your image on the screen - wonderful.
Talking of overlays, I chose the analogue type view for the EVF in the test camera and immediately felt at home as it mimics the viewfinder of the OM4Ti with its blue bar along the bottom. Not just nostalgic either - very practical too.
Purely for the sake of it I tried installing the VF-2 on the E-M1! It works! You cannot switch between VF-2 and E-M1 finders so a direct comparison is not possible; you have to remove the VF-2 to feed the E-M1 (of course you wouldn't want to use this arrangement, but I was curious to see the results). I found the VF-2 provides a slightly brighter/lighter experience but quite coarse whereas the E-M1 was smoother and less stark with a more aesthetically pleasing result.
SO - does the EVF satisfactorily replace the OVF of the E-3/5? In my opinion yes. Does it better it? As a pure viewing system probably not, but as an experience with the overlays and seeing how every adjustment you make to the camera impacts on the screen, it far exceeds the OVF.


2[c]: BATTERY PERFORMANCE
The E-M1 comes with the BLN-1 (7.6v 1220 mAhr unit with CIPA rating of 350 shots), first seen in the E-M5. Having an EVF as well as a 3" screen and a new 5-axis IS system means power, and plenty of it, is needed. When reviewing a camera I spend a lot of time in and out of the menu, altering settings and functions, reconfiguring buttons and seeing and testing the results. I notice that after about 4 hours of reasonably intensive use the battery starts to flag. I've not depleted it totally but notice the battery icon diminishing. I have therefore re-charged the battery on a daily basis.
In addition I spent an intensive 5 hours of testing the AF system with many 4/3rds lenses comparing AF speed with the E-5. The battery showed no flagging and still showed full charge at the end of that test. I reckon in 'normal' photographic use in the field an average user should get 4~6 hours of ordinary use. Allowing for colder weather, this is probably not enough for a day session. A spare battery or two (or the battery grip) is advisable.
I really wanted the camera to come with an HLD-7 grip as this is probably needed when using larger 4/3rds lenses for better handling. It didn't, so I can't report back. Looking at images of the E-M1 with a grip I think it will be almost essential for 4/3rds and OM lens users. That said I had no real difficulty in using any of my 4/3rds lenses with the E-M1 without a grip. I found the camera comfortable to use and less of a burden than the E-5


---
SECTION 3[a]: E-M1 PDAF SPEED WITH A SELECTION OF 4/3RDS LENSES
I have reviewed many micro4/3rds cameras and I test them with the MMF-1 and a range of 4/3rds lenses. AF has improved over the years but the CDAF system of m4/3rds was never going to properly drive the AF motors of the 4/3rds lenses. E-Sytem cameras have a PDAF system and so utilise 4/3rds lenses properly. To ever achieve Olympus' dream of 'One Beautiful System' they needed a camera that could use both types of lens.
The E-M1 has a Twin AF system. It uses selected patterns of receptors on the sensor chip to determine focus; one array is for CDAF lenses and another slightly smaller array is for PDAF lenses. The camera senses the type of lens mounted and switches to the appropriate array.
Of course this is probably THE acid test for 4/3rds users - is AF as good as with 4/3rds bodies, particularly the E-3/30/5? This will be a huge factor for anyone considering upgrading their 4/3rds machine with the E-M1.
I'm using the E-5 to test against the E-M1. It is plainly obvious that lesser incarnations of 4/3rds bodies like the consumer grade E-4xx/5xx/6xx series machines AF slower than the E-5. It is accepted the E-M1 can AF 4/3rds lenses faster the E-System consumer bodies. If you are considering an E-M1 to replace any E-4xx/5xx/6xx series machine you can be assured the E-M1 will focus your 4/3rds lenses faster than these cameras could.
3[b]TEST ONE - POOR LIGHT; Indoors room approx 12' x 12' x 8.5' high. No natural light, artificially lit approx 80watt (poorly lit). AF single, centre, small. Target 9.5' from camera, hand-held. I set the AF on both cameras at a near distance target before selecting the proper target. I do this at least 3 times for each camera and lens combination. If a zoom lens I use the shortest zoom setting first followed by the longest setting. I have no accurate method of measuring AF timings so any timings given rely on my own experience and judgement.


ZD7-14mm: Faster on E-5. Some hesitancy but no racking on E-M1. Approx 0.5 sec E-5; 1 sec E-M1.
ZD11-22mm: About the same on each camera (a tad faster on E-5). E-M1 better when AF lamp deployed.
ZD12-60mm SWD: Equally as fast on each camera at each end of the zoom. Lens slightly slower to AF at long end on both.
ZD14-35mm SWD = Marginally faster on E-M1 at each end of zoom. Seems more 'assured' on E-M1.
ZD14-42 kit: Equally as fast on each camera at each end of the zoom. Lens slightly slower to AF at long end on both.
PanLeica 14-50mm (2.8-3.5) = Equally the same on each camera.
ZD14-54mm (1): About the same on each camera (maybe marginally faster on E-5). Some hesitancy/stuttering on E-M1.
ZD18-180mm: E-5 much quicker at each end of zoom. Lens pretty slow on both.
ZD25mm compact: Equally as fast on each camera. Approx 0.75 second to AF on both.
Sigma 30mm: Equally fast on each camera. E-M1 got AF in near darkness with AF lamp where E-5 failed. On E-M1 you can hear the AF steps.
ZD35mm Macro: Faster on E-5. Some hesitancy/stuttering and more racking on E-M1.
ZD40-150mm (3.5-4.5): Slightly slower on E-M1 at each end of zoom. Lens slightly slower at long end on both.
ZD40-150mm (4.0-5.6): Slightly faster on E-5 at each end of zoom. Approx 1 sec E-5; 1.5 sec E-M1.
ZD50mm Macro: Faster on E-5. Some hesitancy/stuttering and more racking on E-M1.
ZD50-200mm SWD: About the same on each camera. Some stuttering and racking on both cameras. Poor with both in this light.
ZD50-200mm OLD: Better on E-M1 (tad slower on E-5 with some hunting/racking). Better than SWD on both in this light.
ZD70-300mm: In this light pretty dismal on both cameras, hunting and racking. Maybe a tad better on E-M1.


NOTES ON POOR LIGHT TEST
I deliberately chose to undertake the above test in this room knowing the lighting conditions would make it difficult. And so it proved with certain lenses. It was a real mixed bag of results. The best all-round performers are the ZD12-60mm and the SHG ZD14-35 that seemed to do better and felt more 'assured' on the E-M1; the older wide/medium High Grade ZD zoom lenses faired quite well as did the SHG ZD7-14 zoom, PanLeica zoom and the fast Sigma 30mm (apart from its noisy AF steps); next are the two ZD Macro lenses with reasonable performance but a fair bit of hunting; lacklustre performance from the kit zooms old and new and the ZD18-180; the tele-zooms did badly with the budget ZD70-300 hardly working in this light.
There wasn't a huge difference in performance between the cameras used. Overall I'd say the E-5 performed slightly better but the E-M1 is not far behind by any means. Some lenses were rubbish on both cameras in this test.
I reckon the ambient light in the room I chose is far worse than you would experience in an art gallery, church or registry office for example. For really dark events such as nightclubs and theatres flash is going to be essential.
Olympus bodies have never been famous for low light performance. The E-3 and 12-60 SWD improved the situation but was soon overtaken again by Canikon. However Olympus does now offer a higher range of ISO values and improved high ISO performance as well as its great IS system.
Can I live with these results? My type of photography does not include much low light stuff and I suspect the vast majority of advanced users only occassionally need low light capabilities. For me the E-M1 is a pretty good replacement for the E-3/5. For those who need low light performance they need the right lens and flash for the situation. If this won't do then maybe this camera is not for them. Remember, the E-M1 is the first Olympus camera to offer twin AF systems. I'm sure the PDAF side will be improved as the technology matures. As I've said before it may be that it's the AF motor arrays in the older ZD lenses that are the stumbling block and not the E-M1 signalling.


3[c]TEST TWO - EXCELLENT LIGHT; Outdoors on a bright and sunny day, blue skies with occassional passing clouds, in UK. AF single, centre, small. Main test target 15' from camera, hand-held. I 'exercise' the AF through several focal lengths and/or distances first to make sure the AF is functioning on both cameras before I start the proper test. I did notice some lenses were slightly slower after being sat for a while unused. I set the AF point on both cameras at a near distance target before selecting the proper target which is slightly less than infinity. Then I go to infinity and back to close and some inbetween. I do this at least 3 times for each camera and lens combination. If a zoom lens I use the shortest zoom setting first followed by the longest setting. I also alternate which camera goes first. I have no accurate method of measuring AF timings so any timings given rely on my own experience and judgement.


ZD7-14mm: Virtually identical on both camera at both ends of zoom - very swift approx 0.5sec. No stuttering, excellent.
ZD11-22mm: Virtually identical on both cameras at both ends of zoom - swift approx 0.75 sec. No stuttering, excellent.
ZD12-60mm SWD: Both ends of zoom the same. Slightly faster on E-5 virtually instantaneous. Marginally slower on E-M1 with very occasional stuttering approaching infinity from close, excellent.
ZD14-35mm SWD: About the same on each camera and each end of zoom. If pressed I'd say AF marginally quicker on E-5. I notice stuttering when coming from infinity to mid on both cameras at each end of zoom - not annoying and quickly over, but there. No hunting, generally very good.
ZD14-42 kit: Equally as fast on each camera at each end of the zoom (surprisingly) - swift approx 0.75 sec. No stuttering, excellent.
PanLeica 14-50mm (2.8-3.5): Virtually equal on each camera. Maybe a tad faster on E-5. Notice a slight pause going to infinity at wide end of zoom on E-M1 that was not there on E-5. No stuttering, excellent.
ZD14-54mm (1): Faster on E-5 both ends of zoom, almost instantaneous. About 0.5 sec slower on E-M1. Notice a slight pause going to infinity from close at both ends of zoom on the E-M1. Both - no stuttering, very good.
ZD18-180mm: E-5 slightly quicker each end of zoom. E-M1 about 1 second to AF. Lens a trifle slow on both. Some stuttering on both going to infinity from close. No hunting at all (experienced with E-XXX). It's a slow lens. Overall on both not bad at all, just a little tardy.
ZD25mm compact: Virtually instantaneous on E-5, slower on E-M1 approx 0.75 sec. No stuttering. Advantage E-5.
Sigma 30mm: Fast on each camera. E-M1 about 0.75 sec. Marginally faster on E-5 about 0.5 sec. Assured on both. No stuttering, excellent.
ZD35mm Macro: Fastest on E-5 with no hunting, occasional stutter when really close. E-M1 slower to AF in general, always hunts going from close-up to mid distance. Some hesitancy/stuttering at macro, mid and infinity. Usable on E-M1 with patience.
ZD40-150mm (3.5-4.5): Very similar on both cameras at each end of zoom - niether especially quick. No stuttering, average.
ZD40-150mm (4.0-5.6): Very similar on both cameras but better on both at tele-end. No stuttering, very good for a cheap kit zoom.
ZD50mm Macro: Flawless on E-5, fast AF, no stuttering or hunting. E-M1 slow to AF at macro distances with some stuttering; hunting when going from macro distance to mid. Some hunting from mid to infinity. Usable on E-M1 with patience.
ZD50-200mm SWD: Slightly faster on E-5 both ends of zoom; hunting at long end going from close to mid (every time). Slightly slower on E-M1 with the occasional stutter at infinity and mid; hunting at long end going from close to mid (every time). More assured on E-5. However, on E-M1 perfectly usable but take care selecting focus point - less sensitive to this with E-5.
ZD50-200mm OLD: Virtually the same performance as the SWD version with exactly the same comments. (SWD version is slightly quicker on the E-5, naturally).
ZD70-300mm: Faster on E-5 both ends of zoom by some margin though this is not a fast lens; hunting at long end going from close to mid (every time). Slower on E-M1 at both ends of zoom; hunting at long end going from close to mid (every time). Definitely better on E-5. Usable on E-M1 but AF slow with some stuttering and hunting going from mid to infinity.

TELE-ZOOMS WITH EC 14 TELE-CONVERTER
ZD50-200mm SWD: Same performance and flaws as without the EC-14. Slightly faster on E-5 both ends of zoom; hunting at long end going from close to mid (every time). Slightly slower on E-M1 with the occasional stutter at infinity and mid; hunting at long end going from close to mid (every time). More assured on E-5. However, on E-M1 usable but take care selecting focus point - less sensitive to this with E-5.
ZD50-200mm OLD: Same performance and flaws as without the EC-14.
ZD70-300mm: Generally the same as without the EC-14. Faster on E-5 both ends of zoom, this is not a fast lens; hunting at long end going from close to mid (every time). Slower on E-M1 at both ends of zoom; hunting at long end going from close to mid (every time); Macro AF difficult and tends to stutter. Usable on E-M1 but AF slow with some stuttering and hunting going from mid to infinity. Good AF target selection imperative. Definitely better on E-5.
NOTES ON EXCELLENT LIGHT TEST AND GENERAL COMMENTS
This was an ideal day for such a test. Bright and contrasty with little cloud interference. It was reasonably warm too so no cold or sluggish AF motors. I selected my AF targets carefully avoiding low contrast areas or repeated patterns. Obviously each AF target was the same for each camera. If I was in doubt I repeated the test several times.
Wide angle zooms and the ZD 25mm for example have very little AF travel so I chose AF points a lot closer together. For the Macro lenses I exercised the AF at macro distances then mid and then infinity, making sure I was winding the mechanisms in and out.
If my immediate impression is that one camera is quicker than the other I note this down. Then I try to quantify that quickness advantage but without measuring equipment this is down to my judgement.
I spent some five hours all told doing this test and making these notes; I have endeavoured to be as objective as possible. Whilst I have tried to differentiate between the results from each camera, in most cases performance was very close indeed. The small differences are only noticeable when undertaking this type of comparative test. If you are in the field with only the E-5 OR the E-M1 and the best performing lens(es) you wouldn't know. It's only those lenses that didn't fare well on the E-M1 where you may experience an issue.
The majority of lenses I tested perform perfectly well on the E-M1. I do not agree with some commentators who maintain the E-M1 outstrips the E-5 in AF stakes. This was not my experience. But in many cases the differences are so negligible it could come down to a matter of opinion. It's a pity I have no method of measuring AF.
Those lenses that didn't do well are the two ZD Macro's and the ZD 70-300. The ZD 18-180 and ZD 40-150 old version are slow lenses on either machine. I suspect the macro lens issue is to do with the number of AF steps needed to wind the elements in and out. The ZD 70-300 is a slow and dark lens that doesn't shine; the E-M1 accentuates its poor performance.
I note here that some ZD lenses and the Sigma on the E-M1 were quite noisy - I could hear the AF stepping motor. This did not happen on the E-5. I have no idea why this should be.
Generally the brighter lenses did better, though the two later release kit lenses (14-42 & 40-150) did very well.
My overall assessment of the E-M1's PDAF performance is it performs only very slightly behind to equalling the E-5 with most of the more common lenses. With slower lenses there is no difference - what's slow on one body is slow on the other. But with the ZD Macro's performance was degraded by the E-M1 from the E-5.
Unfortunately I do not have access to the ZD150mm; ZD35~100mm; ZD90~250mm or the ZD300mm so I cannot express an opinion. I have asked a reader with some of these lenses and an E-5 to give me an opinion as to AF performance on the E-M1 compared to the E-5. I hope to add to this review later.


3[d]C-AF ETC
As far as C-AF goes I had no real luck. This is entirely down to me having little experience of C-AF or C-AF + TR. (I notice the setting C-AF + MF is missing from the E-M1). C-AF technique is simply not on my list of needs. I did get some good results tracking passing cars, but none I could quote as reliable examples. Birds in Flight also produced the occasional good results but I had a job repeating these. I'll have to leave this test to more skillfull users.
I understand from my reading that Olympus has taken a big step forward in C-AF. This is due to the availability of PDAF within the camera being able to tell the direction the lens must travel to achieve continuous AF, something CDAF didn't do well. But beware the frame rate might not be as fast as you think because of focus priority settings, so aquaint yourself well with these settings. In addition there's a frame rate penalty for using C-AF with tracking (TR).
As said, I've never had much luck at C-AF due to lack of practice as it rarely pops up in my sphere of photography. So I'm suggesting you read DPReview's section on auto-focus here for a full appraisal of C-AF.


3[e]: AUTOFOCUS SPEED (CDAF) WITH NATIVE m4/3rds LENSES
With the latest generation of MSC m4/3rds lenses AF speed is exceptionally quick. For example the MZD 14-42 II & IIR; 45mm f1.8; 12mm f2.0; 14-150mm f4~5.6; 75mm f 1.4 etc., are all blindingly fast. With older, non MSC lenses like the MZD 9-18mm and earlier versions of the standard 14-42mm zoom plus the 17mm f2.8 are a little slower with some too-ing and fro-ing during AF. The latest generation lenses are a revelation as far as AF goes and are certainly the way forward.
With the MZD45mm f=1.8 on the E-M1 (and the latest Pen machines), AF is virtually instantaneous. Half press the shutter and the green rectangle and confirming 'chirrup' happen in a split second. Very impressive and without doubt faster than the E-5 with any 4/3rds lens. Olympus have laid to rest this particular AF ghost. So please bear this in mind when switching between native and 4/3rds lenses on the E-M1. None of the 4/3rds lenses will be as fast as the latest m4/3rds native ones.
With some rather nice fast prime lenses now on offer and the promise of more to come alongside some fast glass zooms it's obvious Olympus are looking to their prospective 'client base' of professional/advanced users with this new range of MZD lenses. I suspect they will eventually replace the fastest of the 4/3rds range with m4/3rds units. Certainly the new MZD40-150 f2.8 looks promising.


3[f]: IMAGE STABILISATION SYSTEM
The E-M1 offers the now 'standard' 5-axis image stabilization system but has enhanced the algorithms in the firm/software giving greater efficiency. Olympus claims a benefit of 4-stops of improvement (as confirmed by CIPA standards). I have no doubt it works and I'm certainly happy with IS performance which must be good for at least 3~3.5 stops. The IS unit creates some noise at start-up, sleep and close down, but it's only a brief, light buzz. In general use the IS system will help you deliver sharper shots at lower shutter/ISO speeds no doubt. But it is 'only' a mechanical system so good camera handling is still required, especially during off-tripod and macro work.
Also do not use the IS system at high shutter speeds.
The choice of IS is 5 fold; OFF; S-IS1 (auto); S-IS2 (vertical IS); S-IS3 (horizontal IS); S-IS Auto (landscape panning IS). I've already been in correspondence with several readers about these settings and their meanings. As far as I can work out the settings mean:
Off - Image stabilizer is off.
S-IS1 - Auto Image stabilizer is on - use for normal IS includes pitch, yaw and roll.
S-IS2 - Vertical IS - Image stabilization applies only to vertical (Y) camera shake - use when panning holding the camera horizontally.
S-IS3 - Horizontal IS - Image stabilization applies only to horizontal (Z) camera shake. Use when panning the camera horizontally with the camera held in portrait orientation.
S-IS AUTO - Landscape Panning I.S. The camera detects the panning direction and applies the appropriate Y or Z image stabilization.
However, I could be wrong. Please contact me if you discover otherwise!
I noticed in the 'RELEASE' section of the Custom Menu is "Half Way Rls With IS". As it implies the IS mechanism works when half pressing the shutter thus allowing you to see the stabilized iamge. By default this setting is ON.


---
4[a]: ISO PERFORMANCE; IMAGE QUALITY; OTHER FEATURES NEW TO E-M1
E-M1 ISO SEQUENCE
You will know Olympus have increased the ISO range to 200 - 256000 on their latest models including the E-M1. However on this camera they have added 'Low ISO' or ISO 100 (equivalent) is an 'extension' setting. It's not recorded anywhere what ISO 100 actually is but it seems to be software generated. That said it offers a level of finesse and detail not previously seen. If you use Olympus machines you will also know the results at very high ISO levels can disappoint. I undertook my standard house shot at Low ISO EQV 100, 200, 400, 800, 1600, 3200, 6400, 128000 and 256000.
The day was not great with rain and showers. The sky was grey with darker clouds yet still bright behind the clouds. You can see the raindrops on the lens - for which I apologise! With the aperture at f16 I managed to get a full run without running out of shutter speed. Obviously you wouldn't normally use f16 for shots like this because of diffraction. Also I had to apply -0/7EV compensation to prevent the sky from blowing. So do not use this run of shots to judge anything other than ISO performance as noise in the shadows is increased.
I used the ZD12-60mm zoom at 12mm for these shots.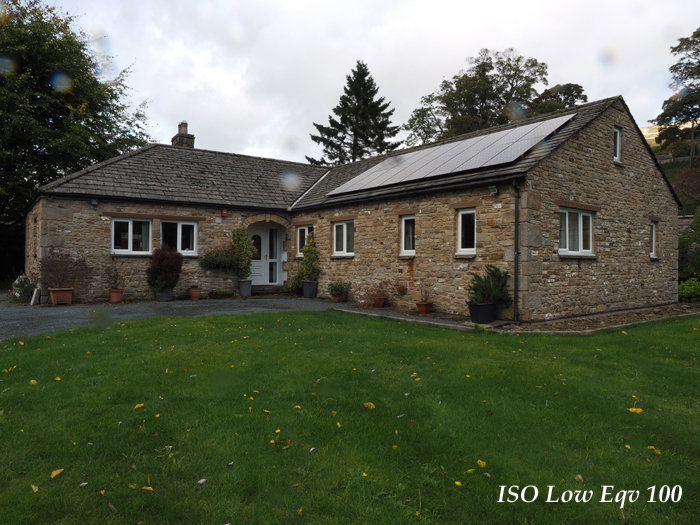 Taken at Low ISO 100 Eqv. Click on image to download original LSF jpg.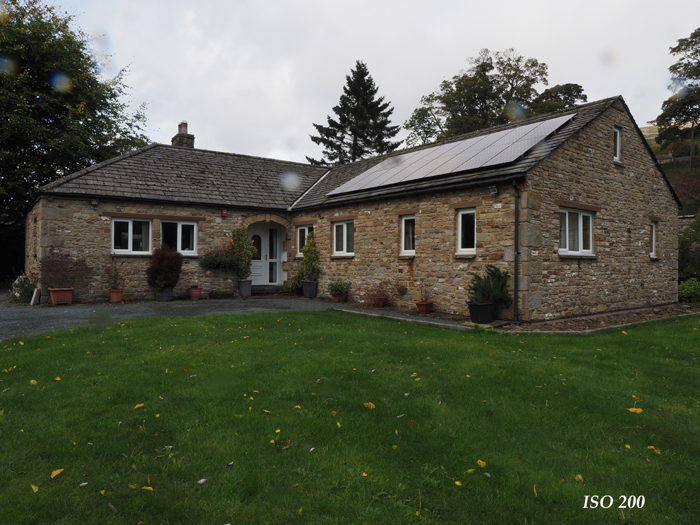 Taken at ISO 200. Click on image to download original LSF jpg.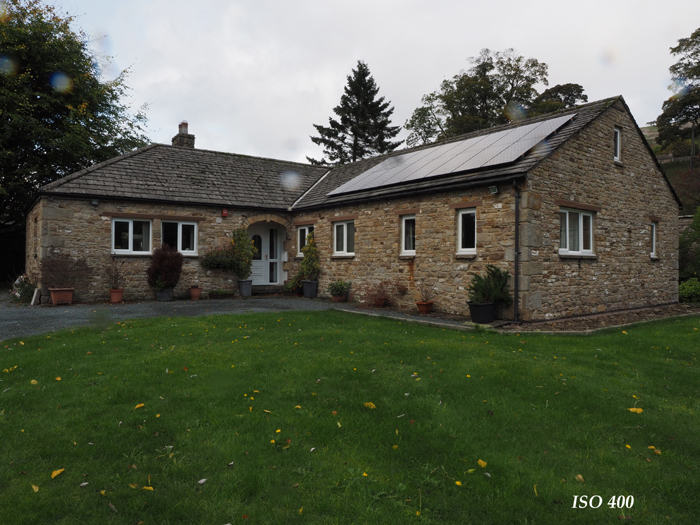 Taken at ISO 400. Click on image to download original LSF jpg.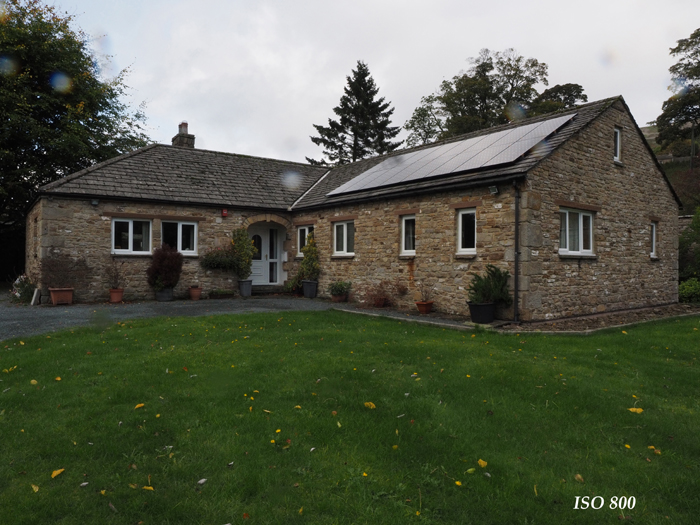 Taken at ISO 800. Click on image to download original LSF jpg.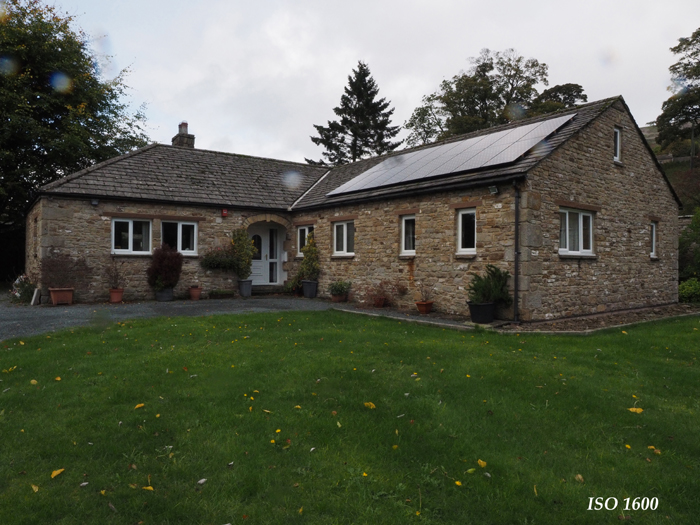 Taken at ISO 1600. Click on image to download original LSF jpg.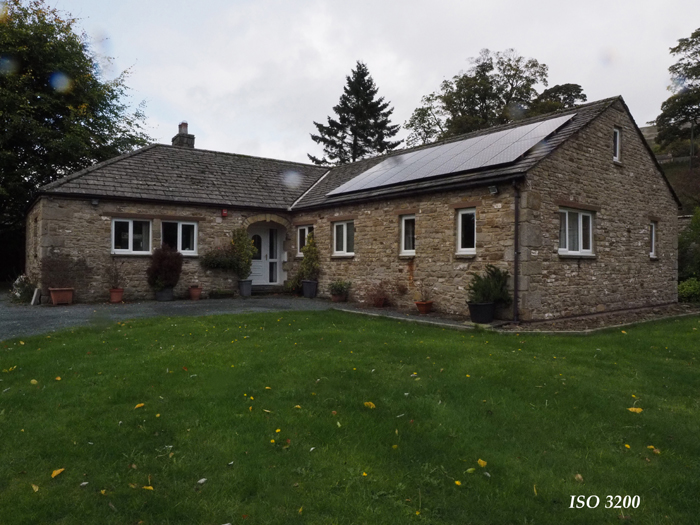 Taken at ISO 3200. Click on image to download original LSF jpg.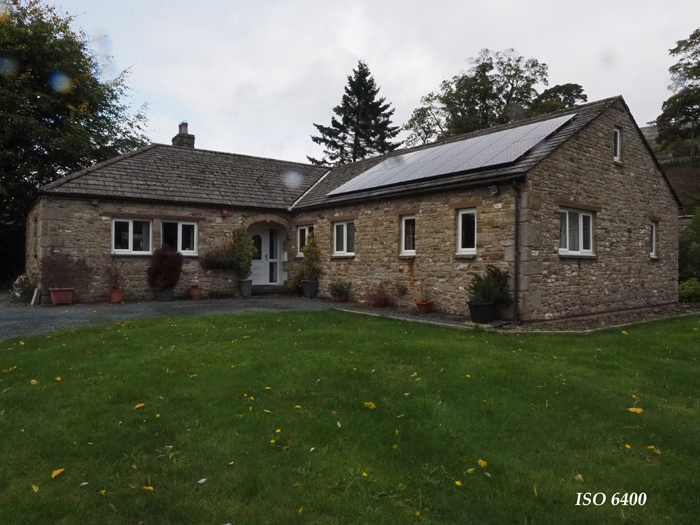 Taken at ISO 6400. Click on image to download original LSF jpg.
Taken at ISO 12800. Click on image to download original LSF jpg.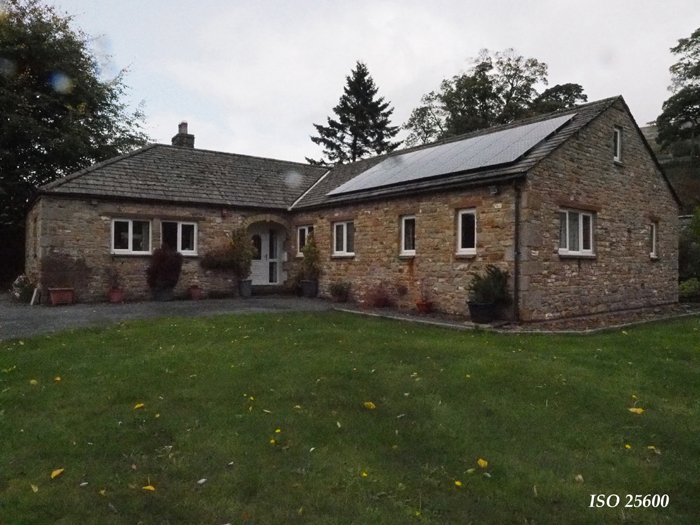 Taken at ISO 25600. Click on image to download original LSF jpg.

Crops from area adjacent to front door showing letter box - anything above 6400 is too noisy and has lost too much detail.
Click on image to see larger version then on magnify to increase.
CRITIQUE
If you look at the original versions you'll see these shots are fine up to and including ISO 3200. At 6400 the loss of detail is beginning to show though not dramatically. The day was quite dismal and rainy though the sky was strangely bright so some negative compensation was necessary. This results in overall underexposed images leading to more noise in shadow areas. Unfortunately I had little influence over the weather conditions.
Yes, Olympus has gradually improved higher ISO results but I'd say the top two settings are for emergency use only. Remember I had noise filtering set to OFF but do not know if there is any filtering done automatically by the camera, so all these files will benefit from noise reducing software too but loss of detail will be inevitable.
Download the original jpg's and try them through your own noise reducing software. I have the basic camera settings very conservatively so all the files should take some post processing as necessary.
If you require the RAW files please email me direct and ask.


4[b]: IMAGE QUALITY FROM THE E-M1
I had a trip to Durham to gather some images for this review. I had the ZD 12-60mm on the E-M1 for all these shots as it is my favourite lens and probably the one most used by 4/3rds users. The day was clear and bright (a little too bright) with low autumn sun casting deep shadows. All these shots were taken between 1.00 and 3.30pm.
When I examined these on the PC I was amazed at the clarity and detail. This sensor and processing engine are working together to produce wonderful images. The colours are accurate with typical Olympus blues. Compared to the shots I took with the E-M5 I had for review last year these are much better. I have done nothing to any of these images and I have the RAW files, they are straight out of camera (OOC); if you wish to examine/process the RAW files please email me.
The E-M1 screen is pretty accurate for judging colour and intensity (better than the previous OLED unit) though I missed the out of focus obelisk at 7 below, even at x14. In this image the lens would not give me an AF lock on the carving so I put the AF box (small) on the left-hand side vertical edge to get AF. Once confirmed I took the photo. But, as you can see, the camera has focused on the body of the Cathedral behind, throwing the obelisk out of focus. I did not notice when chimping. I had no other difficulty with AF during the session. So beware.
I have absolutely no complaints with IQ from this combination. To my eyes this is without doubt THE BEST output from any Olympus DSLR/Mirrorless camera to date.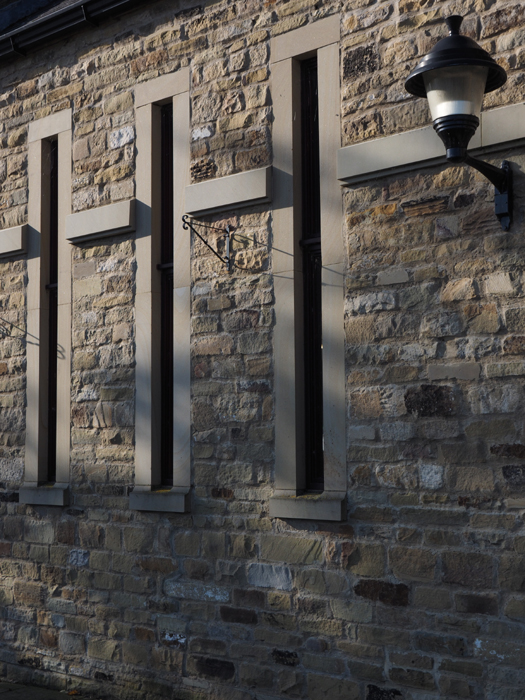 At 25mm: ISO 200; 1/500th @ F6.3; EV Comp = -0.7 (EXIF should be attached.)
Click on image for the original JPG version.
I didn't want to lift the shadows here. OOC - Untouched from camera. Light and shadow play on stone wall.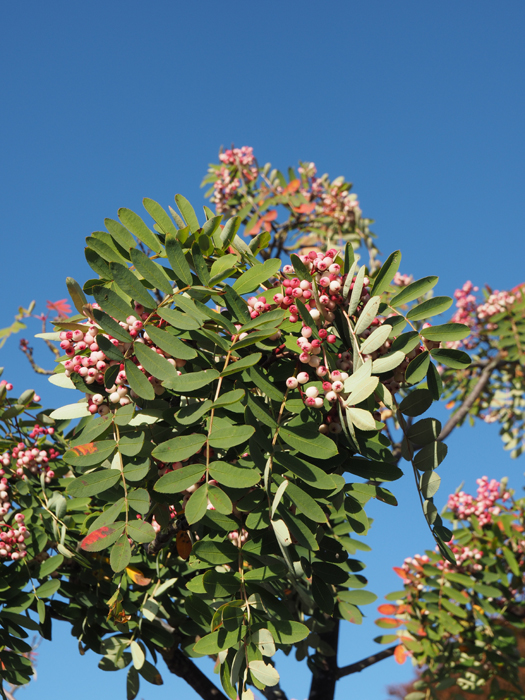 At 32mm; ISO 200; EV Comp = 0.0; 1/500th @f6.3 (EXIF should be attached.)
Click on image for the original JPG version.
OOC. Lovely Olympus blue skies. Look at the detail in the pink berries.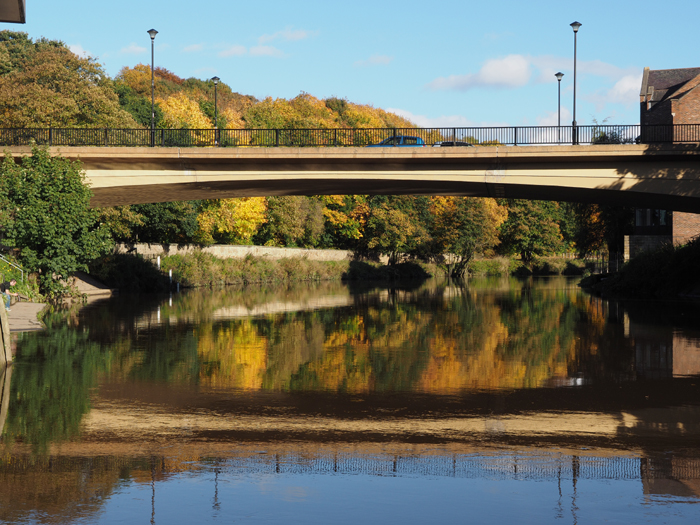 At 30mm; ISO 200; 1/500th @ f6.3; EV Comp = -0.3 (EXIF should be attached.)
Click on image for the original JPG version.
OOC. New Elvet Bridge, Durham. Autumn Reflections.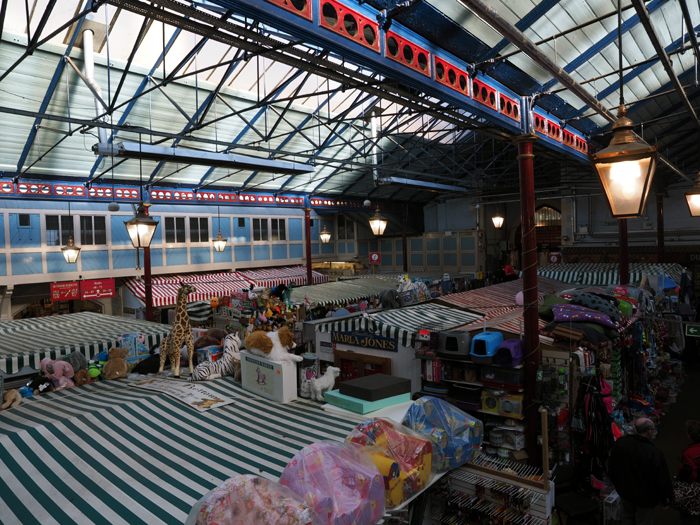 At 12mm: ISO 200; 1/2000th @ F4.0; EV Comp = -0.7 (EXIF should be attached.)
Click on image for the original JPG version.
OOC. Durham New Market Hall. Tricky lighting. Tried to hold the highlights but shadows suffered.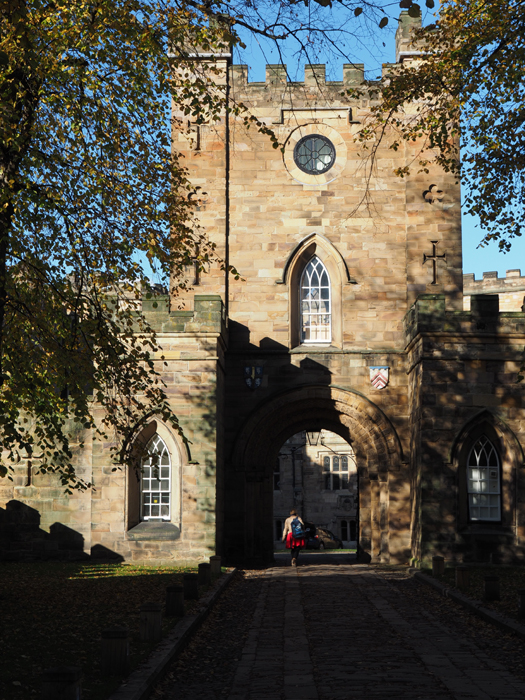 At 30mm: ISO 200; 1/400th @ F6.3; EV Comp = 0.0 (EXIF should be attached.)
Click on image for the original JPG version.
OOC. Entrance way to Durham Castle. Extreme lighting conditions; low bright sun, deep shadows.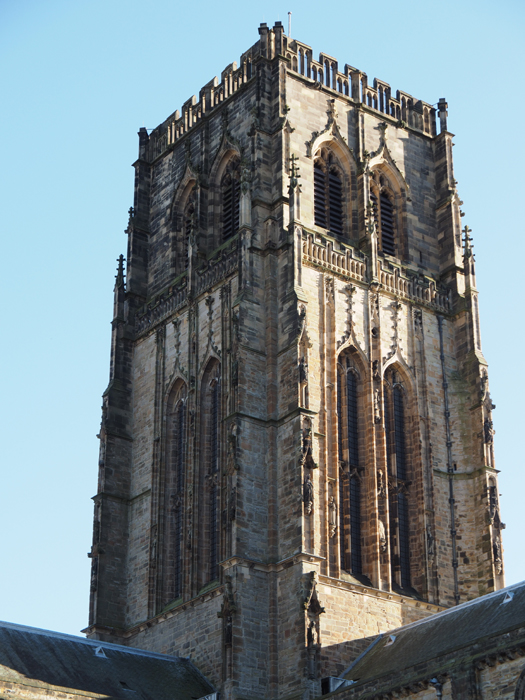 At 40mm: ISO 200; 1/400th @ F4; EV Comp = 0.0 (EXIF should be attached.)
Click on image for the original JPG version.
OOC. Principal Tower, Durham Cathedral.


At 20mm: ISO 200; 1/500th @ F4.09; EV Comp = 0.0 (EXIF should be attached.)
Click on image for the original JPG version.
OOC. This is a mistake. AF refused to lock on the carved area of stone so I tried AF on the vertical edge. When I got home I could see focus is on the Cathedral behind not the obelisk. Be careful!!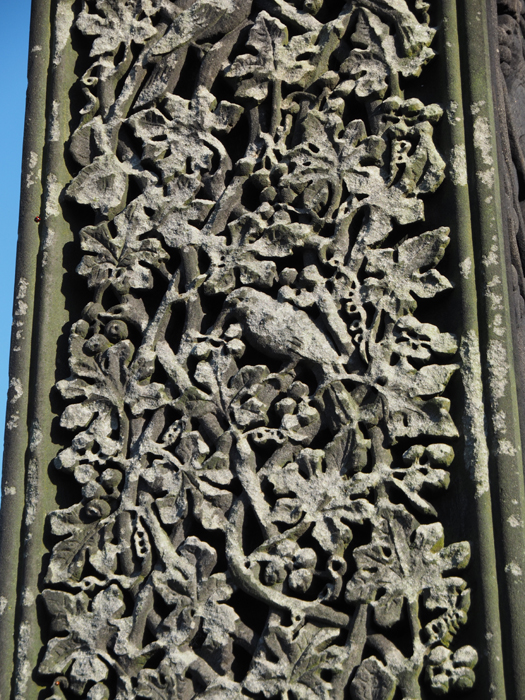 At 60mm: ISO 200; 1/1000th @ F4.0; EV Comp = 0.0 (EXIF should be attached.)
Click on image for the original JPG version.
OOC. Look at the detail - incredible.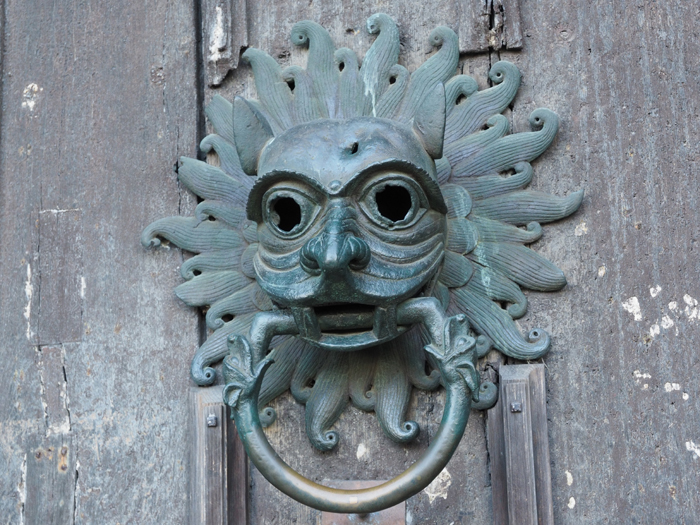 At 37mm: ISO 800; 1/80th @ F5.6; EV Comp = 0.0 (EXIF should be attached.)
Click on image for the original JPG version.
OOC. Famous Sanctuary Knocker on the Cathedral door.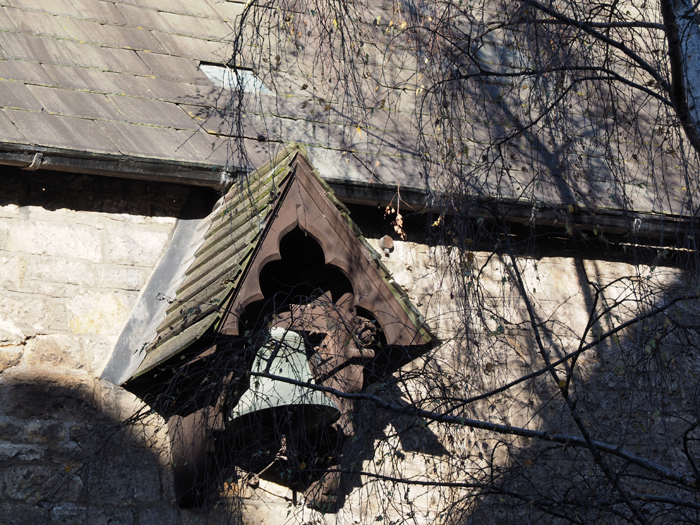 At 60mm: ISO 200; 1/250th @ F5.6; EV Comp = 0.0 (EXIF should be attached.)
Click on image for the original JPG version.
OOC. Small Church bell by J Thomas & Co. Bell is marked PACE.
4[c]: OTHER FEATURES
Live Bulb/Live Time: The E-M1 has the "Live Bulb/Live Time" modes. In essence in full manual mode only you can set the shutter for BULB or TIME and, during the actual exposure, the rear screen provides an updating preview of the image thus taking the guess work out of long exposure photography. In either of these modes the display is updated up to 24 times at pre-determined intervals depending on the ISO setting. For example using Live Bulb mode the screen can update at say every half second in ISO 200 building up the image as it goes - very clever. Live Bulb works for as long as you hold open the shutter whereas Live Time is from one shutter press to the next with your time in between.
I think you can also, during a Live Time exposure, set the camera to update the screen manually by touching the rear screen or shutter button, but I've not fully explored this.
Focus Peaking: As an aid to manual focusing when auto-focus just won't do (or for legacy OM and other lenses) Olympus have implemented this feature. When enabled the screen/EVF will 'shimmer' those areas that are in focus allowing accurate focus control. By default the 'shimmer' is in white but you can change this to black in the menu if your subject is psrticularly well lit/bright. For those m4/3rds lenses with a manual focus 'click' ring unfortunately peaking isn't automatically switched on when engaging the MF ring, you have to assign a button to peaking. Perhaps Olympus can fix this?
Time Lapse: In addition the E-M1, for the first time, offers time lapse photography. You can take up to 999 exposures at predetermined intervals. Works in PASM only and Manual Focus is recommended. However battery drain is quite considerable because the screen stays on for 1 minute for each exposure. Olympus recommends the use of the battery grip for lengthy sessions. (see Page 83 of manual)
HDR Bracketing: There are two autonatic modes HDR1 (3 frames) & HDR2 (4 frames). One is quite subtle but two is more dramatic. In auto mode the camera will combine them into one image for you. Or you can chose 3, 5 or 7 frames with 2 or 3 EV between them for later combining yourself. The HDR button on the on/off switch gives direct access. As soon as you select a sequence the camera switches to sequential shooting. You need only press the shutter button once.
Highlight & Shadow adjust: By default the Fn2 button is set to access highlight and shadow. One press will give you the H/S graph and you adjust highlight with the front control dial and shadow with the rear.
Colour Creator: Allows you to alter via the rear screen and an icon, the hue and saturation of the scene. Very novel but I can't really see the usefulness of this feature.
Lens Corrections: Certain lens aberrations are now automatically corrected in-camera and in Viewer 3 and other supporting softwares. (More later)
New AF Focus Adjustment (See Menu; Cogs; K; AF Focus Adjust) This feature first appeared in the E-30/620/5 allowing users to fine tune lenses showing front/back focus issues. The system in the E-M1 has been refined offering an in-camera method of adjustment across each of the 37 PDAF focus points, either one setting for all points (if say the lens universally back-focuses) or individually (if the lens has various but oddly scattered mis-focus points). These can also be set each end of the zoom range too.
You select the focus point you wish to adjust, press OK to get a live-view image, half press the shutter for an AF, zoom in with the front wheel to check accuracy, alter the AF bias with the rear wheel, half press the shutter again to check once more until you are completely satisfied and finally press OK once more to register the adjustment.
This might appear daunting but it's much easier than the older method of shooting a target then assessing the amount of adjustment needed, applying it to the lens via the camera interface and then shooting the target again to confirm if correct. This system is quicker and more accurate as you can actually see in Live View the AF in action aginst each point. Very clever.


4[d]SCENE MODES AND ART FILTERS
Turn the MODE dial to SCENE and you can access the cameras 24 scene modes. This is a feature beloved of their compact models but seems to be ignored or even held in contempt by many DSLR users. Yes, I agree some of them are gimmicky but others are very useful, especially for beginners. It is getting more difficult to carry in your head the exposure settings for differing situations and conditions. I have no compunction using some of the scene modes.
There are also 13 ART modes. ART modes differ from SCENE modes in that the camera applies not only exposure, contrast, saturation and focus alterations to your image but also adds further in-camera processing to produce some quite stunning results. Pop Art; soft focus; pale & light colour; light tone; grainy film; pin hole; diorama; cross process; gentle sepia; dramatic tone; watercolour, key line and art bracket make up the selection. Yes we know that most of these effects can be produced in any decent processing software, but many folks want to see the results straight away without learning new softwares. I think both scene and art modes can be very innovative used correctly and not overdone.


---
SECTION 5. CONCLUSION
The E-M1 is Olympus' response to the many complaints that the 'ordinary' micro4/3rds cameras cannot fully utilise 4/3rds lenses following the demise of 4/3rds bodies. The sensor has PDAF capabilities on-board which, for the most part, competes very well with the PDAF system employed in the E-5 and certainly out-performs the AF system in consumer grade E-System bodies. However, it does not 'beat' the E-5 AF system, but it is mighty close.
In all other respects the E-M1 is a cracking camera. Its size and weight are just about perfect (for me). Its ergonomics are first class. Its specification is outstanding. And the resultant images are stunning - by far the best so far.
The E-M1 is a photographers dream with seemingly unending ways to customise the camera to your own preference. It is clearly aimed at the professional and advanced amateur and yet it does have a fully automatic mode (iAUTO) to satisfy those who simply rely on the camera to do most things.
The menu system is complex so some study and a level of understanding is required. The little pop-up explanation box does help though personally I don't like it. (This can be removed/reinstated by pressing the INFO button - thanks to Richard Poulter).
The mixture of modes, both manual, semi-manual and automatic with the availability of differing Scene modes and Art filters will attract buyers from across the spectrum.
It is quite pricey. But look at what you get. Access to two types of ZD/MZD lenses and innumerable 135 format lenses for a start.
But all cameras are a compromise and we win and we lose. Some will miss the optical finder of the E-5 but welcome the technology the EVF brings. Some will miss the heft and weight of the E-5, others welcome a lighter load.


5[a] LIKES
The aesthetics - brilliant design well executed; high build quality.
Great ergonomics.
Good size, shape and weight - about perfect for me.
Tremendous feature set.
Extremely intuitive.
Extremely fast AF with native lenses and fast enough with 4/3rds glass.
Automatic prism eye sensor is a great improvement over the E-M5.
The whole camera is super fast in all things - it does not get in your way and feels super smooth.
The amount of customizability is wonderful.
AF illuminator - essential.
The OM4 Ti similarities will appeal; with OM lenses focus peaking and magnify function to improve the experience.
Pocketable flash is a good idea and the unit is quite usable for 90% of circumstances.


5[b] DISLIKES
The touch screen is not for me (purely personal - most folks love them).
In portrait mode (without the grip) your head interferes with the right hand's functions (control dials and buttons).
For portrait work the battery grip will be a big improvement.
Not quite perfect with 4/3rds glass - yet. I reckon Olympus will improve their Twin-AF system with a firmware update.
I suspect the battery life will not be quite good enough for a heavy day's session.


5[c] WOULD I BUY AN E-M1?
This is a standard question I ask myself at the end of the review period. I weigh up the pro's and con's against the price and all the other stuff you do in your head when decision making. But with the E-M1 there's one simple answer - YES, YES, YES! (oh, that's three answers).
This is a really fantastic camera. I'm very excited by its arrival. It's not often I get so genuienly enthusiastic. Olympus has delivered not only their promise here, but a staggeringly good camera. This is the true start of a new era.
The E-M1 takes over from the E-System. It outperforms and out-specifies all the consumer grade E-Cameras by some margin. Whilst it doesn't quite match the E-5's AF speed it comes close enough to be 'good enough' for 99% of situations. It offers a host of other features and functions that will never appear in an E-5 replacement because of the physical restrictions of the mirror. This is Olympus at its innovative best.
And this is just the first on-sensor PDAF iteration; I hope any slight disadvantages will disappear with later iterations.
I sincerely hope this Twin-AF sensor finds its way to the Pen Range too. Many would like to use 4/3rds lenses on the E-P5 et al.
The E-System lives on! We can all enjoy or wonderful 4/3rds lenses for years to come. Thank you Olympus.
5[d] LAST WORD
So can Olympus be forgiven for spiriting away Four-Thirds but returning us this "one beautiful system?"
I think so, yes.


---
SECTION 6. FEEDBACK FROM READERS (as of 29/10/13): you can email me here.
6[a] AF ISSUES
On a point of information I'd like to confirm the reason I chose to test each cameras AF function using the small single focus point was verisimilitude between the E-3/5 and E-M1. If I used the centre block AF (9 points) feature of the E-M1 I could not be sure of the precise point of AF lock, especially if the target was three dimentional (focus lock infront/behind intended point). Whilst I tried several options on each camera I could not be sure each camera was acting similarly and in accordance with 'my' instructions for an AF target and not simply doing its own thing. My chosen method is, at least, equitable, as far as it can be. It might be that other AF point settings on the E-M1 deliver faster AF speeds with 4/3rds lenses than single point in certain conditions/instances, and this will be for you to determine and use as you see fit. But the point of this exercise was to compare AF speeds with 4/3rds lenses on the E-M1 against the known AF performance of the E-5.
I've had several emails from website readers using the E-M1 with 4/3rds lenses who are having AF issues in certain conditions. The main problem is failing to get an AF lock on subjects with predominately horizontal features.
The focus points on the PDAF sensor are not 'cross points' as they are on the E-5, which will AF lock onto both vertical and horizontal targets. Page 136 of the E-M1 manual flags up possible AF difficulty on subjects with no vertical lines (like venetian blinds) but does not offer a solution.
This issue did not occur during my testing of 4/3rds lenses but I have reproduced it since. I tried all PDAF focus point choices against a target with only horizontal lines and they all failed to lock. The solution suggested by reader Steve Mellor is to hold the camera in portrait mode. Yes, this certainly works but I found that if you rotate the camera through around 45 degrees this will give an AF lock on a horizontal line(s); but you will need to lock and recompose. As Steve points out this circumstance will be rare but we need to be aware. Thanks Steve.
I'd like to think this can be addressed with a firmware upgrade so I will pass this observation onto Olympus, Japan.
6[b] STRAP LUGS
One reader expressed his dislike of the strap lugs. I've also read of one user removing the 'D' hanger. I must admit to having similar feelings at first (I was reminded very much of the E-4XX series) but did not think it warranted a mention in the dislikes section.


---
NOTE: This article seeks nothing other than to inform. Only you can decide what equipment you want/need for your use. Olympus UK provided the E-M1 body as a review sample for several weeks before it was returned. I have nothing to gain or lose by publishing this article, photographs, examples or opinion.


---
---
| | |
| --- | --- |
| Posted October 26th October 2013 | Copyright © 2013 John Foster |