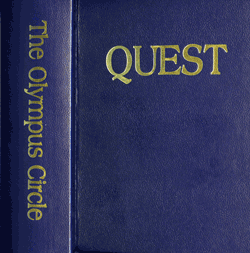 Specially manufactured de-luxe binder holds 16 copies of Quest.
Quest is the heart of The Olympus Circle. It is what binds the membership together. A peer to peer high quality quarterly publication for members only, arriving first week of March, June, September & December. It is aimed squarely at the Olympus aficianado. With regular articles on the all time favourites in the Olympus stable such as OM and half-frame it is a wonderful reference source. Members can and do contribute articles for publication as well as a popular 'From the Members' section where any relevant subject can be aired. There is a regular 8 page full colour 'Centrepiece' spread that details many areas of collecting interest simply not addressed elsewhere. 'Andrzej's Digital Corner' is a very popular and sometimes outspoken 4 page section on digital photography by our regular columnist Andrzej Wrotniak, famed for his informative and highly respected website www.wrotniak.net that you can visit here
Essential reading for researchers - Quest grows into a quality reference book with Index.
An A5, 24 to 36 page monochrome and full colour magazine in an attractive outer jacket offers something for everyone. The Editor prides himself on presenting a diverse range of material every quarter and regularly features articles separated by decades of time or leaps of technology. As can be seen here when Quest is filed in the specially manufactured binder it grows to become a high quality reference book about Olympus. A comprehensive Index is provided and updated every two years. TOC also holds Photo Contests from time to time and encourages members to share their images via a small on-line gallery. Quest is a truly diverse offering, highly regarded in the collecting community and well received.
To read a sample Centrepiece article press here.