---
Site A to Z
Don't forget to make best use of your time at biofos by using the SITE INDEX which links you to every article on this site from one page.
Any camera bodies, lenses or other equipment I've reviewed is now marked

on the INDEX page.


---
SITE VISIT STATISTICS - FOR PERIOD ENDING 31st December 2009
As you know I have changed my web hosting. I am trying Powweb in the US. Much as I wanted to support British enterprise it was not possible to find a suitable hosting platform that would take on my rather large bandwidth usage.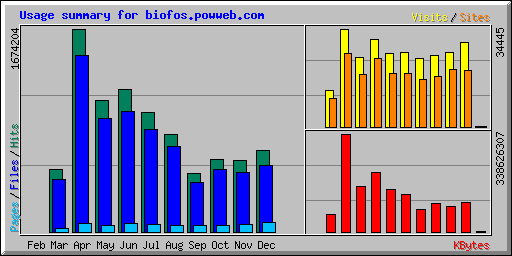 Main bar chart of visitor statistics from March to December 2009.
---
COUNTERS & STATISTICS:
You'll notice there are no 'counters' on the site. I find them intrusive. For anyone interested here is a simple record of site visitors from my server stats.
Total for DECEMBER 2009 = 668,454;
Running Total: This site has received 34,062,070 visits between 01/2005 and 12/2009.
Averaged visits since opening = 567,701 per month and growing.
Monthly Resource Demand: Dec '09 bandwidth usage was 101.15GB
Total aggregated bandwidth = 3739.65GB (3.74TB) (or averaged = 62.32GB/month).
www.biofos.com Metered Up Time = about 60 months (with present hosting company = 10 month; changed host 22nd January 2009 due to unexpected contract termination by ukstudiohosting.co.uk).
Current Hosting provider - www.powweb.com which is www.powweb.com here.
Total web presence = 7 years (first as www.biofos.cjb.net; second as www.biofos.com).
[The old www.biofos.cjb.net website received about 600 visits per month. It is now closed.]
Thanks to all readers for making biofos one of the most popular Olympus resources on the web.
---
SITE PERFORMANCE:
I was 'forced' to change host again in January 2009. I sincerely hope Powweb can support this sites growing visitor numbers and bandwidth usage. Time will tell.
UPDATE DECEMBER 2009: I've been with Powweb for about 10 months and am very impressed with their service. Of course there have been several outages leading to the website not being available for a few hours here and there, but overall I'm very happy with my new hosts.
Now I'm sure the hosting service can keep up with demand and bandwidth usage I shall be increasing the site content during 2010 to reflect the very real interest in all things Olympus.
---
SITE ETHIC:
This website is free to use, free of registration, free from advertising, pop-ups, click-throughs and all the paraphernalia of commercial sites. It is provided for the Olympus community totally free of charge to enjoy without any annoying distractions or limitations.
biofos.com is entirely owned and operated from the United Kingdom by me, John Foster. It is not affiliated with any company nor beholden to any person, group or company. It is proudly independent. Opinions expressed on this site are those of the author. OMŪ & OlympusŪ are registered to Olympus Imaging, Japan. Olympus does not sponsor this site in any way; Olympus UK/Olympus-Europa may (without prejudice) and from time to time, provide equipment for independent review.
Please feel free to contact me about any subject raised on this site, or anything associated with Olympus here.
Thanks to all visitors - please keep calling.