BACKGROUND:
At last years PhotoKina in September, most commentators were expecting to see Olympus announce their new 'Pro-Grade' DSLR. Instead they were shown a plastic mock-up of the design teams future intentions for a new E-1; disappointment reigned.
At the same show, quietly and without fan-fare, a new generation of Olympus DSLR machines was ushered in with the introduction of the all new tiny E-400 10MP with its new generation of ZD ultra compact zooms. The announcement was low-key but the product is not. This is the future of 4/3rds. This is their vision. This is the new OM. Or so Olympus tell us.
Let's have a look at what it is all about.
NAVIGATION:
This is quite a lengthy article so it's divided into 6 sections with links for ease of navigation. These are:
Please enjoy your reading and research: I hope it answers some of your questions.
---
SECTION I: Introduction; Box contents; Comparative size, First impression.


INTRODUCTION:
Though I had no real intention to buy the new E-400 various circumstances contrived to make its purchase almost inevitable. One such reason is the claim by Olympus that the E-400 is the new, true, digital OM. Now this I had to see for myself! Being an old OM fan and knowing how important it is to the company to recapture some of its past glories, it seems fitting to make a direct comparison with a mid-range OM. I have made the (non too serious) comparison with an OM2n and you can read my favourable findings here.
I posted the E-400 to OM comparison elsewhere on the site as I didn't want to get it mixed up with a serious look at the new E-400 and how it fairs against its predecessors. So what's all the fuss about? Will the E-400 be another 4/3rds nondescript machine already destined for the also-rans; or is it a serious offering from Olympus? If so where is going to fit into their strategic three-tier structure for DSLR?


BOX CONTENTS & VIEWS:
When the box arrived it reminded me of the E-500 box being heavily tatooed with images of camera and lens, rather than the less flambouyant E-1 box. No matter. I love carefully unpacking new stuff. I believe it to be one of the great pleasures of the consumer society.
The body without the battery is extremely light and it looks very small. The twin kit lenses are remarkably tiny and enjoy the same size barrel and 58mm filter size; the ZD40-150 being about 15mm longer than the ZD14-42mm. The hood for the smaller zoom is the petal type whereas for the longer zoom it is the tube type. Both are reversable bayonet fit. I was curious as to the battery size having read that it is considerably less than the BLM1 and more akin to the LI-10/12 size. Not true; in reality it is about 2/3rds the size of the BLM1, is quite heavy and appears substantial. The charger (BCS-1) is dedicated to the battery, as you'd expect and took some 3 hours to charge the 1150mAh BLS-1.
There is a basic manual provided to read while the battery charges and a CD containing the advanced manual. I'd already downloaded both manuals from Olympus and trawled through them. The remainder of the box contents are; strap, eye-piece cover, USB and AV lead, power lead and Olympus Master software.
To pass the time while the battery charged I took some photographs with the E-1: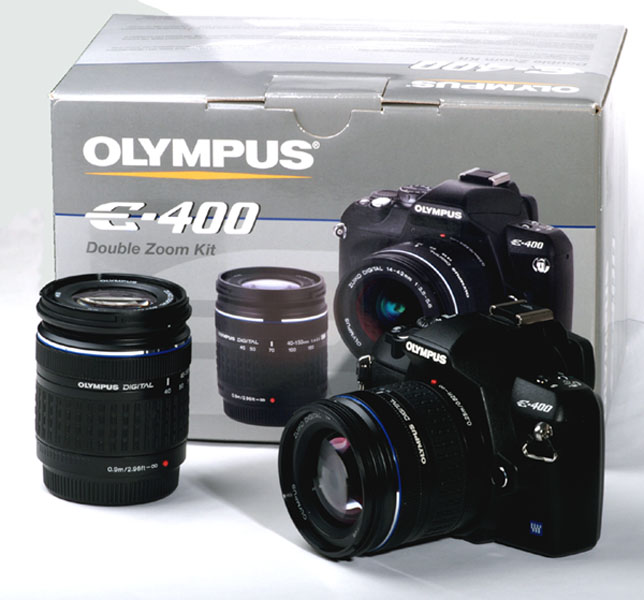 Heavily image festooned Kit box.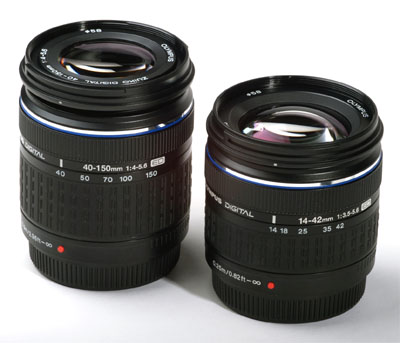 Closed position: the twin kit lenses - Blue band ZD 14-42mm (f3.5-5.6) and ZD 40-150mm (f4.0-5.6).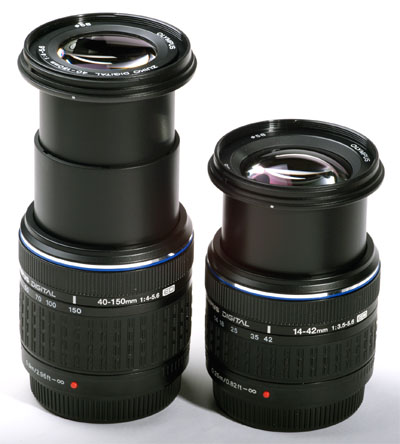 Open position: Note the double extension of the ZD40-150mm. It looks quite fragile!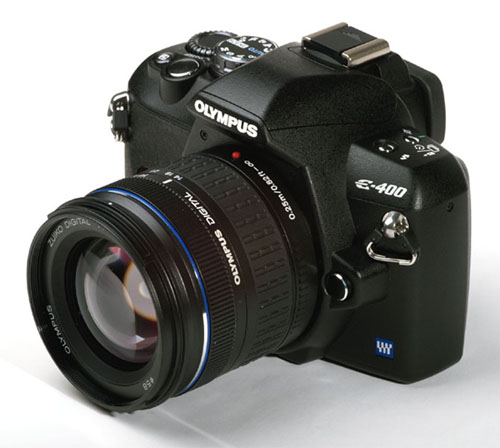 E-400 with the ZD 14-42mm fitted. It is very small and neat.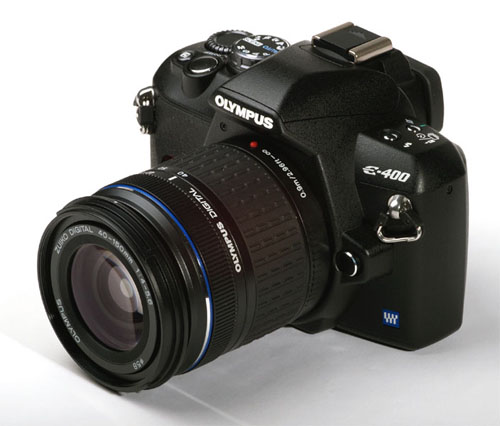 E-400 with the ZD 40-150mm fitted. With the telephoto zoom closed you are hard pressed to tell which lens is mounted.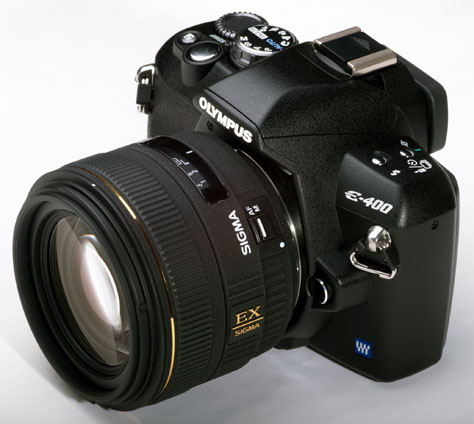 E-400 with Sigma 30mm x 1.4 fitted. For those interested in this excellent lens, here's how it looks!
COMPARATIVE PHYSICAL SIZE:
Before I go any further, I've got to say the E-400 is very small. I compare its size with my E-1 complete with HLD2 battery grip and the tiny E-400 is dwarfed by it! How about the E-500? Is it, as some commentators declare an E-500 minus the grip?
It is marginally smaller, both in height, width and depth. The absence of the grip does make it considerably smaller. In truth all dimensions are actually smaller. The following shots cannot show the small dimension differences but they do illustrate the real 'tinyness' of the camera.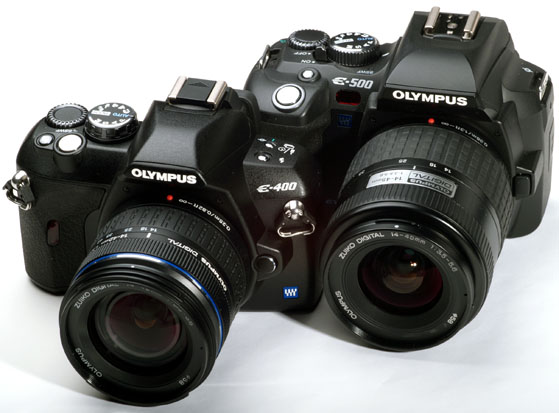 Front: Flash housing greatly reduced; no grip; more elegant with body either side of the mount.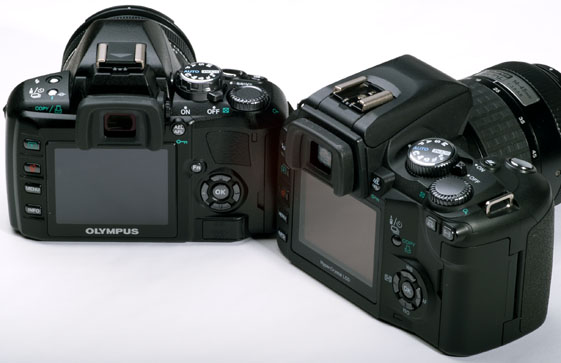 Rear: Easy to see how much less sculpting there is; notice too reduced back-plate buttons.
FIRST IMPRESSIONS:
While I'm waiting I set the dioptre to suit my eyesight. Hmmm.....this is difficult to access and turn. With a lot of fiddling about I manage to obtain the proper compensation. I suspect the eye-relief will be poor on the E-400 as the exit pupil is a mere 0.4 inch above the screen and this might be a bit hard on my nose. Time and use will tell. I notice too that like all E-cameras except the E-1 no viewfinder blind is fitted, only a daft piece of plastic that slides into the housing AFTER you have removed the rubber eye-piece. This is a receipe for lazy habits and lost accessories.
The battery is now charged so I fit it in and install a CF card. Like the E-500the CF door is a bit flimsy though much less deep. The battery compartment is accessed via a long thin door on the bottom plate latched by a sprung button. The button is pushed sideways and at the same time the door is slid outwards and then springs up allowing access. It too appears flimsy. The battery is a tight fit with another sprung clip holding it in place. As said above I was a little concerned at what I'd read about the new battery, so here's a shot showing the BLS1 and its charger, against the BLM1, and secondly against the LI-10/12 range.




Here you can see the BLS1 is not that much smaller than the BLM1, being about 2mm less in both width and height and about 4mm less in thickness.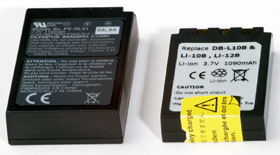 Here's the new BLS1 against the LI10/12 (for mju and SP models). It's about 80% larger.
The E-400 body is made of glass re-inforced plastic that is slightly textured with semi-satin black finish. There are two small rubber grip pads let into the surface; one runs the length of the small hump (like a small grip) on the front plate extending around the side to the CF door hinge and the other is a thumb sized area above the 4-way control pad. As you lift the camera your fore and middle finger grip the front and the thumb falls to the back. The E-400 is light enough to do thios without effort.
The control buttons (see illustration below) are nicely placed around the back and top plates. I'm delighted to see there are no buttons below the small control wheel (ala E-500) to be mistakenly selected when handling the camera. The ON/OFF switch is moved around the command wheel towards the rear and its orientation is changed with ON being towards the dioptre adjuster. This might take some getting used to as it's contrary to the E-1 and E-500. It is also stiff and well sprung, negating any accidental operation in a bag. The left hand has little room to occupy; instead it naturally cups itself around the left lower shoulder with the thumb and forefinger falling to the zoom ring. My first dislike is the strap hangers. These dig into my right hand grip fingers and the fleshy part of the base of my left thumb. I cannot see this being better when the strap is fitted.
The back is dominated by the lovely 2.5" screen notated only with OLYMPUS underneath with no mention of hyper Crystal LCD.
The camera fells very solid and that belies its lightweight feeling. It is very well finished with tight joints and even openings. The lens release button is nicely achieved being black with a chrome defining ring. Front plate is clean with few markings: the 4/3rds badge, 10.0 MEGAPIXEL, E-400 and OLYMPUS its only marks. Tripod bush is set exactly in line with the centre line of the lens (where it should be) and has a chromed metal insert.
There are a few thing I see are missing; a synch plug for an external flash, a separate power in (this might be served by USB) and of course an LCD command panel. Never mind, we can't have everything.
My first impressions are - very light, compact, well rounded, beautifully designed and finished, a tad small for my hands with some vulnerable parts. The lenses also seem light with black composite mounts as opposed to stainless steel. To me this is a sign of cost cutting as well as weight paring. The whole thing, including lenses, is Made in China.
---
SECTION II: Layout & controls; Menus, Information screens, Command dial.


LAYOUT & CONTROLS:
I'm now ready to fire up the E-400. I take a final shot to use in this article as a guide to the controls. It looks straightforward and well laid out though in firness I have several Olympus digital cameras and am quite familiar with their design quirks.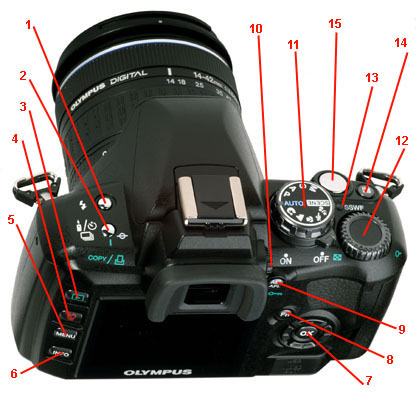 E-400 rear three-quarter view. This shows all the various control and menu buttons. Their numbers have been restricted and the appearance is not daunting. Quite straightforward (Left/Down/Across/Up/Right): 1. Flash pop-up and menu, 2. Frame rate and self timer/remote, 3. Review, 4. Delete, 5. Menu, 6. Info, 7. 4-way controller & OK button, 8. Fn button (programmable), 9. AEL/AFL, 10. Dioptre adjuster, 11. Main selection wheel with ON/OFF switch, 12. Control wheel, 13. SSWF LED, 14. Exposure comp, 15. Shutter.
As said the switch seems the wrong way round and is very stiff. It turns on with a pleasant feel and clunk, although there's not a lot of room for my digit! The first thing I do is enter the main menu to alter some of the global settings to accord with my personal tastes as defined by experience with the E-1 & E-500. There are two menu systems; global and information. Many of the global settings are also displayed on the information menu that is accessed when the INFO (6) button is pressed in photography mode allowing the user to finely adjust the photographic parameters. In review mode the INFO screen displays a series of exposure information screens overlaid on the image so the user can check and alter aspects of the exposure.

THE E-400 CONTROL MENU(S):
Anyone familiar with Olympus DSLR will recognise their menu system. Fundamentally there are two systems built in to the camera:
(1) GLOBAL (settings) menu: this has 5 main screens, with down and across scrolling for sub-sets. The global screens are accessed by pressing the MENU button on the back of the camera.
(2) INFOMATION (& settings) menu: this has 2 screens and provides both INFO and instant adjustment. The information screens are accessed by pressing the INFO button on the back of the camera.
GLOBAL MENU(S):
There are 5 Global screens. The icons down the far left change from blue to yellow to indicate which screen set you are accessing. These screens are Camera 1, Camera 2, EDIT, Spanner 1, Spanner 2.


This is CAMERA 1 screen: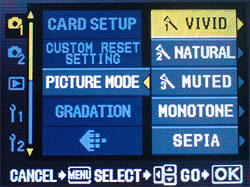 Photo (Camera) menu 1.
CAMERA ICON 1: This has 8 sections (requires scrolling) and accesses: Card deletion and format: Custom Reset (2 sets): Picture Mode (full control over Vivid, Natural, Muted, Mono & Sepia) with Contrast, Sharpness and Saturation for each mode: Gradation: (High, Normal & Low Key), File capture: WB: ISO: Noise Reduction.


This is CAMERA 2 screen: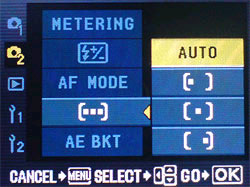 Photo (Camera) menu 2.
CAMERA ICON 2: This has 5 sections and accesses: Metering (5 choices): Flash Compensation; AF Mode (5 choices): Focus Point (4 choices): AE Bracketing (4 choices).


This is EDIT screen: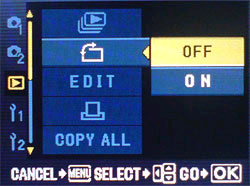 Photo (Playback & Print) menu 3.
VIEW ICON: This has 6 sections and accesses: Playback Choices: Number of images concurrently displayed (5 choices): Image orientation (On/Off): Direct Edit: Print Order + Copy All & Protect.


This is SPANNER 1 screen: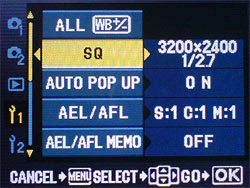 Photo (Spanner) menu 4.
SPANNER ICON 1: This has 9 sections and accesses: Global WB reset: SQ etc compression ratio: Flash Auto Pop up: AEL/AFL multiple choice over shutter press for AF etc: AEL/SFL Memo: AEL Metering: Fn function (5 choices): Beep: Scene dial choices:


This is SPANNER 2 screen: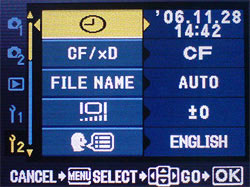 Photo (Spanner) menu 5.
SPANNER ICON 2: This has 13 sections and accesses: Date & Time: CF/xD: File Name: Monitor Brightness: Language: Video out: Rec View: Sleep: USB Mode: Colour Space: Pixel Mapping: Cleaning Mode: Firmware version.


NB. For those with an eye for the number of menu choices or recordable changes, the 'Global' menu has just short of 1,000 settings/choices!
INFORMATION MENU(S):
The INFORMATION screens change depending on the basic mode of the camera. In photography mode these screen give immediate access to most of the common settings the user might want to fine tune before or after exposure. There are two screens: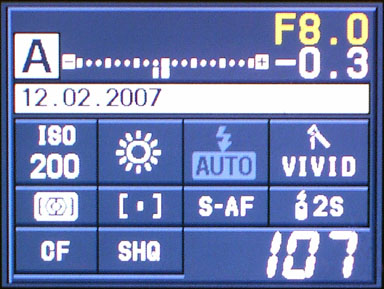 Info Screen (Basic) 1.


Number 1 screen shows and gives access to basic parameters. To enter the screen press the OK button and one parameter will illuminate in yellow. Turn the control wheel to scroll through the options. To select simply move to the next or press OK again.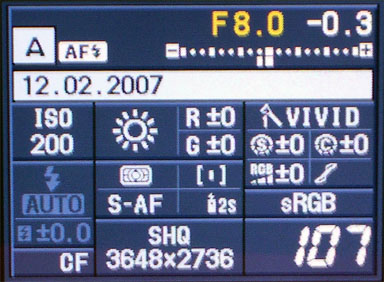 Info Screen (More) 2.


Number 2 screen shows and gives access to a wider range of parameters.
COMMAND DIAL & OTHER MENU(S):
The E-400 offers a comprehensive set of command dial choices. There's the usual PASM, AUTO, Pre selected modes for PORTRAIT, LANDSCAPE, MACRO, SPORT & NIGHT PORTRAIT as well as a further 15 SCENE modes that appear as selectable on the LCD screen with a brief note of their uses. Unlike some compacts programming and recording in the menu of your own scene modes is not facilitated. However, as I tend to use only PASM I am not familiar with the modes, so you'll have to forgive my ignorance.
---
SECTION III: Lens tests (1) Std; (2) Tele; (3) Wide & Tele; Barrel & Pincushion; Lens summary.


THE KIT LENSES - AN INTRODUCTION:
Before we dive into lens testing it may be useful to discuss the new kit lenses. Previous kits came with the more usual ZD14-45mm and ZD40-150mm providing the user with a great spread of focal lengths, at least to start off with! Olympus kit lenses are reputed to be far superior to similar offerings from the other DSLR makers, optically and aesthetically. Having compared all the 'standard' zoom lenses and the telephoto zooms (in the range) from Olympus I can only speak as I find, and I found them to be very good indeed.
The older kit lenses are pretty large, especially the tele; too large for the new OM sized E-400 so a new generation of compact lenses has been designed for this tiny DSLR and, presumably, all that follows in this class. As the images of the lenses in the introduction show, they are very small but still manage to almost duplicate the focal length range and aperture spread of their predecessors. Is this the first real evidence of the 4/3rds promise of smaller 'everything'? Let's hope so.


CIRCULAR APERTURE BLADE DESIGN:
I missed an important lens fact when perusing the spec sheet of the E-400 glossy brochure. Both of the kit lenses have a seven bladed aperture (nothing different here) but each has a true circular aperture diaphragm. Some of the ZD 'super' lenses also have this attribute which is supposed to add to the quality of the 'bokeh' in open aperture atmospheric shots. Olympus have been perfecting a perfectly circular aperture for some time now and it looks as though the new compact kit lenses may be benefitting from this development.
On close examination the aperture is indeed perfectly round; not a 'circular shaped hole' made up of seven almost straight edges that looks like a 20pence piece! As to whether it does improve the lens bokeh remains to be seen and I must devise some tests to demonstrate it, if possible. Please keep looking.


THE VIEWFINDER: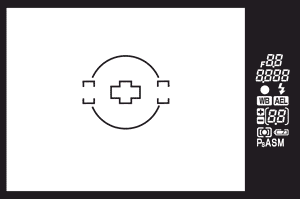 Looking into the E-400 viewfinder.


The viewfinder is rated by Olympus as showing 95% coverage. Compared to the E-330 screen it appears brighter and clearer but no larger. Compared to the 100% E-1 screen coverage the E-400 seems less than 95% but I have no way of measuring this. Like the E-500 before, to me anyway, this screen simply precludes using the manual focus option on the ZD lenses and makes the focussing of anything but telephoto OM Zuiko's almost impossible. However compared to any OM film camera the E-system camera VF's are quite small and lack that 'cinemascope' impression. Personally I don't see the 'tunnel' effect that many reviewers complain about. My personal gripe being the VF information to the right of the screen; to me it should be below.


LENS TESTING - METHOD:
I try and maintain some consistency in my methodology; not that it needs much explanation. The camera is mounted on a tripod that does not move between shots. Apparent optical differences observed in the results for different lenses is down to lens position on the mount and internal configuration as the tripod head is completely static for each series of shots. The camera is switched off for each lens change. No filters or hoods are used. For this series of test shots I used the following:
* E-400 body mounted on tripod and shutter activated by RM1.
* Camera (basic) settings: ISO 200; SHQ; default settings are duplicated from E1 as far as possible.
* I decide not to use RAW this time; my output file will be virtually the same as SHQ anyway.
* The results posted below are straight from the camera and not altered to favour one or other lens.
TEST ONE - COMPARING 'STANDARD' ZOOMS AT FULL TELE ON E-400:
Typically, after one of the finest Januarys' on record February is a long wet week end of a month so far! Isn't it always the same when you have photo's to take? Looking back on some of the rerviews and tests I've already done I decide to use my normal test shot to compare the performance of the new ZD14-42mm lens against the mid priced ZD 14-45 and the high grade ZD14-54. Using zooms at telephoto normally shows any weakness so I take the following shots using the three lenses all set to 42mm from a static tripod using my usual methodology. I crop out the 'DRAYCOTT HALL' sign for detailed examination for continuity. Forgive the grim day. I tried this yesterday but it was so changeable consistency was impossible to achieve.
Lens Number one: ZD 14-54mm set to 42mm; f=8.0, 1/50th.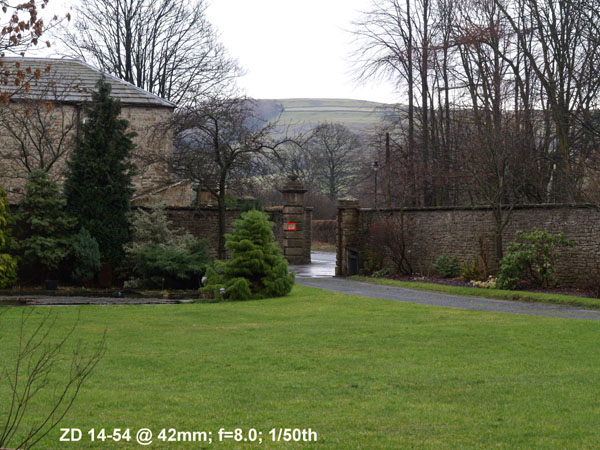 Result 1: Considering the day this is not a bad result. Colours are very good.
Below is the usual crop. This compares well to my standard zoom test.
The rusting iron gate support can be readily discerned in this crop, moreso than the others.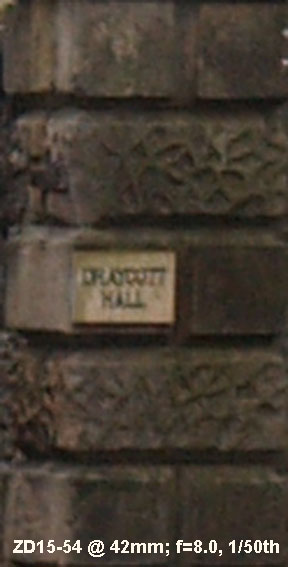 ZD 14-54mm crop - target sign is some 220 feet away from camera and measures 11" x 8".
*******************************************


Lens Number two: ZD 14-45mm set to 42mm; f=8.0, 1/50th.


Result 2: Slightly darker and a tad more saturation. This is normal for this lens.
Below is the usual crop. It is not quite as sharp and loses a lot of edge definition.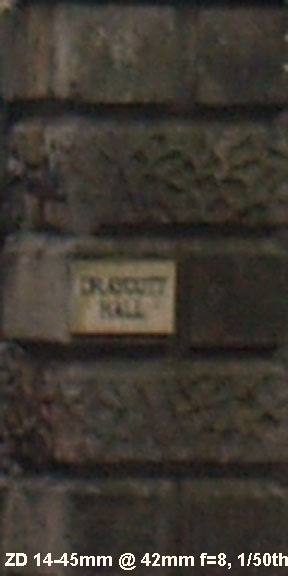 ZD 14-45mm crop.
*******************************************


Lens Number three: ZD 14-42mm set to 42mm; f=8.0, 1/50th.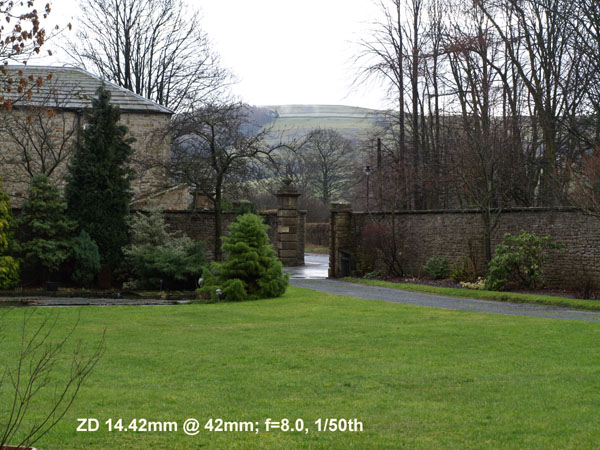 Result 3: Colour and saturation are more like the ZD14-54mm. Not as contrasty as the 14-45.
Below is the usual crop. To my eyes its sharpness is marginally better than the ZD 14-45mm.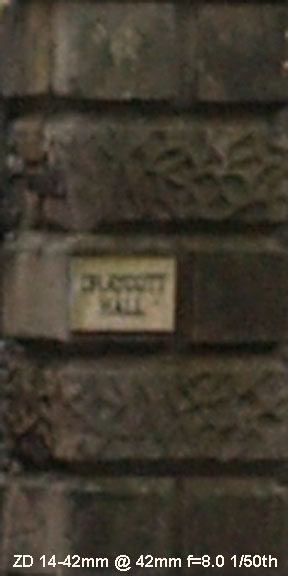 New ZD 'Blue Band' 14-42mm crop.
*******************************************
CRITIQUE:
I suppose I might have predicted this outcome. Of course the new compact cannot match the high grade ZD14-54mm for sharpness but it can match and marginally beat the mid-range ZD14-45. Once again it demonstrates how little there is between the lenses. The dullness of the day helped to even the results too and these look much more consistent than the very contrast laden ones I shot yesterday.

TEST TWO - COMPARING MEDIUM TELEPHOTO ZOOMS (3) ON E-400:
The E-400 comes with a newly designed ZD 40-150mm zoom that shares the same focal length spread of the older, slightly faster and much larger tele-zoom lens kitted with the E-300. It seems fitting therefore to compare these with each other and of course their faster, longer and much more expensive sibling, the ZD 50-200mm. For this test I use the same methodology as above unless noted in the comments.
The target is exactly the same as test one just one day earlier and I'm showing the crops only.
Lens Number one: New 'Blue Band' ZD 40-150mm


F=8.0, 1/30th second, ISO 100, Comp = -0.3
Result 1: The new style ZD 40-150: Not quite sharp, slightly dark colour rendition, down on contrast .
*******************************************
Lens Number two: Old model ZD 40-150mm (f3.5-5.6).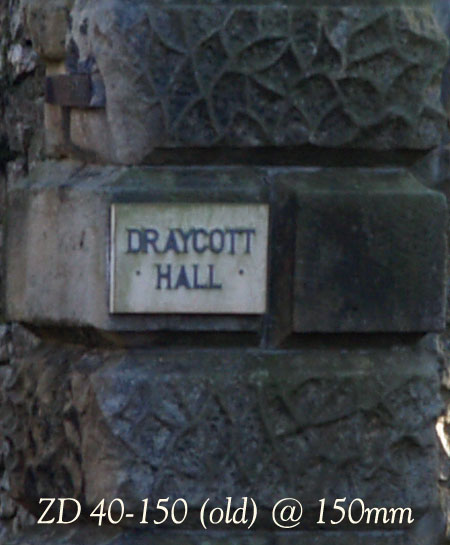 F=8.0, 1/30th second, ISO 100, Comp = -0.3
Result 2: Old style ZD 40-150: Definately sharper, touch better colour, improved contrast.
*******************************************
Lens Number three: ZD 50-200mm.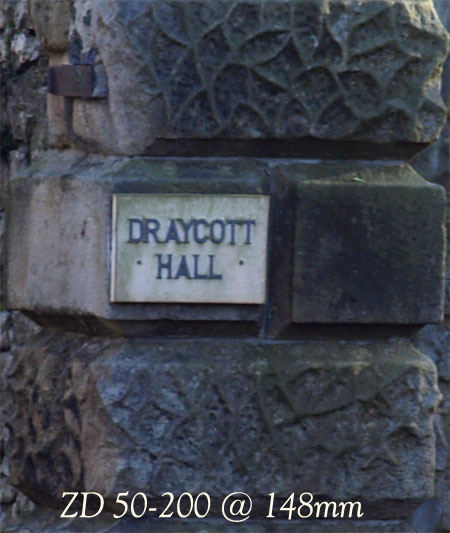 F=8.0, 1/30th second, ISO 100, Comp = -0.3
Result 3: Sharp, contrast and colour on the nail. Just shows 'You get what you pay for'.
*******************************************
CRITIQUE:
I'm sure lots of you will be interested in this result. I see lots of old style ZD 40-150mm's appearing on ebay and I'm sure they all can't be resulting from upgrades to the ZD 50-200mm. I suspect that many are buying the new lightweight 'Blue Band' version for travelling. This test shows that the old style ZD 40-150mm is marginally better in the optical paramenters of sharpness, colour and contrast than the new lightweight incarnation. There's more information in a review about the three four-thirds medium telephoto zoom then available; ZD 40-150mm, ZD 50-200mm and Sigma 55-200mm you can read here.

TEST THREE - COMPARING THE 'STANDARD' ZOOMS AT EACH END ON E-400:
To keep your interest and provide a different subject I shot the following yesterday using another scene to compare the three lens' performance at both 14mm and 42mm. If you think the results in TEST ONE above are pretty close take a look at these. For this test I use the same methodology as above unless noted in the comments.
Lens Number one: ZD 14-45mm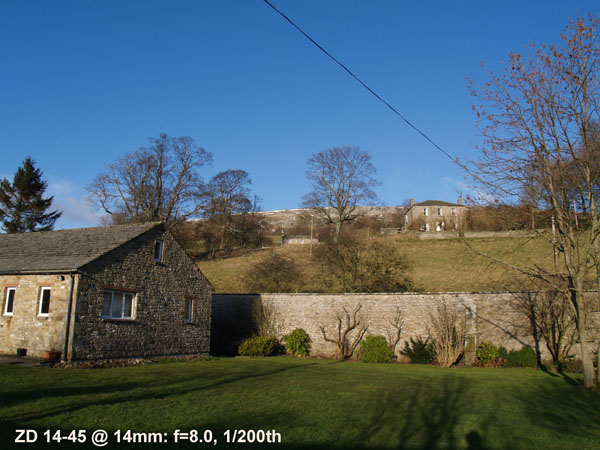 Result 1: Mid-range ZD at widest.
F=8.0, 1/200th second, ISO 100, Comp = -0.3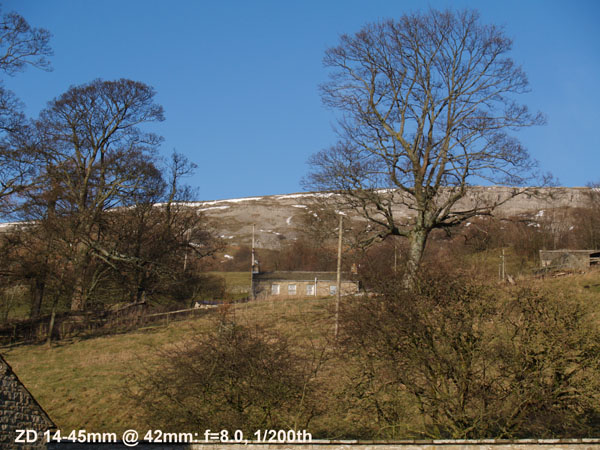 Result 1b: mid-range ZD at 42mm of telephoto.
F=8.0, 1/200th second, ISO 100, Comp = -0.3
*******************************************
Lens Number two: ZD 14-42mm.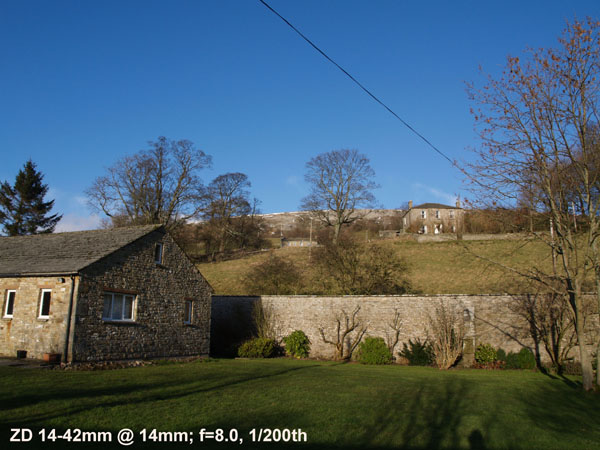 Result 2: Blue Band ZD at widest.
F=8.0, 1/200th second, ISO 100, Comp = -0.3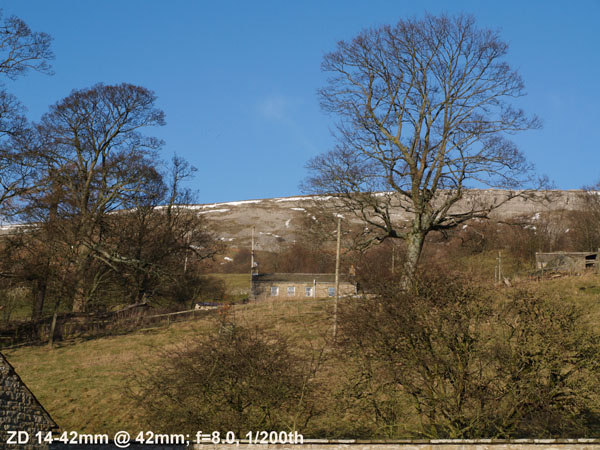 Result 2b: Blue Band at longest telephoto (42mm).
F=8.0, 1/200th second, ISO 100, Comp = -0.3
*******************************************
Lens Number three: ZD 14-54mm.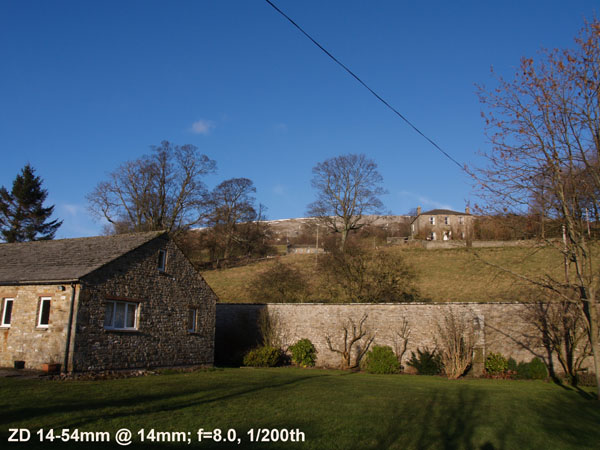 Result 3: High Grade ZD at widest.
F=8.0, 1/200th second, ISO 100, Comp = -0.3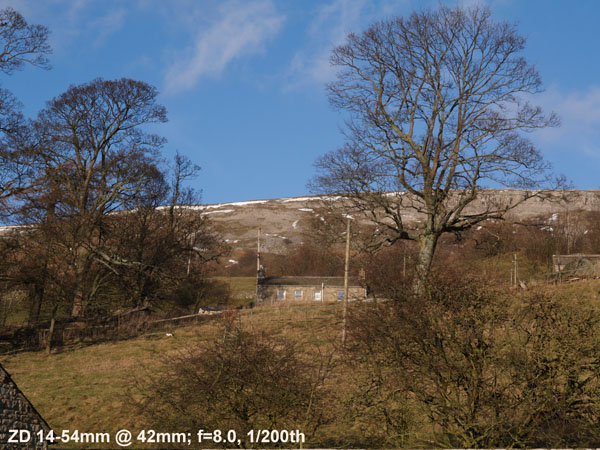 Result 3b: High Grade ZD at 42mm of telephoto.
F=8.0, 1/200th second, ISO 100, Comp = -0.3
*******************************************
CRITIQUE:
Given good lighting and a contrasty scene, there's hardly a cigarette paper to put between these results. There is a very slight difference in saturation and colour rendering with the advantage going to the high grade ZD lens; though quite frankly the three are virtually identical on close examination at 100% on my PC monitor. I've not posted the crops as I simply cannot tell them apart though I'll be happy to provide the originals for anyone wishing to make the comparison. This result is very similar to that obtained when I tested the (then) three ZD 'standard' zooms; ZD 15-54mm, ZD 14-45mm and ZD 17.5-45mm here.
The new ZD 14-42mm does well in this test, the same as the lesser specified lenses providing the lighting conditions are good. It is when the light decreases that the better speced ZD14-54mm comes into its own giving the photographer extended photo opportunities thanks to its extra aperture brightness. The other advantage of the High Grade lens is its 'weather proofing' (well drip & dust proof) adding more usability for its user over the cheaper siblings. As with most things choice reflects cost; the greater the range of capability the user wants the more that particular piece costs. (This is why the E-1 body is held as such a bargain at the moment - it is the only Pro-Grade body in the E-system offering a build quality second only to the highest priced Canon DSLR for a tenth of the price.)

TEST FOUR - BARREL AND PINCUSHION:
I don't have a purpose made area to do these tests and rely on basic tools like a square and level to get the target as plumb as possible, so they cannot be held as absolutely accurate. However, the results do provide a good guide as to how the lenses behave. From using both kit lenses it was pretty opbvious the ZD14-42mm suffered from barrelling and I had a suspicion the ZD40-150 did too, so I decided to test them both.
Lens Number one: ZD 14-42mm
BARREL:
Result 1: ZD14-42mm max aperture at 14mm. As suspected it suffers from quite a bit of barrelling; this is more or less inevitable in any kit lens or lens built down to a price. It appears to be slightly better than the other two kit standard zooms (14-45 and 17.5-45) I previously tested and as long as users are aware of the issue there is no significant problem. Basic EXIF: f=3.5, 1/180th second, ISO 200, Comp = 0
PINCUSHION: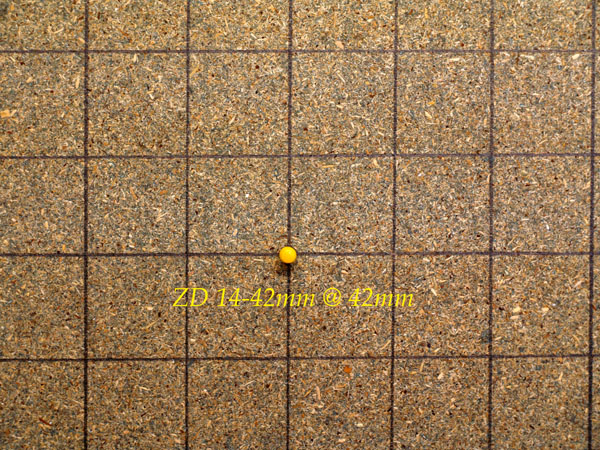 Result 1b: ZD 14-42mm max aperture at 42mm. This looks OK to me with no sign of pincushion. When zooming in from maximum wide-angle to max telephoto, this lens shifts the centre focal point down and left. Most wide angle zooms do this but not to this extent. I note it for interest only as the effect will only be seen when doing fixed tripod work. Basic EXIF: f=5.6, 1.60th second, ISO 200, Comp 0.
*******************************************
Lens Number two: (New) ZD 40-150mm.

BARREL: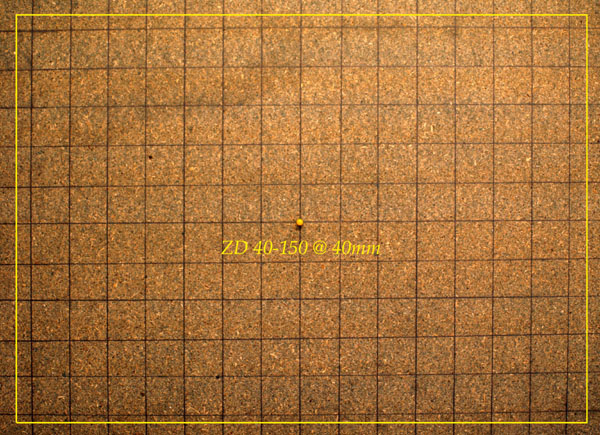 Result 2: ZD 40-150mm max aperture at 40mm. If you look hard there is a touch of barrelling especially on the horizonal plane (to be expected). It's certainly not bad and will present no problems to the usere. It is unusual for 'telephoto' zooms to suffer from barrelling. Basic EXIF: f=4.0, 1/100th second, ISO 100, Comp = 0
PINCUSHION: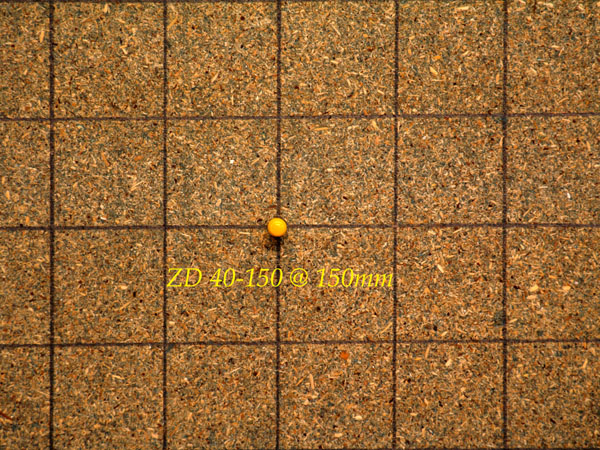 Result 2b: ZD 40-150mm max aperture at 150mm. This looks fine to my eyes with no sign of pincushion. Also note the better behaviour when zooming from wide to tele with the target shifting left. Basic EXIF: f=5.6, 1/30th second, ISO 200, Comp = 0
*******************************************
CRITIQUE:
I've got little to add to the above results and comments. Yes, the ZD 14-42 suffers from barrelling - what kit lens doesn't? That the telephoto zoom suffers a tad is surprising and I must check the older version to see if it suffers the same aberration. Whatever the amount is insignificant.
KIT LENS SUMMARY:
STANDARD: For the vast majority of users the non-High Grade lens will adequately suffice. The new 'Blue Band' offering being physically lighter but equally specified to its forerunner certainly offers a more compact and lightweight package.
TELEPHOTO: The matched 'Blue Band' companion telephoto, whilst a tad slower at the short end than its much larger forerunner, is a very capable offering that almost matches its predecessors performance.
COMBINED: The combination of E-400 with the new kit lens combo (of 680gms) saves some 30% in weight over the same E-500 kit package (of 980gms) and offers considerable space saving too! These ideals have been foremost with the designers; a small, light and neat OM ethos type body with a matched pair of lenses should appeal to a huge market segment currently served only by the compact/bridging range of digicams. (Remember, it's not only travellers that look for light-weight equipment). The Olympus market strategy seems pretty clear.
---
SECTION IIIb: Lens examples - ZD50-200 + Teleconverter.


TEST FIVE: E-400 + ZD 50-200 + EC14
Before leaving the subject of lenses completely I'm going to use this section to respond to several readers who asked for some examples of the E-400s capabilities when fitted with the ZD 50-200mm and some with the EC14 converter fitted for additional reach. The increased pixel count of the E-400 takes advantage of the ZD50-200mm resolution and provides excellent results, especially for those who like landscapes and/or long telephoto work.
The following pair of images is taken with the E-400 plus ZD50-200mm and shows a straight 'focus on subject' and then zoom in to maximum telephoto.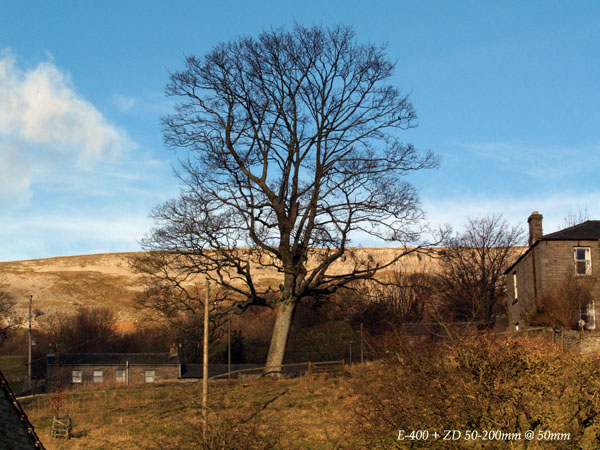 A simple medium landscape with tree centre.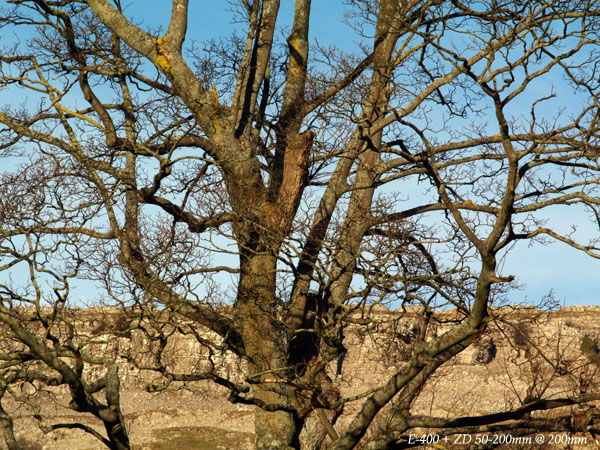 More dramatic is the zoomed image taking you right to the heart of the tree.
There's certainly sharpness and detail here, much more than if the centre portion of the first image had been cropped out and enlarged.

The following four images show:
1. Straight composition with E-400 + ZD 50-200 + EC14 at minimum 70mm.
2. Crop from image 1 corresponding to an area equivalent of zooming 4 times into the image.
3. The same image taken with the E-400 + ZD 50-200 + EC14 optically zoomed in to the red area.
4. Crop form image 3 to show the amount of deatil compared to the crop.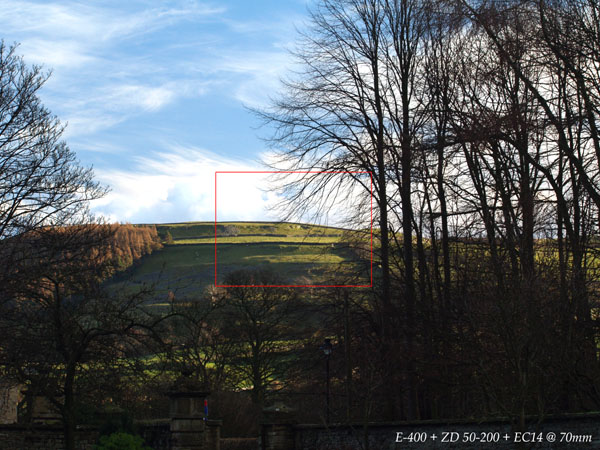 Image from my test position looking through the entrance towards Cogden Hill with ZD 50-200 @ 70mm. The top of the hill from my vantage point will be about 2 miles away as thre crow flies.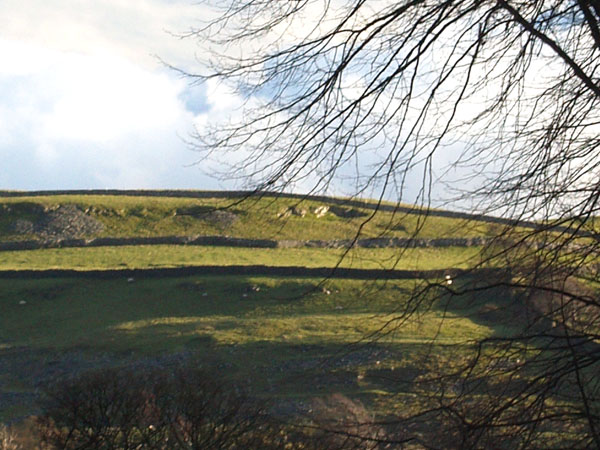 This is the processed crop equal to the central area zoomed 4 times. Obviously it has 25% of the original pixel count.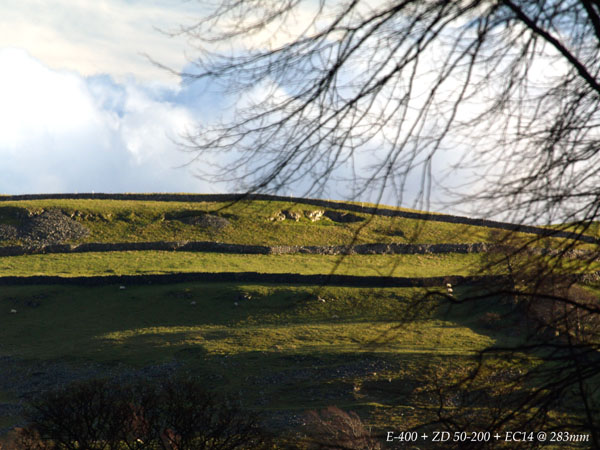 This is the true optical image enjoying a full pixel count as well as superior resolution, colour rendition and contrast. At two miles away the lens is struggling to resolve the detail of the rocky outcrops mainly as the sun is catching the rock faces causing highlights. But it's plain to see the second image is superior.
To prove a point (even with this non-too great a shot) here's the equivalent 4X crop showing the detail of the rocky outcrop. There's plenty of detail here, even though it is on the edge of lens' resolving power.
OK, this may not be the best example but I would ask you to scroll back up to the very first lens test image in this review that shows this scene from the same vantage point taken with a lens set to 42mm (which is 50% greater than the notional field of view of the human eye). Can you even see this rocky outcrop? The answer is no, it would be impossible to see any such detail from such a distance.
Incidentally, according to the different EXIF reading software I use, including Olympus Master, they report a focal length of 283mm when the EC14 is used in combination with the ZD 50-200 at maximum telephoto. Wow! 3mm of additional focal length free from Olympus! Thank you.
Those extra pixels of the E-400 are used to good effect and begin to exploit the high resolution of the Zuiko Digital Lenses. Folks coming to the E-400 from an E-1 will not see a massive increase in image resolution, though they will see an improvement in this type of image. This improvement is quite subtle; while you get additional pixels on one hand, image fidelity can diminish and/or subtly change on the other. It is good to have more to play with in one sense but if you use the extra pixel count to facilitate cropping instead of concentrating on better framing you are going to be no better off in the long run and your overall photography will suffer. As a Yorkshireman it seems crazy to buy 10MP's of sensor capability and then throw some of it away (whichever way you look at it).
---
SECTION IV: Noise & noise reduction; Close-up; File sizes & write speeds.


NOISE & NOISE REDUCTION:
The E-400 comes to us with the promise of much reduced noise at higher sensor gains. I am aware the E-1 tends to be a bit noisy and the E-500 is worse, so let's have a look at the E-400 performance. I set up my indoor table-top target and late in the afternoon when the ambient light is pretty poor I shoot three images with the E-400 and the same is repeated with the E-500 using the same lens on both cameras, the ZD14-42mm. NB. Selectable noise reduction on both machines set to OFF. (On the E-400 Noise Reduction selection is automatically disabled in the MENU when the mode dial is turned to any setting except AUTO, Portrait, Landscape, Macro, Night Portrait and SCENE modes. I assume when the selection is automatically disabled in P,A,S,M & SPORT, the default is NR OFF. Also in the various SCENE modes NR is disabled in CHILDREN, SPORT, FIREWORKS & BEACH & SNOW.
Regardless of any settings in the menu referred to above, noise reduction in the E-400 is confined to dark frame subtraction in long exposures. There is no selectable Noise Filtering provided.
The results from the above test are displayed so you can make immediate comparisons between the two machines. The difference in size is due to the file; the crops were taken at 100% and have not been manipulated in any way.
Target: My highly detailed ceramic hedgehog.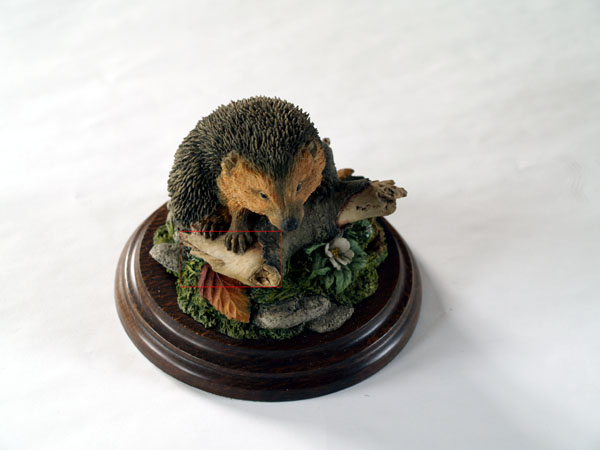 Naturally lit; no studio lights, no flash.
*******************************************
Test 1. Top: E-400: ISO 100, f=5.6 (wide open) speed determined by camera.
Test 1. Bottom: E-500: same settings.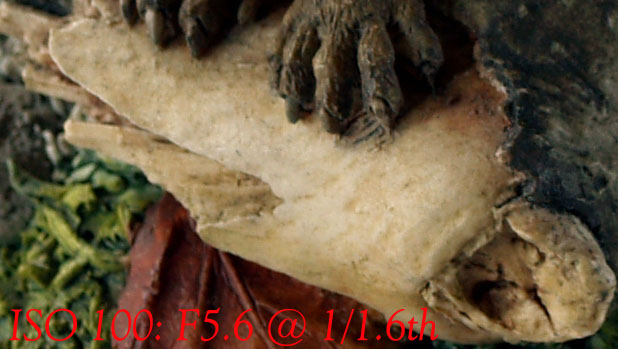 Very nice, clean no trace of noise.
Nowhere as near as sharp as the E-400; it is noise free though. (Looks like my E-500 has hot pixel!)
*******************************************
Test 2. Top: E-400: ISO 800, f=5.6 (wide open) speed determined by camera.
Test 2. Bottom: E-500: same settings.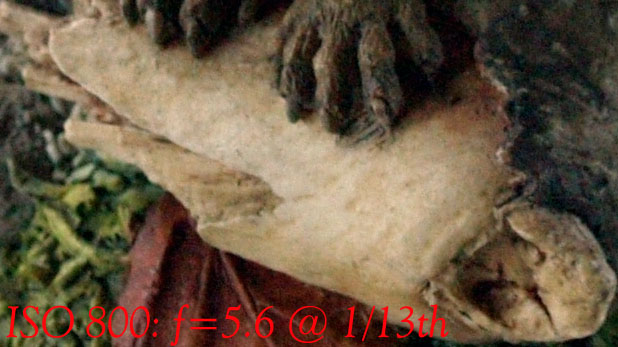 Still pretty good. No dramatic invasion of noise though some some loss of sharpness presumably due to non-selectable in-camera processing i.e. not noise reduction.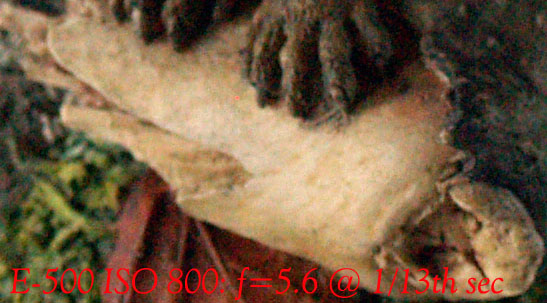 As normal when used at ISO 800 the E-500 produces quite a bit of noise invasion. Though this might clean up the image is degraded.
*******************************************
Test 3. Top: E-400: ISO 1600, f=5.6 (wide open) speed determined by camera.
Test 3. Bottom: E-500: same settings.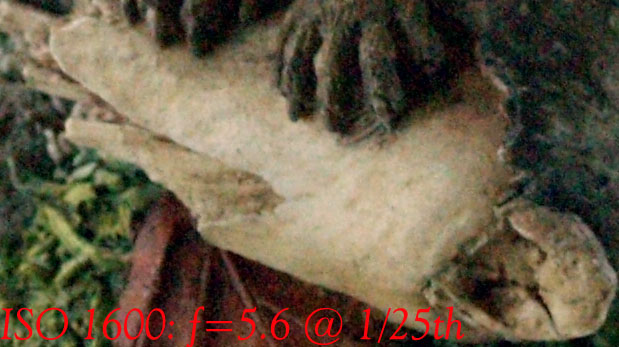 I think this is extremely good; there is some low level noise but not over pervasive. Again a percentage drop in sharpness.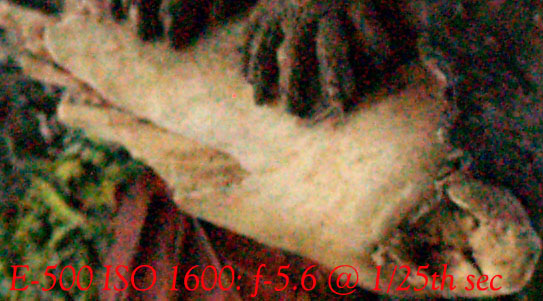 In my opinion totally unusable even for the most casual of shots in very poor light.
*******************************************
CRITIQUE:
Well, it looks like Olympus have gone a long way in resolving their noisy sensor problems. Their in-camera processing is not too aggressive and results only in a tad of sharpness loss for each pass. When I see how unsharp the ISO 100 image from the E-500 is, it makes me wonder how much 'background' processing is used in this machine. Seeing these results has warmed me quite a lot to the E-400.
REPEAT NOISE TESTS:
My friend Andrzej Wrotniak asked me to check the results from the noise section above as he thinks the shots from the E-500 may be a tad out of focus. Whilst I agree with Andrzej's comments I have repeated this test several times and been unable to improve the sharpness from the E-500. I have concluded my E-500 focus system does not like this test target and/or lighting setup for whatever reason. This noise test is purposely subject to poor lighting conditions to fully stretch the cameras used and demonstrate noise levels (rather than focusing capability).
I could have simply extended the CLOSE-UP tests in the next section to include a series of shots at different ISO's from E-400/500, but this test is not as demanding in terms of lighting as the original. Bear in mind that the times you are likely to require high ISO are precisely those when ambient lighting is well below 'normal'. I will try and repeat the noise tests in the next few days.
---
CLOSE-UP WORK:
E-400 specifications indicate a close focus capability of 0.25m. My experience confirms the E-400 is comfortable with a subject distance of around 240mm. With my usual target I obtained the following result. For a similar test across the E-system 'Standard Zooms' please click here.
Target: Shutter train.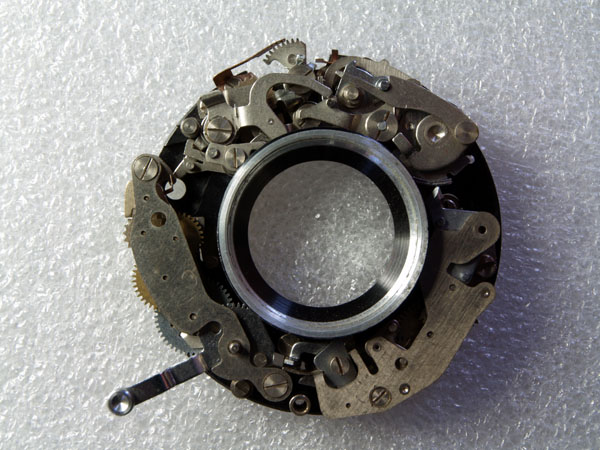 Mixture of ambient and artificial light; no flash. Basic EXIF: E-400, 14-42mm @ 42mm, ISO 100, f=16, 1/2.5th, comp = -0.7, SHQ, WB manual.
Crop detail.
CRITIQUE:
This is an excellent result; clean and nicely sharp without being overcooked (I set the E-400 at 0) and benefitting from no noise. Colour rendition is accurate. It's plain to see from the resolution of the original image users can crop, enlarge and sharpen without detracting from it. Users can get away without having a dedicated macro lens for any occassional macro-type image they might need.
---
FILE SIZES, BUFFER & CARD WRITE SPEEDS:

The E-400's larger file sizes are SHQ = 7.9MB and RAW = 22.00MB. The specified sequential frame rate is 3fps up to 5 frames maximum which is also the maximum number of storable sequential pictures; the cameras internal buffer is 128MB, the same as the E-1.
Interestingly, the new E-410 larger file sizes are SHQ = 6.8 and RAW = 11MB (at the same size; 3648x2736). In the manual E-410 RAW files are described as lossless, not uncompressed. Obviously Olympus have a new form of lossless compression they apply to RAW files from the E-410. This is nothing new; Canon and Nikon have been using compressed RAW files for a while. More intriguing is the jpg size which is about 15% less than the same size file from the E-400 at the same compression ratio of 1:2.7. This I do not understand but I am making enquiries to discover the explanation. I'll keep you posted.
The fps count in some ways is disappointing. If you choose to capture in RAW you will indeed only achive 5 frames in approx. 1.66 seconds and then the buffer has to part clear before allowing further shutter release. However in SHQ, while the initial 5 frame sequential burst is the same, the buffer has sufficient room (together with fast parallel writing to the card) to effectively achieve 10 sequential frames in 7 seconds for as long as the shutter is pressed or the card has space. Choose HQ and this improves to 10 sequential frames in just under 4 seconds, only marginally slower than the 3fps maximum.
I was able to test the E-400 with SanDisk Ultra II (rated at 66MB/second), Extreme III (rated at 133MB/second) and Extreme IV (rated at 266MB/second). Using the standard test: camera in MF, Manual mode, 400th second, lens fully open, ISO 400, ESP, Burst mode, Rec view on 5 seconds, each card formatted in camera before test, Battery fully charged - I obtained the following card write times:


SanDisk Ultra II: RAW+SHQ 5 sequential shots from pressing shutter to red light out = 30 seconds.
SanDisk Ultra II: RAW 5 sequential shots from pressing shutter to red light out = 21 seconds.
SanDisk Ultra II: SHQ 5 sequential shots from pressing shutter to red light out = 9 seconds.
SanDisk Ultra II: HQ 5 sequential shots from pressing shutter to red light out = 4 seconds.


SanDisk Extreme III: RAW+SHQ 5 sequential shots from shutter press to red light out = 23 seconds.
SanDisk Extreme III: RAW 5 sequential shots from pressing shutter to red light out = 11 seconds.
SanDisk Extreme III: SHQ 5 sequential shots from pressing shutter to red light out = 7 seconds.
SanDisk Extreme III: HQ 5 sequential shots from pressing shutter to red light out = 3.5 seconds.


SanDisk Extreme IV: RAW+SHQ 5 sequential shots from shutter press to red light out = 18 seconds.
SanDisk Extreme IV: RAW 5 sequential shots from pressing shutter to red light out = 9 seconds.
SanDisk Extreme IV: SHQ 5 sequential shots from pressing shutter to red light out = 5.5 seconds.
SanDisk Extreme IV: HQ 5 sequential shots from pressing shutter to red light out = 3.1 seconds.


These timings show the E-400 can take advantage of the new generation SanDisk Extreme IV cards. The write time to C/F card for sequential bursts with the latest generation of C/F cards seems impressive. (For comparison I used the Extreme IV C/F card in my E-1 and with the same basic settings plus RAW+JPG file size I took a burst of 5 frames and timed the result; a straight 10 seconds, but remember the E-1 is only a 5MP sensor).
From shutter press to displaying the image on screen takes the E-400 only 1.75 seconds, regardless of the file size, which I find very satisfying. This compares to a lethargic 4 seconds from the E-1, regardless of the C/F card or file size.
These timings are much better than the E-500 which only buffers 4 frames in a RAW sequential burst, indicating a smaller 64MB buffer. I did not compare all timings with my other E-System cameras as it's obvious the E-400 is quicker processing/writing to C/F but because of the increased file sizes and 128MB buffer there are still restrictions. Whether buffer size and timings are large and speedy enough for your photographic interests/requirements only you can judge. To me the E-400 appears more agile, quick and responsive than the E-1 (the comparison I undertook whilst informative, is not truly equitable) and the E-500 from the read/write/display speed aspect. But I miss the 12 frame burst capability of the E-1.
---
SECTION V: Likes & dislikes; Conclusion; Price & distribution.


LIKES/DISLIKES:
I've been asked by many readers to provide a resume towards the end. (That's OK as long as you don't simply come straight here and ignore the rest of my hard work!) This list is inevitably influenced by personal preferences that may be insignificant to others. I've restricted the list to 'Five a Side' to focus my mind. With all this in mind please read on:
I LIKE:
Its shape - the slight jelly-mold look suits this tiny machine.
Its weight - even though (instinctively) it feels 'too' light.
Its looks - especially the bit of body on the left of the lens.
Its agility - almost everything is nicely achieved.
Its intuitiveness - a rare quality these days.
I DON'T LIKE:
Having to access the menu for almost everything.
It's not a true "system" machine; fixed screen; no optional power grip; non-universal external power.
No proper VF blind and no mirror lock (for tripod work these are a necessity).
The read-out on the right - underneath the main VF area is the only place for this.
Those damned strap eyelets.
---
CONCLUSION:
I've had the E-400 for several days now and am starting to feel relaxed. I admit to not being greatly enamoured by it to start with. There's no doubt I have been spoilt by three years ownership of the professional grade E-1 and I tend to compare every camera I try to the E-1. When I bought my (amateur grade) E-500 I took to it straight away, for all its little faults and quirks and some would say its slight ugliness. The E-400 is without doubt more aesthetically pleasing; it's attractive, elegant and well designed, but has taken a while to get under my skin. It has truly 'traditional' SLR looks and I like very much the rounded edges and slight 'jelly-mold' approach.
Its performance causes me no distress at all. It is fast and responsive and has a great selection of command dial options for most levels of users. Personally I miss mirror lock-up and think all DSLR's should have this facility; mirrors 'slap' causing body vibrations. I also miss the short-cut buttons on the 4-way control of the E-500 and the access buttons dotted about the E-1. Though I have not compared each MENU selection and option it's pretty clear the E-400 offers far less in the way of programmable or selectable options than the E-500. (Having mentioned menu systems and intuitiveness, Olympus would do themselves a favour if they learned from the menu system serving the humble Casio digicams).
With all this in mind it seems obvious the E-400 is set to be the entry level DSLR when the corporate three-tier stategy finally shakes itself out. If it is aimed at migrants from advanced compacts it offers a great upgrade path. For current E-system users its biggest attraction is a 10MP sensor that pumps out some pretty noise free images at quite high ISO (compared to what we are used to). In most other respects I do not see it as an essential Olympus DSLR upgrade path.
And what of the E-410 I hear you ask? The E-410 is likely to be identical except for having Live View. There appears to be some additional space in a small 'bump' above the E-400 viewfinder housing for the extra light-path sensor and the "prism" mirror elements only require modification. Unless Olympus have found a way around physics the E410 viewfinder is bound to be marginally less bright. Because of this I do not see the E-410 as a replacement for the E-400, more of an alternative choice. This has got to be good as it offers a way for the company to judge (by sales) if 'Live View' capable machines have more (or less) market appeal than conventional DSLR. Choice is nearly always a good thing providing it is accompanied by sound information and not simply sales 'hype'. (I also have a feeling that the E410 may be slightly less on MP count).

As of April 2007 the E-410 is almost here. A specification comparison shows little difference other than the obvious LiveView facility; The stated E-410's internal buffer is either slightly larger (being able to hold 7 RAW frames rather than the 5 of the E-400) and/or the new compression of RAW data is effective. (It seems the buffer is the same size at 128MB. That being so the stated frame rate for the E-410 may be more disappointing than the E-400 as the math says it should be able to cope with a burst of at least 9 or 10 RAW images before pausing for breath. However, the LetsGoDigital review of the E-410 does confirm a RAW burst rate of 10fps). I also note there is a discrepancy between the flash synch speeds with the E-410 claiming 1/180th but the E-400 being non-specific on synch. I'm wondering if this reflects the E-1 which is capable of synching up to 1/380th before the shutter blinds start to leave their tell-tale vignette. I'll let you know.
Of course the ultimate and fundamental difference which risks being overlooked in the race for technical advancement is that the E-400 enjoys the more mature Kodak CCD whereas the E-410 is fitted with the Panansonic LiveMos sensor. Any Olympus DSLR user knows it is the combination of Kodak sensor and the Olympus processing algorithms that is responsible for the rich colours and dynamic range so beloved of the files from the E-1 and E-500; making them so distinctive. It will be interesting to see if the move to Panasonic sensors shifts the image quality of the final results. I suspect it will.
I have (mostly) enjoyed using the camera and shall hang on to it for now in case anything else occurs to me or is suggested by readers that requires testing (it's not a bad excuse). There's nothing I absolutely abhor and much I can enthuse about. More importantly, there's nothing so far I cannot work my way around thanks to its intuitiveness. The files from the E-400 are absolutely fine, but to me, they lack that 'special' look of E-1 files. In many ways the fact that this camera can be produce noise free files is sufficient reason to keep it in my arsenal. I genuinely believe that gone are the days when we relied on one camera for all seasons. Each E-incarnation has strengths and weaknesses. The experienced user knows what camera is good for which task. After all, I have a tiny Casio compact as a pocket camera and am continually stunned by its results.
---
PRICE:
Price in UK - When released in October/November 2006 it was priced at £899 for a twin lens kit. This price has typically fallen; at the time of writing (Feb) is around £600-700 for the same box (depending where you buy) and will no doubt settle at around the £525/575 mark for the twin lens kit. (At this price it represents exceptional value for money, competing well with other manufacturers).
The company's strange release strategy is not entirely understood. The E-400 is not available worldwide with sales restriced to Europe and some parts of Asia. Expressly excluded are US and Japan. Rumoured reasons for this are restricted availability of sensors; too large stocks of E-500 in US; European users provide better feedback for further research & development; European markets will stand overpriced goods (my personal favourite and probably nearest the truth!).
---
FOOTNOTE:
On a dismal Thursday afternoon in UK my wife spotted this Sparrowhawk from our kitchen window. She is sat in an old apple tree growing against the high rear wall, about 70' away. I have no choice but to try and photograph this beautiful bird of prey through the glass of the kitchen window. I used the E-400 + ZD50-200 and some with the addition of the EC14. I set the ISO at 400 and increased it after two shots to 800. I took about 17 shots before she decided she'd had enough of posing for the camera. Of these 10 are keepers. Here's four of them: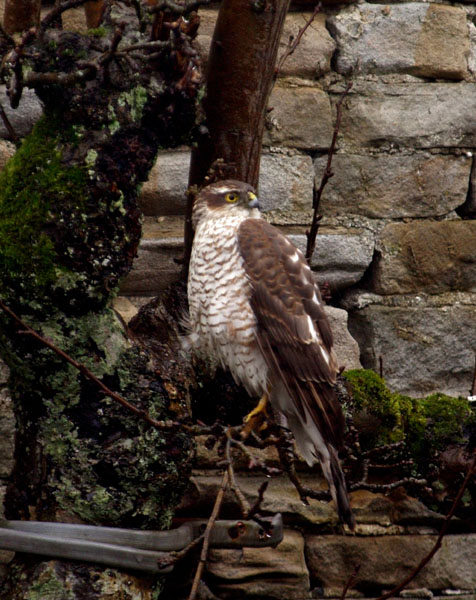 Here she appears to watching out for food - we know she's eaten lots of Bluetits, the occasional Blackbird and at least one Greater Spotted Woodpecker.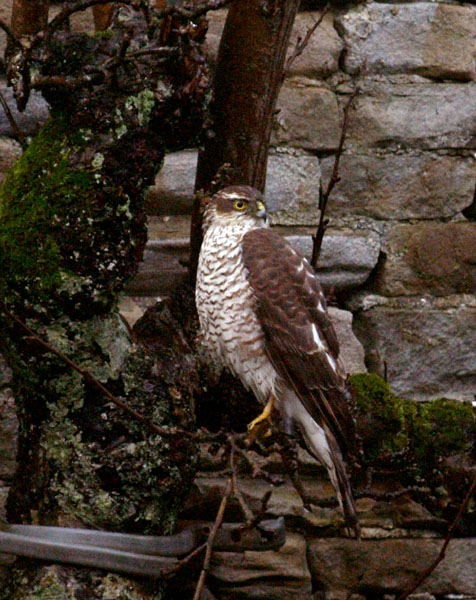 At this point I swear she could hear the camera as each time I squeezed the shutter she cocked her ear toward the direction of the noise.
In this shot she's looking directly at me and/or the camera lens. It is quite disconcerting to have such a magnificent creature study you back. She was fully aware of what was happening.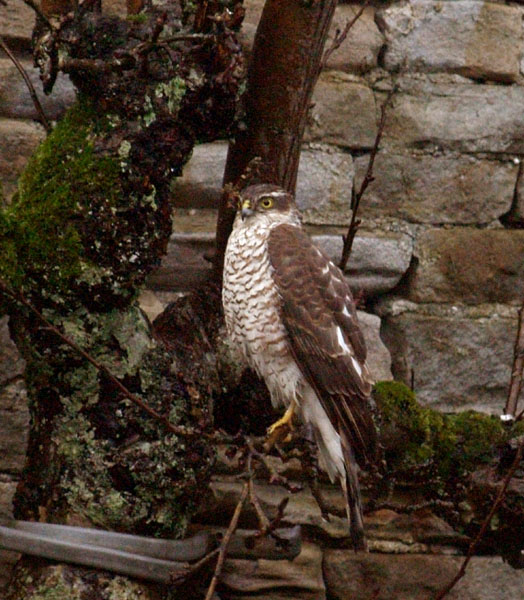 I thought this shot was the sharpest so I cropped it a little tighter and squarer. Bearing in mind the dismal day and being taken through domestic glass, these are pretty darned good.
These shots illustrate the E-400's performance in genuine shooting conditions of poor light and restricted standpoint. The AF was quick (quicker than the E-1 + SHLD with the same lens combination) and happily locked on through glass distortion and reflection. The AF never failed to lock and I must have locked on at least 40 times. On the monitor at 100% I can see the results of the cameras inherent noise reduction algorithm (NR set to OFF) just taking the edge of the sharpness but to my eyes the result is not compromised. My past experience with the E-1 and this lens combination suggests that camera would not have delivered so many keepers in the short time this female Sparrowhawk chose to stay. The female is recognised by her white 'eyebrows'.


PANO'S and the E-400:
I'm adding these two images as examples of panoramas I took very recently as I know there is lots of interest in 'super wide screen' images (however obtained). The files are saved only as low-res jpeg's and serve only to indicate what the camera and the stitching software can do. Each pano is made from only 3 images with an approximate overlap of about one third. The original .jpg's output is excellent but, obviously, much too large to post here.
I have tried many iterations of various pano software and I've got to say this is one of the best I've experienced and I can recommend it. Autostitch is developed by the University of British Columbia and is open source. It is a fully operational demo version and comes free. If it expires simply download the latest version. Currently it works only with jpegs and the output parameters are customizable. It is certainly easy to use and very capable; I think it both simple and elegant. It will only stitch the vertical joints i.e. across a series of horizontal images, so if you wish to stitch on both axis this is not for you. If you wish to try this software for yourself I have included a copy on the biofos software page here.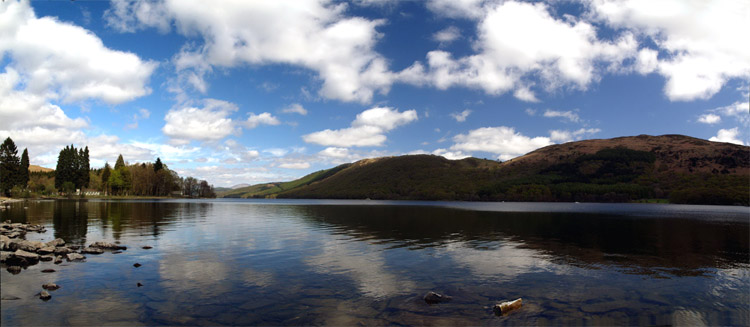 Western end of Lake Coniston, looking north east, English Lake District, Cumbria, UK.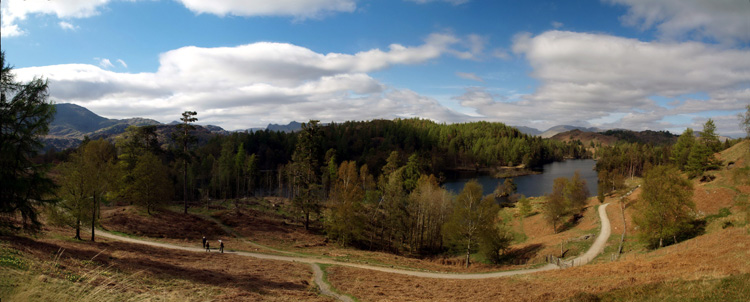 Tarn Hows, English Lake District, Cumbria, UK.
---
NOTE: This article seeks nothing other than to inform. Only you can decide what equipment you want/need for your use. Bear in mind I own these cameras/lenses, out of my own pocket; I have nothing to gain or lose by publishing this article, photographs, examples or opinion.


---
---
| | |
| --- | --- |
| Posted Feb 2007 | Copyright © 2007 John Foster |