Please Note: Any RAW files I provide can be manipulated with Olympus Viewer 1.31 (latest version). I'd recommend Viewer over Studio or Master if you want the latest RAW development capabilities or support for new cameras. If your current Olympus software is outdated the upgrade(s) can be obtained from within the software itself through HELP/UPGRADE SOFTWARE tab while connected to the Internet. You will need your cameras serial number.


Having tried several RAW developer softwares I prefer Olympus Viewer even though it can be slow and lacks some sophistication. I use Viewer for all my RAW manipulating needs; I believe it gives the best results for colour rendition and general tweaking. However, as regards sharpening and noise reduction, there are much better softwares out there. Look at the on-line forums for recommendations. That said out of camera jpg's are so good these days I tend to use jpg's for most of my work but set the camera for jpg and RAW in difficult conditions. This gives me all I need.
While I intend to explore the E-M5 in some depth please note I do not pretend to be versed in video/movies; nor do I have any more than a passing knowledge about making and processing movies. For now I am reviewing the E-M5 as a stills camera. Movie making is something I will have to come to terms with! There will be many reviews on the Internet that discuss the pro's and con's of movie making with the new E-M5.


Updates Nil.


OM-D E-M5 CAMERA MANUAL I strongly recommend you download and read the pdf version of the official OM-D E-M5 131 page manual (3MB) here . The camera comes with the basic manual only.


---
BACKGROUND
The OM-D was released by Olympus about 6 months ago. I was promised a copy way back in March but such was the international demand UK samples were very restricted and only came on stream in May. And then I had to wait my turn! When the camera lens and grip finally arrived my life had been taken over by looking after my father's welfare as he moved into a residential care home. So my apologies for this review taking so long to hit the website.
The OM-D is heralded (obviously) as the digital OM and takes much of its styling from the Maitaini inspired OM System cameras.
It is a MicroFour-Thirds camera and not an E-System 4/3rds machine. M4/3rds has its own dedicated range of M Zuiko Digital (MZD) lenses, both zooms and primes. That said the OM-D can utilize 4/3rds lenses with the appropriate adapter (see later).
It is not part of the Pen Series of m4/3rds cameras but sits higher in the Olympus hierachy and is currently the top dog of m4/3rds. However, I am told that there will be more OM-D cameras and the E-M5 is just the start. So OM-D is the designation and E-M5 the model number.
The E-M5 is dust and drip proof not waterproof (very few cameras are).
It is Olympus' first m4/3rds camera with an in-built Electronic Viewfinder (EVF) and styled as a (D)SLR type camera.
NOTE: I undertook a quite detailed examination of the camera aesthetics, controls and accessories when it was announced in February/March 2012. It may be useful background to read my article here .


HEADLINE FEATURES
New CMOS 16MP sensor (4/3rds size and 4:3 aspect ratio) sensor manufacturer confirmed to be Sony.
Electronic Viewfinder with 100% field of view.
5-AXIS Image Stabilization
ISO gain to 25600
True-Pic VI Image processing pipeline building on the experience from the E-5 highly acclaimed fine-detail processor.
3" OLED tiltable touchscreen.
Full High Definition Movie mode (1080).
Up to 9 Frames per Second in photo mode.
35 point Auto Focus system (contrast detect).
SDXC and HDMI compatible.


BOX CONTENTS
OM-D E-M5 body in black or silver.
Standard kit lens M Zuiko Digital ED 12-50mm f3.5~6.3 zoom with power focus ring.
Detachable flash FL-LM2.
Strap.
Lithium-Ion battery BLN-1 and charger/cord.
USB and AV cables (HDMI)
CD-ROM, Warranty Card and basic manual.




E-P3 FRONT PLATE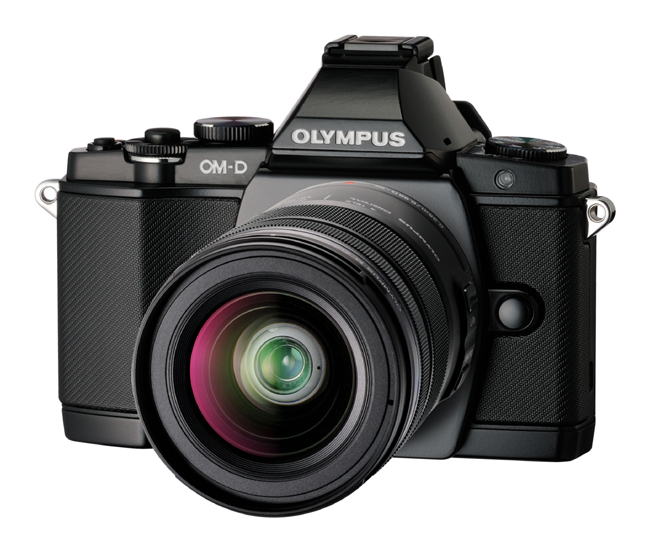 E-M5 black body fitted with the new ED MZD 12-50mm 3.5~6.3 standard zoom.
The SLR type 'hump' houses the EVF (see notes below)
The grip appears quite modest but it does offer good handling.
NOTES
Anyone with any knowledge/experience of the OM series of camera (1972~2001) will instantly recognize the DNA here. To my eyes the E-M5 is a subtle mix of OM2SP and OM10 looks and is without doubt very handsome. It is actually smaller in width and depth than (say) my OM4Ti but a tad higher. Body for body it is also far lighter. Fitted with its standard zoom as opposed to the OM4Ti with any of the contemporary OMZ zooms you can see the E-M5 offers a much lighter and compact package albeit the MZD 12-50mm lens is a bit slower at the longer end.
The finish is silky black (not shiny but not matt) with a central band of blck vinyl closely cross hatched offering grip to the fingers of each hand. The EVF hump is quite high with a flat top. The top and bottom plate are made from engineering plastic over a metal chassis.
The frontal aspect shows very little in the way of nomenclature - the standard OLYMPUS across the front of the 'hump' and OM-D to its left.
Notice the lack of lettering to the front of the lens, a feature quite common these days and designed so as not to reflect when capturing macro images. (How many macros have I got with the reflection of the lens designation spoiling the image).
The lens release button is right of the lens mounting plate and black.
Above the lens lock button, in the top plate is set the AF illumination lamp (orange and quite bright).
And that's it for the frontal aspect - very plain (but tasteful) in many ways.


E-M5 REAR PLATE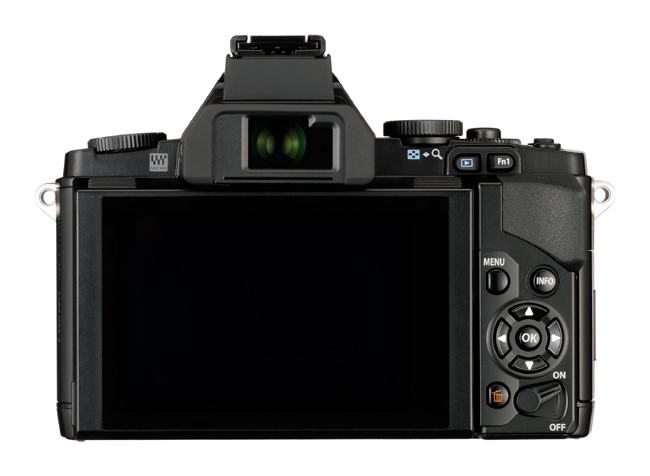 The rear plate is dominated by the 3" OLED 640k touch-screen that is excellent though a tad contrasty. Like the E-P3 the screen surround does not oversail the screen and therefore offers it no protection.
Unlike the E-P3 the screen is definitely not smear proof; but it is tilting.
The button layout is similar to Pen-Mini but has a tiny ON/OFF button to the bottom right.
NOTES
The OLED screen is delightful to use with rich and a tad overly contrast laden colours. I have to say at this point the first thing I did was to switch off the touch screen capability as I cannot stand them! The screen surround has two raised ribs either side of the eye-piece and a single rib bottom left offering finger purchase to tilt the screen away from the body (see below). The eye-piece offers some protection from daily mishaps but it needs a protector fitting from new.
That the rear screen tilts opens opportunities for overhead shots, tight architectural composition using the camera like a TLR and low down macro images.
There is no button column as such, just the 4-way with its centre OK button with the MENU and INFO buttons above. Next to the ON/OFF switch is the DELETE button. On the back of the top plate there are two further small buttons being the blue marked REVIEW button and the programmable FUNCTION (Fn) button next door. All the control buttons are really small and if you have large hands and fingers like me you may struggle and I note you have to use the thumb nail rather than the thumb end. Some will find this annoying. However, these need to be small to offer such a compact package.
On either side of the eye-piece there are two knurled chrome-edged control rings. The leftmost is the MODE dial (PASM, iAUTO, ART, SCENE & MOVIE). The rightmost wheel is the upper of two control wheels on the right of the camera and is unmarked. Undercutting this wheel is a third wheel that surrounds the shutter button, again unmarked (more below).
There is a quite large and conveniently placed thumb rest/grip placed above the buttons on the back plate. It is angular and chunky, offering good purchase.
Note there is no busy lamp on provided - a screen icon is used for this.
The viewfinder rubber eye-piece has a cut-out to its right portion making room for the 'eye-present' sensor that switches the image feed between LCD and viewfinder. This rubber piece does slide off to allow proper cleaning of the exit pupil. It is a tight fit with a click stop.
On the left of the finder and behind the rubber eye-piece is the dioptre adjustment knob. Even though it is virtually hidden it is relatively easy to use with the index finger of the left hand. The dioptre has 12 click settings between + & -. Once set is is unlikely to be adjusted again.
Immediately above the eye-piece and directly below the hot shoe is an oblong blanking panel that when removed exposes the communications port that accepts a range of Olympus accessories such as the Macro light etc. The panel is quite difficult to remove.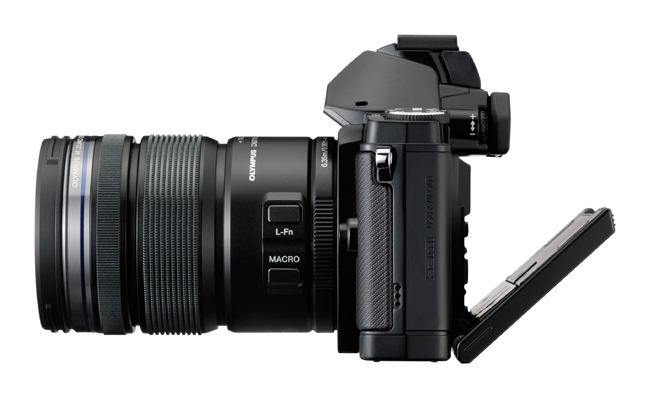 Above: the tiltable screen in its mid-position for overhead shots.
E-M5 TOP PLATE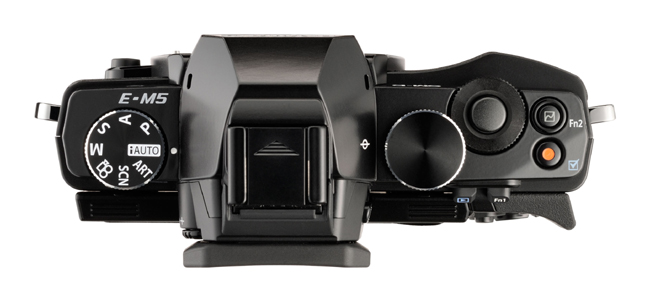 Dominating the top plate are the three command/operating dials.
On top of the viewfinder 'hump' is the hot shoe with the communications port underneath.
NOTES
The top plate has its three command/operating dials with the rightmost one surrounding the shutter release button. Thay all have knurled edges.
To the right are two programmable buttons with default settings of (front) tone curve between highlight and shadow with the movie button behind.
At the other end in front of the MODE dial is the only nomenclature for the mode, displaying E-M5.
On the opposite side of the viewfinder humps dioptre adjuster is a button to manually control the image feed between LCD and EVF.
At the front of the hump on each side are the twin stereo microphone pick-ups for sound recoring in video mode.


E-M5 BOTTOM PLATE

Pretty standard for an analogue SLR with battery door, pick ups for battery grip and tripod bush.
NOTES
For the first time in the m4/3rds series of cameras the E-M5 sports the ability to accept a battery grip. The section in the centre is slightly recessed and provides the pick up points for the electronic/power connection for the grip (more later). Near the battery door you can see an alignment hole for the grips end-pin.
The battery door is to the left and opens to reveal the new BLN-1 battery. Note the SDXC card is not housed in the battery compartment.
The tripod bush is not in line with the centre line of the lens but at least it is kept away from the battery door making it just possible to replace the battery when on the tripod - depending on the size of your plate.


E-M5 SIDE PLATES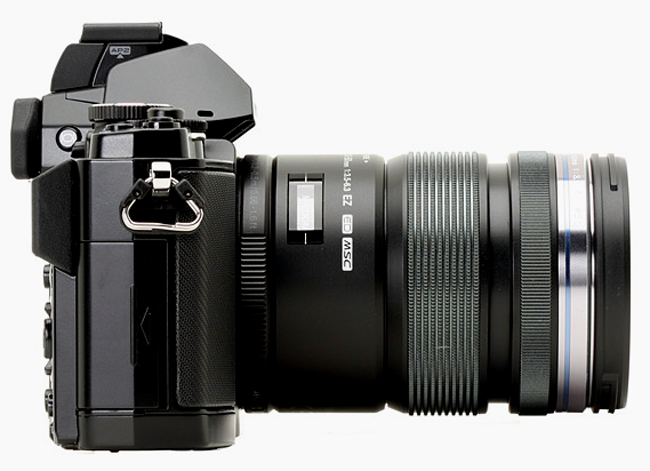 The SDXC card is housed in a compartment on the users right hand side. The door slides towards the user and springs open. Close and slide back to click to shut.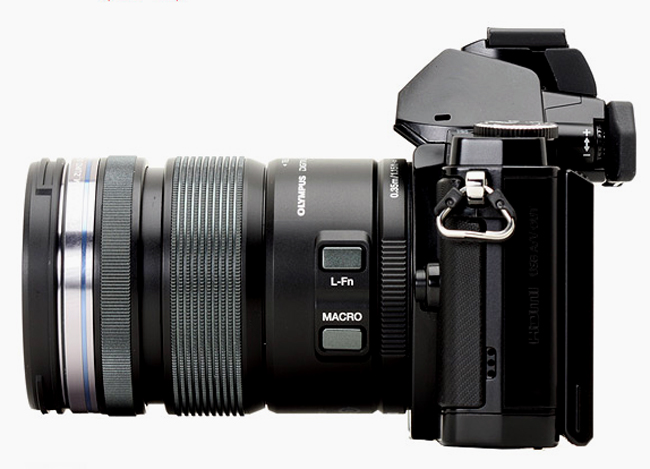 Comms ports - USB and HDMI are on the users left.
NOTES
The card compartment is sensibly placed and does not share its placement with the battery. On the PEN range of cameras the shared compartment drives me nuts when doing tripod work as I have to dismount the camera each time I want to see my shots on the PC.
The card simply presses down into its slot and is automatically locked in place. To remove press again. The card fits with its pick-ups facing the back of the camera.
The USB and HDMI communications ports are housed behind a rubberised door that can only be opened with the rear screen folded outwards. It is the same design as the E-5 and appears weatherproof.


E-M5 OTHER VIEWS - LENS OFF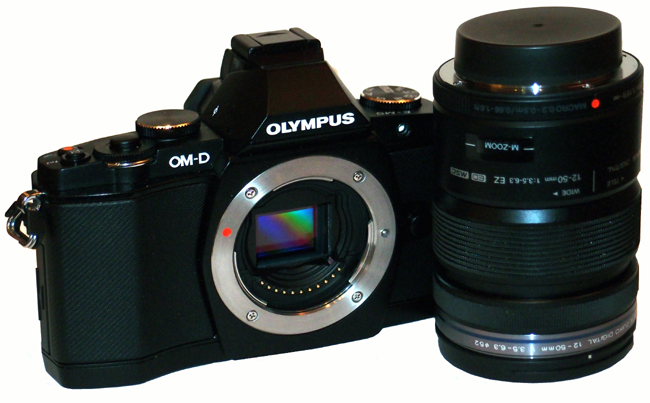 Shown above is the E-M5 with standard MZD 12-50mm zoom removed. You can see the sensor (well the SSWF dust buster anyway).
NOTES
Here you can see the m4/3rds sensor behind the clear cover of the Super Sonic Wave Filter that is Olympus unbeaten answer to dust on the sensor. Other makers have their own versions and though it is often plagiarized it has not been surpassed. I have been using 4/3rds cameras since 2003 and never required a sensor clean after many thousands of photographs. Yes I may have had dust on the 'sensor' but a few operations of the SSWF has cleared it wonderfully. Too many folks take the Olympus solution for granted - it is a superb answer to the annoying and ever present problem of dust. Electronic devices attract dust like a magnet. The SSWF shakes the cover in front of the sensor at a supersonic rate to rid itself of dust particles, resulting in clear imaging - brilliant.


E-M5 OTHER VIEWS - WITH 12MM f=2.0 WIDE ANGLE LENS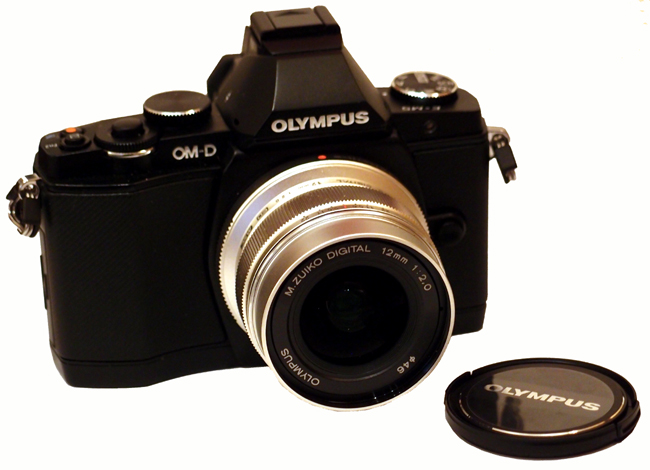 E-M5 with MZD 12mm f=2.0 Wide Angle lens. This lens is only available at the moment in 'chrome' finish. Even so it looks super.
NOTES
The E-M5 offers a really small DSLR type camera and it's good to see there are some equally small fast primes available too. In my old OM days I was happy at 24mm and occasionally strayed into 21mm territory though I'm not a super-wide angle lens afficianado. I have used this lens extensively on my Pen m4/3rds machines and can vouch for its usefulness and high quality imaging. This combination of E-M5 with the 12mm will make a great landscape or street architecture camera. As it is 'MSC' designated, it is super fast to find focus and a delight to use regardless of the camera. Its integral depth of field scale is very useful if you are in manual focus mode and capturing images through hyperfocal techniques.
The MSC designation means Movie & Still Compatible which infers that little to no sound is made by the lens' AF mechaniism in movie mode, but the lens maintains all its still imaging characteristics.
The end of the lens is threaded to take 46mm filters.
And of course the E-M5 will accept any m4/3rds lenses, of which there are several medium zooms and a handfull of fast primes.
To see the full array of m43/rds and 4/3rds lenses on the E-M5 spend some time at Four-Thirds.org here .


E-M5 WEATHERPROOFING SEALS (image courtesy of Olympus, Japan).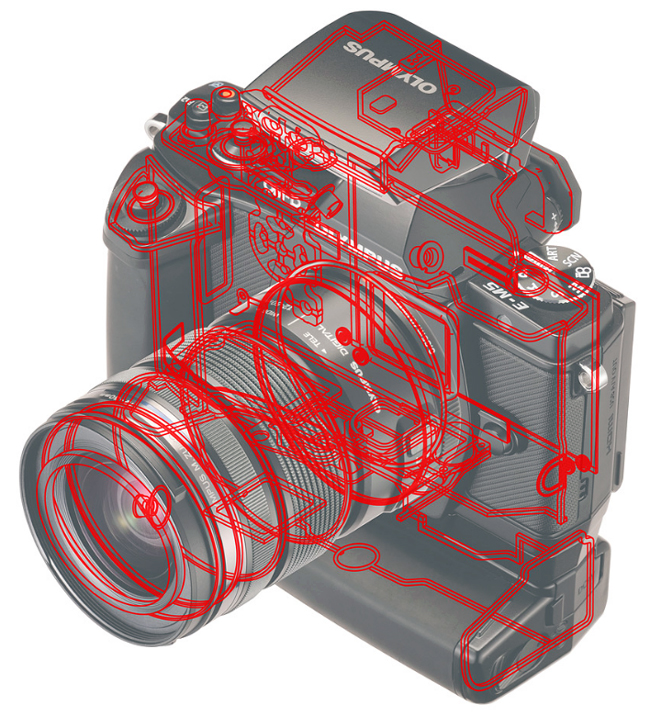 Image showing the extensive weather seals in the E-M5, 12-50mm zoom and 2-stage battery grip.
NOTES
Olympus chose a multi-level approach to the original 4/3rds cameras - consumer and prosumer levels. One of the continued criticisms of the Pen m4/3rds series has been its lack of weatherproofing. Folks argued if we were to take the m4/3rds foramt seriously Olympus must produce a 'prosumer' grade weatherproofed machine. Well, the company has done just that although it insists this is not the 'Professional' grade camera - this will follow.
Whatever Olympus may say this looks pretty good to me and will offer to those all-weather photographers a small and light camera they can safely use in the worst of conditions. Jut what the professionals are looking for.
In fact quite a number of Pro and Semi-Pro's have already sold their heavy full and APSC crop camera to adopt Olympus' lightweight approach.


PROVIDED FLASH UNIT FL-LM2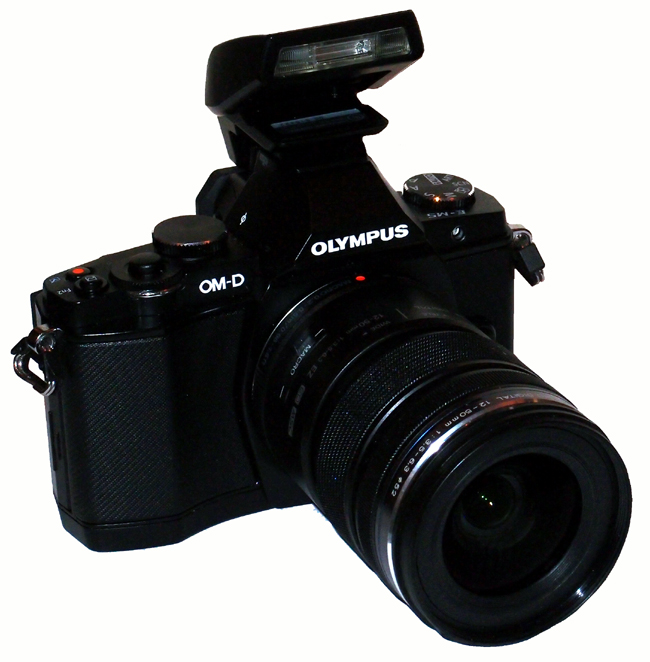 Image showing the tiny detachable flash FL-LM2
NOTES
Olympus' answer to having no on-board flash is to provide a small and pocketable unit you can carry with you at all times and not be inconvenienced. There was no room for an on-board flash (just like the E-P3 and Pen-Mini). It's a decent compromise.
The AP-2 accessory port into which this plugs will take a range of add-ons such as the macro lighting unit, as well as this flash.


ELECTRONIC VIEWFINDER EXPERIENCE
If you have used the acclaimed VF-2 EVF that is a clip-on to the Pen Series, you will understand just how much progress has been made. The built-in EVF in the E-M5 is basically the same technology (although the refresh rate is much higher) and provides a wonderful experience. OK, it's not as good as an optical finder but it's pretty damn close. The is no discernable lag and the only optical deterioration occurs as the light level drops and the unit compensates by increasing the electronic 'gain' and this leads to 'graininess' resulting in streaking and obvious noise. But, to be honest, when the light levels drop to this degree you'd not be using a conventional finder anyway. It is a vast improvement on any other EVF I have used and is, genuinely, quite a reasonable replacement for an optical finder.
Of course the advantages of this technology is in the overlays and instant feedback of any tweaking the user makes, such as compensation for example. As you look at the scene through the EVF and adjust the exposure parameters the result is right before your eyes - no more guessing how it will turn out - you can see. And the overlays allow you to see all the changable parameters in real time as they affect your image on the screen - wonderful.
I was very satisfied with the VF-2 as a PEN accessory and recommended it to anyone requiring an eye level viewfinder experience. That this is now in-built is something I think all Olympus m4/3rds users have been waiting and wishing for.
Purely for the sake of it I tried installing the VF-2 on the E-M5! It works! You cannot switch between VF-2 and E-M5 finders so a direct comparison is not possible; you have to remove the VF-2 to feed the E-M5. Of course you wouldn't want to use this arrangement, but I was curious to see the results. However, and rather strangely, I found the VF-2 provides a slightly more aesthetically pleasing result. If the units have the same resolution (1.44MB) then it must be the higher refresh rate of the E-M5 at work.


OTHER ACCESSORIES
I have the PEN-PAL Bluetooth image transfer unit and the Macro Arm Light for the PEN system and both work fine, as you'd expect. In addition I tried all my 4/3rds FL Series flashes and, of course, these work properly too. I have no 'R' series flashes to try but by definition these will work with the E-M5.


GENERAL SPEED INCLUDING AF
Electronic devices can infuriate the user if they suffer any 'lag' be it start-up, AF, Review or whatever. The E-M5 is a fast camera. For example if you have the EVF feed to the LCD panel switched off start-up to seeing the image in the EVF is about 1.5 seconds with the green box flashing its presence and the beep of confirmation. If you have the feed to the LCD enabled then this is delayed by about a second as you are relying on the eye sensor in the viewfinder to switch the feed. How you configure the camera is of course up to you. Part of this initial pause is to allow the Supersonic Wave Filter to cycle and get rid of any dust on the sensor.
Other areas that might have frustrated you with other cameras such as menu-diving or reviewing images presents no problems for the E-M5. The camera is quick and responsive and very rewarding. Each press of any of the buttons brings up the feature or screen instantly - no messing about waiting. It is a delight to use.
Auto Focus speed is extremely quick with any of the m4/3rds lenses and even quicker with those lenses designated MSC. With the standard 12-50mm zoom AF is virtually instantaneous and appears quicker than all 4/3rds camera even with SWD lenses. I am very impressed with AF speed and I cannot think anyone will have cause for complaint.


AF SPEED WITH 4/3RDS ZD LENSES
When I reviewed the E-P3 with its improved processing AF, I tried out a large selection of 4/3rds lenses (ZD and others) and recorded their AF timings. I was anxious to try out the same selection of lenses on the E-M5 with the appropriate adapter MMF-1 (I do not have the MMF-3 but as far as I know the only difference is the MMF-3 is weatherproofed). Here's the results in normal daylight conditions with a target less than infinity. My assessment of AF speed is pretty primitive consisting of a small electronic second counter and my own experience. This is no good for rapid AF measurement, but adequate for slower AF times.
NOTE: Comments in brackets comapre with results on E-P3 and range from improved; slight improvement; about the same (perhaps marginally improved); the same.
ZD12-60mm SWD AF = about 2 seconds. Non CDAF enabled. (slight improvement)
ZD14-42 kit zoom AF = 1.25 seconds. CDAF enabled. (improved)
ZD40-150mm kit zoom AF = about 2 seconds. CDAF enabled. (about the same)
ZD 25mm compact AF = 1.0 - 1.5 seconds. CDAF enabled. (about the same)
ZD50-200mm SWD AF = 3 - 4 seconds. (slight improvement)
ZD50-200mm OLD AF = 2.5 - 3 seconds. (slight improvement)
ZD70-300mm AF = about 1 seconds. CDAF enabled. (improved)
ZD14-35mm SWD AF = 1.5 seconds at wide angle; 2 - 2.5 seconds at tele (more steps). (slight improvement)
ZD35mm Macro AF = 2 seconds Non CDAF enabled. (improved)
ZD50mm Macro AF = 2.5 - 3 seconds Non CDAF enabled (5 - 6 seconds if hunting). (the same)
PanLeica 14-50mm (faster version) AF = 2.5 seconds and very quiet. Non CDAF enabled. (the same)
Sigma 30mm AF = 1 - 1.5 seconds (clunky steps but quick). Non CDAF enabled. (improved)
ZD11-22mm AF = 2 seconds. Non CDAF enabled. (about the same)
ZD7-14mm AF = 2.5 seconds. Non CDAF enabled. (about the same)
ZD14-54mm Mk I AF = 2.5 - 3 seconds. Non CDAF enabled. (the same)
NOTES ON ABOVE TESTS AND GENERAL COMMENTS
Anyone wishing to use the ZD CDAF enabled lenses on the E-M5 will see a a slight dip in performance compared to the MZD version (if/where appropriate). For those who wish to use their ordinary ZD, Sigma and PanLeica 4/3rds lenses the results are more mixed and none of them fares well compared to the native MZD MSC lenses. But some of them perform not badly and provided you are not using them for sports or other action photography they will work satisfactorily. Bear in mind too that most of us are landscape shooters and for that type of imaging fast AF is a non-requirement. If you are a tripod shooter (other than sport) it simply doesn't matter.
I did notice that with most of the 4/3rds zooms used in the test, they were quite noisy when zooming (except the PanLeica). Some are also noisy going through the AF steps so I'd imagine this makes them unsuitable for any video with sound. From my limited experience the best legacy lens to offer high resolution with a fast and bright zoom and silent operation is the OM35-80mm 2.8 - more about this in another article.
Of the range of lenses tested above the worst performer is the ZD50-200mm SWD and this must be to do with the stepping distances in the tele zoom because the ZD14-35mm SWD performs quite nicely, as does the ZD12-60mm SWD.
It's all about horse for courses. 4/3rds high and super-high grade lenses will surpass the standard MZD lenses in resolution I am sure. They also offer some functionality, focal lengths and levels of brightness not yet covered by MZD. Whether you want to mix the m4/3rds system with traditional 4/3rds glass is a matter for you. I certainly will be because this means I can make my 4/3rds bodies last longer.
In summary, although Olympus told me there was no improvement in AF with 4/3rds ZD lenses I have found some improvement in certain lenses. Now, whether this is enough to make the difference only you can judge. For me any improvement, however small is very welcome and keeps alive my remarkable ZD glass. Personally I think Olympus engineers will resolve this issue finally with a PDAF section on the new sensor - then we'll all be happy!
The recent announcement from Olympus confirms they are looking at the fully functional use of 4/3rds glass on m4/3rds bodies as a priority. Unfortunately many 4/3rds users interpreted this announcement incorrectly, thinking this meant another 4/3rds body. Olympus have since clarified their position and really little has changed; they wish to combine 4/3rds with m4/3rds (one beautiful system) and until 4/3rds lenses can be used fully on m4/3rds bodies (or body) they will provide a body which can use them. For the time being this is the E-5. If they resolve the 4/3rds lens issue soon they will have a m4/3rds body with some form of PDAF (either on sensor or via an adapter), if not they may have to consider producing an E-7.


E-M5 BODY CONTROLS, SCREEN, KNOBS & DIALS
If you have handled either an E-Series camera or a PEN machine the controls of the E-M5 will seem familiar. On the left hand top plate is the usual MODE dial (PASM + iAUTO + ART, SCENE, + MOVIE) while on the right are a control wheel with the shutter button placed inside a second control dial effectively giving the usrer two wheels to control all functionality. There is a dedicated (but programmable) MOVIE button (red dot) and a tone-curve button giving access to highlight and shadow control via the control wheels. This is a great function to have at the press of a button without menu diving.
However, there is no dedicated compensation button. Instead and by default the dial around the shutter button gives direct access to compensation in most modes (A, S and P). Of course you can programme other buttons such as the MOVIE (red dot) button to that function. In fact all the buttons, dials and 4-way pad are programmable to some degree, but unless you have a very good memory I'd be wary of changing too many functions at once or you'll get no-where fast! Best do this over many weeks of use and in response to your own needs rather than reading what other folks have done.
Buttons are quite clicky in use offering feedback. My only concern is they are too small for anyone with large hands/fingers. I found the review button the most difficult to use being just above the top of the tiltable rear screen.
The screen is wonderful; maybe a tad too rich and contrasty (like the XZ-1). When reviewing your photo's on the computer you may be somewhat disappointed that they don't look as they did on the screen. This is OK if you work in RAW as you are going to process the results anyway; but in native JPEG the actual images can look washed-out and lack 'POP' and require a few curve adjustments. The screen is good enough to judge quite crutical sharpness.
The OLED screen could use some sort of protection as it sticks off the backplate. However, the viewfinder surround offers protection from above. It requires a high quality screen protection film fitting from new.
Shutter button is light and responsive with a tactile feel missing from other models.
The tiny ON/OFF switch to the bottom right hand side of the rear plate is a bit fiddly in use. There's no ON lamp and you can programme how long the screen stays illuminated before turning itself off to concerve power.
The viewfinder has a small built-in dioptre control on the left. Again this is fiddly to use but once set you rarely have to re-adjust it. On the right had side of the viewfinder hump is the feed button; this aleternates the feed between VF and rear screen. AND, at last, the E-M5 has an eye sensor built into the finder that switches the view on and off depending on the proximity of your eye. There's an annoying but short delay of about half a second before the VF is switched on that can be momentarily frustrating. You can also choose the 'style' of the VF; this offers a choice of how the exposure information is displayed on the VF screen. Though I chose style 3 (mimics the rear screen) I was impressed with the OM4 type display that concentrates the information into a blue strip at the bottom of a slightly reduced VF screen size. If I were to buy an E-M5 I'd probably choose that style.
On the top plate, either side of the 'prism' hump, are placed the stereo pick-up microphones. On the front of the top plate on the users left is the auto-focus assist lamp. I'm delighted to see this - too long in the coming. The front plate is graciously free of MP count and IS icons.
In general the rear control buttons are well laid out but are too small. Using the E-M5 wearing gloves will be virtually impossible.
Olympus sent me the two stage battery grip (HLD-6) to try out. The two stage approach is novel and innovative. I tried both stages and agree that handling is improved with either set-up. That said I preferred to use it with the portrait grip only mounted. I found with the batery element fitted the camera became a little too lumpy for me. But, like any grip it takes a while to get used to.


ACCESSING THE MENU, SUPER CONTROL PANEL & OTHER FUNCTIONS
The E-M5 provides two main points of access to control the camera functions, other than the direct or customized buttons. There's the main menu and a compact style 'Live Control panel' accessed by pushing the OK button at any time. The Super Control Panel, beloved of E-System users is available as an extra layer of control via the menu. However with them both enabled I found it overly complex and now have one or the other, not both. Both offer the same level of control but are laid out differently.
MENU
The menu system is long and complex to navigate. One enhancement is the provision of a pop-up box when you access a menu function that tells you in a few words what the function does. Yes this is useful but the box stops you seeing what's on the rest of the menu and actually slows the access procedure. For those who might criticize the menu system for its complexity it's a case of if you want customizability you have to have complexity. That siad, if you scroll through the menus a few times it all makes perfect sense and they are now colour coded! Anyone with a sound knowledge of photography will find the menu 'relatively' straightforward. Yes it's long and the choices are wide and varied, but it all hangs together and makes sense. But for novice users setting up the camera will be a daunting task. If I had the camera for longer I might have put together an article abiut setting up the OM-D E-M5. Unfortunately it has to be returned next week.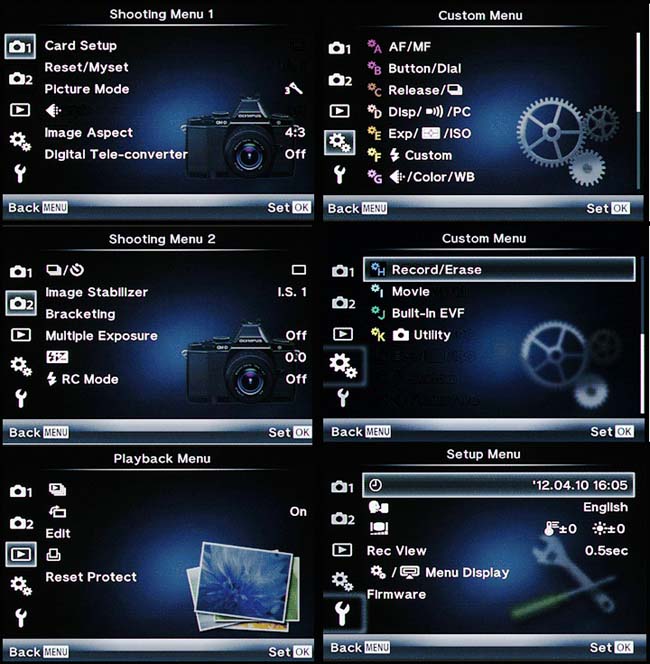 Above: The new primary menu screens - a rather nice shade of dark blue.
Above are the six primary menu screens. I am not going to explore the menu system here; suffice to say it is long and quite complex in places but is laid out logically and most choices are easy to find. To me exploring the menu system and customizing your camera to suit your personal needs is one of the pleasures associated with buying a new digital camera. Olympus offer an astonishing amount of customizability so enjoy their engineers work.
For review purposes I did re-set some of the basic parameters before taking any review images. The changes can be seen in the EXIF data attached to each image provided later in this article.


NEW IS SYSTEM
The E-M5's offers a new 5-axis image stabilization system. Olympus claims a benefit of some 5-stops of improvement. I have no test bed on which to test these claims but in the short time I've had with the E-M5 I'm certainly happy with the IS performance. It seems about the same as the E-5 except all axis movement can be compensated for not just horizontal and vertical. Personally I doubt the 5-stops claim is correct but it the system does work! I've read in other review that the IS unit creates some noise. I did not experience this but perhaps my hearing is no longer good enough to pick this up. In general use the IS system will help you deliver sharper shots at lower shutter/ISO speeds no doubt. But it is only a mechanical system so good camera handling is still required, especially during off-tripod macro work.
Some of the menu choices for the IS function are a bit confusing. AFAIK by default IS is switched off in continuous shooting mode. However in the menu you can set 'Sequential Shooting + IS OFF' to 'ON' forcing the unit to work even at the highest FPS setting. Again I have no means to test this properly but it will probably improve your sequential shooting results.
The other confusing setting I noticed in the 'RELEASE' section of the Custom Menu is "Half Way Rls With IS". Though I've tried this setting, I haven't been able to actually 'see' what this function does, but I assume it will operate IS on half press of the shutter if you have IS turned off. Just when you might use this escapes me for now!


AUTOFOCUS SPEED
Olympus are good at making fast AF claims (remember the E-3?) They reckon the E-M5 has the fastest autofocus in the world if used with its standard zoom, the 12-50mm F3.5-6.3. All I can say is WOW! S-AF is indeed blindingly fast, especially in good lighting conditions but you will not be disappointed in any conditions to be honest. The combination is faster than the E-3/5 with the SWD 12-60mm. Olympus have laid to rest this particualr ghost.
When it comes to C-AF however, it's not so good. Firstly C-AF is only available in Low FPS (3.5) and not at 9FPS. Nowhere on the camera menu does it tell you this - you have to find out for yourself as I did. But even at its lower setting no matter how hard I tried I could only get a couple of decent shots out of a burst. For my style of shooting this presents no real problem, but for action shooters and that includes shooting kids at play you may be disappointed. If you are good feathering the shutter button you will get better results using a fast finger and S-AF.
And remember if you do set the camera to 9FPS burst rate you get AF and correct exposure based on the first frame only. In reality the 9FPS burst rate is a bit misleading. You get full functionality, that is AF, IS and correct exposure, only at Continuous Low of 3.5 FPS.


LIVE BULB/LIVE TIME
The E-M5 has new and novel "Live Bulb/Live Time" modes. In essence in full manual mode only you can set the shutter for BULB or TIME and, during the actual exposure, the rear screen provides an updating preview of the image thus taking the guess work out of long exposure photography. In either of these modes the display is updated up to 24 times at pre-determined intervals depending on the ISO setting. For example using Live Bulb mode the screen can update at say every half second in ISO 200 building up the image as it goes - very clever. Live Bulb works for as long as you hold open the shutter whereas Live Time is from one shutter press to the next with your time in between.
I think you can also, during a Live Time exposure, set the camera to update the screen manually by touching the rear screen or shutter button, but I've not fully explored this.


SCENE MODES AND ART FILTERS
Turn the MODE dial to SCENE and you can access the cameras 23 scene modes. This is a feature beloved of their compact models but seems to be ignored or even held in contempt by many DSLR users. Yes, I agree some of them are gimmicky but others are very useful, especially for beginners. It is getting more difficult to carry in your head the exposure differences for differing situations and conditions. I have no compunction using some of the scene modes.
There are also 12 ART modes. ART modes differ from SCENE modes in that the camera applies not only exposure, contrast, saturation and focus alterations to your image but also adds further in-camera processing to produce some quite stunning results. Pop Art; soft focus; pale & light colour; light tone; grainy film; pin hole; diorama; cross process; gentle sepia; dramatic tone; key line and art bracket make up the selection. Yes we know that most of these effects can be produced in any decent processing software, but many folks want to see the results straight away without learning new softwares. I think both scene and art modes can be very innovative used correctly and not overdone.


BATTERY PERFORMANCE
The E-M5 comes with a new battery - the BLN-1. Having an EVF as well as an OLED screen to power and a new 5-axis IS system, it seems Olympus deemed it necessary for a more meaty battery. When reviewing a camera I spend a lot of time in and out of the menu, altering settings and functions and seeing and testing the results. For the first part of the review I do not take many images at all, but I have needed to re-charge the battery several times. It seems about two hours of intensive use like this is about tops. However when out taking shots I had no issues although I did ensure a fully charged battery before starting off. I'd estimate about 250 shots with IS on, review and ocassional menu diving would be about right.
This is mitigated by the battery grip that holds two batteries and should give a full days heavy shooting without problem. But as stated above I found the full battery grip at odds with the general ethos of the E-M5 and m4/3rds lenses being a small machine and found the handling a bit lumpy. I'd rather keep a spare battery in my pocket.
But for use with longer 4/3rds and OM lenses the battery grip is worth every penny. It gives the user more real estate to hold and provides much better handling with these long lenses. The inbuilt EVF adds to the balancing of the E-M5 as you can hold the camera against your head. This is much better than shooting with Pens without the VF-2 fitted.


SOME DISLIKES
The buttons are too small for cumfortable handling.
Gloved use of the E-M5 will be virtually impossible because of its overall size.
I do not like the touch screen (personal opinion - YMMV). I switched mine off.
The slight delay of the eye sensor in the VF bothered me a little. That siad I'm glad to see the sensor provided.
Tripod bush is not in line with the centre line of the lens.
No IR remote control onboard - surely this can be easily fixed? I did find my cheap Chinese JUEYING USB cable release worked fine though (1 meter of cable) as did my IR remote unit bought from 7DayShop on Jesey.
I am used to Olympus menu systems but can see why some new users might find it difficult.


SOME IMPROVEMENTS I'D LIKE TO SEE
By default I include this section. Even though I outlined a few dislikes above there's little I can envisage in the way of improvements. Yes I th ink the camera could be about 10% larger without spoiling the OM heritage. This will give some needed space for enlarged buttons.
Perhaps a less intensive menu system could be devised but choices drive complexity.
Overall the E-M5 is just about perfect (albeit fractionally too small).


E-M5 WITH NEW MZD 12-50mm Lens
The new standard zoom is the equivalent of a 24-100mm (in 35mm terms) and at f3.5~6.3 is a little slow (especially at the long end) and a little slower than most kit zooms that stop at 5.6 (not only Olympus). Its aperture blades are circular creating a pleasing out of focus background. The new lens is innovative having both a mechanical and a powered zoom as well as programmable buttons and a focus lock. The zoom ring moved backwards and forwards on its barrel to engage power or mechanical zoom. There is a small window on the lens barrel indicating either M-Zoom or E-Zoom.
In power zoom mode the ring only turns a couple of degrees either left or right to operate the power zoom. Zooming is smooth and responds speed-wise to how far you push the ring. Full pressure to left/right moves the zoom quite quickly whereas less pressure equates to slower zooming. During power zoom AF keeps up with the zoom rate.
In mechanical mode the zoom ring operates normally albeit a bit gratey. Manual zoom can be much faster than power zoom and although AF can be beaten by quick zooming, it catches up quickly.
In addition to the two function buttons on the camera's body (and grip if fitted), you can also use the Function button on the 12-50mm lens as programmable. These buttons can have pretty much all of the programmable functions assigned to them (see menu). Usefully, the lens function button (L-Fn) can be assigned to perform AF-stop.
In my limited time with the camera and lens I was particularly impressed with the results in close-up work. Take a look at the last of my garden shots below where the centre of the enlarged image is very sharp indeed.
However, I did find some issues with the new standard zoom lens:
Slow at the long end - 6.3 seems very slow considering defraction will start at f10'ish.
Some barrel distortion at 12mm.
Some chromatic aberration (CA) or purple fringing at wider angles on the peripheries.
I noticed some quite significant softening in my images especially between 12 and 18mm, middle distance to horizon. This and its tendency to distort quite badly may well preclude this as a street and architectural shooting lens.
Once again Olympus provide no lens hood, just like the 12mm. Genuine OEM hoods are ridiculously expensive.
At shorter zoom settings the flash does not give full coverage.
All that said for everyday use and for image reproduction up to A4 you will not see much to hurt your eyes.
In most circumstances AF is immediate. It is very quick indeed and will finally nullify the old complaints about Olympus slow AF.
That said I did notice (alongside most other Olympus m4/3rds cameras) AF response slows dramatically when light levels fall. Provision, at last, of a focus assist lamp certainly helps but is not a cure-all.


E-M5 AND OM LEGACY LENSES USING THE ADAPTER MF-2
Micro FourThirds brings the opportunity mount and use just about any 135 format lens (with the appropriate adapter). The E-M5's traditional DSLR type design is even better than the PEN range with a VF-2 as it 'just feels right'. The superb electronic viewfinder gives a view about the same as the E-3/5 and a place to steady the camera (against your head) thus improving camera stability and helping to avoid shake. And, of course, you can see the magnified view in the viewfinder, plus all the exposure information and I guarantee it will take you back to OM days.
Some folks query the use of manual legacy lenses but for specialist uses such as macro photography many experienced users prefer manual focus even with their AF capable lenses. One of my most used lenses is the OMZ 90mm Macro for table top and illustrative work.
My legacy lens collection is restricted to OM and Pen F/FT/FV series with the odd M42 screw mount. The results from using OM lenses on E-System cameras has improved since the E-1 with superior metering and better exposure box design. Even the OM wide-angle lenses can produce half decent results on the E-3. But the shorter registration distance and lack of a mirror/exposure box of m4/3rds provides even better results.
OM LENSES ON E-M5: I have previously undertaken detailed testing of just about all my range of OMZ lenses 8mm through 600mm on the E-P1 (tripod mounted) that you can read about here if you wish. NOTE: Dandelion focus confirm adapters do not work on the E-M5. The E-M5's better metering should improve these results further.


E-M5 ISO TEST
You will know Olympus have increased the ISO range to 200 - 256000 on the E-M5. If you use Olympus machines you will also know the results at very high ISO levels can disappont. I undertook my standard house shot at ISO 200-256000 in 8 stops; 200, 400, 800, 1600, 3200, 6400, 128000 and 256000. Though I had the aperture setting quite high I still ran out of shutter speed at 256000. However I have left the entire range in this review so you can at least judge performance at the highest setting albeit a tad overexposed. My observation of shots taken at the highest ISO is quite simple - don't bother. With Noise Filter set to OFF the amount of noise totally destroys the image and with the filter set to STANDARD the image loses much detail. ISO 256000 is strictly for emergencies. There follows a series of target shots with the full size JPEG available by clicking on the marked image. Download the full size image for your own comparison. At the bottom of the section I've also provided an image showing the sky crops (good place to look for sensor noise) from the centre left of the 6 images. Click on any image to see the original jpg. Both top level ISO's produce the same noisy and blotchy images without the noise filter applied and large loss of detail with the noise filter applied.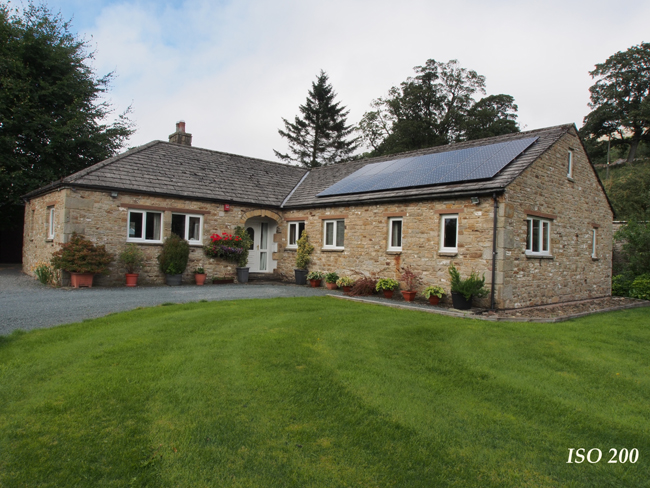 Taken at ISO 200. Click on image to download original LSF jpg.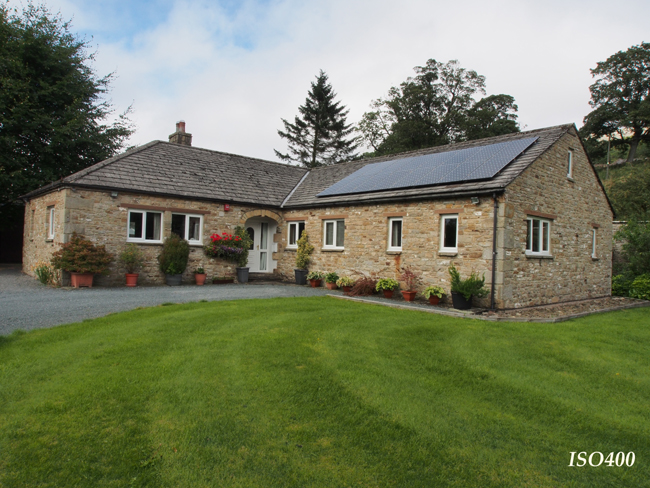 Taken at ISO 400. Click on image to download original LSF jpg.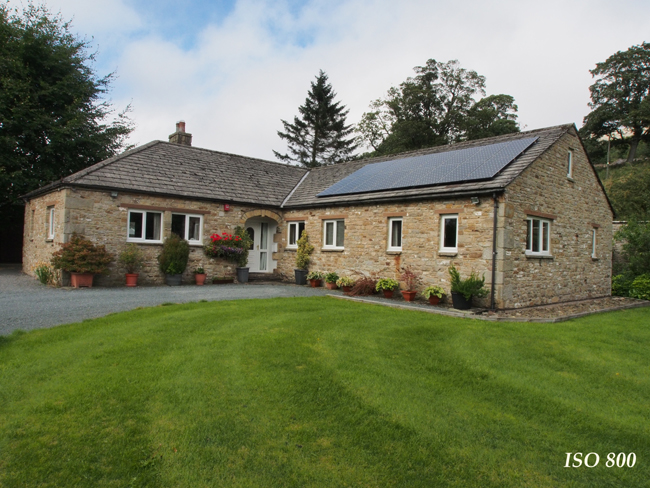 Taken at ISO 800. Click on image to download original LSF jpg.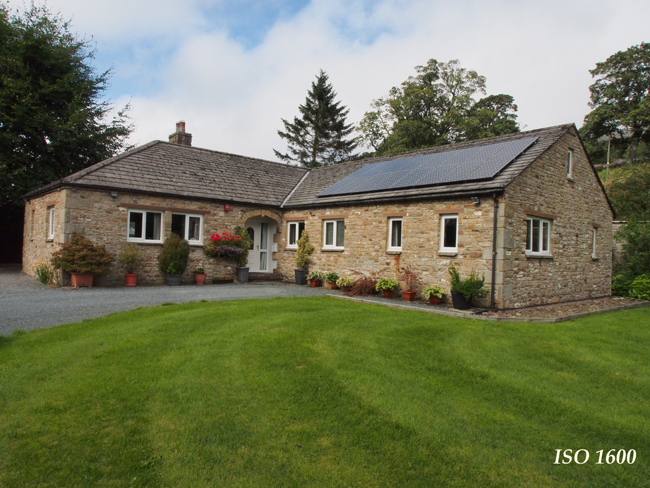 Taken at ISO 1600. Click on image to download original LSF jpg.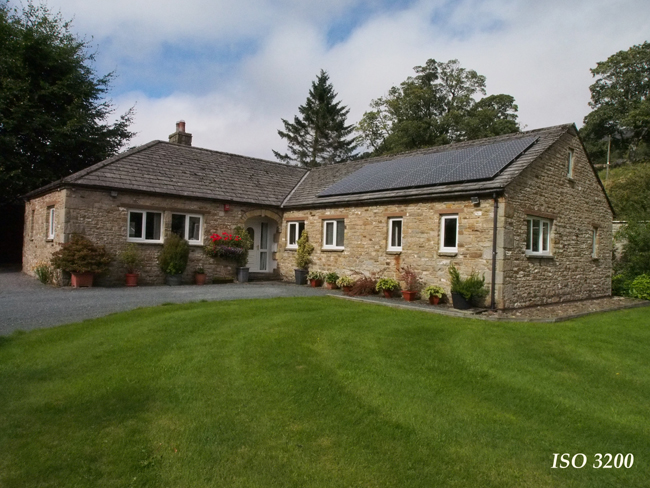 Taken at ISO 3200. Click on image to download original LSF jpg.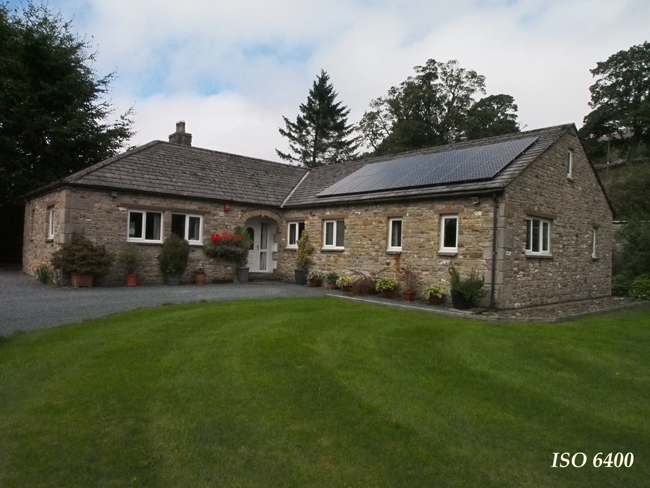 Taken at ISO 6400. Click on image to download original LSF jpg.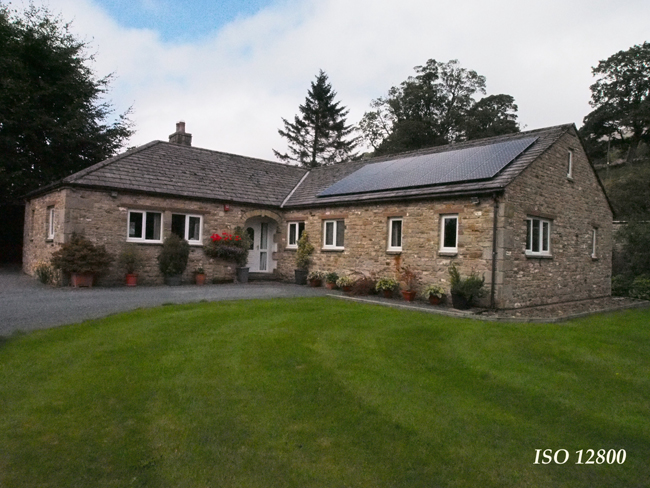 Taken at ISO 12800. Click on image to download original LSF jpg.
Taken at ISO 25600. Click on image to download original LSF jpg.
Crops from area adjacent to front door showing letter box - anything above 6400 is too noisy and has lost too much detail.
CRITIQUE
These shots are fine up to and including ISO 3200. At 6400 the loss of detail is beginning to show though not dramatically. Unfortunately the day was changable and the sun kept popping out and although I'd chosen a aperture of f=16 I ran out of shutter speed for the ISO 25600 image. The consequence is that the last image is over-exposed and should not be used for comparison purposes though it gives you an idea of high ISO performance. (In addition, the fact I used f=16 means that the above images will suffer a little from softening due to diffraction).
Yes, Olympus has gradually improved high ISO results but I'd say the top three settings are for emergency use only. Remember I had noise filtering set to OFF but do not know if there is any filtering done automatically by the camera, so all these files will benefit from noise reducing software too.
Download the original jpg's and try them through your own noise reducing software. I have the basic camera settings very conservatively so all the files should take some sharpening if necessary.
If you require the RAW files please email me direct and ask.


SOME RANDOM IMAGES FROM THE E-M5
I have been out collecting some ordinary images from the E-M5 from around my garden; the sort of shots anyone might take. I'm not entirely happy with the output. When I transfer the images to my PC some look a little dull and lifeless and lack the 'POP' Olympus is so famous for from its JPG engine. Whether this is because the new OLED screen presents a 'too good rendering' and therefore might deceive you I'm not entirely sure. Or is it because the new sensor can capture/display a greater dynamic range? They also do not represent what I actually saw from behind the camera. It's almost as though the camera is strangling the output and it is not released until the iamges are put through post processing. Let me show you: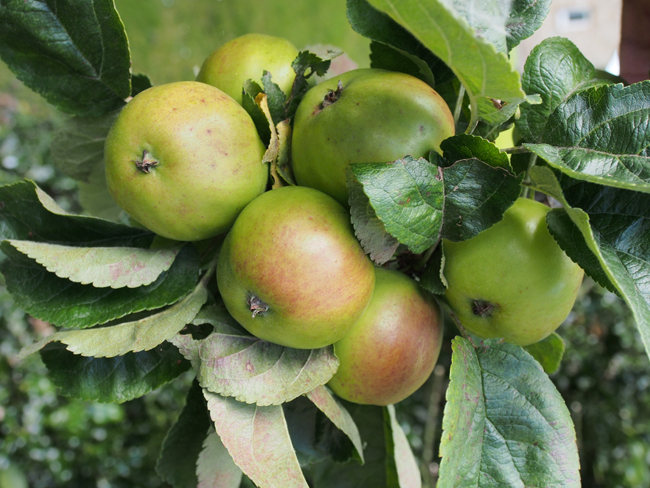 This is from the E-M5 and MZD 12-50mm MSC @ 19mm: ISO 400; 1/160th @ F5.6; EV Comp = 0 (EXIF should be attached.)
Click on image for the original JPG version.
I'm having to apply tonal and curve adjustments to reproduce the subject as I saw it - something I'm not used to doing with Olympus jpg's.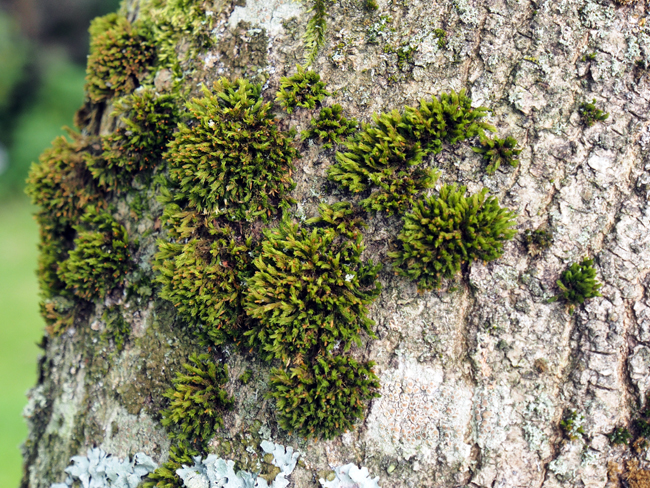 This is from the E-M5 and MZD 12-50mm @ 50mm; ISO 400; EV Comp = 0; 1/80th @f6.3 (EXIF should be attached.)
Click on image for the original JPG version.
Again I need to work on this image in PP just to give it some life.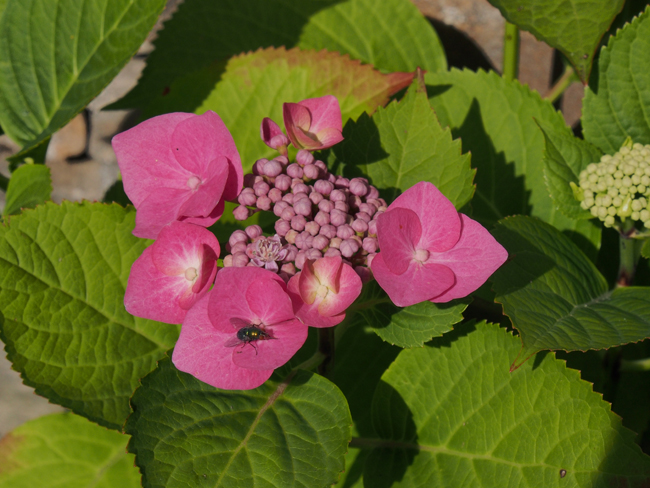 This is from the E-M5 with MZD 12-50mm MSC @ 50mm; ISO 400; 1/2000th @ f10.0; EV Comp = -0.7 (EXIF should be attached.)
Click on image for the original JPG version.
This image required a lot of post processing to lift it from a dull flat image (as you see above).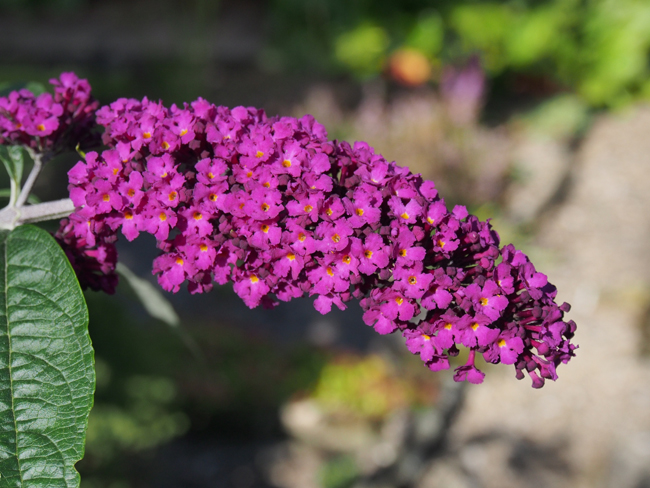 This is from the E-M5 and MZD 12-50mm MSC @ 39mm: ISO 400; 1/1250th @ F5.8; EV Comp = -0.7 (EXIF should be attached.)
Click on image for the original JPG version.
Not too much work required on this image. More or less as I saw it in real life.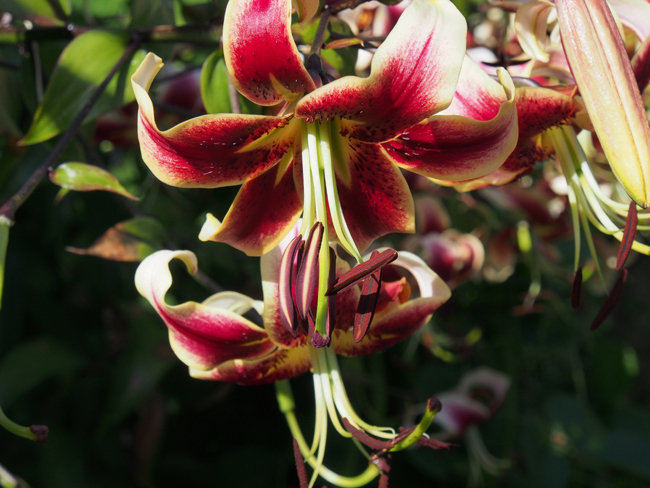 This is from the E-M5 and MZD 12-50mm MSC @ 49mm: ISO 400; 1/640th @ F9; EV Comp = -0.3 (EXIF should be attached.)
Click on image for the original JPG version.
Pretty good rendition of the original scene. Notice that at f=9 the new 12-50mm lens can blur the background.
OMD E-M5 CRITIQUE
As Olympus gradually improve their ISO performance I notice many of my shots on the E-M5 and other m4/3rds machines have taken on a "veiled" look. That is to say they are lacking in resonance, clarity and verve; the colours are not as brilliant and the contrast not as sharp as the earlier models (including 4/3rds machines). I'm assuming this is mainly to do with the sensors greater ability to capture more dynamic range and a subsequent squashing of colour and contrast. My jpg's need more post processing than two years ago for sure. I can still obtain that distinctive Olympus look without too much additional work but it is not there straight from the camera.
However, for most users who run their shots through PhotoShop or similar, this is of no great concern and for RAW users it's a non-issue. But for the point and press brigade who rely on results straight from the machine I suspect they may be a tad disappointed.
I think what I'm also seeing here and in many other of my images is probably the result of more accurate metering in the E-M5. Where there is a high dynamic range in the scene the metering averaging process is protecting the highlights and preserving the shadows as best it can and so producing something which looks, overall, a bit flat. Only by stretching the highlights to near the maximum will you get a more accurate reproduction. I suppose this is better than blowing the highlights altogether or having very muddy shadow areas containing no detail, but it does mean that you may find you are post processing your jpg's more than you wish.
If you download any of the above images into your manipulator and do some simple auto tonal adjustments or redefine the black and white points you will see an improvement as the flatness is removed. This is something I've not had to do previously.


CONCLUSION
The E-M5 is the first Olympus camera to have the new Sony sensor. It must be a challenge for the engineers to get the processing engine tuned to its new sensor so I'm hoping the next iteration of the OM-D will be better. Not that it's bad by any means - it's just that flatness and lack of verve I dislike. I think the new TruePic engine is not producing the richness and colour signature of the older engine/sensor combination. Perhaps that's the price we have to pay fro more resolution and dynamic range.
The E-M5 is NOT faultless. All cameras are compromises and no one-size fits all. As said above I think the TruePic engine is a little lacking in punchy jpg's. In certain conditions the results can be flat and muddy like film not developed with the correct mid gray point. Whilst the OLED screen is beautiful it tends to deceive the eye making your images better looking than they actually are. I notice exactly the same issue with the XZ-1 compact. I do not welcome the touch screen and am very grateful that Olympus lets the user disable it, but this is a very personal opinion that may not be shared by others.
The E-M5 is a photographers dream with seemingly unending ways to customise the camera to your own specification. In that sense it is clearly aimed at the more experienced user. But it does have a fully automatic mode (iAUTO) to satisfy those who simply rely on the camera to do most things.
The menu system is even more complex as the latter PEN machines so some study and a level of understanding is required by new users. The little pop-up explanation box does help though personally I don't like it.
The mixture of modes, both manual, semi-manual and automatic with the availability of differing scene capturing choices and the very novel Art Filters will attract buyers from across the spectrum.
For the nostalgic amongst us the retro design, the 'prism' hump, and the ability to use legacy glass will be irresistible.


LIKES
The aesthetics - brilliant design well executed.
Extremely fast AF is superb and pretty accurate. This will silence previous critics.
The automatic prism eye sensor is great if not a little tardy.
The whole camera is super fast in all things - it does not get in your way and feels super smooth.
The amount of customizability is wonderful.
AF illuminator - essential.
The OM like aesthetics are very desirable and using the E-M5 with OM lenses is a trip down memory lane with great results.
The addition of a pocketable flash is a good idea and the unit is quite usable for 90% of circumstances.
The additional battery grip is welcome and its two-stage approach is very novel. I much prefer stage ONE only (see below).


DISLIKES
Small buttons.
The touch screen is not for me.
Rendering on the OLED screen is 'too damned good' and may mislead the user.
With the two-stage grip fitted the camera becomes a little too cumbersome and rather belies the ethos of OM-D. Much better with only the portrait part fitted.
Overall just a fraction too small - BUT this is personal preference.


WOULD I BUY AN E-M5?
I normally ask this of myself at the end of the review period. I enjoyed my time with the E-M5 and in the main I like the camera, lens and its imaging capabilities. As said I find the camera a smigin too small for my hands and in certain conditions the out of camera jpg's are not quite up to the mark. The new lens is a good all-rounder but not a patch on the 4/3rds version (SWD 12-60mm). Alongside many others I am looking/waiting for an alternative/additional body on which to use my ZD 4/3rds lens arsenal as my E-System bodies get older but I don't think the E-M5 offers enough over any of the Pens to justify its price.
It's a fabulous looking camera and it appeals to the collector in me but just fails to attract the photographer in me. If it were a little less expensive I might be tempted, but for now I'm waiting for the next model.


---
NOTE: This article seeks nothing other than to inform. Only you can decide what equipment you want/need for your use. Olympus provided the E-M5 as a review sample for several weeks before it was returned. I have nothing to gain or lose by publishing this article, photographs, examples or opinion.


---
---
| | |
| --- | --- |
| Posted October 2012 | Copyright © 2012 John Foster |