---
what's the news from 'BIOFOS' since your last visit?
---
NOVEMBER/DECEMBER 2006:


xD ON THE ROPES?
Personally, I detest these cards. They are small and fiddly to handle and easily dropped or lost. As a piece of technology they are akin to the not-so-smart SmartMedia that preceded them. In operation they are so slow that judging the speed of a camera using them is impossible. Or is this a convenient excuse? Why Fuji and Olympus pursue these is a mystery (other than obvious corporate interest) when there are other more viable and capable options out there. I recently picked up on a rumour that xD is in its death throw. Great! Come on Olympus, drop these horrible cards; an SD slot is the same size. I also found a good site for speed comparisons of all media cards in a series of digital cameras here .
E-500 IS FINISHED IN EUROPE!
While researching the other night I discovered that OlympusEuropa is listing the E-500 in its 'archived' cameras, along with the E1 and E-300. This explains why Currys (UK Electrical Store) were disposing of cheap BLM1 + charger for a bargain Ł20.00 last week. I missed it.
LATEST (17th January): I checked this link last night to find the E-500 is back in the fold on a newly modified page along side the E1, 330 and 400! I was not seeing things; OlympusEuropa were either testing their pages or the E-500 is reprieved for a few weeks.
The E-400 is obviously set to replace the E-500 globally in a few months. According to this list the only DSLR's Olympus currently offer are the E-330 & E-400. This has me a little worried; there are some essential functions (mirror lock for one) that are excluded from E-400 firmware. Have Olympus purposely dumbed down their entry level DSLR? What is going on? Check it out for yourself here .
OLYMPUS PUBLICATION - DIGITAL PHOTOGRAPHY FAQ's
A new pdf format book from Olympus that explains both digital technology and technique. There is a link towards the bottom of the main E-System/Digital page, or you can download a copy from here .
NEW EXIF VIEWER
Looking for a powerful EXIF interrogation programme that will let you alter EXIF information and dates? This programme from Ralf Bibinger does all that and a whole lot more. It is now mature software in development for many years and currently in version 2.40; EXIF VIEWER is freeware and fully supports Olympus machines. Excellent. For your download go to the biofos SoftWare section here .
ONE MILLION VISITS
Yes, it occurred half way through December 2006 - the 1,000,000th visit was registered by the sites main visit counter. Thank you to all readers for making this site one of the most popular Olympus based websites on the Internet. If you are interested you can see the site stats page here.
E-1 Processor Array (Motherboard)
It's taken me a while but I've put together a pdf showing a schematic of the E-1 processor array (ASIC). This may not be new to many readers but may be of interest to E-1 latecomers (of which there are many) who may have missed some of the technical information circulating in 2003/04. You can access the document from the E-system page or directly from here.
E-400 - The future of Four-Thirds?
The quiet announcement of the E-400 at Photokina 2006 slipped past many pundits. For anyone doubting the future for four-thirds here is the company's response. The legacy of Yoshihisa Maitani still drives the camera division. This is the true digital OM1. Read my interpretation of the strategic E-400 here.
E-400 Official Glossy 10 page pamphlet:
If you are in the regions where the E-400 is not available this glossy brochure will at least give you some details to browse through. You can go to the E-bodies section of the site from here.
E-400 Official System Chart:
This chart seems directed at the E-400 and E-330 only! No mention of E-1 which is still the only Pro-Grade camera Olympus offers. This underlines the difficulty Olympus has at the moment of keeping the Professional and pro-sumer cameras apart. Perhaps when the E-3 is announced all will become clear! You can go to the E-bodies section of the site from here.
E-400 - Manual (Parts 1 and 2)
E-400 manual comes in two parts, basic and advanced. Both parts are now available for download - please have mercy on my bandwidth!
Basic manual (7.4mb) is here
Advanced manual is (17.2mb) here
E-400 with ZD14-42mm cut-away photograph:
For any potential E-400 owners who like to know what your machine looks like inside there's a fascinating picture to add to your information file. It's quite a big file so if you are on dial-up it may not be for you. I've included it in the E-400 section of the E-System bodies section here. Lars Topsoe-Jensen from Denmark pointed out the previous posting error; thanks Lars, I must have been very tired!


---
OCTOBER/NOVEMBER 2006:


OLYTMPUS FTL, The Forgotten SLR:
Another fascinating article re-published from the TOC magazine QUEST. It deals with the largely forgotten pre-OM SLR that offered a modified M42 screw mount Zuiko lens. For the collectors amongst you all. Please enjoy the read here.


LENS COMPARISON - ZD11-22 v ZD14-54:
In response to several requests I discuss the viability of the ZD11-22mm wide-angle zoom in the sense that it overlaps considerably with the standard ZD14-54mm zoom. Is it really worth spending Ł550 for 3mm of additional focal length? My findings, which are here might help you to decide.


LENS TEST - SIGMA 30mm x f1.4
After a little prevarication (a certain amount of quibbling with myself), I eventually plump for the fast Sigma 30mm as a prime 'standard' for my E-system cameras. The subsequent and lengthy review is posted here. The review is now complete and, I hope, will give you a definite flavour of this very attractive and capable lens. It seems that Sigma is having difficulty satisfying demand for some of their higher grade offerings including the 30mm and the Bigma - their 50-500mm beast!


SITE STATS PAGE MOVED:
For those who might be interested the monthly stats page has been moved (again)! It can now be accessed via the SITE TOOLS button at the foot of every page or you can go directly from here.


---
SEPTEMBER 2006:


OLYMPUS PRO-GRADE CAMERA BODY - CONCEPT
Here it is; the mock-up we have all been waiting for, the E-NEXT! Shown at PhotoKina 25th September 2006. Before jumping to any conclusions remember the E-1 was first shown in at this sort of stage in development at PhotoKina September 2002, and went on to be released the following Spring.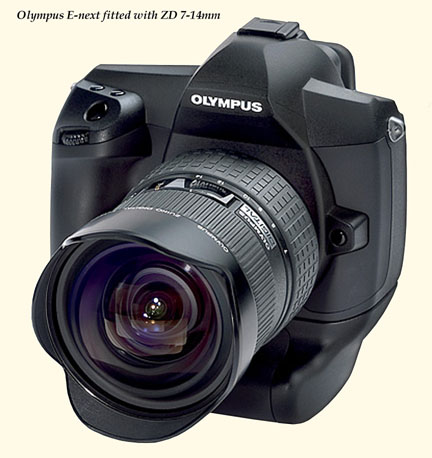 Is this the shape of things to come? Can't say I'm greatly enamoured; looks a bit clunky to me.


MY FIRST REACTION
1. It's official; it's on the Olympus Japan corporate website; it comes with some promises from the big guns at Olympus that the E-1 will be replaced by this machine sometime early next year. All this is very good news indeed. For although I've kept faith with Olympus, sometimes I have wondered if they'd ever be an E-3. It's nice to see the official announcement; much better than a leaked story with the associated feeling that we might have been 'conned' again with fraudulent photoshop images from some clown somewhere who has nothing better to do.
2. I've got to say my initial reaction was one of immediate displeasure. I hope the aesthetic design is not cast in stone as there are a few things I don't like. But, as with all things, beauty is in the eye of the beholder and to be frank I wasn't over-keen on the E-1 aesthetics until I actually handled one. So my initial impression might change.
3. The general design line is a little too angular for my taste; a bit too much Austin Princess and Triumph Razor-Edge. I like the more centred lens mount though the downside is less room for the fingers of the right hand - unless the body has grown in width - which I hope not. It's pretty obvious the team that designed the E-400 is at work here too. The left hand front of the camera is pretty much the same, as are the body sculpting lines.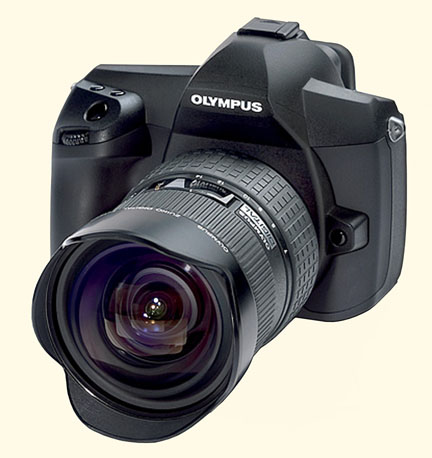 With the grip 'removed' the camera takes on a more pleasing aesthetic. Seen grip-less with the ZD7-14mm it seems considerably smaller.


4. I don't much like asymetrical designs. I prefer an overall balance. If the grip is not inbuilt (which I personally hope), the camera looks much better to my eyes without it. With the grip - especially the daft asymetrical shape - it looks as though it will fall over to the front and left. The E-1 is bad enough at this trick so let's not encourage its replacement to have bad habits.
5. Notice the prism is set much higher than on the E-1. Is this to accommodate a live-view sensor? Personally I'm not bothered about this feature; I'd rather the designer spent the development money on a better (read bigger & brighter) finder arrangement. Also notice that there seems to be no prism mounted pop-up flash. Of course this might change but from a personal perspective I'd rather have weather-sealing than a diddy little on-board flash.
6. As for size, while it appears to be quite large remember the ZD7-14mm is a pretty big lens (probably why it was chosen rather than the ZD 50mm Macro) and this makes the body look more in proportion. I've superimposed some web-photos of the E-1 and this image and they appear to be about the same. I expected the new body to be marginally smaller than E-1, just to underline to the world the size advantage of the 4/3rds philosophy. I will be very surprised if it is not fractionally smaller.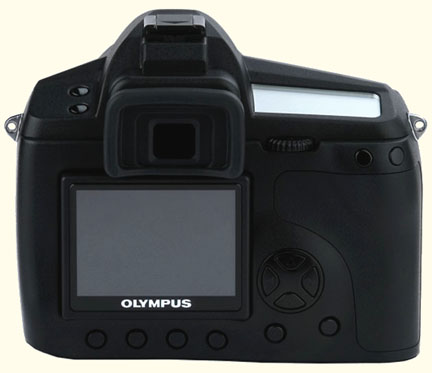 Rear view without grip looks pretty conventional. Quite what the button layout will be remains a mystery.


7. It's good to see the LCD is maintained - something I believe is absolutely necessary in a Pro-Grade body. I just hope the full range of display is repeated in the V/F ( I mean ISO of course; leaving this out of E-1 V/F display was a fundamental error for which someone should have been flogged!).
8. Also good to see the new machine has maintained two control wheels. While I can certainly manage with one ala E-500, when going back to the two wheels of the E-1 I wonder how I managed with one. You'll see too that the major command dial is missing - the selector PASM dial. Presumably because this is a mock-up and some form of selection will be provided. Please Olympus keep the E-1 style interlocks.
9. The review screen looks about 2.5", the same as the E-500. It seems to sit in a recess - no bad thing - but whether it is moveable in any way is impossible to tell. If I had to guess I'd say not as this makes weather-proofing difficult. There doesn't seem to be any way of attaching a hard plastic screen protector. The enlarged screen will certainly be welcomed though to be honest it's not the small screen of the E-1 I object to, it's the slow response and the poor magnification.
10. The E-1 style/shape/materials of the 4-way control pad and other buttons looks to be repeated. Good; the quality, feel and longevity of these buttons is important to pro-users. There appears top be a few buttons missing and also notice there's no provision for the openable access to the CF slot on the back, but I imagine the final layout has yet to be determined. There's no obvious sign of the dioptre wheel or V/F blind but these will be easily added later. One thing's for sure, there's plenty of 'spare' real estate on the rear to squeeze a few more bells and whistles into!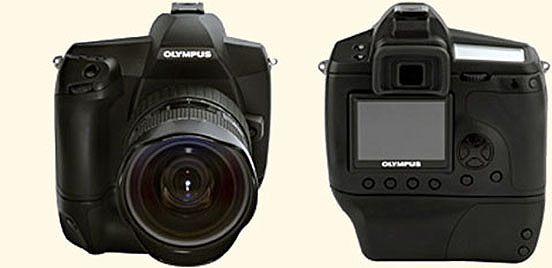 The above two images are from the Olympus 'official' announcement. I simply don't care for the aesthetics of this design. It's lop-sided and out of balance.


11. Some folks will 'love' this shape. Perhaps it will grow on me, but I doubt it. Never mind; what is important is the E-NEXT will soon be the E-3? - for real. This must be celebrated by all Olympus DSLR users. I'm sure there'll be many sighs of relief across the thousands of Olympus devotees today. But PLEASE smooth those sharp edges!
12. Of course, what we don't know is anything about the internals - you know, the bits that really matter! Actually I'm personally not greatly bothered. If the company has come this far with the 'concept' I will trust them to deliver the best possible sensor, processing engines, data buffer, fps rate, AF grid and exposure system as possible. The biggest stumbling block must have been the new high-density 4/3rds sensor. I'd be amazed if Panasonic has not delivered the new CCD for this machine and I'd guess at a nett count of no more than 11MP. This, in combination with the advantages of the 4/3rds concept and the high quality "exclusively-digital" Olympus lenses right across the price range, will provide professionals and advanced amateurs a size advantaged choice of bodies and lenses for both their work and pleasure.


MORE IMAGES THANKS TO DPNOW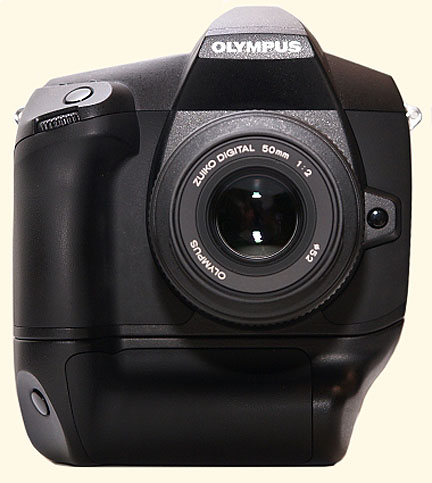 Full frontal with ZD 50mm Macro fitted. Doesn't look quite so big. In fact this is reasonably proportioned. Still, I don't like the cut-off grip; I think it looks daft.


From a higher angle. This shows those angular and sharp lines that don't please my eye; your mileage may vary. Beauty and beholder!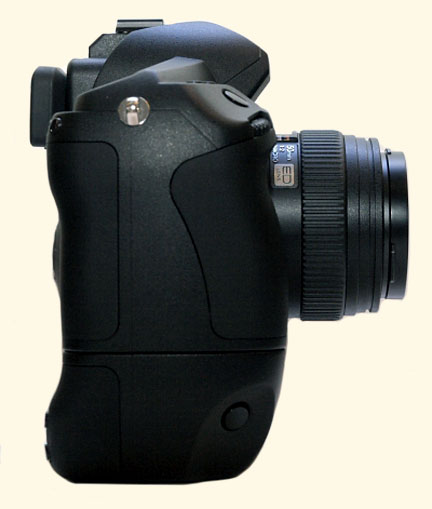 From the side it is almost the same silhouette as the E-1. Here you can see its design heritage. The more rakish and sloping top plate has some advantages - the LCD panel is easier to see, especially when tripod mounted. If they would just smooth off those sharp edges I'd begin to like this machine.


---
OLYMPUS E-400
THE OFFICIAL ANNOUNCEMENT
Press Release:
The 10.0 million pixel Olympus E-400:
The world's smallest digital SLR
Minimum dimensions – maximum performance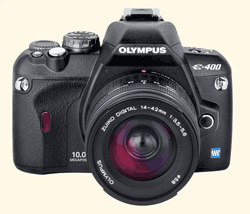 Here it is - the E-400. A new 10MP tiny DSLR from Olympus - who else?
Digital OM1 anyone? This is exactly what many have been waiting for.
London, 14 September 2006 – Olympus presents the latest addition to the E-System, the world's smallest and lightest D-SLR* camera – the E-400. The compact size and low weight of this latest Four Thirds Standard camera, allows photographers to take it virtually anywhere, while not having to do without the considerable benefits of SLR photography. This model features a new CCD with 10.0 million pixels and a state-of-the-art amplifier circuit for incredible imaging performance at super fast speed. As the design of the E-400 is based on the Four Thirds Standard, users have virtually unlimited flexibility. A wide range of high-quality, interchangeable lenses, including the EISA Award winning Olympus ZUIKO DIGITAL Top Pro lenses, plus other accessories are available for all types of needs. These are provided by Olympus and, thanks to cross-manufacturer compatibility of the standard, from other manufacturers as well. As with all E-System cameras, the E-400 features the Supersonic Wave Filter – ensuring dust-free photography, even after changing lenses under challenging conditions.
The E-400 is expected to arrive in the UK in November, for stockist information call 0800 0720070 or visit www.olympus.co.uk.
Compact size with innovative D-SLR technology
As it is the world's smallest and lightest D-SLR*, the E-400 is sure to never become a burden. It is the perfect travel companion, compact enough to take along on holidays or for use as a high quality back-up camera when out on the road.
Within its extraordinarily tiny frame is a treasure-trove of innovative technology. To begin with, a 10.0 million pixel CCD provides plenty of imaging power so that even the finest of details do not go to waste. This highly energy-efficient CCD features a state-of-the-art amplifier circuit that all but eradicates noise and is incredibly fast. It enables sequential shooting at up to 3fps with a five image RAW buffer in burst mode.
Like every Olympus E-System camera, the E-400 is armed with a Supersonic Wave Filter. This patented technology allows lenses to be changing – even in challenging environments – without the fear of dust contamination, giving users the brilliance of dust-free pictures every time. Developed by Olympus, the Supersonic Wave Filter generates ultra-high-speed vibrations that literally shake off dust and other particles from the CCD. These are then captured on a special adhesive membrane to prevent recontamination. For the E-400, the Supersonic Wave Filter has been optimised with smaller dimensions and a higher frequency of vibrations for even more effectiveness.
Pro features and comfortable handling
The Olympus E-400 proves that even a feature-packed D-SLR needn't be difficult to operate. Of course it includes the full range of manual control options for boundless creativity, and complements these with 31 scene modes that cover a wide variety of shooting situations. These include Underwater, Macro, High Key and Low Key. Users also benefit from special colour modes and the possibility to apply various Black&White filters to images.
So that photographers can continue shooting as long as they wish, the E-400 is powered by a new high-power rechargeable battery. The camera also accepts both CompactFlash and xD-Picture Cards, giving a choice of data storage options for even more flexibility. And, to ensure that the versatility and quality of E-System photography is open to as many people as possible, the menus on the E-400, as well as its manuals and software, can be displayed any one of 25 languages, making the camera completely understandable in 39 European countries – something only Olympus currently offers.
Four Thirds compatibility for boundless versatility
As with all E-Series cameras, the E-400 conforms to the Four Thirds Standard. Olympus and various other manufacturers produce high-quality Four Thirds-compliant lenses and accessories that are specifically designed for digital SLR image capture. With only very few exceptions, the E-400 is compatible with virtually the complete range of Olympus E-System accessories. This includes the full line-up of the ZUIKO DIGITAL Top Pro lenses, which recently received an EISA award. Even an Underwater Case (PT-E03) will be available to let adventurous photographers capture the delights of the aquatic world in up to 40m of water.
New E-System lenses
For better results and improved handling, lenses based on the Four Thirds Standard feature near telecentric construction, which takes into account the specific technical characteristics and requirements of digital cameras. Two new Olympus Four Thirds lenses will be introduced with the E-400 at its launch: the EZ-1442 ED 14-42mm 1:3.5-5.6 (equiv. to 28-84mm on a 35mm camera), which is perfect for standard applications, and, for more magnification power there is the EZ-4015-2 ED 40-150mm 1:4.0-5.6 (equiv. to 80-300mm on a 35mm camera). Both lenses are exceptionally compact, for greater mobility and speedy use. They also offer maximum image quality at an excellent price and feature a stylish design with a blue ring in the middle – the new insignia for the Olympus E-System lens line-up.
The E-400 achieves a remarkable balancing act between being the world's smallest and lightest D-SLR* and relinquishing nothing in terms of image quality and professional performance. It combines the size usually attributed to compact cameras with the stunningly crisp picture quality and versatility expected from an SLR. The E-400 will be available from November 2006.
As at June 2006: The Olympus E-400 digital SLR – main features
* World's smallest and lightest D-SLR*
* 10 million pixels
* 6.4cm/2.5" LCD
* Supersonic Wave Filter for dust protection
* Dual memory card slots (for xD-Picture Card and CompactFlash)
* 31 shooting modes (incl. 5 exposure, 7 creative & 19 scene modes)
* Built-in pop-up flash (GN 10)
* 3 fps with up to five images in RAW buffer
* One touch white balance
* TruePic TURBO image processor
* AF-lock functionality
* Depth of field preview function
* Improved 49 segment digital ESP and spot metering
* Exposure Bracketing function
* Large beginners and advanced info screen
* Detailed playback info screen with histogram
* Exceptional ease of use with intuitive GUI and buttons that provide immediate access to frequently used features
* JPEG & RAW recording
* Based on Four Thirds Standard
* Underwater Case available (PT-E03) waterproof to 40m


An OM size DSLR. I suspect the E-400 might win a big following from the OM faithful.
Slightly less wide than an OM2/3/4 but a tad taller - but this includes an on-board flash.
Two specaily designed "blue-band" light and bright compact zooms cover 28mm~300mm.
FIRST REVIEWS HERE:
The following sites have had pre-production cameras to review and their opinions are complimentary.
LET'S GO DIGITAL has a very comprehensive review and is here: www.letsgodigital.org
The DPNOW site has a large selection of photo's and is here: www.dpnow.com
The Scandanavian site DIGIT offers a more verbous offering and is here: www.digit.no


A STRAIGHT COMPARISON WITH E-500
My friend Andrzej Wrotniak has looked at the press release and the above reviews and put together some wise comments for those thinking of upgrading their E-500. Well worth a read even if you are just thinking about purchasing your first DSLR camera.
Andrzej's remarks can be found here: www.wrotniak.com
A NEW GENERATION OF E-SYSTEM CAMERAS?
I've examined the E-400 from the company's strategic point of view. My opinion, for what it's worth is here.


---
E-1 REPLACEMENT TO BE ANNOUNCED AT PHOTOKINA 2006?
After much speculation it is good to see the following from the top brass at Olympus HQ in Japan.


Official announcement:
(This quote is taken directly from the Olympus, Japan website):
Olympus Products at Photokina 2006:
Olympus Imaging Corporation (President: Masaharu Okubo) is pleased to announce the lineup of new products it will be exhibiting at Photokina 2006, the world's largest photographic and imaging equipment exhibition. (Cologne, Germany; September 26 ~ October 1). A product list is shown below. In addition, we will be exhibiting a concept model of the successor to our current Olympus E-System flagship, the Olympus E-1 digital SLR.


I know this is what a lot of people DON'T want - they would prefer a production E-3. However, it is definately coming. The company would not issue this statement were the new camera still only at the drawingboard stage. Bear in mind the company's recent financial hiccup and its positive statement about DSLR production and you can see Olympus' committment to a new pro-level DSLR.
No doubt, something cometh!
E-3? I've put some thoughts together for you perusal; make of them what you will here.


---
OLYMPUS REAP SOME IMPRESSIVE AWARDS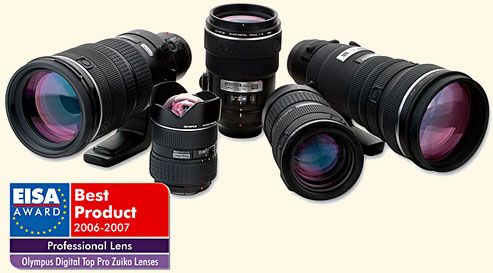 Just announced - Olympus Super High Grade Lens Receive Awards
Olympus Wins EISA Awards for Zuiko Digital Super High Grade Series of Exchangeable Lenses and the µ 720SW Compact Digital Camera Olympus Imaging Corporation.
Olympus President Masaharu Okubo is pleased to announce that the company has received two 2006-2007 EISA Awards. The Zuiko Digital Super High Grade Series of exchangeable lenses. The Zuiko Digital ED 7-14mm F4.0; ED 35-100mm F2.0; ED 90-250mm F2.8: ED 150mm F2.0; ED 300mm F2.8 were selected in the "European Professional Lens" category, and the µ 720SW Compact Digital Camera in the "European Pocket Camera" category.
The European Imaging & Sound Association (EISA) is an organization representing 50 leading camera, imaging and audio magazines in 20 European countries. Each year it selects outstanding products and technologies across a wide spectrum of audiovisual product categories.
The "European Professional Lens 2006-2007" award
The Zuiko Digital Super High Grade Series of professional exchangeable lenses were designed and developed under Four Thirds System standard to provide superior image performance with digital cameras. Their dust-proof and weather-proof designs allow them to withstand use in harsh conditions. The reasons for the award were as follows. "The Olympus ZUIKO range of lenses for the Four Thirds system now offers a Top Pro series which includes three zooms and two prime lenses: ED 7-14mm f/4.0, ED 35-100mm f/2.0, ED 90-250mm f/2.8, ED 150mm f/2 and ED 300mm f/2.8. These compact and robust lenses are perfect choices for sports, event or nature photography. Enthusiasts and professional photographers can now reach top performance with this light and compact equipment range."(EISA)


---
µ (MJU) 720SW COMPACT DIGITAL CAMERA

.
.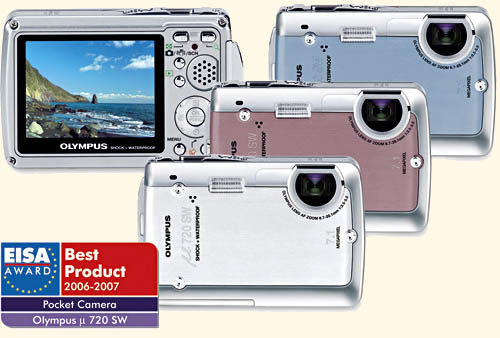 The "European Pocket Camera 2006-2007" award:
The µ 720SW digital camera is ideal for a wide range of photographic situations, from formal scenes to outdoor locations. Despite its stylish design, it has passed a 1.5m dropping test and can withstand underwater photography to depths of 3m. The EISA judging panel's comments were as follows.
"The Olympus µ 720SW is a pocket camera that is designed to withstand the knocks of family use. Its shock-proof design means its body can withstand a fall from the table, up to 1.5 meters. Taking pictures underwater to a depth of up to 3 meters is also possible, without the aid of an extra waterproof body. Even as a pocket camera the µ 720SW looks good: it offers a 2.5-inch display, 3x zoom and a resolution of 7.1 million pixels."(EISA)


---
TAMRON TO ENTER 4/3rds CONSORTIUM?
I've picked up a very recent suggestion that TAMRON are to announce some 4/3rds lenses at Photokina 2006. Perhaps the new Leica/Panasonic partners have persuaded Tamron that there's an opportunity here?
I know no more than this. It might be a wind-up - there have been plenty in the past. It always struck me as peculiar that Sigma signed up more or less at the onset, yet Tamron remained silent. Normally I'm not one for responding to 'web gossip' but I'm pretty sure my source is genuine. Watch this space.
Whilst on the subject of Sigma 4/3rds lenses I have it on good authority that the anticipated Sigma 18-200mm has been cancelled but the company are to make several 4/3rds lenses available very soon. Whether this means the range already announced or additions thereto remains to be seen.


---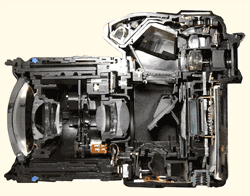 Cut way of the E-400 with ZD14-42mm fitted.
---
---
| | |
| --- | --- |
| Posted February 2009 | Copyright © 2004/5/6/7/8/9 John Foster |